When the Russo Bros.-produced action-thriller Extraction landed on Netflix in April, it arrived with all the heft of a major theatrical release. Much of that was because quarantined fans were dying for something big and splashy and new to watch – anything, really, that felt like going to the movies – but it was also because the film came with the kind of big-budget action set pieces usually reserved for the big screen – and the big-screen leading man, Chris Hemsworth, to go with it. Extraction's story is simple: Hemsworth's Tyler Rake (yep, that's his character's name!) is a mercenary hired to "extract" a kidnapped teenage boy from the clutches of a Bangladeshi crime boss, and he must contend with countless nameless baddies to achieve his goal. The action, though, is anything but: close-combat John Wick-style tussles, epic single-shot sequences, Bond-level escapes from hairy, bullet-filled situations. Fans have been eating it up; but it's a short-lived meal. When the smoke on Extraction has cleared, and you're looking for something to keep the adrenaline pumping, we've got some suggestions for you. Whether you're after more urgent-feeling get-the-job-done thrills, a tender – and violent – kid/mercenary relationship, or just incredible chaotic action, let RT correspondent Naz Perez be your guide in the video above.
#1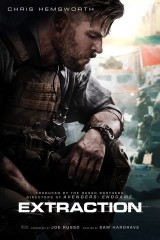 Critics Consensus:
Spectacular stunt work and an electric performance from Chris Hemsworth can't save
Extraction
from being dragged down by its aimless violence.
Synopsis:
A black-market mercenary who has nothing to lose is hired to rescue the kidnapped son of an imprisoned international crime...
[More]