Toy Story 4 is nothing if not sincere. During a one-and-a-half-day visit to the Pixar campus in Emeryville – part of the California East Bay golden triangle of art-driven cities including Oakland and Berkeley – over a dozen supervisors, writers, and digital artisans hosted workshops and seminars about their upcoming June movie to answer the question that's on all our minds: "Why?"
Why make another Toy Story? Especially when Toy Story 3 felt like the end; Andy passing his toys on to the next generation as he moves to college, the camera panning up to the sky, a bookend with the same clouds that opened the Toy Story back in 1995. Toy Story 3 delivered a mint-in-box rarity in today's world of tempting serialized storytelling and cinematic universes: A sense of finality, and closure. Why mess with that?
Minor spoiler warning: This article describes the opening scene of Toy Story 4!
It started in 2014.
We're sitting in a board room with Pixar character modelers, directing animators, and story supervisors and artists. Like the rest of the world, they tell us, Pixar had moved on from Toy Story, not expecting to see the franchise's characters on the screen again, outside of shorts and television specials. Monsters University had just released. They were gearing up for the one-two punch of Inside Out and The Good Dinosaur in 2015. Amidst the streamlined chaos, an impossible idea persisted: That there was still more Toy Story to tell, and it deserved to be on the biggest screens possible across the world. The idea turned to talk, turned to pencil against paper, turned to cursors across monitors, turned into crews and planning and development, until Toy Story 4 moved into The Steve Jobs Building, the campus section where movies are officially in production.
---
BO PEEP FINALLY GETS HER DUE
Pixar story supervisor Valerie LaPointe tells the room that there are people at Pixar who, as children, had their world expanded watching Toy Story in theaters in 1995, who now get to work on the fourth, and understand the legacy they're molding on their computers every day. To LaPointe's left are five women, who minutes before had each spoken about their role on TS4, nodding in agreement. They are a crucial creative force at Pixar, and instrumental in forging the emotional ace of the new movie: Bo Peep.
The porcelain lamp with her flock of sheep (voiced, as always, by Annie Potts) had a minor but memorable role in the original Toy Story as Woody's flame, with less to do in Toy Story 2. And while the main characters got their glorious (seeming) sendoff in Toy Story 3, Bo wasn't there at all, having been reduced to a sacrificial plot point to motivate and illuminate her boyfriend's emotional pain. Clearly, there was more story to tell, because her story hadn't been told at all.

Toy Story 4
opens with a flashback. It's nighttime at Andy's house, in the middle of a downpour, set a bit before
Toy Story 3
. R/C is outside caught in a gutter torrent, spinning his wheels to keep from getting sucked into a sewer drain. Bo and Woody, always the contingency planners, execute a rescue mission that saves R/C and leaves Woody momentarily underneath a car in the driveway. Everything looks photo-decadent: the rain, the lighting, the subtle scuff on Buzz's plastic armor plating. Pixar has found new vistas to paint once again.
Then, the bombshell: Molly, Andy's sister, is growing up and Bo's watch has ended – she's being carried in a box to the car, and soon to be off into the great donated unknown. Bo has accepted her fate, having long since known a porcelain lamp doesn't have quite the shelf life of a talking cowboy or space commando. Woody is frantic, and he attempts to get her out of the box. Bo does the opposite, offering a place beside her. Just as Bo knows her destination, Woody knows his is entwined with Andy, and as the car peels off, he's left in the driveway splintered by the rain. It's not quite Up territory in terms of Pixar opening-scene tearjerkers, but considering we've known these characters for nearly 25 years, it's damn close.
---
EYES PEELED FOR PLENTY OF PIXAR EASTER EGGS
For eagle-eyed viewers, something may catch your attention: The car's license plate – always cinematic fertile ground for easter eggs, especially in Pixar films. "RMR F97," the plates read. But what does it mean?
"It is an easter egg!" director Josh Cooley laughed during our press conference.
"On Toy Story 2, there was someone who worked on the show that accidentally deleted the movie from the render farm," producer Mark Nielsen said, who worked modeling and shading on Toy Story 2. "That was the command on the computer that deleted the film."
"Galyn Susman, who was an early producer on this film, was on maternity leave and had a backup of the movie at her house, and brought it back to Pixar and restored it," added producer Jonas Rivera. "It felt appropriate that the license plate on the car that takes Bo away would be the same that killed Toy Story 2."
From the filmmakers words and the footage and material shown, it becomes apparent
Toy Story 4
will probably become the most easter egg-laden movie the studio has ever produced. At one point, Woody and Forky – a spork with googly eyes and pipe-cleaner arms come to life, who exists as his own existential quandary – end up in an antique store. Full of neat knick-knacks and weathered baubles, it's a set piece that puts Pixar's detailed creativity on full display, not to mention plenty of references to their past.
Look for a sign that says Papa Rivera's, a reference to the aforementioned producer. The Eggman Movers truck, around since the first Toy Story, makes a comeback, long known to be tied to art director Ralph Eggleston. From Finding Nemo, you can see the tiki heads from the fish tank on some shelves.
There's steel decoration for Catmull's Brews, named after Ed Catmull, who's been with the company since the beginning and is retiring the month after Toy Story 4 is released. The Catmull sign hangs over a pinball machine whose interior has been turned into a miniature nightclub; Tinny, from the 1988 short Tin Toy, is the bouncer. (And for you pinheads out there, the machine was modeled after Bally's 1977 Black Jack – and we saw that tucked away in a room at Pixar HQ when we were doing a workshop making our own Forkys.)
---
A FEMALE VILLAIN, FULL-ON BODY HORROR, AND… BOO?
Elsewhere in the antique store, Woody and Forky meet Gabby-Gabby, an angelic '50s doll and the first female antagonist of the series. Gabby Gabby commands a league of dapper and wholly unsettling ventriloquist dummies who do her bidding, like trying to rip out Woody's voice box to replace her own broken one. To set the body horror mood, Gabby Gabby puts on a record playing music from Coco, the vinyl pressed on the prestigious Chalupa Records.
And that's not the only Coco reference. Part of the road trip includes visiting a carnival fair across the street from the antique store, which is where Woody reunites with Bo, who has been leading a joyous, independent, if not occasionally challenging life as a "lost" toy. One of the carnival game prizes is the guitar from Coco. And who's joined in among the festivities? A teenage Boo from Monsters, Inc, who appears to have not changed her style since 2001. Hey, purple shirts and scrunchies are eternal!
And all those easter eggs were from less than 30 minutes of footage.
As
Toy Story 4
has been in the works for the last five years, the studio has seen some major changes. Ed Catmull is retiring. Beloved animator Bud Luckey passed away (he was all over the classic
Boundin'
short). And founder John Lasseter left in scandal. It's been a different time from their heyday, when Pixar racked up 11 Certified Fresh movies between
Toy Story
and
3
; then a record, now overtaken by Marvel Studios' current 14. During the visit, it's clear here was a movie being made by people both filmmaker and fan, who see this as a continuation of the golden age. Maybe they're always like this with their movies.
For anyone born after 2010, this is the first chance to watch a new Toy Story on the big screen. It could even be their first movie theater experience ever. That's quite the gift. It's the same one Pixar offered in 1995, and many people who took it back then, grew up, got a job there, made Toy Story 4, talked to a bunch of press, and now get to offer it up to a new generation. Returning to the toy cowboy who's devoted to the joy of others, Pixar has become the studio it always was: A house of toil and dream, where old things find new life.
Like this? Subscribe to our newsletter and get more features, news, and guides in your inbox every week.
#1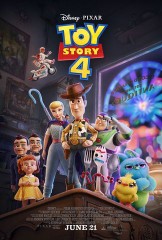 Critics Consensus:
Heartwarming, funny, and beautifully animated,
Toy Story 4
manages the unlikely feat of extending -- and perhaps concluding -- a practically perfect animated saga.
Synopsis:
Woody, Buzz Lightyear and the rest of the gang embark on a road trip with Bonnie and a new toy...
[More]
---
All images courtesy of Disney and Pixar.