Henry Cavill
has replaced the iconic
Man of Steel
cape with some sleek white locks and a shiny, sharp sword in Netflix's new fantasy series,
The Witcher
. Based on the popular stories by Polish author Andrzej Sapkowski, which spawned the wildly popular video game series, the eight-episode first season follows the story of swordsman-for-hire Geralt of Rivia, whose supernatural skills come in handy for profession: hunting monsters. In the series, the solitary warrior seeks princess-in-exile Ciri (
Freya Allan
) and runs across sorceress Yennefer (
Anya Chalotra
), who is just discovering her powers at the outset of season 1.
As with most recent genre shows of this ilk, comparisons have already been made to Game of Thrones. Netflix has already seen value in their highly-anticipated series and renewed The Witcher for a second season in November. A studio's confidence and noteworthy buzz can work wonders for a fledgling program such as this. But has Netflix's bet paid off? Will The Witcher scratch that White Walker itch? And is the Cavill-starrer strong enough to hack-and-slash its way through the ever-cluttered realm of Peak TV to make an impact?
Here's what critics are saying about The Witcher.
---
HOW DOES IT COMPARE TO THE BOOKS?
(Photo by Netflix)
Fans of the books and the game are likely to have a field day with the swarm of character references throughout, and whilst it's paying fan service with how casually these names are mentioned, general unversed audiences may need to pay a bit more closer attention, especially when Cavill is speaking as his low growl can often be inaudible.  —Peter Gray, This Is Film
The problem is, there's very little reason to get invested enough to attempt to make sense of the whole thing. From the jump, in the very first episode, characters constantly yammer at Geralt about "destiny" this and "destiny" that, which isn't nearly as interesting in 2019 as it might have been in the 1980s when the stories were originally published. Even if you love the original stories and books, they're remixed and altered here to the point that they often no longer make sense. —Michael Rougeau, GameSpot
In faithfully adapting the book it brings with it some questionable elements, but it at least adapts these tales with a more modern sensibility.   —Kambole Campbell, Little White Lies
Indeed, the one thing that I worry viewers might dislike about The Witcher is that without a strong knowledge of the books, or at least a good grasp on fantasy fiction in general, this show might require some hard work. Game of Thrones is, quite simply, easier to get into.  — Erik Kain, Forbes
---
DOES HENRY CAVILL SLAY?
(Photo by Netflix)
Henry Cavill's character … could scan as a spin on the actor's most notable prior role. Monster hunter Geralt of Rivia resembles a reclusive medieval Superman—all principle, brawn, and jawline—clad in a white wig and cat-like contact lenses. But rather than reheating the Man of Steel, Cavill quickly melts into Geralt, capturing his aloof yet winsome confidence with sardonic one-liners and baritone grunts. —Niv M. Sultan, Slant Magazine
Thankfully, Cavill as Geralt is beyond anything I expected. While this is a testament to Cavill's acting, its also because of his ability to nail the physicality that the role deserves.   —Kate Sanchez, But Why Tho
Cavill delights in every grimace as his grimy, sour Geralt traverses locales familiar to any Dungeons & Dragons campaign. Candle-strewn taverns, pornographic wizard illusions, and foolish nobles—no matter the job, Geralt perseveres in true Lawful Neutral form (to keep things in D&D terms). A bemused yet not unkind cynicism comes across in Cavill's slow baritone and rare, slight smile. It's the best he's been aside from The Man from U.N.C.L.E. and everyone either hates him or is horny for him.  — Jacob Oller, Paste Magazine
---
READ ALSO: Henry Cavill on Why He Had To Play the Witcher
---
HOW'S THE REST OF THE CAST?
(Photo by Netflix)
Showrunner Lauren Hissrich and executive producer Tomek Baginski really knocked the casting out of the park with this series. Henry Cavill, Anya Chalotra, Freya Allan, and Joey Batey all bring the necessary gruff, edge, and charm of their famous characters to life throughout the series, and they contrast incredibly well with each other once they all get a chance to unite on screen.   —Matthew Aguilar, comicbook
While Cavill is the famous face, it's actually a three-lead show with three distinct storylines, co-starring the Anya Chalotra as the trainee witch Yennefer, and Freya Allan as Ciri, a fugitive teen princess. These two young women are much more interesting than Geralt, partly because they have solid character arcs, but mostly because Henry Cavill is a block of beautifully carved wood.  — Gavia Baker-Whitelaw, Daily Dot
---
HOW DETAILED IS THE WORLD-BUILDING?
(Photo by Netflix)
The production design does look impressive and you really get the sense that money is being fired at this to give it every possible opportunity. The difference, however, is that while 'The Witcher' may exist in a fantastical world, you can never really shake the feeling that you're looking at a set, or that you've seen some of this before.   —Brian Lloyd, entertainment.ie
There's not quite enough fully developed characters to make this feel like a big ensemble show like "Thrones," and so we crave a single center of gravity. The decentralized aspect of "The Witcher," instead, emphasizes certain faults, like how Cavill doesn't quite embody the Han Solo aspect of his roguish-hero role enough to hold the screen fully.   —Daniel D'Addario, Variety
---
HOW ARE ITS FIGHT SCENES?
(Photo by Netflix)
One fight sequence towards the end of episode one is quite special, seemingly achieved in one unbroken take and with Cavill visibly involved, instead of a stunt double. —Rohan Naahar, Hindustan Times
Violence and sexuality are both major components of the source material, and The Witcher certainly doesn't skimp in either category. The aforementioned carving up of the village riffraff is gruesome, as are Geralt's frequent encounters with all manner of sinister creatures, and there's no shortage of bare bodies on display.  —Brent Hankins, Lamplight Review
That's the real star of The Witcher: the fight scenes. Filled with terrifying monsters, brutal thugs, and shots lifted straight from classic horror movies, each battle has been so stylishly executed, they almost feel sensual. The Witcher's fight scenes aren't merely good enough to be entertaining, they're "make you scream like you're at a playoff game" great.   — Kayla Cobb, Decider
Where The Witcher succeeds is in its action sequences. A face-off between the super-human Geralt and a Lovecraftian nightmare in a crumbling castle is gruesome and fast-paced. And a struggle between the anti-hero and his lover (Emma Appleton) is appropriately heart-rending. If you like this sort of thing, it's worth putting up with the bleary plot and dialogue just to get from one confrontation to the next.   — Ed Power, Daily Telegraph (UK)
---
WAIT, IS IT SUPPOSED TO BE FUNNY?
(Photo by Netflix)
Worse, the wink, wink nature of the oddly misplaced humor makes clear that the writers are clearly trying to have their cake and eat it too, which comes off like an eleven-year-old who's satisfied enough by dipping a finger into the frosting before licking it off instead of making an actual meal.   —Andrew Bundy, The Playlist
"The Witcher" has a lighthearted sense of humor — another difference between it and "Game of Thrones," whose jokes landed with the force of tankards slammed on oaken boards. We're not talking high comedy, but you could do worse than watching Cavill, as Geralt, pour out his troubles to his horse, the only creature the Witcher will really open up to.   — Mike Hale, New York Times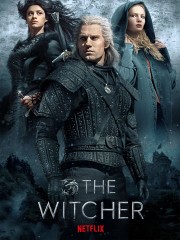 Critics Consensus:
Though the world of
The Witcher
at times feels only half-formed, Henry Cavill brings brawny charisma to a series teeming with subversive fantasy elements and dark humor.