(Photo by Marvel Studios)
Name changes are a key part of superhero comics. Spend enough time reading them and you will see as many as four or five characters take the same name — sometimes simultaneously! And as The Falcon and the Winter Soldier draws to a close, we see another name change baked into the story and the credits. It is probably the conclusion everyone expected, but thanks to the COVID-19 pandemic, the series did not wind up completing all of its mission objectives.
Oh, and what's all this about Sharon Carter's (Emily VanCamp) "old division" coming back online?
Let's take a look at the final episode of the series to see where it soared, crashed into the Hudson, and teased further Marvel developments.
---
Spoiler alert: The following reveals details of The Falcon and the Winter Soldier episode 6, "One World, One People." Stop here if you have not watched the episode.
---
One World, One People
(Photo by Marvel Studios)
And like so many well-intentioned young people on a crusade, the Flag Smashers' plot just puttered out. Reportedly, the series was meant to go in a slightly different direction before the pandemic with Karli (Erin Kellyman) getting her hands on a viral agent and using that as part of her "extortion for a good cause" plan. But the production shutdown forced the series to abandon that storyline entirely in favor of her kidnapping the GRC oversight council (although, it is possible both plans were in play). The thinness of that exchange is palpable even if it led to some good scenes with Sam (Anthony Mackie) debuting his new gear, Bucky (Sebastian Stan) saving people, and even John Walker (Wyatt Russell) proving he can be heroic.
In terms of the geopolitical themes Karli brought to the table, though, the series seemingly backed away from them. Sure, Sam brought her underlying message to the GRC council and managed to get some positive movement in that regard, but it may be a little too pat for the complexity of the issues; something both the senator and Sam seem to acknowledge. For the moment, the repatriation plan is off and borders across the world will remain open. The GRC will presumably switch its efforts to helping the returned find their place in the world.
At the same time, the global issues the series brushed upon are not as simple as stopping a Mad Titan, and we hope a subsequent series (or even the Captain America 4 feature film reportedly in development) will come back to these ideas. For one thing: the strife these tensions cause could easily be exploited by, say, the unquestioned ruler of Latveria to position himself as global superpower.
Then there's Karli herself, who seemed to be headed down the supervillain path. Even her team of Super Soldiers started to doubt her methods. It would've been interesting to see her make the movement more of a cult of personality. But maybe it is better for the Flag Smasher to be an idea than any one person. Provided, of course, Marvel follows up on the idea.
---
"That's Not Black Falcon, That's Captain America"
(Photo by Marvel Studios)
But for all those interesting global issues, the series really revolved around Sam's emotional journey to accepting the Captain America identity. From the financial struggles Black people face on the regular to the way they are used and tossed aside by the military, the series constantly introduced reasons why Sam might not want to wear the U.S. Flag on his chest. And while not all of the points land as successfully as the others — sometimes you just need Isiah Bradley (Carl Lumbly) to just tell you why things are bad — touching upon these issues is important for both the audience and Sam as a character.
For just about any would-be superhero, accepting another's legacy is tough. In Sam's case, it's an even bigger ask as Steve Rogers (Chris Evans) was the epitome of the white American ideal; something he mentioned himself in his speech after the GRC attack. Just in terms of physicality, Sam is not that. But then there's also the moral certainty Steve possessed. Some of that came from a privilege Sam will never know and as the show acknowledges, plenty of people from across the racial spectrum will never accept him as Cap. That will always be a factor in Sam's decision making and it makes for a markedly different Captain America.
---
(Photo by Marvel Studios)
Perhaps, though, that was always the real point of the show.
Meanwhile, it was great to finally see Sam in the suit. Clearly based on the design featured in the Marvel Comics universe from 2014 to 2017, it is a fine adaptation of Sam's "bird costume" with the stars and stripes. Also, Bucky ordering the suit from Wakanda suggests the wings are vibranium and creates another interesting dimension if the Wakandans felt comfortable wrapping Sam in the American flag. Beyond the racial implications, there is also the issue of colonialism in play. Well, it's there if you want to look for it.
But the real defining "Captain America" moment for Sam was his speech. For the first time since Steve saw him leading that veterans' group in Captain America: The Winter Soldier, Sam could finally speak with certainty. And though it is easy to read it as the naivete he's exhibited off-and-on throughout the series — and as we already discussed, it lead to a pat resolution — sometimes things just need to be plainly said. And it's clear that Sam's way of speaking won over some people, starting with the first GRC soldier to call him "Cap," even if Sam will continue to face opposition from all sides in the years to come.
Nevertheless, as the ending title card states, Sam Wilson is Captain America.
---
Zemo's Endgame
(Photo by Marvel Studios)
While this aspect of the series may not be to everyone's liking, there is something immensely satisfying in seeing Zemo (Daniel Brühl) accomplish his modest goals. It's possible he had more to do in the pre-pandemic version of the series, but there is something really quite nice in a Marvel villain wanting one or two things, doing them, and then retiring to the Raft. Far too often, these characters play four-dimensional chess, and Zemo's direct and simple objective is refreshing.
It is always possible, of course, that he has some larger goal in mind. The bombing of the transport containing the other Super Soldiers still feels consistent with his stated goals, but it does leave a question: why didn't he target Walker and Bucky for destruction?
Maybe the play here is safety. He is more secure on the Raft than dodging the Dora Milaje out in the open. And as we've seen, he can execute a plot from just about anywhere. But if his great cause is to eliminate all the superheroes, he still has a lot of work to do.
---
Power Broker Watch: Episode 6 Edition
(Photo by Eli Adé. ©Marvel Studios 2021. All Rights Reserved.)
Likely shocking no one, Sharon is the Power Broker. The revelation, provided by Karli, may not have been as epic as some might have hoped, but it leads to a few thought-provoking questions about Sharon as a character. First among them: what really caused her to break bad? From her own account, it seems to stem from the fallout of Captain America: Civil War and the aid she gave Steve, Sam, and Bucky. But considering her comments at the end of the stinger scene, she seems purely motivated by profit. And even then, there's Karli's comment that Sharon wants to run the world. As with all the previous evidence for and against Sharon being the Power Broker, her motivation is still unclear.
Unless, of course, Sharon is a Skrull.
Here us out: the Power Broker's main objective is to get hold of advanced tech — even biotech like the Super Soldier Serum — for the purpose of selling it to bad actors on the global stage. But what if the real intention behind that is to soften the defenses of all the Earthly players as a prelude to the Skrull invasion? We know it's coming. And to do the Secret Invasion plot properly, characters already have to be switched have to be switched out for Skrull agents. Sharon, as the Power Broker, seems like a prime candidate.
It does make you question her effectiveness as a spy if viewers keep seeing her hand before Marvel Studios feels compelled to reveal it, though.
---
(Photo by Marvel Studios)
Oh, and speaking of spies, isn't interesting that the senator at her pardon hearing mentioned her "old division" coming back? If you'll recall, Sharon was working for the CIA during Civil War, but was previously an agent of S.H.I.E.L.D. Which of those acronyms literally contains the word "division?" Since we're always looking for confirmation of S.H.I.E.L.D.'s status, hearing this mention of the "old division" has us intrigued. Is Nick Fury (Samuel L. Jackson) back in charge? Or will Agents of S.H.I.E.L.D.'s Mack (Henry Simmons) finally make his proper MCU debut?
Admittedly, we're jumping to a huge conclusion here, but Sharon's own glee at getting access to prototype technology — whether for profit or for Skrull business — suggests the agency is back in some form.
---
Did Bucky Really Do the Work?
(Photo by )
So while we're pleased that Bucky finally Yori (Ken Takemoto) the truth about his son, we wonder if he really did the work required of him? The scene ends ambiguously and though we get the subsequent shot of Yori at the sushi place, it is unclear if Bucky was of any service to him. It was the thing Sam prescribed last week and yet, we don't see it. Of course, we never really get Yori's reaction to the revelation, either — anger would be an expected response — so it is all a muddle.
Then again, what reaction would be appropriate? Quick forgiveness would feel as pat as the GRC's response to Sam's speech and the (justifiable) anger would be a little too melodramatic at this point in the narrative. Nonetheless, with Sam setting up the notion of service last week, we need to see it.
---
Or, perhaps, that's why the ending title card still credits Bucky as "The Winter Soldier."
The work is not done even if Bucky left Steve's book "finished" in Dr. Raynor's (Amy Aquino) office. But considering the series was really about Sam's emotional journey, maybe Captain America 4 or a subsequent season of Captain America and the Winter Soldier will focus more on the things Bucky still needs to do in order to be absolved.
---
The Contessa, The Agent, and The Falcon
(Photo by Chuck Zlotnick. ©Marvel Studios 2021. All Rights Reserved.)
Getting Julia Louis-Dreyfus's energy into the MCU as Contesssa Valentina Allegra de la Fontaine may be one of the series' most important moves. Though we've only seen her in two scenes, her perspective on the Marvel world is welcome thing. But there is still plenty of mystery around her. After her first scene, we suggested she might be working for Fury, but her continued aid of Walker — and the U.S. Agent costume she gives him — leads us more toward the Commission on Superhuman Activities; the group Walker answered to in the comics while he was Captain America. They were more focused on U.S. concerns and objectives and that seems to align with what the Contessa has said so far. Well, at least in as much as she gave Walker his new name, which screams "USA first!" even louder than Captain America.
Again, it's still possible she's in league with Fury. Although Walker still possesses a questionable mental state, he acquitted himself well this week and having a Super Soldier to throw against the Skrull invasion is in Fury's best interests. Also, we have to admit, Russell is a welcome presence in the MCU even if Walker vacillates between good soldier and absolute turd. Much like how we'll never forget that Zemo is an aristocrat, we're never going to forget Walker's lies and instability.
Also, there are forces besides the U.S. government and Fury who would love to co-opt him for their own designs…
---
(Photo by Marvel Studios)
But, finally, we want to mention the next Falcon. Although Joaquin Torres (Danny Ramirez) mainly ran tech support for Sam in this series, his comic book counterpart swiftly took on the Falcon persona once it became available. And considering Sam left his old wings with Torres, it is likely we'll see the Falcon fly again before too long. And as the MCU has precious few Latinx superheroes, giving him a spotlight would be a huge step. Also, considering how much we liked him the first episode, we definitely need more Torres.
The full season of The Falcon and The Winter Soldier can now be streamed on Disney+.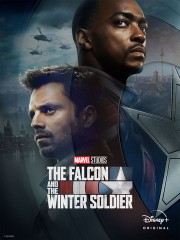 Critics Consensus: With epic fight scenes and emotional moments galore, "Truth" fully lives up to the show's potential – while finally letting Sam grow into his.
---