From the very beginning, Amazon's The Boys set itself apart within the superhero television realm. Based on the comic books by Garth Ennis and Darick Robinson, the program, from executive producer Eric Kripke (Supernatural), explores an alternate reality in which superheroes not only exist, but are mostly supreme a-holes. The Seven, as they're known globally, is made up of seven "supes," as they call them: American flag–caped sociopath and leader Homelander (Antony Starr), Wonder Woman–esque hesitant sidekick Queen Maeve (Dominique McElligott), lightning-fast and egocentric A-Train (Jessie T. Usher), rape-y ocean-dweller The Deep (Chace Crawford), electrified newcomer Stormfront (Aya Cash), and starry-eyed outlier Starlight (Erin Moriarty), the only one among them with a moral compass.
On a mission to keep the supes in check, and quite possibly eradicate them all entirely for good, is the "Boys" — a ragtag team led by Karl Urban's constantly-grinning, yet completely self-destructive William Butcher. As the first season's episodes progressed, Butcher's reasoning for this mission of violence was eventually revealed: His wife Becca (Shantel VanSanten) had been presumed dead and Homelander, as Butcher understood it, was the one who killed her.
---
(Photo by Amazon Prime Video)
In season 1, Butcher and his crew — Frenchie (Tomer Kapon), Mother's Milk (Laz Alonso), Hughie (Jack Quaid), and the mysterious and powered Kimiko (Karen Fukuhara) — uncovered a plot involving "Compound-V," a drug that makes supes, and Vought Industries, the company commoditizing The Seven.
The first three episodes of The Boys season 2 land on Amazon on Friday, September 4. How do these new episodes compare to the show's freshman season, which is currently Certified Fresh at 88% on the Tomatometer? Here's what the critics are saying about season 2 of The Boys.
---
THE THEMES ARE STILL TIMELY AND TERRIFYING
Season 2 is an attempt to re-contextualize modern ethical heroics and our relationship to publicly anointed figures. It also dispels any romantic notions we have about the agendas of powerful institutional bodies such as big business, government and religions; pillars of "civilized" society that are meant to provide security and structure. Instead, they sow chaos. — Brandon Katz, Observer
 A major part of The Boys Season 1's appeal — and of the comic, too — was its deconstruction of superhero culture, which worked especially well considering the popularity of the Marvel Cinematic Universe and DC Extended Universe. While that exploration still plays a role in Season 2, the focus is much more on politics, particularly contemporary alt-right and Neo-Nazi discourse. — Liam Nolan, CBR
The Boys' critique of the rise of an anti-immigrant sentiment in the United States is abundantly apparent. The show repeatedly draws attention to the fact that Vought purposefully uses racial animus to its advantage. Even when the camera is trained on someone's head exploding—something that happens an alarming number of times this go around—the show is trying to make a number of valid points about the destructive influence megacorporations can have on society. That message is still rather rich coming from a show produced by Amazon Studios, but The Boys makes no pretense of trying to hide what it is. — Charles Pulliam-Moore, I09
---
---
SEASON 2 DELIVERS SOME WELCOME CHARACTER DEVELOPMENT
Urban's Butcher, so single-minded and reductive in season one, finally gets to start digging into some ambiguities with his grizzled antihero, teasing out the guy's darker side while finding ways to reveal some weaknesses. — Alex McLevy, The AV Club
Jack Quaid and Erin Moriarty are the heart of the show as Hughie Campbell and Annie January (aka Starlight), two characters yet to have their moral compasses bashed entirely out of alignment. That said, both have been forced to evolve in order to survive their toxic surroundings, pushing them in interesting new directions. — David Craig, Radio Times
Kripke expands The Female's story with some new elements that we won't go into too much detail on here for fear of spoilers. But Fukuhara's emotive expressions and body language effectively communicate the nuanced emotions she's feeling throughout. Her friendship with Frenchie continues to develop and is one of the more tender-hearted relationships in this otherwise-cynical take on superheroes. — David Griffith, IGN
But Homelander (Antony Starr) has more important things on his sociopathic mind. Now that he knows he has a son, he can't wait to provide the kid with the father figure he never had, and his simmering, unpredictable bouts of ultra-violence have never been so pronounced when faced with his own failures in the family department. — Jon Negroni, The Spool
---
THE PRODUCTION VALUE AND SPECIAL EFFECTS GET AN EPIC UPGRADE
The action scenes are tight, smart, and surprising, there are delightful moments of dialogue that deliver both character, humor, and heart, and there are world details so skillfully embedded into the backgrounds of certain scenes that they almost at times serve as spoilers. — Liz Shannon-Miller, Collider
With so much hype surrounding this second batch of episodes, we're sure you'll be glad to know that it doesn't just live up to what came before, but exceeds it with a bigger, crazier, and more violent season. — Josh Wilding, ComicBookMovie.com
---
AYA CASH INJECTS EXCITEMENT AND DANGER AS SUPERHERO NEWCOMER STORMFRONT
Aya Cash's Stormfront has all of the edgy humour and some of the best jokes of the season. — Brian Lloyd, entertainment.ie
Season 2 introduces a new member of The Seven named Stormfront (Aya Cash), a social-media savvy supe who pokes fun at the stiff and overly-produced nature of her colleagues and infuriates Homelander with the way she so easily pulls the spotlight away from him. — Hannah Lodge, Screen Rex
She's the livewire that creates chaos wherever she goes, and that chaos is a big reason why the season works so well as a whole. Trust me, you'll hate her plenty by season's end, and I couldn't envision the season working so well without her. — Matthew Aguilar, Comic Book
---
FINAL THOUGHTS?
With a higher budget, they've polished the special effects that were glossed over in the first season, the romance between some of the characters has improved strongly, and the villains are still, well, super. Here's hoping The Boys really will return in Season 3. — Jon Negroni, The Spool
If the rest of Season 2 stays on the same path as the first three episodes, it's going to prove the perfect commentary for the tense times in which we live. — Michael Rougeau, GameSpot
Rude, crude and ultra-violent; The Boys are back with another hugely diabolical but enjoyable outing! — Nicola Austin, We Have a Hulk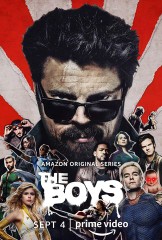 Critics Consensus:
The Boys
comes out swinging in a superb second season that digs deeper into its complicated characters and ups the action ante without pulling any punches.
---