Rotten Tomatoes is celebrating Halloween with 31 days of horror double feature recommendations. Each day of the week had its own theme, with today's being Weird Wednesday! And if you want see what you missed, check out the Daily Double schedule.
---
(Photo by Epic Pictures Group/Buena Vista Pictures/ Courtesy: Everett Collection.)
On Weird Wednesdays we'll walk with the movies that go off the beaten path…as though machete-wielding hockey mask killer zombies were 'normal' anyways. For this last Daily Double, a light-hearted finale in the spirit of Halloween.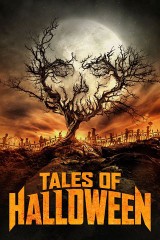 Eleven quickfire short films from 10 different directors, all set within the same suburban town on their most chaotic Halloween night ever. By the end of their shift, the cops and paramedics will have seen babysitter guts ripped inside out, killer organic pumpkins, devils and demons in disguise, and a Jason Voorhees-like who gets the script flipped on him and ends up being the final girl on the run. As the thermodynamic laws that govern film anthologies demand, the collection as a whole is a little creaky and some stories generate more heat than others. Genre name directors like Neil Marshall and Darren Lynn Bousman indulge in their best and worst tendencies, and Axelle Carolyn — married to Marshall at the time and who created this anthology's concept — does remarkably well in generating tension in something as true-and-tried as a woman walking down the street alone at night. A slinky Adrienne Barbeau narrates in-between segments in a spiritual successor role to her character on The Fog. So if you feel the upcoming Ernest Scared Stupid is too high-brow for you, put on that John Carpenter minor classic in its stead.
Available on Amazon Video, Vudu, iTunes, Netflix, FandangoNOW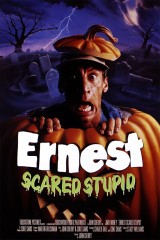 It's redneck saint Ernest P. Worrell versus a soul-stealing troll in
Ernest Scared Stupid
, the last in the vaunted series to be released in theaters. Jim Varney stars as the latest Worrell in a bloodline that has been cursed long ago by a troll to get dumber each generation, until a Worell is born foolish enough to release the troll from its prison beneath an old tree. And the 1990 edition of the Worell-sapien is the one to do it. Yep, this movie has Ernest
lore
and backstory. Varney was a generous comic actor, ready and willing to tear apart his face and tumble around the camera in whatever context the script called for.
Scared Stupid
has fairly high stakes for this series (the troll turns children into wood carvings, and even Ernest's sole companion, Rimshot the Jack Russell Terrier, is lost). The movie's requirement that you actually take him seriously as a hero may have been too frightening for audiences, and that's what got Ernest kicked out of theaters. Imagine what joys the world could have shared together with him on the big screen, what kingdoms and alternate realities he could've passed through with his indefatigable spirit and puckered twisting lips, what history he could re-write (you know they'd give him a time machine at some point) had he not passed on into the sunless void, a.k.a. the '90s home video market. Something to think about. Happy Halloween!
Available on YouTube, Amazon Video, iTunes, Google Play, Vudu, FandangoNOW

---
 Yesterday: Twisted Tuesday! | Schedule