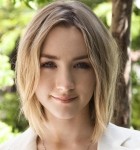 Saoirse Ronan is all over the multiplex these days — the Oscar-nominated Irish actress stars in Wes Anderson's The Grand Budapest Hotel and has a cameo in Muppets Most Wanted. In an interview with Rotten Tomatoes, Ronan talked about her love for classic cinema, her appreciation for David Lynch, and her experience on the set of The Grand Budapest Hotel.
---
---
RT: How much fun was it to work on The Grand Budapest Hotel?
Saoirse Ronan: It was amazing. It was literally like stepping into a world that you know can only be created by one man, and that unless you're asked to come back, you'll never be a part of again. From the hotel that we stayed in to the food that we ate to just the set that was built for us to play in, it was all so Anderson-esque. It's great because for the likes of me and Tony [Revolori], and even Ralph [Fiennes] as well I'm sure, we were the newbies. And everyone else had worked with Wes before, and he does have a very particular way of working. I mean, everything was planned out beforehand. And that comes down to the time allotted for each shot in the film. It's kind of that meticulous. So to come into that, it kind of throws you for a second and you need to adapt to it. So being around people who have been working with him for… you know, some people like [cinematographer] Bobby Yeoman had been working with him for over 20 years. And I think that just puts you at ease to be with these people who are so, so good at what they do and kinda know Wes and respect Wes so much. Yeah, we had a great time. Costumes were great and, you know, it was lovely.
Do you feel like you can bake particularly delicious delicacies? Because you looked like you knew what you were doing in that movie.
(Laughing) I did look like, yeah… that's why I'm called an actor. I got paid to do it too! No, I've only baked a little bit.
---
The Grand Budapest Hotel is currently in theatres.
---