On July 28th, 1999, in the midst of quite possibly the best movie year ever, a wildly entertaining summer popcorn movie about genetically modified sharks eating scientists was released into theaters. In a perfect world, Deep Blue Sea would have outperformed The Matrix, The Sixth Sense, and Big Daddy at the box office, and received more critical accolades than Election, The Insider, and Toy Story 2. American Beauty would've never won best picture, and Samuel L. Jackson would have an Oscar for his work as Russell Franklin, a monologuing "suit" who gets eaten during one of his monologues. Also, it would've cleaned up at the Blockbuster Entertainment and MTV Movie Awards. Okay, so maybe we exaggerate a little. But only a little.
In reality, the $60 million-budgeted, R-rated original creature feature starring a "bionic studmuffin" pulled in a respectable $165 million worldwide, won zero Oscars, and earned a Rotten 59% Tomatometer score. Which is a shame, because Deep Blue Sea is a damn fine blockbuster in its own right that features genuine surprises, inventive set-pieces, and sharks that are a combination of the velociraptors from Jurassic Park and Bradley Cooper from Limitless. Director Renny Harlin and screenwriters Donna and Wayne Powers and Duncan Kennedy brought the goods, and the end result is a crowd-pleasing delight whose fingerprints can be found on any number of similar movies that followed.
To provide you with five reasons why Deep Blue Sea was a perfect summer blockbuster, we put on our shark fin hats, consumed all the smart-shark serum we could find, and dove into a glassy underwater world filled with gliding beasts to convince you of its greatness.
---
1. RENNY HARLIN KNEW HOW TO CRAFT A CROWD-PLEASER
If you were lucky enough to watch Deep Blue Sea in a packed theater during its opening weekend, you probably remember audiences losing their minds when Russell Franklin (Samuel L. Jackson) is eaten halfway through his purposefully pompous motivational speech. Nobody would have guessed that Jackson would be wiped off the board so quickly, and it's one of the greatest surprise deaths in film history that had people jumping out of their seats to applaud the fun surprise (we were some of those people, and we apologize if you were the person we picked up and ran around the theater with).
Renny Harlin set out to make a summer popcorn movie that made you throw your popcorn in the air during its big scares, and cheer when a character named Sherman "Preacher" Dudley (LL Cool J), stabbed a 45-foot shark in the eye with his crucifix necklace. The 100-minute runtime comes and goes quickly and you are left with Cool J's awesome song, "Deepest Bluest," which was written for the movie and made Will Smith's own 1999 movie anthem "Wild Wild West" look tame in comparison. Deep Blue Sea was made to entertain, and entertain it did; it's no wonder that Stephen King, Roger Ebert, and 1999 cinema lover Brian Raftery thought it was much more than a "so bad it's good" movie.
---
2. IT DREW INSPIRATION FROM SPIELBERG CLASSICS, BUT IT IS ITS OWN BEAST
(Photo by Warner Bros. courtesy Everett Collection)
If you don't have time to rewatch the Jaws and Jurassic Park franchises again, no worries — just watch Deep Blue Sea. It has a higher Tomatometer score than all of the sequels except Jurassic World, which seems fitting because Jurassic World shares many of the elements of Deep Blue Sea, such as secret genetic modification, feeding sharks to larger aquatic animals, and introducing Owen Grady (Chris Pratt), a rough-around-the-edges velociraptor handler who notices the pack tendencies of the velociraptors and has a "will they, won't they" relationship with his boss.
The easiest thing to do is compare Deep Blue Sea to Steven Speilberg's Jaws. That's not entirely unfair, because it features giant sharks and cheeky license plate cameos. Also, Harlin planned the deaths of his three sharks — exploded, electrocuted, exploded — according to the deaths of the sharks across the Jaws franchise. But the film still has more in common with Speilberg's other summer blockbuster, Jurassic Park. The two movies feature scientists playing god, massive storms, escaped carnivores, limb separation, skeleton crews,  kitchen fights, and a surprising Samuel L. Jackson death. The biggest difference is that Harlin had no time for PG-13 shenanigans — he wanted blood, and he wasn't about to wait an hour to introduce his gliding monsters.
---
3. THE SHARKS GET A LOT OF SCREENTIME
(Photo by Warner Bros. courtesy Everett Collection)
Renny Harlin always went big, and with Deep Blue Sea he insisted the animatronic version of the main mako shark be 26-feet, so that it would be one-foot longer than Bruce, the 25-foot Great White in Jaws (bold move, Renny). He also didn't want to show his creatures sparingly; he wanted them front and center.
The $60 million budget allowed Harlin and effects supervisor Walt Conti (Free Willy, Anaconda) to build and unleash their lifelike animatronic mako sharks into massive water tanks, located in Fox's Baja Studios in Rosarito, Mexico, that had been built for James Cameron's Titanic. The controlled environment allowed Harlin and cinematographer Stephen F. Windon to to film a lot of shark footage, because they didn't have to worry about the same environmental (storms, waves, currents, winds) and salt water (corrosion) issues that had plagued movies like Jaws and Waterworld when they shot in the Pacific or Atlantic oceans.
The highlight is the 26-foot, generation II behemoth, which weighed 8,000 pounds and swam up to 30 miles per hour, because it had a 1,000 horsepower engine inside of it. The animatronic sharks were guided by remote control and swam independently throughout the corridors and hallways of the Aquatica set that Production Designer William Sandell (who eventually worked on water-logged epics like The Perfect Storm, Master and Commander: The Far Side of the World, and Poseidon) built specifically to allow lots of movement. This means the sharks are on camera a lot, and they still look great in 2019.
Jaws, The Shallows, The Reef and Open Water may have higher Tomatometer scores than Deep Blue Sea, but their sharks don't get nearly as much screen time. Deep Blue Sea doesn't go cheap on the sharks, and that's why it is considered, by some very smart people, to be the greatest shark movie ever made. The insane amount of shark carnage was ideal for summer audiences hoping for, you guessed it, shark carnage.
Quick note: The CGI sharks, on the other hand, are not good. We hate admitting it, but it's true. Thus, we'll only mention said subpar CGI this once.
---
4. THE KILLS ARE INVENTIVE AND FUN
(Photo by Warner Bros. Pictures)
Aside from the super gratuitous scene involving Dr. Susan McAlester (Saffron Burrows) stripping out of her wet suit to electrocute a shark (which Harlin blamed on studio notes in the DVD commentary), Deep Blue Sea is loaded with inventive set pieces, surprise deaths, and characters who might not understand how ladders work. While we love the irony of Russell Franklin being eaten while monologuing about surviving an avalanche, we think the drawn out torture of Jim "I'm God" Whitlock (Stellan Skarsgård) is the MVP moment of Deep Blue Sea.
The reason we love Whitlock's demise so much is because of how intricate it is. First, his arm is bitten off by the generation II mako in the Aquatica's wetlab. Then, while being winched up to the rescue helicopter, the winch malfunctions and drops him into the water where the generation II mako is waiting for him. The gigantic shark takes him on an underwater ride, then uses his gurney as a battering ram to break the huge glass window that separates the wetlab from the ocean (a nice Jaws 3-D homage). To recap: his arm is bitten off, he's dropped back into the water, and he's used as a battering ram to smash a window. It's awesome, and based on in-depth research, it's estimated the whole ordeal covered about 1.12 miles, which is quite the trip for the brilliant scientist.
---
5. THE SHARKS' ESCAPE PLAN IS EPIC
(Photo by Warner Bros. Pictures)
It's clear that Harlin and the screenwriters put a lot of thought into the layout of Aquatica and how exactly it would be flooded. Throughout the movie we see maps, layouts and receive the requisite expository dialogue to make sure we know the geography of the three sub-levels, elevator shafts, and living quarters. The systematic sinking of the facility is ingenious, because it starts with the sharks taking out the underwater video cameras, then leads to the flooding of the first and second sub-levels, which pushes the herded humans to the wet entry in the third sub-level. Once they are there, and Russell Franklin is eaten, they are forced to depressurize the room, which causes tons of ocean water to start flooding in. From there, they open a few more strategic doors, and Aquatica is literally and figuratively sunk. The plan makes the inmate mako sharks seem like criminal masterminds who are always one step ahead of their prey (The Dark Knight's Joker would be proud).
This may sound a little like tinfoil speculation, but two of the weakest scenes in the movie actually make sense when you realize these sharks are Keyser Söze-level brilliant. First, the opening scene involving bikini clad appetizers initially feels like it belongs in another movie. However, the shark that escaped Aquatica clearly intended to find out if GPS trackers had been implanted inside of him and his fellow sharks (they had), and to test the response time of Carter Blake (Thomas Jane). Once they learn they are being tracked, they realize they have to take out Aquatica and kill the humans inside to be free.
The arguably weakest scene of the movie is the aforementioned one in which Dr. McAlester strips down to electrocute a shark — it's admittedly gratuitous and unnecessary. However, earlier in the movie, McAlester sensed that she was being watched through the porthole window in her room (she was), and during this time, the sharks likely learned she kept her research in her locker. When she later returns to her flooded office, a generation I mako is waiting for her to take that research out of the locker. As she grabs the master hard drives, the shark attacks, and during the melee, the research is destroyed and the shark is zapped. The shark had her dead-to-rights when she walked in, so it only makes sense that it was waiting to destroy the research to prevent further shark torture. In other words, Deep Blue Sea was planned out to a tee, and it's difficult not to love Harlin for going all out to make this big-budgeted popcorn creature feature as fun as possible.
---
Tell us what you love about Deep Blue Sea in the comments!
#1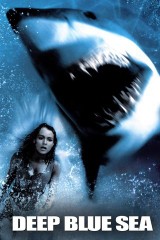 Critics Consensus:
Deep Blue Sea
is no
Jaws
, but action fans seeking some toothy action can certainly do -- and almost certainly have done -- far worse for B-movie thrills.
Synopsis:
On an island research facility, Dr. Susan McAlester (Saffron Burrows) is harvesting the brain tissue of DNA-altered sharks as a...
[More]
Like this? Subscribe to our newsletter and get more features, news, and guides in your inbox every week.