This week at the movies, we've got a flock of fearsome females (Birds of Prey (And the Fantabulous Emancipation of One Harley Quinn), starring Margot Robbie and Ewan McGregor). What are the critics saying?
---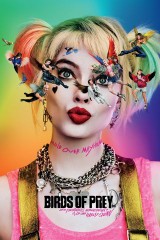 Talk to anyone who saw 2016's Suicide Squad, and they're likely to tell you the best part about the movie was Margot Robbie's performance as Joker's best girl, Harley Quinn. Warner Bros. clearly knew this, too, considering the studio announced a Harley Quinn spinoff even before Suicide Squad was released. Four years later, audiences finally get to see Birds of Prey, and the praise for it so far has been effusive. Working from a script by Christina Hodson, director Cathy Yan jumps back and forth in time to explain how Harley and "Mistah J" broke up, how she gets pulled into the orbit of nightclub owner-cum-sadistic crime boss Roman Sionis (Ewan McGregor), and how her story intertwines with the women who would form her ragtag crew (Jurnee Smollett-Bell, Mary Elizabeth Winstead, Rosie Perez, and Ella Jay Basco). Some were reasonably concerned we might have another Suicide Squad on our hands, but critics say it's all as flamboyant, irreverent, unhinged, action-packed, and gloriously fun as one should expect from a Harley Quinn movie. That said, it does earn its R rating, with plenty of colorful language and bone-crushing violence (thanks, in part, to John Wick director Chad Stahelski, who helped choreograph the action), so it may not be the most ideal girl-power flick for young women. But anyone hoping for a loopy carnival ride of an adventure starring one of Hollywood's most dynamic actors will likely leave the theater satisfied.
---
Also Opening This Week In Limited Release
---
Like this? Subscribe to our newsletter and get more features, news, and guides in your inbox every week.