The Secret Life of Pets 2 follows the latest shenanigans of Max, Gidget, Duke, Snowball, and the rest of your favorite Pets characters. Joining them are a straight-talking Shih Tzu named Daisy (voiced by Tiffany Haddish) and a country dog named Rooster (voiced by Harrison Ford – in his first animated role ever!).
The new movie arrives in theaters everywhere on June 7.  But, you can see it almost two full weeks before that at a series of exclusive Early Access screenings from Fandango.  To get your tickets to see The Secret Life of Pets 2 on May 25, just head to Fandango now.
Haddish and Ford join an all-star cast of comedy favorites, including Kevin Hart, Patton Oswalt, Eric Stonestreet, Jenny Slate, Lake Bell, Nick Kroll, Dana Carvey, Hannibal Buress, Bobby Moynihan, and Ellie Kemper.
This new chapter in the Pets story is set to bring the laughs and all the feels. The movie explores the emotional lives of the pets and their deep bond with the families that love them. As with the first hilarious Pets installment, it will again answer the question every pet owner has wondered: What are my pets really up to when I'm not at home?
And, of course, the movie will take audiences to new places. Pets 2 expands on the universe created in the first movie – we're heading to the country! – and sees Max (Oswalt) facing perhaps every pet's most dreaded fear: being replaced by a child.
To be among the first to see how Max handles the change, check out an Early Access The Secret Life of Pets 2 screening on May 25.
---
The Secret Life of Pets 2 is showing in a series of special screenings on May 25 – buy tickets now. The movie is in theaters everywhere June 7.
#1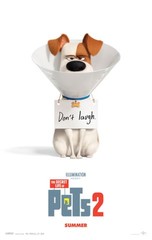 Critics Consensus:
The Secret Life of Pets 2
doesn't teach its animated stars any new narrative tricks -- but for fans of the original, this funny, energetic sequel should still satisfy.
Synopsis:
Explore the emotional lives of pets and the deep bond between them and the families that love them as Max,...
[More]