Music and movie lovers are in for a treat this month with the release of Dexter Fletcher's Rocketman, the fantastical music biopic that takes viewers on a beat-by-beat, key-by-key ride through the life of Elton John.
The movie will make its world premiere at the Cannes Film Festival – where so many beloved movies have gotten their start – before opening in theaters everywhere on May 31. But, you can be among the first to see it at a series of Early Access screenings – some two weeks before the movie opens in theaters!
For one day only, on May 18, the ticketing service Fandango is hosting special Early Access screenings of Rocketman across the country. All you have to do to ensure you see the movie before everyone else is purchase your tickets through Fandango here.
Rocketman comes hot on the sparkly heels of Bohemian Rhapsody and A Star is Born, two of last year's biggest films with both movie audiences and awards voters. And it has all the ingredients in place to make a similar, if not bigger, splash.
There's the incredible catalog of Elton John's songs, the guiding hand of acclaimed director Dexter Fletcher, the words of celebrated screenwriter Lee Hall (Billy Elliot, the upcoming Cats), and a cast that includes Bryce Dallas Howard, Richard Madden, Jamie Bell, and, of course, Taron Egerton as John himself.
Already, with just glimpses of Egerton's performance, fans are in a frenzy, so fully does he embody the swagger and energy of Elton John.
And he sings all the songs himself. Fabulous.
You can see the performance and the film itself when the movie is released May 31 – or be among the first to get your fill at an Early Access Rocketman screening on May 18.
---
Rocketman is showing in a series of special screenings on May 18 – buy tickets now. The movie is in theaters everywhere May 31.
#1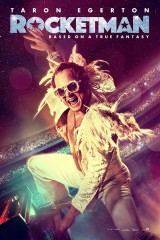 Critics Consensus:
It's going to be a long, long time before a rock biopic manages to capture the highs and lows of an artist's life like
Rocketman
.
Synopsis:
Young Reginald Dwight changes his name to Elton John and collaborates with singer-songwriter Bernie Taupin to become one of the...
[More]