Fans who dare to go back and want to be first to check back into the Overlook Hotel can see Stephen King's Doctor Sleep more than a week before anyone else at special Early Access screenings on October 30. All you have to do to ensure you see the movie before everyone else – and have a truly spooky Halloween – is purchase your tickets through Fandango here.
What will moviegoers be in for?
The new film flashes audiences forward several decades from the horrifying events of The Shining at the Overlook Hotel, where we catch up with a now-adult Danny Torrance (Ewan McGregor), who still carries the infamous power of the Shine. When a young woman with similar powers enters his life he finds a kindred spirit – and one he'll have to protect from a relentless group that feeds off of the powers of those like them.
Shaking yet? You will be. Not only does Stephen King's Doctor Sleep spring from the mind of expert scare-monger Stephen King, but it is directed by Mike Flanagan, whose recent credits have kept movie and TV fans sweaty with fear over the last decade: He's the mastermind behind hit horror series The Haunting of Hill House, innovative slasher Hush, and Certified Fresh freakout hits Oculus and Oujia: Origin of Evil. 
You can see what new terrors Flanagan conjures with King when Stephen King's Doctor Sleep is released November 8 – or get a jump on everyone else and catch an Early Access screening on October 30.
---
Stephen King's Doctor Sleep is showing in a series of special screenings on October 30 – buy tickets now. The movie is in theaters everywhere November 8.
#1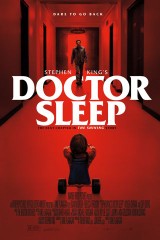 Critics Consensus:
Doctor Sleep
forsakes the elemental terror of its predecessor for a more contemplative sequel that balances poignant themes against spine-tingling chills.
Synopsis:
Struggling with alcoholism, Dan Torrance remains traumatized by the sinister events that occurred at the Overlook Hotel when he was...
[More]