Netflix has just released the new trailer for David Fincher's Mindhunter, and some of the critics have already revealed their first impressions. The very intriguing two-minute trailer definitely looks in line with Fincher's serial killer stories. The first scene and a lot of the rest are reminiscent of Zodiac in particular. We don't need big stars when the premise is so interesting and the visuals verge on the disturbing. If Fincher's name didn't sell this enough already, the trailer should make it one of the most anticipated new series of the fall.
Watch the First Full Trailer Below
And here is what critics are saying:
"The trailer looks like pure Fincher, with its brooding and hazy darkness, screeching violins in the background, and grimy neo-noir aesthetic. In other words, it looks great, and will be sure to induce a nightmare or two." – Austin Elias-de Jesus, Slate.
"[Fincher] seems like he's crafted something akin to Zodiac meets the first season of True Detective, which is really all I need to know in order to set aside some time to binge watch it this fall." – Ethan Anderton, /Film.
"It should be neat seeing Groff take on such a heavy role, but what I like about this trailer is that it doesn't show him chewing the scenery or going for big moments. If anything, the show is highlighting how mild and milquetoast he is, which makes for a nice comparison against the monsters he has to interview." – Matt Goldberg, Collider.
David Fincher has had great success working with Netflix on House of Cards. He's also made a number of excellent movies involving serial killers (Seven, Zodiac, The Girl with the Dragon Tattoo). Now he's got a new series for Netflix about serial killers, and it's apparently so good the streaming service has already ordered a second season.
---
When it debuts: October 13, which is when all 10 episodes of the first season will arrive on Netflix at once.
Who's in it: Jonathan Groff, Holt McCallany, Anna Torv, Hannah Gross, Cotter Smith.
What it's about: Based on the nonfiction book Mind Hunter: Inside the FBI's Elite Serial Crime Unit, the series follows two detectives (McCallany and Groff) as they visit captured serial killers in prison to aid current and ongoing cases. Yes, that sounds a bit like Thomas Harris adaptations, such as The Silence of the Lambs and the similar-sounding Manhunter. Fincher is directing some of the episodes, with the rest helmed by Asif Kapadia (Amy), Tobias Lindholm (A Hijacking), and Andrew Douglas (the Amityville Horror remake).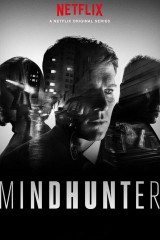 Critics Consensus:
Mindhunter
distinguishes itself in a crowded genre with ambitiously cinematic visuals and a meticulous attention to character development.