This week, the two biggest movies are both rated R, while the third wasn't widely screened for critics. With that in mind, Christy takes the opportunity to tell us about an IMAX documentary from Terrence Malick that should serve as a nice introduction to his work for younger viewers. Read on for details.
---
NEW IN THEATERS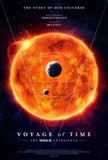 Rating: G
If you liked the cosmos section of The Tree of Life but wish it had been longer, this is the movie for you. Terrence Malick revisits the spectacular kind of imagery he created for that 2011 film (and reunites with its star, Brad Pitt, as narrator) for this IMAX exploration of the dawn of time. From the Big Bang to the dinosaurs to the asteroid that caused their demise, Voyage of Time recreates the planet's earliest days. But it also bounces around through various eras and locations, from the oceans to the mountains to space. The images Malick and his team have created are jaw-droppingly gorgeous – bold, thrilling and wildly colorful – accompanied by vivid sound design that places you at the center of each new setting and a powerful soundtrack of classical music. Seeing it all on a massive IMAX screen truly makes this an immersive experience. There's nothing here that's even remotely frightening or inappropriate for kids; on the contrary, it's an accessible entry to the world of science. Plus, you can finally chalk up your kid's first Terrence Malick movie.

---
NEW ON DVD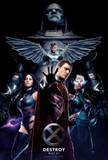 Rating: PG-13, for sequences of violence, action and destruction, brief strong language and some suggestive images.
Kids around 10 and older probably will be fine watching the latest X-Men extravaganza, especially if they're already familiar with the franchise and its characters. We pick up after the events of 2014's X-Men: Days of Future Past. This time, it's the early 1980s. Professor Xavier (James McAvoy) is running his school for gifted children outside New York City and Magneto (Michael Fassbender) is living a quiet life with his family in the woods of Poland. When an ancient, powerful mutant named Apocalypse (Oscar Isaac) awakens with plans to decimate the globe, the X-Men (and women) must unite to stop him. There's massive fighting and destruction, as you'd expect from any blockbuster based on comic book characters. There's also a quiet, poignant scene in which a character's family is slain. Apocalypse is a hulking, frightening figure who wreaks havoc, and the mystical process through which he gains his power might disturb some younger viewers. There's also some profanity, including the one well-placed F-bomb you get with a PG-13 rating.