See the opening minutes of the sixth and final season of History's Vikings. Defeated by his half-brother Bjorn Ironside (Alexander Ludwig) over the crown of Kattegat, exile Ivar the Boneless (Alex Høgh Andersen) wanders the Silk Road filthy and dejected with a dwindling group of supporters.
About the show: 
In season 5, self-proclaimed God Ivar the Boneless ruled over Kattegat with alarming terror and charged his army into battle against his enemy and half-brother Bjorn Ironside. Using fiery guerrilla warfare, each warrior refused to surrender – blood, pride, and the crown weighing heavily on both of their shoulders. Bjorn and his warriors forced Ivar to flee in the final moments, securing Bjorn's victory. Lagertha (Katheryn Winnick), reborn after the loss of a great love drove her mad, emerged to crown Bjorn as the new rightful king.
Season 6 returns following the battle, with Bjorn victorious and a hero to the people who have suffered under Ivar's tyrannical rule for so long. Bjorn struggles to fill his late father's shoes as king, while facing numerous dilemmas and wrestling with the idea that power overshadows morals. Meanwhile, Ivar, searching for a new path to separate him from his past, travels The Silk Road toward Russia. Ruthless and unpredictable Russian ruler Prince Oleg (Danila Kozlovsky) shocks even Ivar with his merciless actions. While Lagertha has her own agenda — to live a quieter and less public life on her own farm — new dangers lurk close to home. This season, the Vikings continue to take over Scandinavia as Ubbe (Jordan Patrick Smith) and Torvi (Georgia Hirst) travel to Iceland to uncover the mystery of Floki's (Gustaf Skarsgård) disappearance, and Hvitserk (Marco Ilsø) pursues his personal vendetta against Ivar.
Vikings returns for its sixth and final season with a two-hour premiere on Wednesday, December 4 at 9 p.m. ET/PT.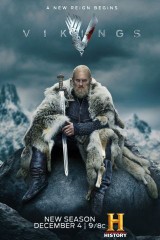 ---