Join us weekly as Rotten Tomatoes reports on what's indie features are streaming. From promising releases by new voices to experimental efforts from storied filmmakers – or perhaps the next indie darling to go the distance for end-of-year accolades – we will break it all down for you here each week.
---
For the foreseeable future, the specialty box office and all theatrical releases will be on hold as we all make efforts to socially distance ourselves and reduce the spread of the COVID-19 coronavirus. With that in mind, we have reshaped our Indie Fresh List to include VOD and select drive-in releases. This week we have a road trip horror film, a couple of YA romance adaptations, and a biopic about famed inventor Nikola Tesla starring Ethan Hawke. In our indie trailers section, we have new clips featuring Susan Sarandon, Kate Winslet, and Maisie Williams.
---
New This Weekend
---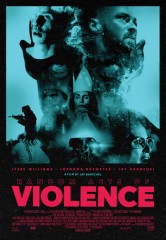 How to Train Your Dragon star Jay Baruchel makes his feature film directorial debut with Random Acts of Violence, which premiered at the Austin genre festival Fantastic Fest last October. In this road trip horror-comedy, which he also co-wrote, Baruchel plays Ezra, a comic book shop owner on a trek to New York Comic Con with his best friend Todd (Jesse Williams), a comic book creator, and Todd's wife Kathy (Jordana Brewster). On the journey down from Toronto, the trio encounter some troubling scenes and come to realize an obsessed fan of Todd's is terrorizing them. Shaun Munro of Flickering Myth calls it "a twisted plunge down the meta-horror rabbit hole, asking provocative questions about the relationship between cinema and violence, yet crucially never getting too cute with its self-aware premise."

Streaming August 20th on Shudder.
---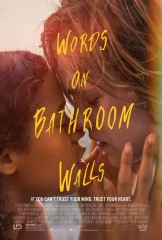 It's not often that a YA adaptation can rise above the cliché of young love and high school drama to also deliver a profound message, but Words on Bathroom Walls manages to do just that and make it look effortless. Indie darlings Charlie Plummer (Lean On Pete) and Taylor Russell (Waves) lead the coming of age romance, which tells the story of Adam (Plummer), a typical awkward high schooler with dreams of becoming a world famous chef.  Following an incident in class during his senior year, Adam is expelled, diagnosed with schizophrenia, and sent to a Catholic school, where he tries to keep his illness under wraps. When he meets the lively Maya (Russell), he's forced to reconsider his carefully laid plans. Heartfelt without becoming predictable, "Words on Bathroom Walls never opts to condescend or offer superficial/magical healing. Instead, it places the audience right with Adam, offering an honest glimpse of what this illness is like to live with," writes Douglas Davidson for Elements of Madness.

In select theaters on August 21st. 
---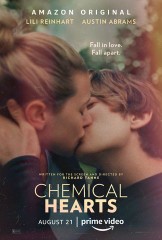 Riverdale star Lilly Reinhart had a memorable albeit supporting role in last year's I-still-can't-believe-J-Lo-was-snubbed Hustlers, and this week she takes the lead in a teen romance called Chemical Hearts. In it, Reinhart (who also produced the film) plays the love interest of Henry Page (Austin Abrams), a hopeless romantic who has never been in love. After he meets transfer student Grace Town (Reinhart) and bonds with her during their time working on the school paper, he finds himself falling for the mysterious newcomer. Based on the bestselling novel by Krystal Sutherland, G. Allen Johnson of the San Fransico Chronicle writes "What makes Chemical Hearts so good is it's unafraid of its feelings. It tackles complicated emotional issues such as depression, suicide, sex, and love with a straightforward honesty."

Streaming August 21st on Amazon Prime. 
---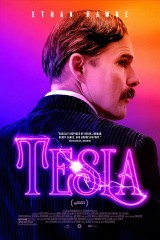 Ethan Hawke failed to score a Best Actor Oscar nomination for his visceral performance as a priest suffering a crisis of faith in 2017's First Reformed, but he looks to return to the conversation in 2021 for his take on famed inventor Nikola Tesla. In another impressive debut from the Sundance Film Festival earlier this year, Hawke is transcendent as the brilliant, brooding scientist who battles to bring his revolutionary electrical system to fruition. One of a few recent portrayals of the inventor in popular culture, this dramatic take is the most well-received effort, and Hawke is the most high-profile actor to bring this iconic figure from the industrial revolution to life. Employing a fresh approach to the typical biopic, director Michael Almereyda has crafted an undeniably singular effort that Tessa Smith of Mama's Geekly says "isn't your typical biopic. While it does give actual facts and information, it also goes a bit off the wall."

Available to rent or buy August 21st on Vudu, Google Play, and iTunes.
---
Along with…
---
New Indie Trailers
---
The Owners (2020) 64%
Game of Thrones star Maisie Williams stars in this horror thriller about a robbery gone wrong.
---
All In: The Fight for Democracy (2020) 100%
A gripping documentary highlights the current fight to restore the voting rights act and prevent voter disenfranchisement.
---
Blackbird (2019) 63%
Susan Sarandon, Rainn Wilson, Mia Wasikowska, Kate Winslet, and Sam Neil lead this family drama centering on a woman's final celebration before her chosen date for euthanasia.
---
Thumbnail image by IFC Films