Just one movie out this week you might want to share with your kids, and that movie is Joe Wright's origin story, Pan. Christy lets us know how harrowing Peter's adventures are, whether or not there are any frightening elements for the littlest of your little ones, and whether or not it's worth seeing at all.
---
NEW IN THEATERS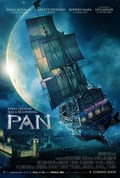 Rating: PG, for fantasy action violence, language and some thematic material.
Director Joe Wright's film is a Peter Pan origin story – because every classic children's character has to have an origin story these days, right? But despite the elaborate, fanciful imagery, Pan is actually a slog. Levi Miller stars as young Peter, whose mother (Amanda Seyfried) leaves him at the doorstep of a London orphanage at the film's start. Years later, during World War II, he's stuck in this squalid place with dozens of other boys – until the night Blackbeard (Hugh Jackman) swoops by on his flying pirate ship to scoop them all up to do his bidding. The story has something to do with the kids being forced to work as miners, digging for pixie dust to keep Blackbeard eternally young. But Peter also is The Chosen One spoken of in a prophecy, so he's got bigger things in store. He also has to meet up with the dude who will become Captain Hook (Garrett Hedlund, doing a Harrison Ford impression circa 1980) and Tiger Lily (Rooney Mara), whose tribe he must free. It's very complicated and not much fun. Some of the early orphanage imagery is bleak, but once we're in Neverland, Blackbeard and his cronies aren't terribly enjoyable to look at, either. Your kids also may be confused about why everyone sings Nirvana's "Smells Like Teen Spirit" upon Blackbeard's initial appearance on screen. (My 6-year-old was.) Anyway, avoid.