All the big new releases in theaters this week are rated R, so Christy takes a look at a couple of home video options instead. Selections include the recent Adam Sandler movie about a video game invasion and an ostensibly family-centric movie about a military dog with PTSD. Read on for details.
---
NEW ON DVD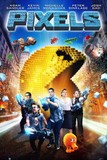 Rating: PG-13, for some language and suggestive comments.
Aliens attack the Earth in the form of classic '80s video games —  Pac-Man, Centipede, Donkey Kong — in this alleged comedy starring Adam Sandler. As a former gaming prodigy, Sandler's character must save the planet alongside old friends and foes (Kevin James, Josh Gad, Peter Dinklage). Michelle Monaghan co-stars as a brilliant lieutenant colonel who devises the technology to defeat these pixelated villains, but she's also stuck playing a weak and weepy woman — the worst kind of clichéd stereotype. (Later, a female video game warrior literally becomes a trophy for Gad's character.) Such thematic dilemmas aside, for the most part, this is an appropriate movie for your kids to see. Actually, it's much more for children than it is for adults, despite its lazy attempts to evoke '80s nostalgia. There's some language. The alien attack is quite literally cartoonish and never really scary, but several people do disintegrate as they get sucked up into a spaceship. (That's the only part that freaked out my son, who was 5 ½ at the time.) And at one point, Qbert pees.

---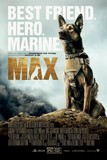 Rating: PG, for action violence, peril, brief language and some thematic elements.
Don't let the sweet, furry face in the posters fool you: This is a surprisingly violent PG-rated movie. The film from director and co-writer Boaz Yakin (Remember the Titans) follows the journey of Max, a Marine search dog who returns from Afghanistan suffering from post-traumatic stress disorder. It has some heartwarming scenes as the Belgian Malinois bonds with Justin (Josh Wiggins), the younger brother of his former handler (Robbie Amell), who died in the line of duty. But it also has plenty of heavy-handed hanky moments, early and often. And then it gets super violent as Justin, his friends and Max try to expose a weapons-smuggling ring in their small Texas town. The bad guys kidnap Justin's dad (Thomas Haden Church) and a crazy amount of gunfire ensues. They also chase after Justin and his friends, repeatedly putting them in peril. Meanwhile, their guard dogs — a couple of snarling, drooling Rottweilers — engage in some frightening fights with Max. My dog-loving son, who was 5 ½ at the time, turned to me at one point and said: "This movie is too violent." And in retrospect, he was too young to see it. But it's probably OK for kids around 9 or 10 and older.