Olivia Wilde's directorial debut, Booksmart, is being called one of the best high-school movies of the decade – a Superbad meets Lady Bird laugh-fest that sees two studious types making up for years of good behavior with one night of craziness. The movie blew audiences at South by Southwest away when it premiered there in March, and is currently at 100% on the Tomatometer. But how well do the people who made Booksmart know the high school movies their new movie is being so favorably compared to? We put them to the test with a special edition of our game, 'Name the Review.' Wilde and costars Beanie Feldstein and Kaitlyn Dever each read reviews of famous teen and high school movies aloud, and then guess which movies the reviews were for. How did they fare? Let's just say it wasn't a straight-As situation.
Booksmart is in theaters May 24, 2019
---
Like this? Subscribe to our newsletter and get more features, news, and guides in your inbox every week.
#1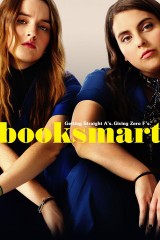 Critics Consensus:
Fast-paced, funny, and fresh,
Booksmart
does the seemingly impossible by adding a smart new spin to the coming-of-age comedy.
Synopsis:
Academic overachievers Amy and Molly thought keeping their noses to the grindstone gave them a leg up on their high...
[More]