How well do one-time rom-com kings Matthew McConaughey and Hugh Grant know their own movies – and what the critics thought of them? Very well, it turns out. In our latest game of "Name the Review," the two stars of Guy Ritchie's new gangster flick The Gentlemen face their critics and come out on top. The concept is simple: Each actor reads the other a line from a review of one of their films, then they have to guess the movie being referenced. In which film did McConaughey's facial hair give a stellar performance, according to one review? And which of Grant's movies was so good it's still at 100% on the Tomatometer? Find out in the video above, and be sure to play along – Grant's excellent charades skills will help you through.
The Gentlemen is in theaters everywhere January 24, 2020. 
#1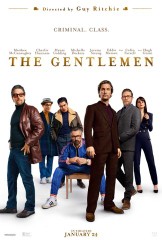 Critics Consensus:
It may not win writer-director Guy Ritchie many new converts, but for those already attuned to the filmmaker's brash wavelength,
The Gentlemen
stands tall.
Synopsis:
Mickey Pearson is an American expatriate who became rich by building a highly profitable marijuana empire in London. When word...
[More]
---
Like this? Subscribe to our newsletter and get more features, news, and guides in your inbox every week.