Brittany O'Grady performs "I Don't Know Anything" written by Sara Bareilles in an exclusive scene from the premiere of the new Apple TV+ series Little Voice. In the episode, "I Don't Know," Bess King (O'Grady) works up the courage to perform her own material while juggling jobs in New York City.
About the show:
Aspiring singer/songwriter Bess dreams of stardom; however, Bess' voice remains hidden in her fears that she must overcome in order to unleash the artist from within. As she battles the hard knocks of New York's music scene, Bess gets caught up in an ever-changing love triangle with budding filmmaker Ethan (Sean Teale) and bandmate Samuel (Colton Ryan). To further complicate matters, Bess is at the center of complex family dynamics involving an autistic brother and an alcoholic father that often has her coming to their rescues. Despite the heartache, strife and struggle, Bess refuses to give up on her dream. With the odds stacked against her, she is determined to discover her true self and a little voice with a song that has much to say.
Apple TV+ presents Little Voice, in association with Bad Robot and Warner Bros. Television. Season 1 also stars Shalini Bathina, Chuck Cooper, Kevin Valdez, Phillip Johnson Richardson and Luke Kirby. Little Voice is created by Bareilles, Jesse Nelson, and J.J. Abrams with Nelson serving as lead writer and director. Cherien Dabis, Bart Freundlich, Christopher Storer, and Emma Westenberg also direct episodes. The executive producers are Sara Bareilles, Jesse Nelson, J.J. Abrams and Ben Stephenson. The production team includes cinematographers Patrick Capone and Jim Frohna, production designer Alexandra Schaller, editors Erica Freed Marker, Jonah Moran and Vanessa Procopio, and costume designer Leah Katznelson.
Little Voice premieres on Friday, July 10 on Apple TV+.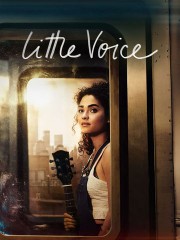 Critics Consensus:
Little Voice
's earnest tune is a little too familiar, but a winsome cast led by Brittany O'Grady and catchy music from Sara Bareilles make for a breezy summer binge.
---