What do the stars of Sonic the Hedgehog really think about the fan-inspired character redesign that delayed – but maybe saved – the movie? That's what we asked Jim Carrey, Ben Schwartz, and James Marsden when we sat down with the guys in the lead-up to the movie's release. Plus, Carrey tells us what it was like to return to his comedy roots for the over-the-top villain, Dr. Ivo Robotnik, and Schwartz reveals an awesome SEGA Easter Egg that was left on the cutting-room floor (we'll wait for the director's cut). And, finally, Marsden give us a tasty tidbit on upcoming Stephen King miniseries, The Stand.
---
Sonic the Hedgehog is in theaters February 14, 2020. 
#1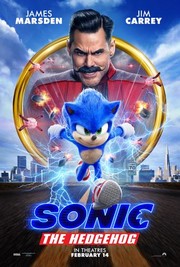 Critics Consensus:
Fittingly fleet and frequently fun, Sonic the Hedgehog is a video game-inspired adventure the whole family can enjoy -- and a fine excuse for Jim Carrey to tap into the manic energy that launched his career.
Synopsis:
SONIC THE HEDGEHOG is a live-action adventure comedy based on the global blockbuster video game franchise from Sega that centers...
[More]
---
Like this? Subscribe to our newsletter and get more features, news, and guides in your inbox every week.