You may have fond memories of watching the various Power Rangers shows growing up, but now that they're on the big screen in a brand new adaptation for modern audiences, the new Power Rangers may not be entirely suitable for kids. Read on for Christy's take on the new action flick, as well as a couple of rentals.
---
NOW IN THEATERS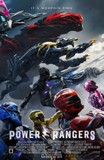 Rating: PG-13, for sequences of sci-fi violence, action and destruction, language, and for some crude humor.
Yes, there is yet another incarnation of the Power Rangers saga. This time, it's a live-action movie, as opposed to the cheesy TV cartoons you may have grown up watching in the early 1990s. It's essentially a superhero version of The Breakfast Club, with five disparate high school students finding colorful crystal coins in an abandoned mine that give them unexpected powers. But they also find themselves in the middle of a battle for the planet that's millions of years old. In the process, the fictional small town of Angel Grove gets decimated. There's quite a bit of big, noisy violence here, as well as some more intimate, hand-to-hand combat sequences with monsters that look like a bunch of boulders stacked on top of each other. There's also language throughout, some suggestive humor off the top involving a cow's bodily fluids, and a police chase and car crash. And the villain, former Power Ranger Rita Repulsa (a campy Elizabeth Banks), may seem scary to little kids, particularly at the beginning of the film when she looks especially witch-like and hasn't regained her full power and splendor. That's the only thing that my 7-year-old son found disturbing: an especially violent scene in an alley at night involving Rita and a hobo who found himself in the wrong place at the wrong time. But it's brief. This is probably fine for viewers around 9 or 10 and older.

---
NEW ON DVD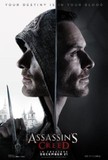 Rating: PG-13, for intense sequences of violence and action, thematic elements and brief strong language.
Kids around 13 and older should be fine watching this, but I wouldn't show it to anyone much younger. It's yet another movie based on a video game – and once again, it doesn't get that transition right, despite heftier production values and a more pedigreed cast than usual. Michael Fassbender stars as Cal, who's being executed for murder in the present day at the film's start. But then he wakes up and he finds he's in a lab where he'll have to tap into his genetic ability to live someone else's memories – specifically, those of his ancestor, who was part of a secret society known as the Assassins. His mission: Travel back to Spain 500 years ago. His goal: Find the elusive Apple of Eden, an artifact that has something to do with controlling free will. Or something. Marion Cotillard, Jeremy Irons, Brendan Gleeson, and Charlotte Rampling co-star. Why any of these esteemed actors said yes to this is truly mind-boggling. The film from Justin Kurzel, who also directed Fassbender in 2015's Macbeth, has a similarly gritty, gloomy aesthetic – and it's just relentlessly violent. As I often say, it's right there on the edge of what you can get away with in a PG-13 movie. Assassin's Creed features copious killings and stabbings as well as a ton of brutal, hand-to-hand combat. It is very bloody. There's also a frightening sci-fi element as Cal mentally goes back in time. Younger viewers will find the plot super baffling; then again, so will most adults.

---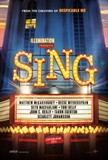 Rating: PG, for some rude humor and mild peril.
Viewers of all ages will enjoy the latest animated comedy from Illumination Entertainment, the folks behind the Despicable Me movies and The Secret Life of Pets. And as in Illumination's previous movies, there's nothing even slightly scary or inappropriate here. Once again, an array of colorful creatures enjoys adventures in the big city. Matthew McConaughey provides the voice of a koala who owns a historic theater that's in danger of closing. He gets the idea to stage a singing competition to drum up interest – think of it as Animal Idol – with performers including a harried, housewife pig (Reese Witherspoon), a reluctant criminal gorilla (Taron Egerton), a crooning mouse (Seth MacFarlane) and a punk-rock porcupine (Scarlett Johansson). The animals find themselves in danger, briefly, when a glass case filled with water (and squid) explodes, flooding the dilapidated theater and causing it to crumble. And the gorilla is part of a bank-robbing gang, but we never see the actual crimes. Mostly, Sing is about being true to yourself and finding your voice – literally. And ultimately, it's about teaming up with a diverse group of folks for a good cause.