We've already talked about The Lost City of Z, which opened in limited release this week, and the only big movie this week clearly intended for children is the latest Earth Day documentary from Disneynature. It's completely suitable for all audiences, but if you're concerned about anything, you can check for Christy's reaction below.
---
NOW IN THEATERS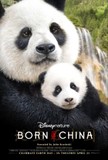 Rating: G
Every year around Earth Day, Disneynature releases a documentary about animals in the wilderness: African Cats, Bears, Monkey Kingdom, etc. This year's offering focuses on several animal species throughout China as they're born, grow up within their families, and learn to survive. John Krasinski narrates the adventures of a baby panda, a golden monkey, and a mother snow leopard protecting her cubs. It's shot spectacularly, as is always the case with these films. We see beautifully intimate images of these families in their remote, natural habitats, as well as breathtaking views of varied terrain across the nation. More than ever in the series, though, Born in China seems geared specifically toward young children. The baby animals all get cute names and funny backstories, and Krasinski punctuates their antics with playful asides. There's very little danger or violence here. Threatening predators pop up and quickly disappear, and there are a couple instances of animals fighting each other, but they're brief. I'd say this is suitable for the whole family.

---
NEW ON DVD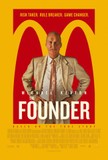 Rating: PG-13, for brief strong language.
Your kids may enjoy eating at McDonald's, and they may see the poster for this movie with its familiar golden arches and think it looks like something they'd want to sink their teeth into. It's not. The Founder is the story of Ray Kroc (a charismatic Michael Keaton), long credited as the founder of the McDonald's global fast-food empire. But director John Lee Hancock's film details the ways in which Kroc wrangled the business away from brothers Mac and Dick McDonald (John Carroll Lynch and Nick Offerman), who originally launched the chain from a tiny Southern California burger stand. There's quite a bit of language and arguing throughout the film, as well as an extramarital affair. The subject matter will probably seem boring to young viewers, but pre-teens might connect with the energy of the movie and its tale of ingenuity. If you're interested in watching this at home, and you have kids around 11 or 12 and older who are watching it, too, they'll probably be fine.