This year's Oscar race may indeed come down to two battle-weary veterans, with Martin Scorsese's The Irishman and Quentin Tarantino's Once Upon a Time in Hollywood in prime position for a classic Hollywood showdown next February. On the other side country, tucked back on a nondescript road amidst the farmland of New Jersey, sits the home of another iconic veteran who's got a new film that may not challenge those films for Best Picture glory, but which thematically feels right at home with the Scorsese and Tarantino movies. It's called Western Stars, and it marks the feature directorial debut of rock legend Bruce Springsteen.
Co-directed by Springsteen and his longtime collaborator Thom Zimny, Western Stars is part concert film, part meditation on the complexities of getting older. With some of the film set on Springsteen's farm and some set out among the quiet stillness of the Californian desert, Western Stars isn't as big, bold, and flashy as both The Irishman and Once Upon a Time in Hollywood, but all three films contemplate the effects of aging, of confronting regrets and mistakes, of trying to embrace what's there instead of what isn't. Springsteen, who turned 70 last month, is certainly aware of the similarities between the pictures – and even more revealing: Irishman and Hollywood are two of his favorite films of the year.
Seated comfortably on a couch inside his New Jersey recording studio, dressed in classic Springsteen attire (blue jeans, jean jacket and white undershirt, natch), the music legend and now film director spoke at length with Rotten Tomatoes about how his love of film has inspired him as a man and as an artist. From the Westerns of John Ford to the sprawling meditative works of Terrence Malick, the musician doesn't hold back when it comes to his own cinematic influences.
(Photo by Rob DeMartin, © Warner Bros.)
"The Grapes of Wrath had a huge influence on me when I saw it – just the imagery and the story it was telling," he said. "Of course, The Searchers and all the Westerns, which I had seen as a kid, but never really absorbed. Also, the noir stuff, like Out of the Past with Robert Mitchum… that was a huge film for me. And then there were more modern things, like Martin Scorsese's pictures – but also I remember at the time I wrote 'Nebraska,' I had seen a Terrence Malick picture for the first time. [His films] are meditative; lots of voiceover… Days of Heaven, Tree of Life. The soundscape for 'Nebraska' really came from Badlands, the Malick picture."
Springsteen told Rotten Tomatoes he began watching a lot of films when he was about 27, "from 'Darkness on the Edge of Town' forward." He said: "I became a bit of a film buff; I was looking at other artists and the way they were conceptualizing their work. So of course, I ran into John Ford, and I thought it was interesting how he was working on certain consistent themes in every picture. How every picture sort of related to another one in certain ways; you had the cast of characters and an ensemble that he worked with really steadily. You know, I had my band and I was interested in telling this longer story where each album would relate to another in a certain way."
That consistency in collaboration is what also drew Springsteen to Scorsese's work, and it's what is top of mind when he discusses the director's epic new work, The Irishman.
"With The Irishman, it was beautiful to see that cast working together again," he said. "To see Marty at the top of his game… those guys and that history, you're never going to see that again. That group of actors – there's never going to be a group of actors quite like that again. And if you grew up with them, as folks in my generation did, that's a powerful picture."
(Photo by Rob DeMartin, © Warner Bros.)
In Western Stars, Springsteen chose a unique format through which to share his newest album with the world. Instead of touring with it, he created this film as a record of the music and the stories behind each song, but also of his love for his wife, Patti Scialfa, who plays beside him on each tune with the duo backed by an orchestra inside an old barn on Springsteen's sprawling farm in New Jersey. The film – featuring songs about lost, often broken men in search of redemption interspersed with thoughtful, almost-poetic words of wisdom from the Boss himself – feels like it's about a man letting go of his mistakes in order to embrace the love that's all around him.
We asked Springsteen if that was an accurate take on Western Stars as a whole.
"That's as good an explanation of it as any, you know," he said with a smile. "It's about a trip or a journey that everyone has to make. When you're young, you wanna do what you wanna do when you wanna do it. Individual freedom means an awful amount to you. But as you get into your thirties and certainly your forties, life begins to thin out, if that's how you're approaching it. And so [you're on this] pursuit of a fuller life, and in a very strange way it's the domestic constraints [that] provide you with a freer life. As you get older, you have a home, a place to gather yourself and reasons for the work that you're performing. The definition of what freedom is alters as you grow older, and so the film is about the way that that word changes as time passes by. But it's also about the price you pay if you don't grow or change as that time passes by."
As he so often does at all of his shows, Springsteen ends the film with a more celebratory encore, covering Glen Campbell's "Rhinestone Cowboy," as if to leave audiences with one last anecdote: never stop chasing your dreams.
"The character in the film makes this journey, and it needed to be celebrated a little bit," he said. "When the song comes up, it's a release for the audience. It's also slightly connected to the genre I was working in; Glen Campbell was an inspiration for a lot of the song stylings.
Of course, it's hard not to discuss "Rhinestone Cowboy" and the aging cowboys featured in Western Stars and The Irishman without also bringing up the aging cowboys at the center of Quentin Tarantino's Once Upon a Time in Hollywood. Springsteen not only told us that he had seen the film, but also that he's a big fan of Tarantino's latest. "I did see it, and I thought, yeah, that's a funny little coincidence," he said when the thematic similarities were brought up. "I really loved it – that was one of my favorite pictures of the past year. It was quite touching, and quite lovely."
---
Western Stars is in limited release October 25.
#1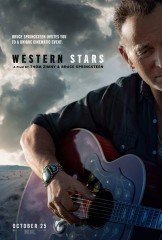 Critics Consensus:
A cinematic gift for Springsteen fans,
Western Stars
serves as a worthy companion piece to the album of the same name.
Synopsis:
Backed by a band and a full orchestra, Bruce Springsteen performs all 13 songs from his new album "Western Stars,"...
[More]
---
Like this? Subscribe to our newsletter and get more features, news, and guides in your inbox every week.