After 43 hours of theatrical footage and 20 films spanning 10 years, Marvel is finally getting its first standalone female superhero: In March, Brie Larson will burst onto screens – and into space – as one of Marvel's most beloved characters, Carol Danvers, a.k.a. Captain Marvel. The upcoming feature from Mississippi Grind co-directors Anna Boden and Ryan Fleck, who were also tasked with co-writing the script, is a period piece set in the 1990s that will chronicle the character's backstory as an Air Force pilot, explain how she got her powers, and clue us in to exactly where she's been the past few years. With Boden co-directing, Robert Downey Jr. quipped before the Infinity War premiere back in April, "Now at least half a directing team is female." The upcoming Black Widow solo feature will be directed by a full female team, with Cate Shortland taking the reins.
As things stand now in the MCU storyline, a lot needs to happen to get our heroes back in action – remember "Mr. Stark, I don't feel so good"? If the end credit scene from the Avengers: Infinity War is any indication, Carol Danvers is going to play a large part in Avengers 4, hopefully rescuing almost everyone from Thanos' snap. But before then, we need to get to know her – and her capabilities – in Captain Marvel. With just under 100 days until the film hits theaters and a fresh new trailer that has all of us buzzing, Larson is poised to set the box office on fire as she saves the world. This summer, Rotten Tomatoes visited the set of Captain Marvel and sat down with Larson to talk about her groundbreaking character, her preparation for the challenging role, and why she thinks Danvers is a revolutionary. Here are the 11 biggest takeaways from our chat with the MCU's new captain.
---
She took the job partially because that's what Carol would do.
"It's a crazy one to have to think about your participation. What that will do to your life, your family, your friends, and I don't know still how it'll change [things], but the opportunity came and I feel like I gotta take the call. The same way she had to take the call, you know?"
---
(Photo by Chuck Zlotnick © Marvel Studios 2019)
Larson Is Just as Awed By Captain Marvel as the Fans Are.  
"I don't feel nervous. I've like found a way to keep my head down. I also find the character so inspiring that whenever I feel nervous and scared, I can turn to her and I'm like, 'No, I got this.' And that feels really awesome. I feel like I have the same awe… that a lot of her fans do. So, hopefully, that sort of bleeds through into this. But, we don't know what's gonna happen, right? Like, we don't know how the movie's going to be or how the movie will be received. It's not worth it to build it up into anything. This is the same thing that I've always been doing. And there are things about her that I think are revolutionary and I, along with Marvel and Ryan and Anna and everybody on this crew, really want to make sure that that stuff gets out there. And, to me, that's all that it is, you know?"
---
Female screenwriters were crucial to telling the story.
"It was all written by women. I didn't realize how vital that [was] until I read it for the first time and realized little things, like 'We gotta get that woman,' which is not in the script. But if a man had written it, generally I'd see, 'We've gotta get that girl.' They're just slight things, and I realized it changed the way I viewed myself. I was like, 'Oh my God. I'm a woman.' You don't realize that you're slowly conditioned in these ways. I've struggled my whole life, in particular, because I'm an actor, of always being in relation to something, always through a lens. Through somebody else's lens. And the beauty of this is that there have been so many women involved in the making of it that I don't feel like I've had to fight as much, because I felt understood from the beginning. And that's just a wonderful thing that Marvel understood innately. They knew… if you're gonna tell this story, you gotta make sure that it's really embedded in everything. It has to be in the script. It has to be in the direction. It has to be in the wardrobe. It has to be in every part of it, you know? That it speaks to us. We're allowed to see our personal hidden secret language. I'm sure there are movies for you guys like, 'Whoa! That's like so true to my experience.' [I] just know we've never had that."
---
(Photo by Chuck Zlotnick ©Marvel Studios)
She went to NASA And learned from real female fighter pilots. 
"One of the biggest inspirations was going to the NASA Air Force base and getting to talk with the female fighter pilots there. They're just the coolest, and just this great combination of really confident but super humble. Not boastful. You just feel the power being with them. And they're hyper-intelligent and just badasses. They became a huge piece of [her] like 'Oh, this is Carol.'"
---
She Stayed Off Social Media After Photos Leaked Of Her In the Suit. 
"Usually if I know the paparazzi on set, I'm like, 'Cool! I'm not going on social media for a couple of days.' It's not helpful."
---
She's Been In Spandex for a Year – And Jim Carrey Knows It. 
"There was a weird moment last week here on the lot. I was wearing the green suit, and in here it's like being in a casino. It's just dark and you lose track of time, and I was like, 'Oh my God, I've gotta get out of here.' Is it still light out? And I open that big door and I stumbled out and I was like blinking trying to adjust to the light and Jim Carrey drove by. [Laughing] And looked at me, and I looked at him, and we just stared at each other as he drove by and I was like, 'Huh.' And I went about my day. I do get some weird looks, but at this point, I've been wearing it so much that I feel sort of normal at this point. 'Cause up until this point, I was just training, so I've basically just been in spandex for the last year."
---
(Photo by Chuck Zlotnick ©Marvel Studios)
She Relished Getting Physically Strong to Portray Carol. 
"I knew I was doing an action movie and I was going to have to do stunts and I didn't know what that was, but I knew that a movie like this was going to feel like a triathlon, and I wanted to be ready for it. I wanted to be as prepared as possible so I wasn't fighting being fatigued or my body hurting. A huge part of her is her strength. If I could go through that experience. I would get closer to her. Even just you standing there can feel really strong rather than acting strong. I was truly an introvert with asthma for this film, so I had a lot of work to do. I started to fall in love with the way my body was changing and transforming. It was the first time I felt like I was making my body work for me. In the past I was more interested in my body never being part of a conversation. To me it felt like objectification, and I just wanted to be a brain, so I've only cared about reading books and understanding words and anything that involved my body just felt like it made me itchy. But this was an opportunity for me to take it back and make my body mine."
---
She was kinda tricked into doing her own stunts.
"I started doing the stunts. I started doing crazy stunts that people were like, 'Oh, by the way, no one does that.' No one really wanted to tell me that that was the case, because they were like, 'I don't know why she's doing this, but it's cool.' It was ignorance, more than anything else, but now I've found it really empowering. I do want to say that I had two amazing stunt doubles in this who were super helpful and are doing a lot, 'cause I can't be on the second unit at the same time as being on first unit. But I did do a lot of it, and I will continue to do a lot of it. And I think watching this movie and knowing that I put in nine months of real hard work, three months of [which] were like four and a half hours of training a day. I was training for a marathon. Seeing this movie, I think it would mean so much more to me knowing that there was that type of dedication put into it. That it's not just CGI, or it's 'Girls are strong with CGI.' It's 'Girls are strong.'"
---
(Photo by Marco Grob ©Marvel Studios )
The Marvel 10-year class photo was just as epic as it looked.
"It's a weird time to enter this [universe]. I'm entering it at the 10-year point. I'm entering at this pivotal time where everybody's coming together. And so it's a very surreal experience to be brought into this family and you feel it. I [could] feel it that day, feel the history, feel the love, feel how much time these people have spent together. I was just really grateful that they were so generous and so excited about me joining it, and open to answer my questions. I brought a book with me and had them all sign it by giving me superhero advice. I mean, most of them are just really practical, like 'Don't forget to drink water.' And a lot of them too are just like, 'You don't need my advice.'"
---
Captain Marvel Is a Good Time – But It Will Leave You Thinking.
"I had a meeting with Marvel. They [said] wanted to make a big feminist movie. And I remember going home being like, "S—, am I gonna do this?" Like, it's kind of everything that I've wanted. I don't do movies based upon any hidden agenda other than I just want more representation and I wanna do what I can to bring more representation. I know my limitations and I know that I'm just one white girl and I'm trying to do as much as I can within the framework of my body. I've grown. I've noticed that these movies, and the Marvel movies in particular, they have so much meaning in them. They mean so much. You can have a great time and just enjoy it for having a great time. But you can also be left with some really deep philosophical questions. That combo is really powerful. The idea that we can make something that was thought-provoking and entertaining, that was gonna be seen all over the world is like, [blows lips]. You know?"
---
(Photo by © Marvel Studios)
The one thing she can reveal about Captain Marvel's character? She's unapologetic.
"I love that she's unapologetic. She's not apologizing for her strength, [even] as a human in the Air Force. She's never trying to shrink herself because of who she is. She can't even be somebody else if she wanted to. She can't. She can't be contained. My whole life I've wanted to know it what it'd be like not to see myself through other people's eyes but just through me alone. Like, do I need to go live in the woods alone? [Laughs] Like, what do I do? Now, I'm learning that, actually, it is all of us together that make life and make the experience. But she is just herself, cannot be contained, and is pretty awesome. It means that she's wild. That's part of what I love."
---
Captain Marvel is in theaters everywhere March 8, 2019.
#1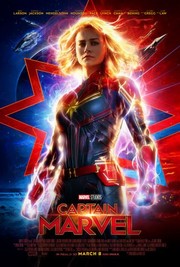 Critics Consensus:
Packed with action, humor, and visual thrills, Captain Marvel introduces the MCU's latest hero with an origin story that makes effective use of the franchise's signature formula.
Synopsis:
The story follows Carol Danvers as she becomes one of the universe's most powerful heroes when Earth is caught in...
[More]