With the release of Black Panther: Wakanda Forever, Phase 4 of the Marvel Cinematic Universe is complete. Of course, as the actual meaning of the MCU phases is an ever-shifting concept – fluid enough, in fact, that Phases 2 and 3 were revised after the fact – the true nature of Marvel Studios' output since 2021, in terms of what it all might be leading toward and what it was all about, is up for some debate. Those questions only became more pertinent as Marvel president Kevin Feige took to the Comic-Con International: San Diego stage in July 2022 to declare Phases 4, 5, and 6 will collectively form "The Multiverse Saga."
So, with Wakanda Forever completing the landscape of Phase 4, let's take a look back at two years of movies (and some TV shows) for a clearer picture of what's been going on and, perhaps,  to discover why it felt the way it did for many fans. Also, we may venture into some speculation about the next two phases and, perhaps, beyond into Phase 7.
---
What Was the Point of Phase 4?
(Photo by ©Marvel Studios)
Some critics of Phase 4's direction noted that it lacked one. Indeed, this is the case if one went in expecting the same momentum as Phase 3 and its literal endgame. And, to be fair, WandaVision and Loki gave the impression of something on the horizon, which never materialized in the films and series that followed them in the subsequent 18 months. The first feature film of the phase, Black Widow, offered the sense that perhaps things would not move into the Multiverse conflict with any sort of haste. Indeed, had the movie come out on its original May 2020 release date, its only key Phase 4 moment would have been the reveal of Contessa Valentina Allegra de Fontaine (Julia Louis-Dreyfus) and Yelena Belova's (Florence Pugh) anger at Clint Barton (Jeremy Renner) during the stinger. Otherwise, as the introductory film of Phase 4, it appears to look backward.
One could even argue it is more properly a Phase 3 film, while the final movie of that phase, Spider-Man: Far From Home, ultimately serves as a better introduction to Phase 4, with its jokes about the Mutliverse and a villain who uses illusions to achieve his goals.
(Photo by Chuck Zlotnick, ©Marvel Studios)
But that's assuming Phase 3-style forward momentum is even required at this stage. In terms of an ongoing narrative, Marvel had a lot to accomplish in the last two years. Beyond properly setting up its Multiverse, it still needed to deal with the fallout of Avengers: Endgame and its five-year jump. In terms of the films, this is probably expressed most acutely in Thor: Love & Thunder, as it revolves around Thor's (Chris Hemsworth) malaise following the events of Endgame. But see also The Falcon and the Winter Solider, as it most directly relates to the political situation on Earth in the immediate aftermath of Thanos's (Josh Brolin) defeat, and even She-Hulk: Attorney at Law for a key update on the Sokovia Accords that motivated so much of Phase 3.
And, as we'll discuss below, a major focus was introducing the second generation of heroes. Like Phase 1, that meant spending more time with the new people and more oblique teases to how they will ultimately interact. In fact, that sense of aimlessness may come from the fact that no lower-stakes Avengers film is being developed to introduce these new characters as a team. Would we have benefited from a movie after Wakanda Forever detailing why Doctor Strange (Benedict Cumberbatch) had to assemble Shang-Chi (Simu Liu), Black Knight (Kit Harington), Spider-Man (Tom Holland), She-Hulk (Tatiana Maslany), Daredevil (Charlie Cox), Moon Knight (Oscar Isaac), and Kate Bishop (Hailee Steinfeld) as his own ersatz Avengers? Possibly. But, like Phases 1-3 before it, it could have at least offered the sense that things were building to something, if not a big fight with a Thanos-level opponent.
---
A Phase Of Introductions
(Photo by ©Marvel Studios)
As mentioned above, Phase 4 was a reset in as much as it took great pains to introduce a lot of new people. In no particular order, the last two years saw the debut of characters like Shang-Chi, Agatha Harkness (Kathryn Hahn), Kate Bishop, Kamala Khan (Iman Vellani), America Chavez (Xochitl Gómez), and the Eternals.
Beyond the characters, though, the films and televisions series – the latter, in particular, was a shift from the previous phases – a number of situations and ideas also needed to be introduced. Chief among them was the Multiverse.
Despite the exhaustive explanation offered in Loki, including the important establishment of variants, only Spider-Man: No Way Home and Doctor Strange in the Multiverse of Madness played with the concept of other realities where the heroes are slightly different, their worst selves, or look like Tobey Maguire. But ultimately, only Loki feels like an essential part of the saga, as the title character's variant, Sylvie (Sophia Di Martino), set into motion the cause of the coming Multiversal crisis and the arrival of Kang the Conqueror (Jonathan Majors) when Phase 5 begins. The two films, meanwhile, used the concepts to either fuel their plot (No Way Home) or to expand their setting (Multiverse of Madness). Granted, the latter's mid-credits stinger scene suggests a third Doctor Strange outing will be far more keyed into the Multiverse Saga than its predecessor.
Then again, is it enough for these films to feature the concept at all for them to feel more essential to the saga than, say, Wakanda Forever?
(Photo by ©Marvel Studios)
Beyond explaining the Multiverse, though, other ideas were also seeded to either bear fruit in Phase 5 and 6 or, perhaps, add nutrients to the soil of the saga after the current phase. One example is the expansion of realms beyond the nine of the Thor films and the Multiverse itself. Thor: Love & Thunder, for example, established the existence of Valhalla, a realm of dead souls not entirely dissimilar from the ancestral plane of Black Panther and Wakanda Forever, which, in turn, resembles Moon Knight's Duat and Field of Reeds. The existence of each and Multiverse of Madness's references to Hell suggest there are many different afterlifes, and a soul's belief in them determines where they go upon death.
Will it matter in The Mutliverse Saga? Probably not, but establishing Valhalla, the Ancestral Plane, Hell, the Duat, and the Noor Dimension (as referenced in Ms. Marvel) could be setting up a subsequent multi-year saga, potentially about a war between the heavens and the powers they unleash in the mortal plane. See also Blade's (Mahershala Ali) off-screen cameo at the end of Eternals and the Disney+ Werewolf by Night special as evidence of something more overtly supernatural than the science-based magic of Asgard or even the Mystic Arts of Sorcerer Supreme Wong (Benedict Wong). Vampires, werewolves, and even the Egyptian pantheon speak to a horror film tradition Marvel Studios clearly wants to tap into, but they don't seem to fit into the Multiverse direction of the current phases. Establishing those ideas now could have a satisfactory payoff, even if it leaves Phase 4 a little disjointed.
(Photo by ©Marvel Studios)
Meanwhile, more down-to-Earth concepts introduced in Phase 4 include the issue of Global Repatriation for those who disappeared in the Blip and those who utterly altered their lives because they were not snapped away. As glimpsed in The Falcon and the Winter Soldier, it's a very big deal, even if subsequent film and television releases seemingly ignored it entirely. Of course, the plots of the film releases made acknowledging those things tough, with Thor (Chris Hemsworth) out in the galaxy, Doctor Strange (Benedict Cumberbatch) lost in his own concerns and the Multiverse, and Wakanda itself grieving the loss of its king. Nevertheless, we expect the issue to come up again in Phase 5's Captain America: New World Order as either the Leader (Tim Blake Nelson) or some other group uses the instability caused by the Global Repatriation Council to their advantage.
But it is absolutely one of those lingering things you'd expect to get some larger references to in Shang-Chi and the Legend of the Ten Rings, No Way Home, or Eternals. At the same time, it is a lot to expect each production to offer even a scene continuing those threads. While Marvel Comics is well-versed in serving company-wide crossovers and storylines, doing the same in film (and television to an extent) may be more of a commitment than filmmakers are prepared to make.
---
Enter The King Of The Seas
(Photo by ©Marvel Sudios)
Also, only so much attention could be paid to the GRC before Wakanda Forever delivered what may be the most important introduction of the phase: Namor (Tenoch Huerta) and the nation of Talokan.
They are important geopolitical players in the Marvel Comics Universe, and their inclusion, albeit with altered origins, is key to the future of the MCU's Earth. Like Wakanda, it is a sovereign nation mostly free from the stains of colonialism and, seemingly, the only other source of vibranium on the planet. And though Shuri (Letitia Wright), Okoye (Danai Gurira), and Everett K. Ross (Martin Freeman) kept Talokan's existence a secret from other nations, it is only a matter of time before Namor feels the call to destroy the surface world again. Additionally, it is inevitable that the US government will learn of Talokan and attempt the very thing its ruler wants to avoid.
(Photo by Eli Ade/©Marvel Studios)
As for Namor himself, he is one of the most charismatic antagonists we've seen so far. His position is not without merit, and his primary motivation, protecting his people, is a just one. But the downside of a man who adopts a portmanteau of "sin amor" as his name is how easily he can be swayed by his heartlessness. His comic book counterpart often straddles a fine line between anti-hero and villain for very similar reasons; his passions often lack empathy for almost everyone outside of his domain. Of course, Fantastic Four readers know there is one surface-dweller Namor has a particular passion for, and we expect this connection may matter in the fullness of time.
Also, Namor self-identifying as a Mutant is more monumental than the moment in Wakanda Forever itself seems. Although he seems to refer to his ability to breathe underwater and on the surface as a unique quirk of his birth, the word still carries a special connotation in an MCU awaiting the arrival of Deadpool (Ryan Reynolds) and Wolverine (Hugh Jackman) in Deadpool 3. But like the reference to mutation in Ms. Marvel, the unusual abilities Namor and Kamala Khan possess are tied to something very specific: an introduction Marvel fans have been waiting for since Disney finalized its purchase of the 20th Century Fox assets and returned the X-Men movie rights to Marvel Studios. But like our hypothetical war of the heavens, Marvel's Merry Mutants will likely have to wait for a time after The Multiverse Saga.
---
The Antagonists Get Their Due
(Photo by Marvel Entertainment)
Opening with Wanda Maximoff's (Elizabeth Olsen) turn to darkness in WandaVision and Natasha Romanoff (Scarlett Johansson) confronting her own ill deeds in Black Widow, Phase 4 was, in many ways, an opportunity for the bad guys to have their day. Of course, "bad guy" is a relative term in the cases of Namor, Karli Morgenthau (Erin Kellyman), and He Who Remains (Majors), but even Gorr the God Butcher (Christian Bale) and Xu Wenwu (Tony Leung) espoused some worthy ideas. Sympathetic villains do not necessarily mean their cause is ultimately just, though, and out of the group listed above, only Namor remains alive and in control of the resources he had before coming into conflict with a Marvel hero. Granted, it is still unclear just what really became of the Scarlet Witch after she seemingly died in Multiverse of Madness, but the point still stands: the villains (or antagonists) had a greater suggestion of complexity throughout the phase, which, in turn, suggests the possibility of antagonists with more longevity than a single film or series.
For those looking to find some sort of resonance between all the surviving antagonists in Phase 4 – which includes Wu Xialing (Meng'er Zhang), Agatha Harkness, the Power Broker (Emily VanCamp), Baron Zemo (Daniel Brühl), Namor, Eleanor Bishop (Vera Farmiga), Wilson Fisk (Vincent D'Onofrio), and arguably Khonshu (F. Murray Abraham) and Wanda – consider the possibility that Kang will offer them some piece of his dynasty in exchange for collaboration. In fact, it's possible he'll reach out to other realities and offer the same deal to variants of villains we saw die.
---
Lingering Phase 4 Questions
(Photo by ©Marvel Studios)
Of course, there are a handful of events that serve as little more than narrative hooks for a subsequent film, series, phase, or saga. The following are just some of the questions left dangling as Phase 4 came to a close.
Will Black Knight make some sort of public appearance before Blade or Eternals 2?
With Blade delayed, it is possible the character may make some sort of substantial in-costume appearance elsewhere – particularly if he is meant to serve some role in The Multiverse Saga.
Will Val ultimately run the Thunderbolts since she's already assembling the group?
The character (and the actor) was conspicuously absent from the Thunderbolts cast revealed at the D23 Expo in 2022. And with word that Harrison Ford will replace the late William Hurt as General "Thunderbolt" Ross in New World Order, it is possible he will assume command of her hand-picked assortment of ne'er-do-wells. Then again, it is always possible the "true" leader of the team will make his presence known.
What is responding to the Ten Rings' signal?
The popular guess is Fin Fang Foom, an alien who happens to look like a dragon, but Simu Liu's own comments about that character's racist leanings may mean something else will attempt to claim the rings from Shang-Chi.
(Photo by ©Marvel Studios)
What is Nick Fury's armada for?
Teased in the final moments of Phase 3, it is still unclear if Nick Fury has been building a space fleet in advance of Phase 5's Secret Invasion or some other threat only he perceives.
Are all Mutants as long-lived as Namor?
The nature of Mutation is still a huge unknown in the MCU, but if so, it would allow certain Mutants with key ties to big 20th Century events to remain in those contexts. It would also make Wolverine a little less special… unless, of course, Marvel Studios is ready to introduce Externals (immortal Mutants) before the X-Men.
Will the governments of the Earth ever stop hassling Riri Williams?
Since the CIA knows she can build a vibranium detector, will they ever let her rest, or will the Ironheart series concern itself with how she finally escapes their attention?
(Photo by ©Marvel Studios)
Was Matt Murdock blipped?
It's fairly clear at this point that Fisk lost five years and his empire to Thanos's calculus, but did it also happen to Matt?
Who is a Skrull?
Since the first Phase 5 TV show is Secret Invasion, fans should take another look at the Phase 4 projects for evidence of characters being replaced by Skrulls. Val, particularly in light of her actions in Wakanda Forever, feels like a prime candidate.
(Photo by ©Marvel Studios)
What incursion are Strange and Clea (Charlize Theron) off to face?
While Multiverse of Madness's end-credit scene suggests a plot for a third Doctor Strange, is it possible the incursion she warns him about occurs in another film? Potentially, another third film in an established Marvel series? Of course, Clea's origins in the Dark Dimension may lead in a different direction.
What film will suddenly matter when we get to Avengers: Secret Wars?
Considering the way Avengers: Endgame recontextualized Thor: The Dark World, it is possible one of the Phase 4 films will take on a huge importance when we get to the final showdown with Kang.
---
How did you feel about Phase 4 of the Marvel Cinematic Universe? What would you like to see happen in Phase 5 and Phase 6? Let us know in the comments!
---
On an Apple device? Follow Rotten Tomatoes on Apple News.
Marvel Movies In Order: How To Watch All 39 MCU Movies and Series Chronologically
If you want to see the Marvel and Avengers movies in order as they happened, starting with the World War II-set Captain America: The First Avenger, we've listed all the MCU movies and series in chronological order, in one guide!

But first, if you just want an overview of the Marvel Cinematic Universe by release date, we have that right here, as split up by the separate Phases:
The Infinity Saga: Phase One (2008-2012)
Phase Two (2013-2015)
Phase Three (2016-2019)
The Multiverse Saga: Phase Four (2021-2022)
Phase Five (2023-2024)
Phase Six (2024-2026)
You can check out our regular feature on all upcoming Marvel movies with key details! Now, on to if you want to watch the MCU chronologically in-universe. So while Iron Man, set and released in 2008, can claim the banner as the first of the Marvel Cinematic Universe, within its story, Chris Evans has got Robert Downey Jr. beat. That's because Evans' origin story as Captain America in The First Avenger takes action in 1942. There, we're also first fully introduced to the Tessarect, an energy cube that initializes the Infinity Saga, climaxing in 2019's Avengers: Endgame.
The next movie set in the timeline is Captain Marvel, the blockbuster with a Blockbuster, set in 1995 with Brie Larson starring as the cosmic Carol Danvers. And then it's time to hit the start with Iron Man and RDJ's world-making turn as Tony Stark. The movies can be seen in release order after that, except for 2021's Black Widow, which is set in the aftermath of 2016's Captain America: Civil War.
Through the epic finale of Endgame (which essentially completed the first 3 phases of the MCU), there was a forward time jump of 5 years, placing most everything in Phase 4 and onward in the near future. Phase 4 started at the movies with Shang-Chi, and has been inviting its lineup of series to really do some heavy lifting, with Loki, Wandavision, Falcon and the Winter Soldier, and Hawkeye pushing the story forward. Then there was the gigantic one-two Spider-Man punch with Far From Home and No Way Home. Moon Knight, Doctor Strange in the Multiverse of Madness, and now Thor: Love and Thunder are all set chronologically by release after that. And now, we've added She-Hulk.
So if you want to watch the MCU by release order, the list above is your guide. But if you want to take an alternate route and see the movies chronologically within its own timeline (including the TV shows), check out our guide below!
---
MARVEL CINEMATIC UNIVERSE MOVIES AND SHOWS IN CHRONOLOGICAL ORDER
The 85 Best Superhero Movies of All Time
The Dark Knight celebrates its 14th anniversary! Black Panther: Wakanda Forever added!
Friends of the super variety, we've collected every Fresh and Certified Fresh superhero movie with at least 20 reviews to assemble our guide to the best superhero movies ever, ranked by Tomatometer!
It's been a decades-long battle towards the top in pop culture for superhero movies, and we're featuring here all the goods, the greats, and the masterpieces made along the way. Everything from the Marvel Cinematic Universe (Iron Man, Avengers) to DCEU (Aquaman, Wonder Woman), animated fare (The Incredibles, Megamind) to live-action spoofs (The Toxic Avenger, Mystery Men), comedies (Deadpool) and the super serious (The Dark Knight), and then throwing in some originals made just for the big screen (The Rocketeer, Darkman, Unbreakable).
Great leaping buggaboos! This introduction is now over! Throw up the cape, slip on that cowl, and hop into the Tomatomobile: We ride for to the best superhero movies of all time! (And don't forget the worst superhero movies ever as well.)
(Photo by @ Walt Disney Studios Motion Pictures, @ Marvel Studios)
All Marvel Cinematic Universe Movies, Ranked By Tomatometer
It takes a lot of effort to get audiences the world over to believe that the fate of the universe should be entrusted to a talking tree and a sarcastic raccoon. First of all, you can't just jump straight into it – you've got build up to it. Begin with a story of the repentant millionaire playboy who builds an iron suit with a nuclear heart from a box of scraps in a cave. Toss in a super soldier thawed from ice after 70 years. How about a magic hammer man from space, or the turncoat Russian spy who loses her accent real quick? It's a good start – just add a few dozen more characters, mix and match them across multiple serialized movies, and as the physics-defying superheroics pile up, all of a sudden, putting all your faith in a trigger happy trash panda makes plenty of sense in the Marvel Cinematic Universe.
Not a bad world to build up for Marvel Studios, which originally had to put up the rights to Captain America, the Avengers, Black Panther, Doctor Strange, and more as collateral just to get the funding to make 2008's Iron Man. Clearly, the movie bet of the century paid off, as an empire of 25 films (and counting) has flourished under Marvel Studios' Kevin Feige. The MCU has allowed generations of comic book fans to ascend to the highest throne in pop culture, while allowing millions more who have never visually connected comic page panels together to become versed in Wakandan politics as well as where to find the bathroom at the Sanctum Sanctorum. Iron Man, Guardian of the Galaxy, Captain America: The Winter Soldier are classics of the genre now, while Thor: Ragnarok, Captain Marvel, and Black Panther, and now Shang-Chi demonstrate superhero movies remain capable of reinvention for new relevancy.
The first 11 years of the MCU have spanned three so-called Phases, and the third closing after the epic battle royale of Avengers: Endgame and epilogue Spider-Man: Far From Home. The franchise barreled forward in a pandemic world with Black Widow, Eternals, Shang-Chi, and Spider-Man: No Way Home in 2021 alone. In 2022, as we continue with new entries in the Doctor Strange, Thor, and Black Panther canon, we're ranking all of the Marvel Cinematic Universe movies, Certified Fresh film first! —Alex Vo
CHECK OUT: Your Full List of Upcoming Marvel Movies | The Best Disney+ Shows and Original Movies

---
Like this? Subscribe to our newsletter and get more features, news, and guides in your inbox every week.
Thumbnail image: © Marvel Studios, © Walt Disney Studios Motion Pictures, © Columbia Pictures/© Sony
Hardly just another sequel in the MCU, Black Panther: Wakanda Forever has the pressure of following up the best-reviewed movie of the franchise — which was also up for Best Picture (and won three of its six other Oscar nominations). Of course, the second Black Panther feature is also missing its former lead, Chadwick Boseman, who sadly died of cancer in 2020. According to the first reviews of Black Panther: Wakanda Forever, though, the sequel manages to still live up to the original and meet expectations for another thrilling and culturally meaningful superhero blockbuster while feeling equally weighed down by and lifted up by Boseman's legacy.
Here's what critics are saying about Black Panther: Wakanda Forever:
---
Does the sequel live up to expectations?
Black Panther: Wakanda Forever had the highest of expectations and surpasses every one of them, and makes a strong case for itself as a Best Picture contender. – Travis Hopson, Punch Drunk Critics
Black Panther: Wakanda Forever is under a lot of pressure, but Coogler lands it. – Princess Weekes, The Mary Sue
Marvel raised the bar on Black Panther: Wakanda Forever. – Christie Cronan, Raising Whaisians
Rather than one-upping Black Panther, Wakanda Forever continues its story with a grace and care that's more moving than any comic book movie has the right to be. – Charles Pulliam-Moore, The Verge
What director and co-writer Ryan Coogler and the team have done with Black Panther: Wakanda Forever is nothing short of outstanding. – Janet A. Leigh, Digital Spy
---
How does it fit into the MCU?
One of the most moving MCU entries so far, and one of the best films to come out of Marvel's Phase Four. – Ross Bonaime, Collider
Decisions that were made in Avengers: Endgame, Black Panther, and other spots of the Marvel Cinematic Universe pay off in ways that will surprise fans… You're going to leave the theater with a ton of questions for Phase 5 and beyond. – Aaron Perine, ComicBook.com
When the film tries to remind the audience of how it connects to the rest of the MCU, especially when specific lines of dialogue seem forced in to do so, it loses itself. – Kate Sánchez, But Why Tho? A Geek Community
Wakanda Forever has a sense of self that extends far beyond its Marvel brand identity. – David Ehrlich, IndieWire
---
(Photo by ©Marvel Studios)
Does it work without Chadwick Boseman?
The central character of this tale remains the one played by Boseman, who may not be around anymore, but his influence casts a long, deep shadow. – Neil Pond, Neil's Entertainment Picks
Unavoidably, Boseman's absence paradoxically has a presence of its own but in a way that feels wholly appropriate and is not distracting. – Janet A. Leigh, Digital Spy
While Wakanda Forever directly reflects Boseman's death by almost replicating the circumstances in the story, it's done so with reverence and never feels like exploitation. – Kate Sánchez, But Why Tho? A Geek Community
A love for Chadwick and an undying reverence for T'Challa can be felt throughout Wakanda Forever. But the movie is careful to not be so bound up in those powerful emotions that it ever feels narratively inflexible or stuck in the past. – Charles Pulliam-Moore, The Verge
Every major character in Wakanda is left to determine whether T'Challa's memory will be a blessing or a torment, and the movie around them is so wracked by the same tension that even its most formulaic moments are heavy with a human weight that blockbusters seldom have the strength to carry. – David Ehrlich, IndieWire
---
How well does the movie honor his legacy?
The passing of T'Challa is handled with care, grace, and respect… Right off the bat, the viewer is set with the tone that this film is a love letter to Chadwick. – Jamie Broadnax, Black Girl Nerds
Not only is Black Panther: Wakanda Forever a love letter to Chadwick Boseman, but it is also an accurate depiction of how people cope with their remorse. – Britany Murphy, Discussing Film
The death of both the actor and the character he played is handled with incredible grace, sensibility, and honor… Fans will be relieved to see this dedication. – Sheraz Farooqi, Cinema Debate
---
(Photo by ©Marvel Sudios)
How is Namor as the villain?
Played by Tenoch Huerta, Namor is an absolute powerhouse in every way. – Sheraz Farooqi, Cinema Debate
Every time the film focuses on Namor, the importance of protecting his people, and his interactions with Shuri, the film excels. – Kevin L. Lee, AwardsWatch
Tenoch Huerta's Namor… might have a claim to the title of Phase 4's most memorable "villain." – Aaron Perine, ComicBook.com
It's been a long time since a villain/anti-hero has felt so fleshed out in the MCU. – Britany Murphy, Discussing Film
One of the most captivating villains we've seen in a Marvel Studios movie… A villain with layers, and depth, and is conflicted. Much like Killmonger in Black Panther. – Jamie Broadnax, Black Girl Nerds
Huerta cannot quite measure up to Michael B. Jordan's raw charisma, but he makes up for it by projecting an imperial mien worthy of Namor's status as a demigod among his people. – Jake Cole, Slant Magazine
---
Do any other performances stand out?
Bassett in particular arguably puts her career-best performance in the role, with incredibly raw emotion packed into her delivery of each line of the script. – Sheraz Farooqi, Cinema Debate
Bassett gives one of the best performances in the Marvel universe so far. – Ross Bonaime, Collider
Bassett also has to be on the shortlist for Best Supporting Actress nominees. The script sets her up for some powerful moments that Bassett crushes with the kind of emotion to put lumps in throats. – Jeffrey Lyles, Lyles' Movie Files
Wright gives a standout performance in having to convey a wide myriad of emotions of someone who is the heir to the throne but has inner and exterior conflicts about her leadership while living in the shadow of T'Challa and his legacy. – Carla Hay, Culture Mix
One of the shining rays of exuberance in this movie is Dominique Thorne's Riri Williams, a.k.a. Ironheart. – Aaron Perine, ComicBook.com
---
(Photo by Annette Brown/©Marvel)
How is the script?
The storyline is fluid, engaging, and constantly moving – one of the best scripts from Marvel. – Christie Cronan, Raising Whaisians
On a plot and scene-by-scene basis, the film struggles to find one singular thread to connect everything. – Kevin L. Lee, AwardsWatch
At times, Coogler and Cole's script seems to strain from the effort it takes to pull all these threads together. – Rachel LaBonte, Screen Rant
---
How does it look?
The film is shot beautifully with its gorgeous cinematography and color palette being far more noticeable than most other Marvel projects. – Kevin L. Lee, AwardsWatch
Black Panther: Wakanda Forever has better visual effects than Black Panther. The cinematography is also an improvement. – Carla Hay, Culture Mix
The regality of the Wakanda regime, from landscapes to the CGI technology to the costuming, the visuals are even better in Black Panther: Wakanda Forever than the original 2018 film. – Christie Cronan, Raising Whaisians
Once again, Carter does her thing… and it already feels like a foregone conclusion that she will claim another Best Costume Design Oscar for work on this franchise. – Jeffrey Lyles, Lyles' Movie Files
---
(Photo by ©Marvel Sudios)
Are there meaningful action scenes?
They're at their best when they focus on the human side of it rather than the explosiveness of it all. – Rachel LaBonte, Screen Rant
[As] the scope of the battles get larger and larger, yet the stakes become more and more personal. – Kevin L. Lee, AwardsWatch
The action is top-notch… Coogler is much more focused on telling a story about the emotions that drive violence, not the violence itself. – Kate Sánchez, But Why Tho? A Geek Community
Even though the movie's action sequences are a marked upgrade over the first film's, they ultimately end up playing second string to Wakanda Forever's focus on the Wakandan royal family's emotions. – Charles Pulliam-Moore, The Verge
Only the first action scene… has the panache that the previous film displayed at numerous turns. – Jake Cole, Slant Magazine
---
Is it more than just another superhero movie?
The movie has the muscle and heft of a comic-book blockbuster, but it also reflects profoundly on the human resonance of ancestry, remembering and moving on. – Neil Pond, Neil's Entertainment Picks
More than just a standard superhero story about good and bad guys… it pushes its audience to think about the ripples history creates in the present. – Kate Sánchez, But Why Tho? A Geek Community
Beyond super heroes, action-packed scenes and explosions, the power of grief – the physical, mental, and emotional anguish – is the bloodline of this film. – Christie Cronan, Raising Whaisians
Wakanda Forever manages to be both epic and intimate at the same time. – Kevin L. Lee, AwardsWatch
Wakanda Forever is probably the best female-led superhero movie we have to date. – Princess Weekes, The Mary Sue
---
(Photo by ©Marvel Sudios)
Is it a lot of movie? Will we feel the length?
Black Panther: Wakanda Forever has a ton of story to tell and it needs every single minute. – Travis Hopson, Punch Drunk Critics
It's big and bulky and sometimes beautiful, almost enough for two full movies packed into one. – Neil Pond, Neil's Entertainment Picks
I was surprised how fast the time flew during this film. – Christie Cronan, Raising Whaisians
Wakanda Forever is paced in such a way that its action sequences move at a brisk clip, while its more serious moments never overstay a beat. – Toussaint Egan, Polygon
It's easily 20 minutes too long. Yet Wakanda Forever has a slow-burn emotional suspense. Once the film starts to gather steam, it doesn't let up. – Owen Gleiberman, Variety
While its length and emotional density can feel like a marathon, Black Panther: Wakanda Forever is a cinematic triumph. – Eric Francisco, Inverse
---
Does it signal good things ahead for the MCU?
For people dealing with Marvel fatigue, this is the film that will give you some hope. – Princess Weekes, The Mary Sue
I cannot applaud Marvel enough for this movie – the most important Marvel film in the MCU repertoire to date. – Christie Cronan, Raising Whaisians
It paves an exciting way forward for the Marvel franchise while cementing itself as a cultural force to be reckoned with. – Rachel LaBonte, Screen Rant
Phase 5 has some big shoes to fill after this one, and hopefully, the storytelling can create the same kind of authenticity and greatness this movie has. – Jamie Broadnax, Black Girl Nerds
Wakanda Forever suggests that the kingdom, and the franchise, are in good hands. – Neil Pond, Neil's Entertainment Picks
---
Black Panther: Wakanda Forever opens everywhere on November 11, 2022.
---
On an Apple device? Follow Rotten Tomatoes on Apple News.
Black Panther: Wakanda Forever closes out the Marvel Cinematic Universe's Phase 4 with a bang, but it had to overcome enormous challenges to make it to the big screen. The tragic death of star Chadwick Boseman, aka King T'Challa, not only meant the story had to be rewritten, but cast a shroud of grief over the cast and crew of Wakanda Forever. RT editor Jacqueline Coley sat down with director Ryan Coogler and stars Letitia Wright, Tenoch Huerta, Lupita Nyong'o, Danai Gurira, Alex Livinalli, and Mabel Cadena to talk about how they processed that grief, both in the film and in their real lives, and how they were still able to deliver a grand spectacle for Marvel fans to enjoy. Check out the interviews to see them explain how they formed new bonds, trained for intense fights and underwater scenes, and made sure to honor their own histories as they created exciting new worlds.
Black Panther: Wakanda Forever opens everywhere on November 11, 2022.
---
On an Apple device? Follow Rotten Tomatoes on Apple News.
Never mind what you think of the
MCU'
s Phase 4, because it's going out with a bang.
Black Panther: Wakanda Forever
held its world premiere this week, and the first reactions from critics on social media is overwhelmingly positive. Could we expect anything less from the sequel to Marvel's first
Black Panther
movie? Reportedly,
Ryan Coogler
has done it again, despite not having the late
Chadwick Boseman
in the lead – and in fact, critics say the movie honors his absence very well.
Here's what critics are saying about Black Panther: Wakanda Forever:
---
Has Marvel done it again?
Black Panther: Wakanda Forever is fantastic!
– Fico Cangiano, CineXpress
Black Panther: Wakanda Forever is as epic as Marvel sequels get.
– Germain Lussier, io9.com
Black Panther: Wakanda Forever is an emotional journey well worth the wait.
– Aaron Perine, ComicBook.com
This may be the best Marvel movie yet.
– Daniel Howat, Next Best Picture
Marvel Studios' most deeply felt and emotional resonant extravaganza.
– Drew Taylor, The Playlist
---
(Photo by Marvel Entertainment)
Does it live up to the first Black Panther?
It surpasses the incredible first film with high stakes and thrilling world-building.
– Daniel Howat, Next Best Picture
Black Panther continues to be [Marvel's] crown jewel.
– Orlando Maldonado, Orlando en el Cine
---
Are there any standouts in the cast?
Letitia Wright's Shuri is quite the beating heart of this film. And Tenoch Huerta? They couldn't have found a better Namor.
– Perri Nemiroff, Collider
Letitia Wright, Angela Bassett and Tenoch Huerta all bring some of the best acting I've seen all year.
– Orlando Maldonado, Orlando en el Cine
Everyone ups their game from the first film with standout performances from Letitia Wright, Angela Bassett, and Tenoch Huerta.
– Matt Neglia, Next Best Picture
The entire ensemble is phenomenal, but Tenoch Huerta bursts onto the scene with a brilliant, complex turn as Namor.
– Daniel Howat, Next Best Picture
Riri Williams is such a big personality character, she instantly fits right in and feels like she belongs in the MCU. I think she might be the breakout character of the film other than Namor.
– Travis Hopson, Punch Drunk Critics
---
(Photo by ©Marvel Studios)
Does it honor Chadwick Boseman?
Black Panther: Wakanda Forever is a moving tribute to Chadwick Boseman & a powerful continuation of his legacy.
– Matt Neglia, Next Best Picture
Black Panther: Wakanda Forever is a beautiful tribute to Chadwick Boseman.
– Clayton Davis, Variety
A beautiful tribute to Boseman's legacy.
– Fico Cangiano, CineXpress
It honors Chadwick perfectly.
– Tessa Smith, Mama's Geeky
Exactly the cathartic experience I hoped it would be, helping us move past our grief while watching the Wakandans fight to do the same.
– Travis Hopson, Punch Drunk Critics
---
Does it have a strong villain?
Namor is one of the better villains the MCU has had to offer. Tenoch Huerta just kills it!
– Brandon Davis, ComicBook.com
Namor is an incredible & powerful villain.
– Tessa Smith, Mama's Geeky
---
How is the writing?
The story is hugely ambitious & thematically rewarding with gut-wrenching twists and turns throughout.
– Germain Lussier, io9.com
Outstanding. It handles loss, grief, and revenge with maturity and seriousness rarely seen in the MCU.
– Orlando Maldonado, Orlando en el Cine
An immensely powerful story of forging forward — shattering at times, but also beautifully cathartic and heartening. Cannot get over how well the film earns that title.
– Perri Nemiroff, Collider
Spends way too much time setting up future MCU projects and coping with its non-fiction tragedy.
– Scott Mendelson, Forbes
---
Is it another great spectacle of action and effects?
Ryan Coogler ups his game on the action.
– Brandon Davis, ComicBook.com
[The effects are] leaps and bounds better than the first Black Panther. Excellent overall.
– Daniel Howat, Next Best Picture
Black Panther: Wakanda Forever prioritizes sentiment over spectacle and for the most part it's a transporting and engrossing triumph.
– Drew Taylor, The Playlist
---
(Photo by ©Marvel Studios)
Are there any problems at all?
You feel the length but it's fun.
– Germain Lussier, io9.com
It also often feels like a mix-and-match of prior (frankly inferior) Marvel movies.
– Scott Mendelson, Forbes
---
Is there a good end credits scene?
The best credits scene in Marvel history, no contest.
– Germain Lussier, io9.com
ONE mid-credits scene, that's all, but it's super sweet.
– Orlando Maldonado, Orlando en el Cine
The mid-credits scene is really moving.
– Fico Cangiano, CineXpress
Another great post-credit scene that's genuinely a jaw-dropper.
– Clayton Davis, Variety
---
Black Panther: Wakanda Forever opens in theaters everywhere onNovember 11, 2022.
On an Apple device? Follow Rotten Tomatoes on Apple News.
Despite a number of headlines throughout its development – and the tragic death of Chadwick Boseman – Black Panther: Wakanda Forever was, until recently, one of the most secretive films Marvel Studios has ever produced. Although certain things, like the majority of the cast, were known via breaks and rumor, the studio was quiet (even by their standards) on specifics until July 23, 2022 when Marvel debuted the first Wakanda Forever trailer at Comic-Con International: San Diego. They also took the occasion to finally confirm the cast and pay tribute to Boseman.
But with the film due out next month and a second trailer now making it clear a Black Panther will be featured, let's take a look at everything we know about the picture and try to guess at what it might add to the Marvel Cinematic Universe going forward.
---
"Only The Most Broken People Can Be Great Leaders"

(Photo by Annette Brown/©Marvel)
From the trailers, it is clear the film will be set after the death of King T'Challa (Boseman). In a clip screened at SDCC, it appears his passing is a fairly recently development as Queen Regent Ramonda (Angela Bassett) tells a UN body that the world stage presumes Wakanda is weakened by the death of its leader. Although the Dora Milaje quickly prove this is not the case to a group of French adventurers trying to score some vibranium, the perception of a leaderless Wakanda will inspire several nations to attempt an invasion.
Once such country appears to be Talokan, known in the Marvel Comics Universe as Atlantis. Its leader, Namor (Tenoch Huerta), has seemingly personal reasons to go to war with Wakanda, although the more recent trailer suggests he may be willing to be allies. As it happens, the Sub-Mariner (as he is also called) and T'Challa have beef in the comics and, presumably, this development honors that in some way. Also, as the trailer from July refers to Wakanda defending itself from nations, we expect at least one other, more land-based state to also attempt an invasion. Will it be Doctor Doom's Latveria? It is a possibility, but that's more speculation than anything else. More likely, the French adventurers in the SDCC clip may have government backing. Alternatively, CIA Agent Everett K. Ross (Martin Freeman) may try to use the situation to get a supply of vibranium for American interests.
(Photo by Matt Kennedy/©Marvel Studios)
But all the Marvel geopolitics will serve as a backdrop for the film's true objective: dealing with a devastating loss. Boseman's tragic death in 2020 from complications related to colon cancer is an unavoidable topic, and though it only delayed production by a handful of months, the trailers make it clear his absence will not be side-stepped. How could it? The actor was one of the key factors in the first film's success and his continued presence in films like Avengers: Infinity War cemented T'Challa as one of the MCU's key leadership figures. And though many have good arguments for recasting the part, his passing is an incalculable loss. That could not go without acknowledgement.
And thanks to the teases of a new Black Panther in the trailers, it is clear honoring Boseman also means keeping the heroic persona he helped usher onto screens alive. The identity of the next Black Panther remains a mystery, of course, and we imagine the unmasking will be a big moment in the film.
---
Wakanda Forever
(Photo by ©Marvel Studios)
In terms of setting, we expect much of the film to take place in the Wakandan capital and a few other regions within the country and outside its borders. Talokan will certainly play a heavy role. But from the trailers and clips, we can also expect at least one visit to Europe – the aforementioned scene with Ramonda — and the US to introduce a new character we will discuss in a moment.
But as with all Phase 4 MCU films, the bigger setting issue is a question of when it takes place. Although the pandemic delays meant we viewers have caught up a little bit on the five year gap introduced in Avengers: Endgame, the Hawkeye television series and Spider-Man: No Way Home are said to occur in the holiday season of 2024, suggesting the events of Doctor Strange in the Multiverse of Madness happen sometime in 2025. Other Phase 4 projects like WandaVision and Shang-Chi and the Legend of the Ten Rings occur shortly after Endgame or in a more nebulous timeframe, like She-Hulk: Attorney at Law. But with Wakanda Forever serving as the close of Phase 4, we presume it will be the most "recent" story, occurring in late 2025. Or, perhaps, we'll discover a more surprising time-frame for the film. After all, Ramonda's proclamation in the October trailer that her entire family is gone makes more sense during the Blip, when both of her children were gone. But, perhaps, we'll see some of that Blip time in addition to the "current" storyline.
---
The Next Black Panther?
(Photo by Marvel Entertainment)
The loss of Boseman means returning actors Letitia Wright, Lupita Nyong'o, and Danai Gurira will step up alongside Bassett as the Wakanda leadership group. Although, as we already mentioned, Bassett's Ramonda is acting as Queen Regent, it automatically sets up a puzzle: is Shuri (Wright) not next in line to sit on the throne? Presumably, this question will occupy the greater amount of the character's arc as she struggles with wanting that power (or abdicating it to remain a scientist) or if a full, ruling queen is even allowed in Wakanda society. Even if that scene takes place during the Blip, Shuri's succession will still be something she and the country will have to confront.
Meanwhile, all four characters make good candidates for the next Black Panther. Although, we're partial to Gurira's Okoye as the person best suited to be the nation's protector. But can that role be handed to someone not in the line of succession?
Additionally, we expect Nyong'o's Nakia also to be dealing with a lot of grief. Although, as many noted around the first film's release, the character is often an antagonist in the comics (going by the name Malice) and could break bad during the film. But this is merely speculation based on the character's exploits in the comics.
(Photo by Eli Adé/©Marvel)
Also returning are Martin as Agent Ross, Winston Duke as M'Baku (another good Panther candidate, even if the glimpses so far suggest a woman will assume the role) and Florence Kasumba as Ayo. Surprisingly, Daniel Kaluuya revealed in July that he would not be returning as W'Kabi due to scheduling conflicts with his often-hectic calendar. Unless, of course, that is all a smokescreen to hide that W'Kabi as the next Black Panther…
Meanwhile, the film will introduce a surprising roster of characters we expect will enjoy a long stay in the MCU. First and foremost of these is Huerta's Namor. Created by Bill Everett and introduced in 1939, the Sub-Mariner (as he is also known) is one of the oldest Marvel characters – he predates the comic company's decision to go by the Marvel name, but first appeared alongside the Human Torch in Marvel Comics #1. In the '60s, he was retconned to be the first Marvel Mutant (flight and strength are his added abilities) among the likes of Magneto, Wolverine, and the X-Men. And thanks to Huerta, we know this will be the case in the film. Presumably, this means Mutants will become better known in the years ahead. Beyond that, Namor has long-standing tensions with members of the Fantastic Four, so we'll be quite surprised if he doesn't show up in that film, too.
(Photo by ©Marvel Studios)
Also debuting in the film are Mabel Cadena as Namora — a member of the Namor cast introduced in 1947 — Michaela Coel as a member of the Dora Milaje known as Aneka, Alex Livinalli as Attuma (often an adversary of Namor), Richard Schiff in an unconfirmed role, and Dominque Thorne as Riri Williams – aka Ironheart. From the trailer, we know she will succeed in building a suit of armor to rival Iron Man's, which will be the jumping off point for her own Disney+ series, due to premiere next year. We've long suspected Riri may have participated in one of the programs T'Challa promised to open at the end of the first Black Panther – presuming, of course, that Ramonda still went through with that plan during her son's absences in Endgame's five-year time gap. If this is the case, it may explain how a young woman from the US ends up in Wakanda working with Shuri, as glimpsed in the October trailer.
---
Behind The Scenes In Wakanda
(Photo by Karwai Tang/Getty Images)
Ryan Coogler returns again as director with Joe Robert Cole also returning as co-writer. Coogler was committed to a sequel early on and, as we mentioned, only took a handful of months to realign the script following Boseman's death. Nevertheless, he was still emotional when discussing the actor's absence at SDCC.
Other returning crew include Coogler's producing partner Nate Moore and Marvel veterans like Victoria Alonso, Kevin Feige, and Louis D'Esposito. Composer Ludwig Göransson, production designer Hannah Beachler, costume designer Ruth Carter, and editor Michael P. Shawver also return, while Kelly Dixon and Jennifer Lame join up as editors and Autumn Durald Arkapaw takes over as Director of Photography from Black Panther's Rachel Morrison.
---
The Phase 4 Conclusion
(Photo by ©Marvel Studios)
After a handful of release date changes to accommodate the ever-shifting theatrical landscape and a few other delays, Black Panther: Wakanda Forever will debut on November 11. As previously noted, the film will mark the end of Phase 4. That said, there will be an epilogue of sorts with Disney+'s The Guardians of the Galaxy Holiday Special and then a short pause until February 2023 when Ant-Man and the Wasp: Quantumania ushers in Phase 5.
---
Black Panther: Wakanda Forever opens everywhere on November 11, 2022.
On an Apple device? Follow Rotten Tomatoes on Apple News.
(Photo by Chuck Zlotnick/Marvel Studios)
Over the course of the weekend, Marvel fans have been processing the ending of She-Hulk: Attorney at Law. In ways it was unexpected and, in others, it perfectly kept faith with She-Hulk's adventures in the comics. Either way, it defied expectations and left many to confront what they wanted from the ending versus what Jennifer Walters (Tatiana Maslany) wanted and broke a streaming platform to get.
Yes, this particular case file may get a little meta.
---
Spoiler alert: The following contains details about the season 1 finale of She-Hulk: Attorney at Law. If you have not watched the episode and wish to avoid spoilers, stop reading here.
---
But before we start indulging in some of that meta-ness, let's start with something truly concrete: that moment when Jen looks back at her empty apartment. It is a gut punch and, according to episode director Kat Coiro, something she had to fight for.
"Our schedule was very tight and it seemed like, 'It's an empty apartment, what's the big deal?'" she explained. "We felt very adamantly that it was a huge key to showing how much she has lost. For anyone who's ever had their own apartment and had a job to support that apartment and decorated it and felt really at home — and we get to see her really at home throughout the series — to strip that all away and leave the key on the window sill just feels heartbreaking."
"It's good when you stick up for something that seems so minor and then it does resonate," she added.
Coiro and Maslany — along with head writer Jessica Gao and actor Jon Bass — spoke with Rotten Tomatoes about the finale, Jen's decision to literally take control of the show, and just how easy it is to get into HulkKing's mindset. They may have also offered a few thoughts on a potential second season.
---
(Photo by Marvel Studios)
For Maslany, the ending — which saw Jen smashing through the Disney+ interface to solve her issues with the way the episode was unfolding — was "very unexpected," but at the same time, she said, "When I read it, I was like, 'This totally makes sense. Of course, we went this way.' Yeah, it feels irreverent. It feels like it doesn't fall into the pattern of the superhero shows that we've seen. It really does comment on them and try a different tack."
Jen's decision to make her way into the reality where the show's writers and the mysterious story droid K.E.V.I.N. (a still-uncredited voice performance) reside is a very pointed (and funny) criticism of an emerging storytelling pattern we will call the "Marvel Method." The term was previously used in comic book circles to describe the peculiar way Marvel Comics were written, but it serves pretty well here for the tendency of Marvel Studios productions to end with big brawls — often featuring a hero fighting a mirror of their own persona. Beyond that, Gao added that K.E.V.I.N.'s attempt to explain it away as a data-driven, algorithmically approved system also applies to the challenges in crafting stories within Hollywood.
Nevertheless, trying to push against this version of the Marvel Method is tough as it is, ultimately a powerful and successful storytelling force.
"I think with everything, you can spread your wings and try new things and color outside of the lines, but it doesn't mean that all borders disappear and you're always still bound by certain realities," Gao said. "But it's always fun and groundbreaking when you get to push past a couple of boundaries and get to wade around in new territory."
---
(Photo by Daniel McFadden/Marvel Studios)
Of course, one of those boundaries is the heavier implication of the campaign Todd (Bass), aka HulkKing, orchestrated against Jen – something set aside in favor of She-Hulk's lighter and more meta approach.
"Even if it does deal with a lot of very real themes," Gao said, "The show is for people who just want to have a good time, who just want to show up, watch something that's just fun."
Fun is the reverse of what Bass did to get into Todd's mindset.
"It's just so prevalent," he said of the thought processes behind Todd's attempts to assassinate Jen's character and obtain her powers. And while not pleasant, he added, "It's not like I have to do a swath of research in order to figure out how these guys work or what's really behind it. It's sort of all there. It's sort of surface."
More fun was the way Todd inverts a lot of the Marvel Method's tropes regarding big bads. Although, he admitted to a little trepidation in playing a character who is both largely absent throughout the season and, perhaps, the most impotent of the villains featured in the Marvel Cinematic Universe so far.
"I don't know if I would call it fear of how people are going to react to it, but there's a little bit of fear of people being like, 'You suck,'" he said. "But the good thing is Todd sucks. You know what I mean?"
Todd's position as a sort of "non-big bad" also puts him on the list of things Jen is forced to deal with throughout the season.
"There's so many points where she doesn't have a choice in what happens to her, whether it's becoming a Hulk, taking that job, [representing certain clients] … many moments where her choice is removed from the equation," Maslany said. "For her, at the end, when her Hulkness is removed from her, that choice is taken away from her. She's like, 'No, no, wait. I'm going to actually choose to make this my story again. And I'm going to decide what happens.' And I just love that."
Coiro added that while "there are times she has actively controlled the narrative of her life," the way she pushes pause on the spectacle happening around her halfway through the episode is "the first time she is taking control of the show, wrangled it away from the writers and going directly to the source."
---
(Photo by Marvel Studios)
The sequence of events embraces the more meta aspects of the characters. While a straight-forward Marvel hero when she debuted in 1980, she would claw her way out of her own comic book before the decade's end to air her grievances with then-writer John Byrne. While it represented a curious relationship between the writer and the character being written, it also established that Jen is not only aware of her fictional nature, but her ability to directly confront those charting her life.
This proved irresistible to Gao and her writing team when breaking the season, who reshaped it into one of the most involved meta-gags in any television show or movie: Jen not only smashing through the Disney+ Marvel hub, but roaming the Walt Disney Studios in search of the writers (some of whom played themselves) and the Marvel offices to talk to K.E.V.I.N., himself charged with being the ultimate creative authority for the MCU (and, presumably, nearby variant realities along the Multiverse).
In realizing the sequence, Coiro brought Maslany to the Disney lot in Burbank, California, after making some attempts at recreating a portion of the historic property in Atlanta, where the rest of filming took place.
---
Related: She-Hulk: Attorney at Law Case Files: What the Finale Reveals About What's Next for Jennifer Walters
---
"When you have a character who's dropping out of her show and into reality, you have to make reality real," she explained. Beyond the verisimilitude of the Disney lot, Coiro and her production team also made some other tweaks to distinguish between the MCU and "K.E.V.I.N.'s world."
"We changed the aspect ratio, we changed the shooting style," she explained. And though the writers' world is meant to be more real than MCU, there is one specific thing meant to be more Marvel within it: Jen's fight with security.
"That was a direct homage to Black Widow beating up the security guards [in Iron Man 2]," Coiro said. "It was just another little, 'Hey, if we're going to go into Marvel world, let's go fully into Marvel World.'"
And though K.E.V.I.N.  claims the glitch which allowed Jen to jump realities is fixed, Gao said, "You can't put the genie back in the bottle once that knowledge is there." Despite the apparent patch to the Disney+ software, "it doesn't change the fact that she has now interacted with K.E.V.I.N. She knows who he is and what he is, and she knows he is the source now. And so with that knowledge, I think comes a certain amount of power."
---
(Photo by Chuck Zlotnick/Marvel Studios)
But unlike Jen's relationship to K.E.V.I.N. — or Byrne, for that matter — Gao believes she's made a "ride-or-die" friend with She-Hulk.
"I hope that audiences watching feel this way about her too," she added. "She's our bestie."
Maslany expressed a similar sentiment.
"I feel very close to her," she said. "I'm so lucky that Jessica and my sense of humor is the same, and that she was so willing to take a risk on having me in this part because Jessica wrote such a beautiful script, and she's got such a strong voice and such a strong connection to She-Hulk."
Looking forward, Maslany is fairly certain Jen will not return to GLK/H.
---
(Photo by Chuck Zlotnick/Marvel Studios)
"I think the fact that she was picked only for her Hulkness is incongruent with who she is, which is a much more complicated person than just that," she said. Nevertheless, she expects Jen will maintain friendships with Pug (Josh Segarra), and Mallory Book (Renée Elise Goldsberry) — to say nothing of her ride-or-die bestie, Nikki (Ginger Gonzaga).
"I think she would continue to be close to those people," she said.
One option for Jen is to start her own firm. It has a precedent in the comics via a 12-issue run written by Charles Soule, which follows Jen's legal adventures after GLK/H lets her go. As it happens, Soule worked as a consultant on the television series.
"He provided a lot of valuable legal consultation, especially, because he used to be a lawyer. And I think that's one of the reasons why his run is so amazing," Gao said.
Of course, there are other avenues for a potential second season to explore.
---
(Photo by Chuck Zlotnick/Marvel Studios)
"The She-Hulk comics go everywhere," Maslany said. "They're not always in the courtroom … [and] there all kinds of different places that She-Hulk exists."
Back in the comics, Jen has done stints with the Avengers and the Fantastic Four (among other teams), leaned far more into the superhero aspect of her life, and pulled away from it to do more personal development. She's even wandered a bit closer to being a mindless Hulk. That malleability excited Maslany to begin with — right down to noting how "she is just explored differently visually" by artists Javier Pulido and Ronald Wimberly in the Soule She-Hulk comics — and it is something she hopes to continue in subsequent appearances and, if it happens, another season.
"I want it to be surprising, and I want it to be as like, 'Oh my God, they're doing that!?' as this season was," she said.

85% She-Hulk: Attorney at Law: Season 1 (2022) is now streaming in its entirety on Disney+.
---
On an Apple device? Follow Rotten Tomatoes on Apple News.
She-Hulk: Attorney at Law wrapped up Thursday in quite possibly the only way it could: with its most involved Marvel in-joke yet. But in setting up that punchline, it also teased a few new developments for the wider Marvel Cinematic Universe and completed Jennifer Walter's (Tatiana Maslany) origin story.
That means, of course, there's plenty to discuss in terms of homages, character developments, and where we might see Jen next, so let's crack open this latest case file and see what we can discern about the Sensational (or is it Savage?) She-Hulk.
---
Spoiler alert: The following reveals details from the final episode of She-Hulk: Attorney at Law season 1. Stop reading here if you have not watched the episode and wish to avoid spoilers.
---
Role Reversal
(Photo by Chuck Zlotnick/Marvel Studios)
As we surmised last week, part of HulkKing's plan was to assail She-Hulk's public image by creating an incident in which her rage got the best of her. It is, in its way, a genius aspect of the scheme as Hulks have been friendly heroic monsters for at least a few years prior to the Battle of Earth (as seen in Avengers: Endgame). It terms of meta-commentary, it also plays into the constant need for women in the public sphere to keep their emotions in check, even in the face of egregious violations and embarrassment, lest old stereotypes get invoked and a further assault occur.
Which is pretty much the only thing Mallory Book (Renée Elise Goldsberry) gets to say — one way or another — in the last two episodes.
Her point is completely valid even if it flies in the face of the MCU playbook. Under the usual circumstances, the hero gets a chance at an emotional catharsis via their powers or by direct physical confrontation with the bad guy. But as the episode begins, Jen can do neither thanks to a night in Emil Blonsky's (Tim Roth) old cell and a plea deal for the Hulk-out incident that requires her to wear a power inhibitor. In lieu of the familiar physical catharsis, we get a pretty fun recreation of the 1970s Incredible Hulk television show opening sequence and, we have to admit, some great 1970s fashion for Maslany and Mark Ruffalo. Besides a fun reference to the Hulk's television past, it also serves as a preamble for the journey Jen is about to embark on.
Part of that journey involved the termination we expected from the look on Holliway's (Steve Coulter) face last week. Although he was absent from the proceedings in the finale, it was clear the terms of her plea deal would preclude her from continuing to work at GLK/H. They wanted She-Hulk as their public image and even if Mallory had arranged a deal for her to retain her powers, we imagine the incident still would have meant the end of her job.
---
It is, in part, pretty consistent with the depiction of Holliway throughout. Affable and seeming tolerant of the chaos the Superhuman Law Division brought to the firm, there was always a certain amount of menace to him when he press-ganged Jen into representing certain clients who absolutely presented personal conflicts and his overall opinion of Jen when she wasn't She-Hulk. His presumably quick decision to let her go makes perfect sense.
Not that it is an excuse or that it means seeing an unemployed and hopeless Jen back at her parents' house didn't suck. In screenwriting terms, it was the absolute low point for Jen. It also continued what seemed to be HulkKing's true aim: putting her in the same place as many of her clients.
---
The HulkKing as Villain
(Photo by Marvel Studios)
But let's talk about Todd (Jon Bass) for a moment. Finally revealed as HulkKing, he represents something of a "not-so-big-bad" for the season. Granted, revealing a Leader (Tim Blake Nelson) or a Doctor Doom to be the true party interested in Jen's blood is the exact expected thing the series strove to subvert. So, an otherwise bored rich kid with an inferiority complex and the ability to mobilize similarly-minded young men is the sort of adversary She-Hulk would definitely face in 2022 — or is 2025? He just doesn't present in the way adversaries typically do in the MCU.
The failure or success of his depiction depends on how far out of the Marvel formula a given viewer feels comfortable in straying. Like Ms. Marvel abandoning its presumed big bad for the rogue Damage Control agent, it is up for debate. For our part, he makes intellectual sense as the personification of online trolls who obsessively mock anything and everything featuring a woman sight unseen. And in terms of story, he also articulates questions viewers should be asking of Jen in regards to the powers and the gravitational pull toward being a superhero. While he articulates this in a regressive and ultimately selfish way — he's ultimately asking "why wasn't it me?" — he still ends up representing the interior conflict simmering throughout the season: Does Jen want this after all?
In that regard, HulkKing is a successful antagonist. But we'll still admit a bigger comeuppance was missing in favor of the "Shulkiest" demonstration of Jen's powers.
---
Smashing the Disney+ Wall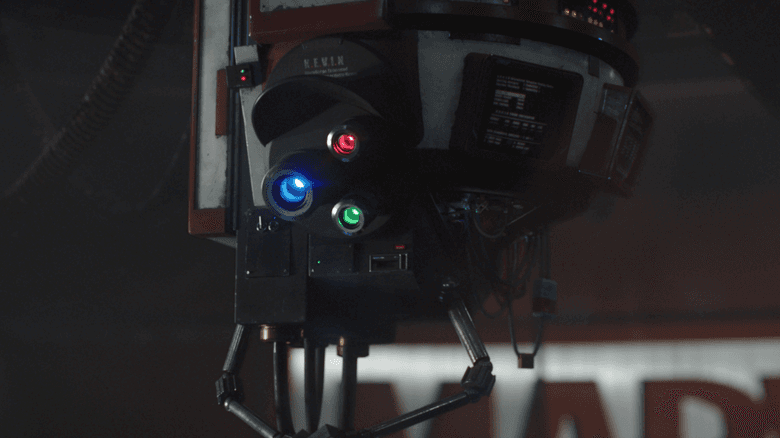 (Photo by Marvel Studios)
Throughout writer John Byrne's association with She-Hulk, he and the character had a peculiar relationship. It culminated in the late 1980s when Jen, tired of his shenanigans, broke through the comic book page to address him directly and air her grievances. It established for all time that She-Hulk knows she's a comic book character and that she can break the fourth wall, physically if need be.
With that in mind, it makes perfect sense that the live-action, Disney+ Jen would react in a similar way once she noticed just how diminished she was becoming in her own story. Thus, she broke through the Marvel hub on Disney+ to visit the Walt Disney Studio lot and, ultimately, the Marvel Studios offices to air her grievance with the show's writers and the chief creative director of the MCU: K.E.V.I.N. — the Knowledge Enhanced Visual Interconnectivity Nexus.
---
(Photo by Jesse Grant/Getty Images for Disney)
Part algorithmically-driven A.I., and part joke about Marvel Studios president Kevin Feige (right down to the hat), the extended sequence with K.E.V.I.N. (an as-yet uncredited voice performance) followed up on the notion suggested by The Incredible Hulk credit parody in the opening: the stakes presented by HulkKing were not the true stakes of Jen's last regular appearance on Disney+ (for now anyway). They were, instead, the things expected by the weight of previous Marvel Studios projects and the sensation that there is a Marvel Method in place as the studio expanded into television. Bruce (Ruffalo) could've had a lampshade on his head when he burst into Emil's meeting lodge and the point would be no louder than it is here with Jen and K.E.V.I.N. joking about VFX artist availability and the X-Men.
Nevertheless, we caught ourselves wanting an amount of the expected. Certainly not the fistfight between all the men while a powerless Jen watched. And not necessarily a moment for Jen (or She-Hulk) to deliver just one punch (with all apologies, DC fans) to Todd — that still plays into what he wants — but at least a few more moments within the MCU proper for Jen to orchestrate his downfall.
---
Read also: Marvel TV Ranked by Tomatometer: She-Hulk Knocks Moon Knight Out of the Top 10
---
That said, Jen literally smashing all the fourth walls to resolve her problems with the ultimate creative authority is still a resolution worthy of the She-Hulk comics we've read. Like HulkKing, the success of the approach all depends on the individual viewer. But in terms of the season's overarching story — Jen coming to own She-Hulk as concept, an aspect of herself, an occupation, and as intellectual property — it is the most expansive and thematically resonant expression of Jen taking control. It also concludes the character arc as Jen, despite powering down because the VFX team is already in Wakanda, has her conversation with K.E.V.I.N. while wearing her supersuit.
It may not be the same visceral thrill of Tony Stark (Robert Downey Jr.) revealing himself as Iron Man, but it reflects Marvel's belief that it can support a wildly self-referential and more complicated conclusion to a character's origin story.
---
The Next Case?
(Photo by Marvel Studios)
But with Jen finally resolved to be an attorney at law and a superheroic She-Hulk, our thoughts naturally move to the next case.
The most obvious possibility: We will see her during Daredevil: Born Again's 18-episode run. That's a lot of screen time for Matt (Charlie Cox) to carry even if Foggy (Elden Henson), Karen (Deborah Ann Woll), and Fisk (Vincent D'Onofrio) are there. And, really, we like this Matt and this Jen together. It's not meant to last, of course, and a Daredevil episode featuring Jen could occur well after they break it all off, but we would like a little more time with them flashing their smiles at each other.
Outside of that, we have K.E.V.I.N. seemingly confirming a second season and a film appearance. In terms of the former, we think keeping the GLK/H setting and the legal comedy format is the best choice. Jen and her world is malleable, of course, and she could go into practice for herself, but Nikki (Ginger Gonzaga), Pug (Josh Segarra), and Mallory deserve a little more exploration. Granted, we're assuming Jen would want to go back and Halliway would give her an appropriate bump in pay. If that proves to be the case, there is still a lot of comedy to mine in the case of the week.
At the same time, Jen going on her own offers a few interesting possibilities and supports the season finale's notion that she is in control of her destiny. Of course, our fondness for the She-Hulk run by writer Charles Soule and artists Javier Pulido and Ronald Wimberly may be coloring our perception of that possible change in setting.
---
(Photo by Marvel Studios)
One other option is, of course, to go full superhero with Jen as an Avenger. The comedy would still be there, of course, but there would also be a heightened opportunity for drama and action. Like we said, the character and the tones she can operate in are varied and, maybe, that's something worth exploring next time.
And we suppose it is always possible Jen may get a larger taste of the main Marvel tone in next year's Secret Invasion. Has Pug been a Skrull this whole time?
Oh, and that film? It's probably not World War Hulk or Planet Hulk despite Bruce showing up with his son, Skaar. Our guess right at this moment: The Hulks will return in Captain America: New World Order. Their blood is still partially Super Soldier Serum, after all, and that will definitely be of interest to the Leader and any other associates he may have in that project.
Finally, our one other tease in the episode leaves us with a question: What other show could not only pull Wong (Benedict Wong) into its orbit, but make Emil comfortable with a long-term stay in Kamar-Taj?

85% She-Hulk: Attorney at Law: Season 1 (2022) is now streaming in its entirety on Disney+.
---
On an Apple device? Follow Rotten Tomatoes on Apple News.
(Photo by Marvel Studios)
Marvel TV Shows Ranked from Best to Worst
Disney+'s MCU-tied streaming series are the latest threat to the rankings of all Marvel TV shows. How do the comic book giant's television properties currently stack up?
After Moon Knight leapt into the top 10 in March, the groundbreaking Ms. Marvel (starring Iman Vellani as Kamala Khan, an Avengers superfan who gets her own powers) overcomes even an Egyptian god by reaching No. 1 soon after its June launch. Ms. Marvel took the top spot from Agents of S.H.I.E.L.D., which had recently returned to No. 1  despite hefty competition from the first Disney+ original series WandaVision and Daredevil, the highest-scoring former-Netflix series now streaming on Disney+. Also in 2022, Marvel released She-Hulk: Attorney at Law, which, while solidly Fresh, debuted as the lowest-rated of the Disney+ original shows. By its finale, however, She-Hulk had secured a spot in the list's top 10, pushing out Moon Knight.
We've included titles that have at least 10 reviews, and ties were resolved by the number of reviews for each title and further by the "Average Rating" under "Score Details" in cases where two series have the same score and the same number of reviews.
Disagree with the results? Tell us in the comments which series you think should have scored higher (or lower) with critics.
Updated Oct. 13, 2022: list adjusted to reflect updated scores
In an exclusive sneak peek at the
She-Hulk: Attorney at Law
finale, Jennifer (Tatiana Maslany) and Nikki (Ginger Gonzaga) map out Intelligencia's connections. Nikki reports that the process of finding the players running the hate-speech site, including site administrator HulkKing, has hit one dead end after another. The site's ownership is registered outside of US jurisdiction, which is annoying because Nikki wants to "find them and destroy them by any and all means," but Jen, of course, wants to sue.

85% She-Hulk: Attorney at Law: Season 1 (2022) finale streams on Thursday, October 13 on Disney+.
---
On an Apple device? Follow Rotten Tomatoes on Apple News.
After teasing the appearance of Daredevil of Hell's Kitchen in pre-release trailers, She-Hulk: Attorney at Law finally debuted Matt Murdoch (Charlie Cox) in its penultimate episode. A somewhat odd choice in an story featuring a number of introductions — from Matt's updated suit to Leap-Frog (Brandon Stanley), to the seemingly missing "big bad" of the series. It also introduced a connection we did not expect, but should have assumed from the jump. So, let's take at the eighth episode of the series and what it means for Jen (Tatiana Maslany), She-Hulk, and the Marvel Cinematic Universe as a whole.
---
"The Sokovia Accords Have Been Repealed."
(Photo by Zade Rosenthal/©Walt Disney Studios Motion Pictures)
Let's start with a big universe update. Matt saunters into the courtroom and drops a bombshell: the Sokovia Accords are no longer in effect.
First put into place during the events of Captain America: Civil War, the accords were meant to create oversight of the growing superhero community. In the US, this meant a hero like Daredevil or Iron Man had to register their secret identity with the government. For a public hero like Tony Stark (Robert Downey Jr.), a disclosure like that was no big deal, but for a Scott Lang (Paul Rudd), it could be ruinous. In the context of the film, Steve Rogers (Chris Evans) was more concerned about the government forcing heroes into military service, but the outing of secret identities also posed a threat the often-bullheaded Stark could not see.
#TeamCap for life.
Thus, it is interesting She-Hulk would offer this update to the state of play in the context of Jen seeking superhero costume designer Luke Jacobson's (Griffin Matthews) client list — an invasion of privacy not unlike the implicit threat of the Accords.
Matt's revelation profoundly changes things going forward. New costumed heroes like Moon Knight (Oscar Isaac) and Ms. Marvel (Iman Vellani) will never have to face the tough decision to be public with their identities. Any other masked vigilantes introduced in Phases Five and Six will also be afforded their freedom. But an MCU fan still has to wonder just how recently the Accords ceased to be the law of the land.
(Photo by ©Marvel Studios)
Looking back at Ms. Marvel, it seemed as though the US Department of Damage Control was in charge of Accords compliance with their interest in Kamala and her powers. Sure, most of that interest centered on Agent Deever (Alysia Reiner) going rogue, but it began as a seemingly routine inquiry into the emergence of a new super-powered person. If the Accords were rescinded before AvengersCon, why was the DODC scanning social media for new potential heroes?
Of course, this is where the MCU's murky timeline makes things more obscure. While it would seem each Phase Four movie and series after Black Widow keeps pushing the timeline forward, this is not always the case. WandaVision begins weeks after Avengers: Endgame. The Falcon and the Winter Solider some months after that. Shang-Chi and the Legend of the Ten Rings and Eternals also occur in those nebulous "months" after Endgame. It is not until Hawkeye that we get a more solid date: that series takes place during the 2024 holiday season. Also complicating matters, She-Hulk appears to occur across that great span of time with the first episodes set in close proximity to Shang-Chi — Bruce's (Mark Ruffalo) injured arm and Blonsky's (Tim Roth) prison break feature in both the series and the film. But just how much time has transpired since Jen began working at GLK/H? And were the Accords revoked relatively recently to the Jacobson case? Also, what motivated the UN to set them aside?
---
"It's Very Daring To Use Mustard And Ketchup As Your Color Scheme."
(Photo by Marvel Comics)
Adopting an MCU take on the comic book character's original yellow-and-dark-red costume, Daredevil made his proper debut in the universe. The appearance continued the more comical trend for the character established in Spider-Man: No Way Home with Matt just barely concealing his abilities while wearing his civilian clothes. That sensibility now extends to Daredevil with his brooding and tendency to fight goons (or henchmen) in hallways lovingly lampooned. The result is a lighter take on the character, which was probably unavoidable as Netflix and Marvel Television wanted a much grittier, darker, and serious street-level hero with its Marvel's Daredevil series. Although that take is very popular, Daredevil is malleable with writers like Frank Miller, Brian Michael Bendis, Ed Brubaker, Mark Waid, and Charles Soule all choosing varying degrees of light and dark in the comics. He can absolutely be a lighter-tone hero. But it remains to be seen if this chummier, charming Matt will return to a darker tone in the eventual Daredevil: Born Again series on Disney+.
There are a few things we can be sure of, though. Daredevil is still an obscure hero at the time of the episode. Jen and all the Los Angeles-based characters have never heard of him. For the moment, let's assume he rarely operates outside of Hell's Kitchen and his few notable public appearances failed to make national headlines. If the MCU Matt is anything like his Netflix counterpart, obscurity is something he probably enjoys. Granted, Foggy (Elden Henson in the Netflix series) probably chafes at Nelson and Murdoch (or is it Nelson, Murdoch, and Page?) also being an obscure, pro-bono firm.
(Photo by Patrick Harbron/Netflix)
As always, there is the question of just how much of the older show actually occurred in the MCU. Originally meant to be completely connected, the grittier Netflix shows were eventually walled off from the films with Cox's No Way Home cameo being the first acknowledgement that some portion of the Netflix series were still canon. When we spoke with Vincent D'Onofrio about his MCU debut in Hawkeye, he mentioned keeping all the events of Marvel's Daredevil in mind and assuming them to still be true. And for some of the jokes to land in this week's She-Hulk — namely the ones about his brooding, abilities, and hallway fights – then a few key moments of Daredevil must have occurred. It will be interesting to see if Deadpool 3 approaches the older X-Men films in a similar way or lampshades them completely.
But for all that pondering, we have to admit Daredevil works in Jen's world. Maybe it's the instant chemistry between Maslany and Cox. Maybe it's the wonderful tension between a grim vigilante and a poppier sitcom star. Or maybe it's just the delight in seeing him again, being a good lawyer and keeping good humor throughout an otherwise annoying case. In any event, seeing the two go home together is particularly satisfying (for Jen and the audience) in a way that has never occurred in the comics. Nevertheless, the potential spark between them becomes obvious once the characters are played by actual people.
Also, we're disinclined to call Matt's departure from Jen's place a walk of shame, even if it was filmed as such. Both are famously love-'em-and-leave-'em types, so there's nothing to be shameful about. Unless, of course, it never happens again. That would be a true shame.
One last thought about the Man Without Fear: We can't help but wonder if the episode would be more successful had Disney and Marvel withheld Matt's appearance until it streamed. Everyone — including us — predicted he would appear, but that would just be rumor and supposition if not for the appearance of his mustard-and-ketchup costume in one of the final pre-release trailers. With Kingpin's Hawkeye appearance, there was something thrilling about not knowing for sure until the last possible moment. But, perhaps, there was worry about repeating the same sort of reveal with another Netflix character. And as people are already guessing Jessica Jones (Krysten Ritter) will make an appearance in next year's Echo— which will also feature D'Onofrio and Cox — Marvel may have another opportunity to see if it is better to withhold a former Netflix star's upcoming return or feature it in the marketing. Provided the rumor about Ritter is true, of course.
---
"Jen. Don't."
(Photo by Marvel Entertainment)
Coming back to Jen and the overall arc of the show, it is interesting to see her finally warm up to the idea of superheroing just as the pseudonymous HulkKing forces everyone to remember that Hulks can rampage. The plan, as laid out in the final moments of the episode, is truly diabolical, a sadistic combination of doxing, revenge porn, and outing. And all of it calculated to incite Jen's exact response. Like her, all we're left with is questions. Who is HulkKing? Is this still part of the plan to obtain her blood? Also, why did she specifically mention the possibility of a Red Hulk when addressing us about the extra minutes added to the episode?
Also, considering the close-up on Holliway's (Steve Coulter) reaction to Jen's Hulk-out, we have to wonder if a possible season 2 will take its cues from the Soule She-Hulk run. But perhaps that is a bit premature and something to consider next week after the finale.
For the moment, though, we have to applaud the way the episode mixed the high of a superhero team-up (complete with a more intimate connection) and this absolutely devastating low. It also frames the entire notion of superheroes itself as a potential season-long antagonist. Jen never wanted to be one, and now that she is becoming comfortable with the possibility (in the broadest sense), a man appears to claim she didn't deserve it. The echoes to real life are obvious, of course, but in terms of the Jen we've come to know across the last few months, it means she will have to face this interior conflict at long last. Does she want this after all? And can she fit it into her stated goals as an attorney? Perhaps that was the real reason why the "Attorney at Law" subtitle was added to the show and, just maybe, why it might disappear should the series return after next week.

85% She-Hulk: Attorney at Law: Season 1 (2022) new episodes debut on Thursdays on Disney+.
---
On an Apple device? Follow Rotten Tomatoes on Apple News.
For Michael Giacchino, the Oscar-winning composer of Pixar's Up, there was always one Marvel character he wanted to bring to life: Werewolf by Night. Even Marvel Studios president Kevin Feige was surprised by the choice when he and Giacchino discussed the possibility of doing a project together.
"He was like, 'Really? Where'd that come from?'" he recalled when Rotten Tomatoes spoke to him about Werewolf by Night, the live-action Marvel Halloween special he directed for Disney+. He remembered explaining to the Marvel chief: "I loved it as a kid, and I still have my Werewolf by Night comics. And I just think it's such an interesting character, and I feel like there's a way to do it in today's world that we can really have some fun with it, and explore this idea of struggle and affliction and how people react to that — not only how did the characters themselves react, [but] how did the people around them react to it?"
Debuting in 1972, Werewolf by Night was part of Marvel Comics push into horror-tinged titles following a change in the way the Comics Code Authority viewed horror. The comic book industry's self-governing standards and practices body was created in response to government scrutiny regarding horror comics from Marvel and DC competitor EC Comics, the publisher of Tales from the Crypt and Mad Magazine following the CCA's ban on horror. But 15 or so years later, with EC entirely a Mad enterprise and the paranoia about horror comics nearly forgotten, Marvel (and DC) got back into the creepier side of things.
---
(Photo by Marvel Studios)
Werewolf by Night centered on Jack Russell, the descendant of lycanthropes who discovers the truth as his mother lay dying after a car crash. Drifting from place to place while trying to minimize the damage possible from his condition, he also becomes involved in other mystical Marvel problems and avoiding the Commission, a group interested in the secret of his curse. And being a Marvel Comics character, he also crosses paths with the likes of Doctor Strange, Mutants like Sabretooth, and others — he also introduced the world to Moon Knight in 1975 — but the emphasis on the monstrous in its original run always fascinated Giacchino.
"I love that whole era in the '70s of the Marvel horror comics," he told us. "The artwork is incredible, the writing is incredible. And it was such a nice sort of alternative to the superhero stuff, which I loved as well, but I always found myself sort of gravitating back to this era when I was a kid, and coming into these areas."
That fascination remained strong right through his meeting with Marvel Studios.
"Monsters aren't something you guys have really explored, other than just being bad guys in the films," he recalled saying to Feige. "To me, monsters aren't bad guys. They are people with problems that need help. And I would want it to approach it from that point of view. So that's really how it all started."
---
(Photo by Marvel Studios)
The special stars Gael García Bernal as Jack Russell, who joins a strange wake/monster hunt for reasons all his own. It also features Laura Donnelly as Elsa Bloodstone, a more recent addition to the horror realm at Marvel Comics, and Harriet Sansom Harris as Verussa.
Armed with memories of some other Marvel horror comics like The Monster of Frankenstein and The Tomb of Dracula — and movies like 1935's The Bride of Frankenstein and 1941's The Wolf Man — Giacchino set out not only to introduce Werewolf by Night to a whole new audience, but bring a certain horror tone to the Marvel Cinematic Universe — one more classical and, at times, celebratory of the practical limitations of that older era.
"All those films were shot on sets, sometimes borrowed sets in between other people's productions. When you watch The Most Dangerous Game, it was shot on the sets of King Kong, that was shooting at the same time," he explained. "I thought there would be a way to invoke what I loved as a kid about those movies, but do it in a modern sense."
One such fusion of the modern and classical is the Werewolf itself, an astonishing practical effect. From day one, Giacchino knew he wanted Jack Russell's wolf form be a makeup appliance marrying his handsome actor to that classical horror world.
"For me, to get the feeling I wanted, it needed to be real. It needed to be someone right there. It needed to be Gael in makeup, wearing the prosthetics," he said. The prosthetics, while based on methods a century old, were updated by KNB EFX Group, who also provided practical creature makeups for a wide variety of films and TV shows, including, of course, The Walking Dead.
"They did an incredible job and they really, really killed it," Giacchino said. "And it was so fun because we got to explore so many of those old school techniques of what they would do [in the '30s and '40s] to bring these things to life."
---
(Photo by Marvel Studios)
Approaching those older techniques with new angles also supported Giacchino's gut feeling that much of the special had to be as real and as practical as possible to evoke that classical feeling.
"If you put [the actors] in a set, you put the monsters right in front of them, then suddenly they have something that they can just lean into," he explained, noting that the quick shooting schedule also inspired the sensation of old monster movies. "That was also part of this, let's just lean into the technique of the old school filmmakers and see what we can do with this."
Another older tradition employed on the special: presenting the film in black & white. While it was something Giacchino wanted to do from the start, there was some uncertainty about it.
"It wasn't until we were done shooting, [and] we had a version of the film that we were able to watch together. We sat down with Kevin Feige and everyone else and we watched it. And when it was over, he looked over and says, 'I guess we have to do this in black and white, don't we?'" At the same time, Giacchino said every care was made to treat footage that could have been in color as "real [a black-and-white] experience as possible."
---
(Photo by Marvel Studios)
According to co-executive producer Brian Gay, Giacchino's old-school sensibility also lent itself to a new format for the studio: the one-hour holiday special. Although it still exists to some extent, the holiday-themed special (whether that holiday be Halloween, Thanksgiving, or Christmas) evokes fond memories for certain generations raised in a broadcast television reality — particularly when accompanied by the old CBS Special Presentation bumper Marvel honored, after a fashion, in the Werewolf by Night trailer.
"Things like that felt like it was an event [that] happens once a quarter, once a year, that sort of thing. And we liked it and we looked around [and realized] no one's really doing this," Gay explained. "So what if we do it? Can we do it? And we all looked at each other and said, 'might as well try!'"
He credited Giacchino with getting the idea immediately and going so far as to score the Special Presentation bumper seen in the trailer.
---
(Photo by Marvel Studios)
"[The special] felt like a fun way to introduce a character," Gay added. While Werewolf by Night acts as a "Marvel One-Shot" of sorts to introduce Jack Russell to the cinematic universe, it also serves as an opportunity to reveal "there are [classical] monsters in the MCU."
Of course, there long-term effect of that may not be felt for some time. That said, the debuts of Moon Knight, Werewolf by Night, and, eventually, Blade suggests a monster-movie corner of the MCU will be a larger concern in the phases ahead.
For the moment, though, Werewolf By Night is here to introduce Jack, Elsa, and at least one more Marvel horror character to the streaming world.
"It's its own fun, one-night adventure," Gay explained. "This whole thing takes place over one night. And so with that, we said, 'OK, let's cut loose. What's going to happen? We got 12 hours with these characters. What trouble could they get into?' And trouble is fun sometimes."

90%

90% Werewolf by Night (2022) streams on Disney+ beginning Friday, October 7.
---
On an Apple device? Follow Rotten Tomatoes on Apple News.
[Updated October 3, 2022]

Since Marvel Studios present Kevin Feige first introduced the notion of Phases to the Marvel Cinematic Universe, their purpose and length have always been mysterious. Sometimes, he even reconsiders where they begin and end after the fact. But with Marvel Studios' presentation at Comic-Con International: San Diego 2022, the exact length and purpose of Phases Four, Five, and Six were revealed during a presentation notable for just how much information Feige was willing to offer. For one thing, the three phases form the next Marvel epic: The Multiverse Saga. And like The Infinity Saga before it, it will build from a phase of character introductions (the current Phase Four) to something full of war, dynasties, and secrets.
Of course, the introductions are far from ending. The final chapters of Phase Four will introduce Tatiana Maslany as She-Hulk, Dominique Thorne as Riri Williams, and Tenoch Huerta as Namor, the Sub-Mariner. Also, on the horizon is the arrival of the anti-hero team known as the Thunderbolts and, of course, Marvel's first family, the Fantastic Four. And as we have for the last few years, we're keeping track of it all in this comprehensive guide of every upcoming Marvel Studios film (and television show) with a handy calendar of the studio's projects through 2025 (and beyond).
As always, we will continue to update this page frequently as new details emerge. And be careful: There are spoilers ahead. (Want to see what the other camp is up to? Check out our full breakdown of upcoming DC movies.)
---
COMING SOON IN PHASE FOUR
Phase Four comes to a close in November, but will offer a few more introductions before the Marvel Cinematic Universe takes a pause for most of the winter.
---
Werewolf By Night
Premiere Date: October 2022
What We Know: Doctor Strange composer Michael Giacchino turns his hand to directing once again with a Marvel Halloween special due out in October 2022. It will focus on Werewolf by Night and star Gael García Bernal as the Jack Russell iteration of the character. The Nevers' Laura Donnelly also stars as Elsa Bloodstone, with filming occurring in April. Judging by the trailer released in September, 2022, the hourlong, black-and-white special will focus on a number of monster hunters who must figure out which of them is actually a monster in disguise.
How It Fits in the MCU: Moon Knight famously debuted in the pages of Werewolf by Night and with Marvel Studios investing in the horror aspects of the Marvel library, we expect Bernal's Werewolf to join forces with Moon Knight (Oscar Isaac) — now a supernatural character in the MCU — and Blade (Mahershala Ali) at some point in the next decade.
---
Black Panther: Wakanda Forever

Release Date: November 11, 2022
What We Know: Despite the tragic death of Chadwick Boseman on August 28, 2020, plans for the Black Panther sequel pressed on. The sudden and awful loss only delayed production by a couple of months. Filming began in June of 2021 with Shuri (Letitia Wright) taking on a larger role and actor Tenoch Huerta signing on the play Namor, the primary antagonist. Martin Freeman, Florence Kasumba, and Angela Bassett all returned with Michaela Coel joining up as Aneka, a member of the Dora Milaje. Winston Duke is also back as M'Baku. Additional cast include Mabel Cadena as Namora and Alex Livinalli as Attuma. In December of 2020, Marvel changed the release date to the July 2022 slot. The subsequent May, the studio revealed the title as Black Panther: Wakanda Forever. Later that month, Danai Gurira set her return as Okoye. That July, Winston Duke told Collider he was returning to play M'Baku and in August, Feige revealed to Comicbook.com that Ironheart's Riri Williams (Dominique Thorne) will debut in the film ahead of her Disney+ series. That same month, Wright injured her back and left the production to recuperate in the UK. In the following months, her COVID-19 vaccination status became a concern for the production. Filming continued without her, but reportedly halted over the 2021 holiday. Shooting resumed in late January and wrapped in March. All was silent until the trailer premiered at SDCC 2022. In it, the Wakandan royal family grieves the loss of King T'Challa (Boseman) even as Atlantis and other hostile nations push Wakanda to the brink of war. Also, as the trailer teased in its final moments, a new Black Panther will emerge.
How It Fits in the MCU: The change in Wakandan leadership could have far-reaching effects, particularly as the embassies T'Challa envisioned were presumably built in his absence after Avengers: Infinity War. With Riri making her debut in the film, we have to wonder if she benefited from one of those embassy programs. It would be a nice way to keep T'Challa's legacy alive in the wider MCU. Additionally, Namor's retroactive status as Marvel's first Mutant may lead to further understanding about them following their Ms. Marvel introduction. Also, we can't help but wonder if one of the hostile nations testing Wakanda's resolve is Latveria, the domain of Doctor Doom.
---
The Guardians of the Galaxy Holiday Special
(Photo by © Walt Disney Studios Motion Pictures, © Marvel Studios)
Premiere Date: Holiday 2022
What We Know: The special was filmed concurrently with Guardians of the Galaxy Vol. 3 and is set to stream the holiday season prior to the feature's release. James Gunn wrote and directed the special, which we imagine will nod as much to The Star Wars Holiday Special as it will the Guardians' own situation. We hope this means someone will do a big song-and-dance. According to Gunn, the special will be set between Thor: Love and Thunder and Guardians of the Galaxy Vol. 3. In August of 2021, he also revealed that the special is in-canon and will feature details leading into Vol. 3.
How It Fits in the MCU: Although the special will be canon, we hope it makes some canonically dubious choices like Star Wars's infamous foray into holiday entertainment. In any event, we expect to see Groot dressed with Christmas lights and Nebula enacting her own weird version of The Gift of the Magi.
---
WHAT TO EXPECT IN PHASE FIVE
As Feige revealed at SDCC 2022, Phase 5 opens with an Ant-Man movie and closes with a team-up movie — but not the team you would expect. The phase opens with a lot of sequels and will feature the first Season 2 in their Disney+ television series initiative. And considering how it begins, we imagine the purpose of the Phase will be to set up the overall nemesis — Kang the Conqueror (Jonathan Majors) even as it further re-establishes Daredevil in the MCU proper and sheds light on other corners of the vast Multiverse.
---
Ant-Man and the Wasp: Quantumania
(Photo by © Walt Disney Studios Motion Pictures, © Marvel Studios)
Premiere Date: February 17, 2023
What We Know: Based on the teaser screened at SDCC 2022, we can make a few guesses about the film's plot — Scott Lang (Paul Rudd) is enjoying his notoriety as one of the heroes who saved the world. But that joy is tempered as his daughter, Cassie (Kathryn Newton, taking over from Emma Fuhrmann), begins to follow in his criminal footsteps. Seemingly taking her more under his wing, she soon finds herself caught up in an Ant-Man and the Wasp adventure as they, and the whole Pym-Van Dyne family, end up stuck in the Quantum Realm. There, they run afoul of Kang and, as director Scott Peyton confirmed at the SDCC 2022 Marvel presentation, M.O.D.O.K. Returning characters include Hope (Evangeline Lilly), Hank (Michael Douglas), and Janet (Michelle Pfeiffer). Rick and Morty scribe Jeff Loveness provided the script with director Reed returning for his third heist with Scott and the gang. In December of 2020, Marvel revealed the title – Ant-Man and the Wasp: Quantumania – and confirmed Newton and Majors's roles in the film. Production began in mid-May. In October, Bill Murray set social media on fire by announcing he has a part in the film (later confirmed by the Comic-Con teaser). Production ended that November. In April 2022, the movie swapped places with The Marvels as it is, apparently, that much closer to completion.
How It Fits in the MCU: Clearly, the intent here is to give Kang a big introduction inside the "tiny" world of Ant-Man and the Wasp. Also, Cassie's newfound desire to get a costume of her own also suggests an eventual Young Avengers outing. Meanwhile, we hope M.O.D.O.K. finds his way out of the Quantum Realm and to whatever remains of Iron Man 3's A.I.M. Back in the comics, the two are indelibly linked.
---
Guardians of the Galaxy Vol. 3
(Photo by © Walt Disney Studios Motion Pictures, © Marvel Studios)
Release Date: May 5, 2023
What We Know: Peter Quill (Chris Pratt) is still heartsick for Gamora (Zoe Saldana), who has emerged as the leader of the Ravagers. His constant attempts to reestablish their life together prove to leave the Guardians vulnerable to other threats. Meanwhile, Rocket's origins suddenly become important as the High Evolutionary (Chukwudi Iwuji) makes his presence known in the galaxy. Oh, and just to make matters worse for the team, Adam Warlock (Will Poulter) finally emerged from that egg seen in Guardians of the Galaxy Vol. 2. The character very nearly appeared in that film and Avengers: Infinity War, but fell away as both movies were stuffed to the air ducts with characters. With Poulter cast in the role in October 2021, the character will finally do something in the MCU after missing the entire Thanos affair. Also, as he did before his temporary departure from the project, Gunn told to the Comic-Con 2022 audience that the film is indeed the conclusion to the story he began telling in the first installment — although he teased that an ending may not necessarily mean an unhappy one. Production began in November of 2021 with Gunn releasing a photo of the cast, which included the surprise reveal of Iwuji, then out of costume. Dave Bautista, Vin Diesel, Bradley Cooper, Karen Gillan, Pom Klementieff, Sean Gunn, and Sylvester Stallone return as their various Guardians characters. Filming was completed in May with Bautista noting it was emotional to say goodbye to Drax and the experience overall. In June, word surfaced indicating Nico Santos is also among the cast and at the subsequent 2022 Comic-Con panel, Gunn revealed Maria Bakalova as the person behind Cosmo the Spacedog.
How It Fits in the MCU: The High Evolutionary has many connections to characters like the X-Men, Doctor Doom, Thor, and Galactus back in the comics. But we imagine he will serve a very specific purpose here — maybe even one with Multiversal implications.
---
Secret Invasion (series)

(Photo by © Marvel Studios, © Walt Disney Studios Motion Pictures)
Premiere Date: Spring 2023
What We Know: Nick Fury (Samuel L. Jackson), Maria Hill (Cobie Smulders) and Talos (Ben Mendelsohn) will deal with a sect of ill-intentioned Skrulls hiding on Earth and infiltrating "every level of life" on the planet. Word of the series first broke in September of 2020 as an unspecified Nick Fury project, but calling it Secret Invasion leads to something very pointed as Feige ultimately referred to the original Secret Invasion comic book event series as "the biggest" since Civil War. Kyle Bradstreet serves as the program's head writer. In April of 2021, news broke indicating both The Crown's Olivia Colman and Game of Thrones' Emilia Clarke would be joining the cast. As both played royalty in other prestige series, speculation on their parts immediately centered on Skrull Empress Veranke, the main antagonist of the Secret Invasion comic book storyline. Nevertheless, it is unclear who they will play. In May of 2021, Thomas Bezucha and Ali Selim signed on to direct the series. Later in the month, Christopher McDonald joined the series in a role said to be original for the program, but with the potential to cross over into other aspects of the MCU. Production began in November 2021 with the subsequent Disney+ Day video revealing a brief glimpse of a grizzled and visibly older Fury alongside a decidedly more Skrull-like title card. The six-episode series wrapped production in April 2022. Soon after, Martin Freeman confirmed his character, Everett K. Ross, will also appear. During Marvel's SDCC 2022 presentation, Smulders appeared on stage and referred to the program as "a darker show," adding, "We're going to see [Maria Hill and Nick Fury] in new ways." The teaser screened at the event backed up her words by showing the two characters at odds and Fury unwilling to explain why he is the only person equipped to handle the Skrull threat. The teaser also confirmed reports that Don Cheadle would appear as Colonel James Rhodes.
How It Fits in the MCU: Picking up from Talos's appearances in Captain Marvel and Spider-Man: Far From Home, the series will dramatize one of the possible MCU stories we've been talking about since the conclusion of Avengers: Endgame. That said, we still have to wonder if this is the threat Fury has been building a space armada to defeat or if the Skrull invasion is its own thing. Also, we suspect at least one character we've seen in a Disney+ series has been replaced with a Skrull; a concern that will only grow with each subsequent series (and film) until Secret Invasion streams.
---
The Marvels

Release Date: July 28, 2023
What We Know: In January 2020, Marvel reportedly hired WandaVision staff writer Megan McDonnell to begin drafting a sequel to Captain Marvel. Brie Larson soon set her return as Carol. In August of 2020, Candyman director Nia Costa took the director's chair from the first film's Anna Boden and Ryan Fleck, who were never expected to return. At the 2020 Disney Investor Day presentation, Feige revealed Ms. Marvel star Iman Vellani and WandaVision's Teyonah Parris (as the grown-up Monica Rambeau) were joining the cast, confirming the film will take place in the modern-day MCU. In a subsequent Phase 4 sizzle reel, it was revealed the film would be called The Marvels. In June of 2021, Park Seo Joon reportedly joined the production. Production began that August with Kamala's family from Ms. Marvel joining the cast. Zawe Ashton also joined up as an unknown villain. In October of 2021, the film was delayed to February 2023 in light of various scheduling changes and production delays around the whole Marvel operation. In April of 2022, it was once again delayed to July 2023, swapping spots with Ant-Man and the Wasp: Quantumania. Filming finally wrapped that May.
How It Fits in the MCU: Considering the continued cosmic emphasis post-Endgame, it is entirely possible The Marvels will follow-up on ideas from Guardians of the Galaxy and Eternals. But with both Kamala Khan and Parris's grown-up Monica Rambeau joining Carol on this adventure, we know the film will feature Earth in some capacity — indeed, the final moments of Ms. Marvel put Carol planetside.
---
Echo (series)
Premiere Date: Summer 2023
What We Know: In March of 2021, word broke indicating Echo, who debuted in Disney+'s Hawkeye would get her own show. Etan Cohen and Emily Cohen serve as writers and executive producers of the series with Alaqua Cox reprising her role as the deaf assassin with a knack for picking up her opponents' fighting styles. The story sees her leaving New York to reconnect with the Indigenous parts of her family. Of course, a new crisis interrupts that reunion. Marvel confirmed the series' existence during the November 2021 Disney+ Day announcements and production began in May of 2022. The cast also includes Chaske Spencer, Tantoo Cardinal, Devery Jacobs, Cody Lightning, Graham Greene ,and Zahn McClarnon. Sydney Freeland and Catriona McKenzie are directing. In July of 2022, reports of Charlie Cox and Vincent D'Onofrio joining the program emerged, with a special note of Daredevil's purpose in the series: looking for an old ally who might turn out to be Jessica Jones (Krysten Ritter).
How It Fits in the MCU: Echo's story continues on from the events of Hawkeye and, perhaps, straight into the designs of the Contessa (Julia Louis-Dreyfus). Echo's mimicry sure seems like an asset she would want for her team. Also, considering the way she parted ways with her uncle, Wilson Fisk (D'Onofrio), it is likely he may reappear in her life. In the comics, the character has appeared alongside Moon Knight and Daredevil, so her crossover potential is also pretty endless.
---
Loki Season 2 (series)
Premiere Date: Summer 2023
What We Know: During the Disney Upfront presentation in May of 2022, Feige revealed the cast of Loki would soon reassemble to shoot the program's second season. Tom Hiddleston, Owen Wilson, Gugu Mbatha-Raw, Sophia Di Martino, and Wunmi Mosaku are all back as Loki faces whatever became of the Time Variance Authority after Sylvie (Di Martino) killed He Who Remains (Johnathan Majors). For the moment, we're going to assume Majors will appear as a variant other than Kang or He Who Remains. Immortus perhaps? Eric Martin takes over as head writer from Michael Waldron while directors Justin Benson and Aaron Moorhead (of Moon Knight's middle episodes) take the reigns from Kate Herron. In June of 2022, Eugene Cordero confirmed he will also return.
How It Fits in the MCU: Presuming Immortus is the variant seen on the TVA statues in the Season 1 finale, it is possible he could appear as a more benevolent being than even He Who Remains. Sure, it's a long shot, but it is possible. What this would mean for Kang is anyone's guess. Meanwhile, we expect Loki will discover the problem lurking between all possible realities and possibly recruit his brother for aid.
---
Blade
(Photo by © Walt Disney Studios Motion Pictures, © Marvel Studios)
Release Date: November 3, 2023
What We Know: Feige stunned the 2019 Comic-Con crowd by announcing Mahershala Ali will be the MCU's version of Blade. Although so much about the eventual film is still fluid, some things are starting to come into shape with Stacy Osei-Kuffour signing up to write the project and Feige admitting it will be a PG-13 affair. In July of 2021, word broke indicating Bassam Tariq will direct the picture. In November of 2021, Delroy Lindo emerged as the second person cast for the film. Although it is unclear who he will play, the internet quickly seized on the possibility of Jamal Afari, Blade's mentor in the comics who was revamped into Whistler for the first Blade film trilogy. The following February, Aaron Pierre joined the cast in an unknown role. Production is expected to begin in August.
How It Fits in the MCU: While the MCU is a realm of science, mysticism, cosmic entities, and traditional crime, it lacks for genuine monsters. Emerging from Marvel Comics' The Tomb of Dracula, Blade will no doubt be our guide into a darker corner of the MCU where one finds things that go bump in the night. Luckily, he's pretty good with a sword and can vanquish them with relative ease. Of course, the literal demons of the Marvel Universe may present more of a challenge. In terms of a more concrete connection to the MCU, the character made a disembodied appearance in Eternals, stopping Dane Whitman (Kit Harrington) from embracing his destiny and, seemingly, adding the character to Blade's corner of the Marvel Universe.
---
Ironheart (series)

(Photo by © Walt Disney Studios Motion Pictures, © Marvel Studios)
Premiere Date: Fall 2023
What We Know: Based on the character introduced into Marvel comics by Brian Michael Bendis and artist Mike Deodato (with a subsequent redesign by Eve Ewing and Kevin Libranda), Riri Williams (Dominque Thorne) is a robotics genius who builds a suit of armor more advanced than anything Tony Stark devised in his lifetime. She'll probably need it as Tony left behind plenty of enemies who want control of his style of tech. In April of 2021, word broke indicating poet and Snowpiercer veteran Chinaka Hodge will serve as the program's head writer and executive producer. The following February, Anthony Ramos joined the cast in a role that is both secret and compared to Jonathan Major's debut in Loki while Lyric Ross also joined as Riri's best friend. That April, Ryan Coogler's Proximity production company signed on to produce while Blindspotting's Angela Barnes and Dear White People's Sam Bailey climbed aboard to direct. Additional cast members added in the summer of 2022 include Manny Montana and Alden Ehrenreich in a key role.
How It Fits in the MCU: Riri will also debut in Black Panther: Wakanda Forever. And considering she is one of the younger Marvel characters, we imagine she will cross paths with Kamala and Kate Bishop (Hailee Steinfeld) before too long. Also, with her connection to Stark, we imagine she will be part of the upcoming Armor Wars series in some fashion.
---
Agatha: Coven of Chaos (series)
Premiere Date: Winter 2023
What We Know: The series will see Kathryn Hahn return as lovable witch Agatha Harkness. Presumably, she will have to find her way out of being nosy neighbor Agnes and then restore her powers for another fight with Wanda (Elizabeth Olsen) — despite what happened to the Scarlet Witch in Multiverse of Madness. Or, maybe, this will finally be the show to introduce Mephisto. WandaVision's Jac Schaeffer will once again serve as head writer, so maybe the series will also lean on single-character spinoff shows like Rhoda and Frasier for inspiration. At the 2022 Comic-Con presentation, Feige unviled the series' proper title and release window.
How It Fits in the MCU: With Blade, Wanda's experiences in MoM, and the 2022 Halloween Special, the increasing horror elements making their way into the MCU may be best explored by someone cloaked in traditional witchy trappings. Agatha just happens to fit that description perfectly.
---
Daredevil: Born Again (series)
Premiere Date: Spring 2024
What We Know: Although Charlie Cox teased knowing "some things" Marvel had in store for his character during interviews following his Spider-Man: No Way Home cameo, it was unclear if this meant further guest appearances or a return to fulltime duty as the Daredevil of Hell's Kitchen. It seems it will be the latter with word finally breaking in mid-May 2022 that Marvel Studios is indeeed developing a Daredevil series for Disney+. The Enemy Within's Matt Corman and Chris Ord will reportedly serve as executives producers on the program, which is described as both a new iteration of Daredevil and continuing from stories told in the Netflix series. Cox will return as Matt Murdoch, as will Vincent D'Onofrio as Wilson Fisk. At the moment, though, it is still unclear if Elden Henson, Deborah Ann Woll, or Wilson Bethel will return as their respective characters. One thing we're pretty sure of, though, D'Onofrio's Kingpin was Bliped and between the Echo series and Daredevil, he may have ample time to re-establish his empire and his beef with Matt. At the 2022 Comic-Con presentation, Feige also mentioned the series will be Marvel Studios' first 18-episode production.
How It Fits in the MCU: Unlike the other Marvel Studios television projects, Daredevil is unique as it will cannonize stories that, while meant to be part of the MCU, always felt a universe or two away. Will it bring the other Defenders back as well? With 18-episode worth of time to fill, there may be a chance for the other street level heroes to chart their own new status quos in the MCU.
---
Captain America: New World Order

(Photo by ©Marvel Studios)
Release Date: May 3, 2024
What We Know: Immediately following the final episode of The Falcon and the Winter Soldier, news broke of series writers Malcom Spellman and Dalan Musson beginning work on a script for the fourth Captain America film. It will continue with Sam Wilson (Anthony Mackie, who closed his deal to star in August of 2021) as Cap and how he fulfills the role in a world still recovering from the Blip. Perhaps it will also address his connection to the Avengers (or what's left of them). In July 2022, The Cloverfield Paradox's Julius Onah emerged as the film's director. Fiege subsequently revealed the film's title and release date at the 2022 Comic-Con presentation.
How It Fits in the MCU: With Sam firmly established as the new Captain America and the announced changes in GRC policy going forward, films like Black Panther: Wakanda Forever and shows like Secret Invasion and Ironheart will presumably pick up the geopolitical threads and establish at least part of the crisis Sam will need to resolve in his first feature film as Cap. Also, is it possible for either of those shows to occur without Sam making an appearance?
---
Thunderbolts
Release Date: July 26, 2024
What We Know: In June of 2022, Deadline reported Robot & Frank's Jake Schreier will direct a Thunderbolts film — the project itself proving to be something of a surprise. Eric Pearson is writing the script based on the Marvel team of anti-heroes. In the original premise, Baron Zemo assembled a group of villains to masquarade as a superhero team and supplant the Avengers. But once Zemo's true plan was revealed, the Thunderbolts became a squad with a more flexabile immorality.
At the 2022 Comic-Con presentation, Fiege mentioned he will talk about the Thunderbolts lineup "another time" — possibly September's D23 Expo?
How It Fits in the MCU: Beyond the possibility of Zemo (Daniel Brühl) organizing an Avengers all his own, the notion of a Thunderbolts in the MCU seems tailor-made to explain the appearances and behavior of the Contessa. Could the team she is forming with U.S. Agent (Wyatt Russell) turn out to be the Thunderbolts? Also: will they be called upon to truly replace the Avengers when Kang (or some other Thanos-level antagonist) finally makes good on their threat? Considering the film calendar Fiege revealed at Comic-Con, we have to wonder if the Thunderbolts will utterly fail, forcing a new Avengers to form.
---
PHASE SIX AND BEYOND
It was revealed at the SDCC 2022 presentation that Phase Six would begin with Fantastic Four and conclude with a two-part Avengers series in the latter half of 2025, although the September release date of Deadpool 3 may have shuffled things around just a bit. Considering it will be the culmination of the Multiverse Saga, we expect some of these films will takes place in other realties than the prime MCU. Also, considering how full the calendar is already, there may only be two additional films — and possibily a fourth Spider-Man — announced, developed, and released before the saga ends.
But beyond the saga are a number of reported television projects that have yet to take any real form. We are listing them below the Avengers films until such time as they become real and join the Phase Six schedule.
---
Deadpool 3

(Photo by @VancityReynolds)
Release Date: September 6, 2024
What We Know: With the news that former Bob's Burgers writers Lizzie Molyneux-Logelin and Wendy Molyneux are scripting the third film in the funny X-related franchise, any number of things could happen. But we think the film will serve as the introduction of the X-Men in a roundabout way. Consider Deadpool's (Ryan Reynolds) fourth-wall–breaking abilities and how they could be used to make him the only person cognizant that a fundamental change occurred around him. His quest to understand what happened and why his life is different could form an interesting story – particularly if it is built around finding the formerly dead Vanessa (Morena Baccarin) or discovering she never existed in his new reality. Although concrete plot details are unknown, Feige admitted in early 2021 that the film was in development and will be R-rated, but production would not begin until 2022. In March 2022, Free Guy and The Adam Project director Shawn Levy agreed to direct the picture. Deadpool and Deadpool 2 writers Rhett Reese and Paul Wernick also returned at that time to further develop the script. Then in late September of 2022, Reynolds himself took to twitter to release a brief teaser for the next Deadpool film in which he confesses he has no idea what to do for the character's third outing… aside from asking Hugh Jackman to return to play Wolverine "one more time." The teaser ends with the announcement of a September 6, 2024 release date, which either places it as the last film of Phase Five or the first film in Phase Six.
How It Fits in the MCU: As it will be the first R-rated MCU film, it sort of doesn't. That may be part of the point, though, as we now think most of the Phase 6 films will take place in other realities. Although, we can't help but think the incursion Clea (Charlize Theron) and Doctor Strange (Benedict Cumberbatch) are heading off to fight might be centered around Wade and his sudden appearance in the MCU.
---
Fantastic Four

(Photo by )
Release Date: November 6, 2024
What We Know: At the 2019 Comic-Con, Feige merely mentioned he "ran out of time" to discuss the Fantastic Four or mutants. While both concepts will eventually make their way into the MCU, we expected that integrating Marvel's first family will be the priority and maybe even the whole point of Phase 5. Like many on the internet have suggested, placing them in the 1960s during their first film – but making the world forget about them for decades – is an elegant way to introduce them and acknowledge their absence all this time. In that context, they also serve as a great replacement for the similarly time-lost Steve Rogers (Chris Evans). In December of 2020, Marvel announced Spider-Man: Far From Home director Jon Watts would helm the project, but then announced his departure in April 2022, just a week or so shy of John Kransinski making a cameo as Reed Richards in Doctor Strange in the Multiverse of Madness. Some expect he will direct the movie, but as it is still unclear if he will even star in the film, this is just conjecture. He did not appear at the 2022 Comic-Con presentation and Fiege said little else about the film than its release date and place as the Phase 6 opener.
How It Fits in the MCU: The Fantastic Four bring with them a surprisingly robust rouges gallery. To be honest, we're a little more excited to see Doctor Doom, Annihilus, and Galactus make their MCU introductions than the Richards clan – although, Kang's involvement in Ant-Man and the Wasp: Quantumania means the family will ultimately be important. And now that we know this is the Multiverse Saga, we have to wonder if the film (and the bulk of the Phase 6 films) will take place outside the MCU.
---
Armor Wars (series)
(Photo by © Walt Disney Studios Motion Pictures, © Marvel Studios)
Premiere Date: TBA
What We Know: According to Feige, this series will be Tony Stark's "worst fears come to life" as bad actors get ahold of some Iron Man tech. Only Colonel James Rhodes (Don Cheadle) – a.k.a. War Machine – will be in a position to stop them. In August of 2021, Black Monday's Yassir Lester emerged as the series' head writer. Production is expected to start in late 2022. And as the series was not mentioned at all during the SDCC 2022 presentation, Lester took to his Instagram stories to clarify that it is still happening.
How It Fits in the MCU: Cheadle, of course, has played Rhodey since Iron Man 2 and survived terrible color schemes for his armor, the crushing of his legs, and the Blip. So he's well-placed to defend Tony's technology. Also, we can't help but think Ironheart will show up to offer him some aid.
---
Shang-Chi 2
(Photo by ©Marvel Studios 2021. All Rights Reserved.)
Release Date: TBA
What We Know: Early in December of 2021, reports suggested director Destin Daniel Cretton will return to helm a Shang-Chi sequel and develop other projects for Disney and Marvel. Presumably, Simu Liu and Awkwafina will return as Shang-Chi and Katy with Meng'er Zhang continuing to rebuild the Ten Rings as Xialing. We also imagine Wong will appear in some capacity, as the signal Shang-Chi's Ten Rings are sending into space will lead something to Earth. Of course, readers of the recent Gene Luen Yang-written Shang-Chi comic book may wonder if, perhaps, the Five Weapons Society will also be introduced. But with word that Cretton will direct the next Avengers film (more below), it is possible the Shang-Chi sequel will end up on the back burner for some time.
How It Fits in the MCU: The signal broadcasting into space is the big one here. Will it attract a dragon-like alien race to the epicenter of the Blip? Is it the thing Nick Fury has been preparing for? Or is it a huge diversion while the Ten Rings organization returns to prominence in the criminal underworld? And speaking of Xialing's future as a crime boss, she will no doubt face opponents like Sharon Carter (Emily VanCamp) and Kingpin in her quest to be more successful than her late father.
---
Spider-Man 4

(Photo by Matt Kennedy/©Sony Pictures Releasing)
Release Date: TBA
What We Know: Mere hours into Spider-Man: No Way Home's theatrical run, Feige confirmed Marvel Studios and Sony are already developing a fourth MCU Spider-Man film. Indeed, No Way Home producer Amy Pascal indicated in early December of 2021 that a second trilogy was in the works, but Sony Pictures CEO Tom Rothman walked that back at the film's Los Angeles premiere. And yet, the conclusion of No Way Home makes it clear Peter Parker (Tom Holland) has a part to play in the phases to come. In the meantime, of course, he still needs to clear Spider-Man's name and get some vestige of his life back. Also, there is that piece of Venom left behind in Mexico …
How It Fits in the MCU: Bear with us as we speculate wildly. The Venom symbiote may be a long-game thing, waiting in the wings until Avengers: Secret Wars – in honor of the comic book event title of the same name in which Peter first received the black spider-suit – so Spider-Man 4 could concern itself with a hero trying to re-establish his cred in a New York filled with Hawkeyes, Daredevils, and the Fantastic Four. In fact, a cinematic re-creation of The Amazing Spider-Man #1 (in which Peter tries to join the FF) would be an amazing starting point. Also, it is always possible he'll find organized crime kingpin Wilson Fisk as his new opponent. One other thing to consider: as Sony is in charge of Spider-Man release dates, this project will have to fit in between the other Phase 6 ambitions. Also, it could end up pushed to Phase 7.
---
Avengers: The Kang Dynasty
Premiere Date: May 2, 2025
What We Know: The fifth Avengers film will presumably set up the endgame of The Multiverse Saga. Also, judging by the name, it will likely see Kang in charge of everything. On July 26, 2022, word broke indicating Destin Daniel Cretton will direct the film.
How It Fits in the MCU: Since we can only guess, we're going to assume Kang will merge the MCU with other realities to form a new Sacred Timeline.
---
Avengers: Secret Wars

Premiere Date: November 7, 2025
What We Know: The sixth Avengers film will conclude Phase 6 and The Multiverse Saga. The title also offers a few clues as Marvel Comics has published two epic stories with that name. The first saw heroes and villains transported to Battleworld so the Beyonder could watch them fight. The second saw some heroes remembering how their world was before various incursions collapsed it and plotting against Doctor Doom, the unquestioned master of all reality, to restore the universe they loved. Also, Spider-Man Miles Morales joined the mainstream Marvel Comics Universe in the aftermath.
How It Fits in the MCU: No matter how Kang's rule of the universe ends, we expect the MCU will look fairly different afterward. Oh, and the post-credit scene — if one happens — would be the perfect moment to reprise the X-Men animated series theme again.
---
Wonder Man (series)
Premiere Date: TBA
What We Know: Initially an untitled series tied to Cretton's overall deal with Disney, news broke in June of 2022 that the project is, indeed, a Disney+ show centering on Wonder Man. Initially a villain, the character saw the error of his ways (after dying, of course) and eventually joined the Avengers as a member in good standing. Also of note: his brain patterns were utilized to create Vision in the comics. Andrew Guest will serve as head writer on the program with Cretton acting as an executive producer. He may also direct a few episodes provided it does not conflict with his Avengers commitments. Production might begin in 2023.
How It Fits in the MCU: Presuming he ends up debuting in Phase 6, Wonder Man could help resolve the mystery of White Vision (Paul Bettany) and, perhaps, aid the latter character in integrating all his memories. But as Wonder Man's civilian identity is an actor, there may also be another chance to illustrate what movies look like in the MCU.
---
Ryan Coogler's Wakanda-Set Television Series (series)

(Photo by Matt Kennedy/Marvel Studios)
Premiere Date: TBA
What We Know: As part of an overall deal with Disney, Black Panther director Ryan Coogler will develop and produce a series set in Wakanda. It is unclear if it will tell more tales of the country's past or expand on ideas and characters seen in the film and its sequel. Beyond its setting, nothing else is known.
How It Fits in the MCU: Presuming it is set after Wakanda Forver, it may be a story about the nation rebuilding after the events of the film.
---
Untitled Okoye Series
(Photo by Marvel Studios, Walt Disney Studios Motion Pictures)
Premiere Date: TBA
What We Know: In late May of 2021, word broke indicating Danai Gurira will lead a Disney+ spinoff detailing Okoye's rise through the Dora Milaje ranks. This project appears to be an additional Wakanda concept beyond the one Coogler is developing.
How It Fits in the MCU: A focus on Okoye – and the other Dora Milaje for that matter – offers untold possibilities for story and further exploration of Wakanda. It could also strengthen her ties to characters beyond its borders.
---
Untitled Scarlett Johansson Production
Release Date: TBA
What We Know: During a November 2021 American Cinematheque award ceremony in Scarlett Johansson's honor, Feige let slip that the Black Widow star will be producing a project for Marvel Studios. Characterizing it as "top secret," the studio chief also said the production will have nothing to do with Black Widow.
Johansson's involvement with Marvel is somewhat surprising, as she sued Disney over the Disney+ premiere of Black Widow earlier that year. Although such suits are not uncommon, there seemed to be an unusual level of animosity between Disney and Johansson's team – in the press, at least. But with the matter resolved, it seems Johansson will still take part in Marvel's future endeavors.
How It Fits in the MCU: Since this is a "top secret" project, anything is on the table – including a film version of A-Force, the all-female Avengers team. Also, although we're listing this as a movie project, it is also possible this will be a Disney+ series.
---
FULL LIST OF UPCOMING MARVEL MOVIES
November 11, 2022 – Black Panther: Wakanda Forever
February 17, 2023 – Ant-Man and the Wasp: Quantumania

May 5, 2023 – Guardians of the Galaxy Vol. 3
July 28, 2023 – The Marvels
November 3, 2023 – Blade
May 3, 2024 – Captain America: New World Order
July 26, 2024 – Thunderbolts

September 6, 2024 – Deadpool 3
November 6, 2024 – Fantastic Four

May 2, 2025 – Avengers: The Kang Dynasty

November 7, 2025 – Avengers: Secret Wars
---
---
On an Apple device? Follow Rotten Tomatoes on Apple News.
Thumbnail image: ©Marvel Studios