Ah, the 1980s: A decade of big hair, shoulder pads, heavy synths, and multiple violent robots and androids. Two stood out from the pack though – Robocop and Terminator – and in our latest episode of Vs. we're going full robot wars, pitting Paul Verhoeven's ultraviolent black comedy against James Cameron's groundbreaking and grungy time-travel actioner. Host Mark Ellis (who comes with zero robot parts), will compare the two original films across multiple criteria including box office performance, Tomatometer and Audience Score, the quality of their characters, and more. Who will be the last bot standing? Tune in to find out.
---
On an Apple device? Follow Rotten Tomatoes on Apple News.
Linda Hamilton returns to the big screen this month as Sarah Connor some 28 years since she last played the character in Terminator 2: Judgment Day. The original Sarah Connor's re-emergence in Terminator: Dark Fate has many fans of no-BS, ass-kicking sci-fi heroines wondering if and when Sigourney Weaver might similarly return to play Ellen Ripley in a new Alien film. One can dream. To celebrate the return of Hamilton to the Terminator franchise, we're releasing a special episode of our Versus series, pitting Sarah Connor against Ellen Ripley. We're breaking down the competition by Tomatometer, box office receipts, the enemies they've faced, and letting them duke it out in one special wild card round. Join Mark Ellis as he steers us through an epic sci-fi battle: Sarah Connor vs. Ripley.
Terminator: Dark Fate is in theaters November 1.

#1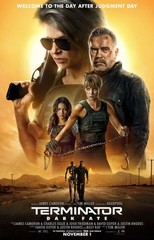 Critics Consensus:
Terminator: Dark Fate
represents a significant upgrade over its immediate predecessors, even if it lacks the thrilling firepower of the franchise's best installments.
Synopsis:
In Mexico City, a newly modified liquid Terminator -- the Rev-9 model -- arrives from the future to kill a...
[More]
---
Like this? Subscribe to our newsletter and get more features, news, and guides in your inbox every week.
The Terminator franchise has had its ups and downs over the years, but like Arnold Schwarzenegger's trusty T-800, it's kept lumbering on for more than three decades — and with further sequels promised in the not-too-distant future, we can only expect more blockbuster battles between man and machine. In the meantime, the saga's second installment is back in theaters this weekend, sporting a new 4K restoration and 3D conversion. To celebrate its imminent arrival, we decided to take a fond look back at Mr. Schwarzenegger's best films sorted by Tomatometer, while inviting you to rank your own personal favorites. It's time for Total Recall!
---
Use the up and down arrows to rank the movies, or click here to see them ranked by Tomatometer!
RT Senior Editor Grae Drake spoke to James Cameron, writer/director of Terminator 2: Judgement Day 3D, about what parts of the film he's most excited for audiences to see in 3D, the trick to filming good 3D, what movies from history he'd want to watch in 3D, and who would win in a bar brawl: Sarah Connor or Neytiri? Check it out!