Anyone who's watched even a single episode of the hit period drama Downton Abbey knows you couldn't watch more than 15 minutes without seeing a massive explosion or a shootout between the Crawleys and a guerilla army of drug-smuggling, sex-trafficking, anarchist mafia ninja commandos. And with the Downton Abbey movie out (and oh so Certified Fresh), here at RT we thought it was only appropriate to engage the Earl and Countess of Grantham themselves — Hugh Bonneville and Elizabeth McGovern — in a friendly game of 'Guess the Movie Quote' with memorable lines from some of the most iconic action flicks ever put to screen. Check out the video to see how well they did, and be rewarded with a Joe Pesci impersonation for the ages and one of the most creative line readings of "yippie-ki-yay" we've ever heard.
#1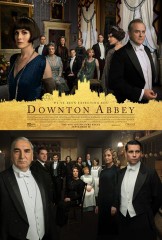 Critics Consensus:
Downton Abbey
distills many of the ingredients that made the show an enduring favorite, welcoming fans back for a fittingly resplendent homecoming.
Synopsis:
The beloved Crawleys and their intrepid staff prepare for the most important moment of their lives. A royal visit from...
[More]
---
Like this? Subscribe to our newsletter and get more features, news, and guides in your inbox every week.
---