In 2019, it's been hard to escape Adam Driver. The actor has starred in Jim Jarmusch's The Dead Don't Die, is getting plenty of Oscar buzz for his currently-in-theaters Marriage Story, and he will end the year in his last outing – we presume – as Kylo Ren in Star Wars: The Rise of Skywalker. This week he headlines The Report, Amazon Studios' critically acclaimed and Certified Fresh new drama about the creation of the Senate Intelligence Committee's almost-7,000–page report into the CIA's use of torture following the 9/11 attacks. Driver plays senate staffer Daniel Jones in the film alongside Annette Bening as Senator Dianne Feinstein, and Jon Hamm. Rotten Tomatoes' Jacqueline Coley spoke to Driver, Bening, Hamm, Jones himself, and writer-director Scott Z. Burns about the film at this year's Toronto International Film Festival, digging into what it was like to play real-life newsmakers, the importance of telling this story now, and – crucially – how much Adam Driver is too much Adam Driver?
The Report is in limited release November 15, 2019
#1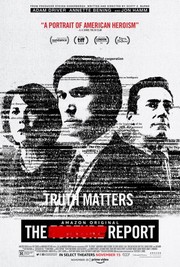 Critics Consensus:
The Report draws on a dark chapter in American history to offer a sober, gripping account of one public servant's crusade for accountability.
Synopsis:
The story of Daniel Jones, lead investigator for the US Senate's sweeping study into the CIA's Detention and Interrogation Program,...
[More]
---
Like this? Subscribe to our newsletter and get more features, news, and guides in your inbox every week.