Andrew Lincoln and Melissa McBride star in this exclusive scene from The Walking Dead season 9 episode 4, "The Obliged." Carol tells Rick that she's taking her people home to the Kingdom, but Rick is worried that the Sanctuary's community will crumble without her. Can they trust the Saviors with free will? Rick has hope.
"The Obliged" is Lincoln's penultimate episode in the series. The actor's producers and costars gave him an emotional farewell at Comic-Con International: San Diego this summer.
"I love this show," Lincoln said following a cast-led standing ovation. "It means everything to me. I love the people that make this show. I promise not to cry. I've done enough crying onscreen. These guys and everybody back in Atlanta are the greatest surrogate family I could have ever wished for, but I do have a family and it's time to go home."
Samantha Morton (Fantastic Beasts and Where to Find Them) joins the cast this season as villain Alpha.
When it airs: "The Obliged" airs Sunday at 9/8c on AMC.

Read also: The Walking Dead Boss on Season 9 Premiere's Big Death, Rick's Optimism, and Carol's Romance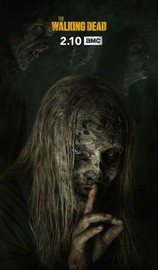 Critics Consensus:
Nine seasons in,
The Walking Dead
feels more alive than ever, with heightened tension and a refreshed pace that rejuvenates this long-running franchise.
Synopsis:
Last season brought the culmination of "All Out War," which pitted Rick Grimes and his group of survivors against the...
[More]