Originally released in Japan last July, 
Pokémon the Movie: Mewtwo Strikes Back Evolution
(2019)
44%
— now streaming on Netflix — finally gives English-speaking audiences a chance to enjoy the fun. Here's a quick look at what it is and why it was done.
What It Is: The new film, the 22nd installment in the film series, remakes the original released two decades ago, Pokémon: The First Movie (1998) 16%. The franchise has since expanded enormously in film, TV, comic books, video games, and toys.
Synopsis of the Original Film: "The adventure explodes into action with the debut of Mewtwo, a bio-engineered Pokemon created from the DNA of Mew, the rarest of all Pokemon. Determined to prove its superiority, Mewtwo lures Ash, Pikachu and others into a Pokemon match like none before.
Mewtwo vs. Mew. Super-clones vs. Pokemon.
It's the ultimate showdown…with the very future of the world at stake!"
Why It Was Remade: Because animation has come so far, that telling a beloved story with fun, new tools double-dips into the story's earning potential. It allows kids of the Netflix generation (that is, kids who've never known a world without streaming) a chance to discover the characters in a format using the high-production quality they've come to expect.
What Critics Said Then: "'Pokémon: The First Movie' is a dose of extremely low-budget 'Japanimation' that — were it only more proficiently executed — would rival 'Scooby Doo' as the most astounding work of art in the 20th century." – Paul Tatara, CNN.com
Does the New Film Improve on the Original? Yes. While the story remains the same, the technical upgrade makes for a more immersive experience.
What Critics Say Now: "It doesn't reinvent the wheel, but Mewtwo Strikes Back – Evolution looks phenomenal thanks to its updated visuals, and the action-packed and epic battles help make this the perfect Pokémon movie for fans." – Josh Wilding, ComicBookMovie.com
---
Have a look at the top-to-bottom overhaul:

Pokémon the Movie: Mewtwo Strikes Back Evolution is now streaming on Netflix.
#1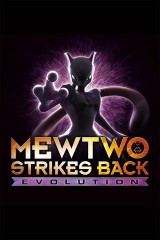 Critics Consensus:
No consensus yet.
Synopsis:
Ash and his friends try to thwart Mewtwo's evil plan to destroy the word....
[More]