Netflix's Ozark, created by Bill Dubuque and Mark Williams and showrun by Chris Mundy, follows the downward spiral of a seemingly innocent Chicago accountant, Marty Byrde (Jason Bateman). When his secret money-laundering deal with a Mexican cartel goes south, he decides to move his family to central Missouri to protect himself and the lives of his wife, Wendy (Laura Linney), and kids Charlotte (Sofia Hublitz) and Jonah (Skylar Gaertner).
Over the course of the show's first two seasons, Marty's various criminal dealings resulted in overly bloody consequences; in fact, the amount of bone-chilling violence featured here, along with the strong performances delivered from each member of the cast, resulted in a bleak, yet action-packed series that surpassed genre expectations.
It's no surprise that, upon its initial premiere, Ozark drew heavy comparisons to AMC's Breaking Bad. Each shows a family unit on the verge of collapse as its patriarch — whether it's Bryan Cranston's Walter White or Bateman's Marty Byrde — dabbles, to varying degrees, in the criminal underworld. Add in a cartel menace, snooping law enforcement entities, and the inevitable collateral damage each family faces, it's easy to see the similarities here. But as the story evolved in its second season, Ozark completely broke free from the Breaking Bad mold, as the Byrdes became complicit in Marty's crimes. His deal-with-the-devil became the family business, causing the overall brokenness of their fragile union to grow exponentially.
---
(Photo by Guy D'Alema/Netflix)
In the wake of Wendy's infidelity and the constant tension of who may be trying to kill them next, Marty tapped his significant other for help in a move to find solidarity and support. But things have a habit of not going his way, and as Wendy's taste for breaking the law grew, Marty was faced with one more challenge for him to deal with, or try to avoid at all costs in his crime boss–in–training wife.
Season 1 didn't exactly dazzle critics, scoring a decent, but not stellar, 70% on the Tomatometer with 69 reviews. The second installment of the Netflix series performed a bit better and is now Certified Fresh at 76% on 45 reviews.
Now, with new episodes dropping on Netflix, the question lingers: Is Ozark able to breathe new life into this bleak family drama or is the jig finally up for this bloody money-laundering tale?
Here's what critics have to say about season 3 of Ozark.
---
Marty and Wendy's Marital (and Criminal) Conflict Carries the Season
(Photo by Steve Deitl/Netflix)
Though the Byrde's situation remains tenuous in some ways, they're in a better position than ever before in others, the problem being that Marty and Wendy simply don't see eye to eye on what's best for their business and their family. As such, the series opens the door for the long-building conflict between the couple to finally come to a head. And the results are some of the best and most tense episodes of the series to date. — Kevin Yeoman, ScreenRant
Wendy seems hellbent on roaming the same criminal grounds Marty is now too afraid to retread while avoiding (or repeating) his mistakes. She wants to expand the family business. She wants to increase their profile, despite its obvious fallbacks (like attracting the FBI). And when her husband refuses to continue laundering money for the cartel and their other interests, Wendy picks up the pace of her campaign against him. — Andrew Husband, Den Of Geek
---
Evil Laura Linney Is the Best Laura Linney
Wendy in particular realizes her penchant for illicit and illegal activities this season, taking the lead of operations against Marty's wishes, allowing Laura Linney countless moments to dominant a scene, proving exactly why she deserved her Emmy win. — Katie Awad, Hypable
In some ways, this run of episodes is all about Wendy, whose new, flinty resolve scared her husband at the end of season two—and who is now putting that mettle to the ultimate stress test. The results are fascinatingly shaded; Wendy realizes she's in perilously deep, while also digging in further. She's horrified by the erosion of her ethics, while quietly thrilled by what's possible once those bonds have been shaken off. This is the most that Linney has been allowed to tear into her character, and it's thrilling to watch. — Richard Lawson, Vanity Fair
---
Ruth Langmore Is the Unexpected Heart of the Show
Julia Garner, who won a supporting actress Emmy last year, is the saving grace of this season as Marty's right hand and most senior employee, Ruth Langmore. Through brashness and bravery, her loyalty to Marty affords her increasing responsibility. Soon she's running the casino and closer to the apex of danger. Through the loss of her father, uncles and cousins, we get to see Ruth's vulnerable side. She softens in the face of a potential love interest, and toward Marty, who fills a fatherly void. It's predictable character arc yet it doesn't disappoint because it's the season's most finely drawn development. — Rachna Raj Kaur, Now Toronto
Fresh off her Emmy win for Best Supporting Actress last year, Garner remains a standout in this series. Ruth's foul-mouthed spitfire attitude is still an absolute delight, but Garner continues to flesh out this character with complexity and a moving vulnerability that makes her one of the most interesting characters on the show. — Adam Chitwood, Collider
After a fine first season and a so-so second, this show is full of fresh energy. The best character is the casino manager (Emmy-winning Julia Garner), a spitfire you'll want to meet. — Tim Appelo, AARP
---
Season 3 Is an Improvement, but Ozark Isn't Taking Any Narrative Chances
(Photo by Steve Dietl/Netflix)
'Ozark' lacks that brilliance that only few achieve, but it continues to do more with each season, and always manages to solve with efficiency all the mishaps in which it puts its characters. — Mikel Zorrilla, Espinof
Even with a lot of the right pieces in place, "Ozark" remains short-sighted in how it manufactures drama, relying far too often on quick positional pivots and bad decisions to generate immediate conflict, rather than building long-term arcs with more satisfying payoffs. — Ben Travers, IndieWire
Ozark season 3 premieres on Friday, March 27 on Netflix.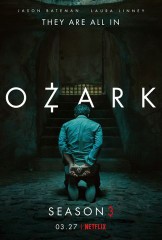 Critics Consensus:
Ozark
finally finds its footing in a third season that ramps up the tension and shines a brighter spotlight on Laura Linney's exceptional performance.