The fourth time's a charm, it would seem, with this year's A Star Is Born – the fourth cinematic telling of the story of an established musician plucking a soon-to-be-star from obscurity, and the tumult that follows – currently sitting Certified Fresh at 95%. Critics have praised Bradley Cooper, making his directorial debut, and pop singer Lady Gaga, in her first big-screen lead role as Ally, 2018's "star." And they've lavishly praised the film's soundtrack, featuring songs written by Cooper, Gaga, and a number of collaborators, among them Mark Ronson. The movie made its North American premiere at the Toronto International Film Festival in September, where Rotten Tomatoes sat down with Cooper, Gaga, and co-stars Anthony Ramos and Sam Elliott. The quartet revealed their own "Ally moments" (that single moment when they knew they'd made it), why the story of the star and her lover-mentor still resonates, and how the crafted a soundtrack that – trust us – is going to be huge.
A Star Is Born is in theaters October 5
#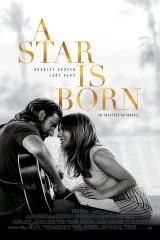 Critics Consensus:
With appealing leads, deft direction, and an affecting love story,
A Star Is Born
is a remake done right -- and a reminder that some stories can be just as effective in the retelling.
Synopsis:
Seasoned musician Jackson Maine discovers -- and falls in love with -- struggling artist Ally. She has just about given...
[More]