WARNING: MASSIVE SPOILERS!
Want to know how many bad guys fall by John Wick's hands in Chapter 3 – Parabellum? (We're including death by horse, by the way.) How about that Iron Chef shout-out with Mark Dacascos? And haven't we seen that pair of assassins from a certain Indonesian action classic? Find out all that and more, including references to Andrei Tarkovsky, Keanu Reeves' '90s alternative band, and callbacks — lots of callbacks — to The Matrix.
#1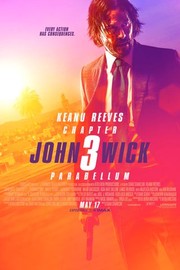 Critics Consensus:
John Wick: Chapter 3 - Parabellum reloads for another hard-hitting round of the brilliantly choreographed, over-the-top action that fans of the franchise demand.
Synopsis:
In this third installment of the adrenaline-fueled action franchise, super-assassin John Wick (Reeves) returns with a $14 million price tag...
[More]
---
Like this? Subscribe to our newsletter and get more features, news, and guides in your inbox every week.