Only one of the wide releases this week is rated PG-13 or lower, and it's the Steven Soderbergh caper Logan Lucky, so your toddlers and pre-teens probably aren't going to be interested. But if you've got older kids, and you're really looking to see the movie yourself, here's what you should know about it.
---
NOW IN THEATERS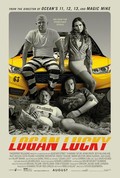 Rating: PG-13, for language and some crude comments.
Steven Soderbergh is back, four years after saying he was retiring from filmmaking, with another heist movie – but this one's more down-home and low-key than the splashy Ocean's trilogy. Channing Tatum, Adam Driver, and Riley Keough play siblings who scheme to rob the Charlotte Motor Speedway in North Carolina during a major NASCAR race. Along the way they have to stage a prison break – in and out, then back in again – steal various cars, avoid the authorities, and still be done in time for Tatum's character to attend a beauty pageant where his young daughter is competing. There's language scattered throughout, a bit of violence during a bar brawl, some explosions, and general destruction in order to pull off the scheme. Plus, you know, these are criminals – but they're quick-witted, clever criminals. The subject matter, the pacing, and the length of the film (a minute shy of two hours) will probably make this a tough sit for anyone younger than about 11 or 12 and up.