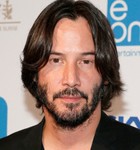 Like a cool breeze blowing through the mountains of modern movies, Keanu Reeves has endured as something of an unlikely cinema icon. Not just the star of summer smashes such as Speed and The Matrix, he's also amassed an impressive resume that includes performances in left-field American classics like River's Edge, A Scanner Darkly and My Own Private Idaho, while continuing to flourish in the popular imagination, of course, as the irrepressibly excellent stoner, Theodore "Ted" Logan.
Having served as the inquisitive anchor on last year's digital-vs-film documentary Side by Side, Reeves recently made his feature directing debut with Man of Tai Chi, a kung fu tournament movie wrapped in a reality-TV-style satire. With the movie releasing on Blu-ray and DVD this week, we talked with Reeves about his filmmaking inspirations, his acting career, and more.
First up, he ran down his five favorite kung fu movies.
Enter the Dragon (Robert Clouse, 1973; 95% Tomatometer)
Alright, so to begin this list I'm going to start with one of my first impressions of kung fu films; my childhood experience. So: Enter the Dragon. As a young child, you must see Bruce Lee, and Enter the Dragon.

It's ground zero for kids getting into kung fu movies.

It is. It is for many people. I grew up in Toronto, and in the late '70s, early '80s, there was an independent channel that would show kung fu movies late at night. And as a young kid I had a little black-and-white TV set, and so I was exposed to these films — but I couldn't tell you their titles, because I was 11- and 12-years-old. [Laughs] I didn't write them down in my diary. But I remember really enjoying them: the costumes, the fighting, the stories, you know; I mean, just all the different styles, and watching these people do these amazing things. But then there was Enter the Dragon, which I actually saw in a movie theatre. I saw it in Times Square; I was taken there by my stepfather. And that film — I mean, what a charismatic performance, right? And that story. The drugs, the mystery, the sex; it was very James Bond-ian, wasn't it? I'd been exposed to that kind of storytelling. But again, the drama, the music, the flashbacks, the beginning — as the tournament fights are starting — very, very cool. The super fight at the end, the fight in the mirrors, the claw! [Laughs] So that was fun.
5 Fingers of Death (Chang-hwa Jeong, Chung Chang-whu; 1973; 83% Tomatometer)
Then at the time there was also a film called 5 Fingers of Death. That might have been a Shaw brothers film. Oh wait, no, no, no — who are those other cats?

I think it might be a Shaw brothers one.

Yeah? Well, what struck me as a kid was when the guy jumps up in the air and takes the eyeballs out. I mean, I was a young person; I was just like, "What?!" [Laughs] Yeah! And I saw that on the big screen, so I always remember that making an impression. And I'm sure there were things going on in there — about the gangs, and the betrayal, and the student and the revenge — that were a bit above my consciousness at the time. I don't know, but I always felt like there was some kind of political and social agenda in there somewhere.

It does, but when you're a kid, what you remember is the guy getting his eyeballs snatched out.

Yeah… but even there, I mean, the film had a duplicity, right? People were lying and pretending to be things, and he kind of goes on this quest to avenge all of that. He's a truth-seeker and he gets used. [Laughs] And it was moody. I remember it as being moody. It was night-time. And also the composition: people just huddled on one side of the room, talking. And it had some martial arts. I don't remember it having a lot of [camera] under-cranking in it. I'm sure there was. You know, doing 22-frame, 22-23-frame stuff.

Was this sort of thing on your mind when you were shooting Man of Tai Chi? 'Cause there's not a lot of slow-mo. I mean, there are a few shots, but it seems like you were consciously going for a more old-fashioned style.

Yeah, I mean there's a lot of old, and a lot of modern. There's the Steadicam stuff — there's a lot of Steadicam stuff in the fight scenes.

I feel like a lot of your conversation scenes in this were just as active in terms of camera movement.

Sometimes. [Laughs] Absolutely, sometimes. And sometimes it's just two-shots. I think what I tried to do, especially with out Hong Kong stuff, was to try and have a lot of angles. So also, in the fights, you're seeing the scene, but you're seeing it from different perspectives. You know, when someone gets a phone call, it's like "Whoosh!" Up-top. On-the-side. Down-below. You know? A lot of what the film's about is perspective. I tried to put people there for the moment, whatever that moment may have been. [Laughs]
Fist of Legend (Gordon Chan, 1994; 100% Tomatometer)
Let's go to Fist of Legend. Yuen Woo-ping directing [choreography for] Jet Li. I was shown that film by the Wachowskis before shooting The Matrix, and that was like, "This is amazing." The storytelling and the fights are what I really like. It's just good, hard, Yuen Woo-ping choreography; Jet Li's awesome; there's a lot of fighting… yeah, I'm definitely gonna say that one. A good, clean, awesome fight movie.
Tai Chi Master (Yuen Woo-ping, 1993; 86% Tomatometer)
I kinda wanna go to Jet Li again, which is kinda not right — we should probably do some Jackie Chan, right? Drunken Master, Drunken Master II, maybe? I don't know, I just wanted to do a costume one, you know — like Tai Chi Master. There's something really beautiful about that one, the scope. Sometimes the scope doesn't have power to it. This one does. I'm gonna put that one in here as a "highly recommend."
The Matrix* (Andy Wachowski and Larry Wachowski, 1999; 87% Tomatometer)
You know, I'm gonna throw The Matrix out there, I think.

Whoa.

[Laughs] I think I'm gonna throw The Matrix out there as a seminal, modern kind of "keeping the dream alive" of the kung fu movie. Does it need an asterisk? I don't know. Is it a kung fu movie? I would say there's enough kung fu in there to make it a kung fu movie. I think so.

The kung fu is solid in that movie.

It's solid! I think the subway fight is pretty good. Yeah… I don't know. But I think if we were just going by kung fu fight, then I think you'd have to take Reloaded. If we're just going by fights. Even just that one sequence, with the Smith fight, and the choreography in that — when all those Smiths come out — I mean, that's just insane, that fight sequence.

I'll put an asterisk next to it for you.

Okay, yeah.
---
Next, Keanu Reeves on his unlikely inspiration for Man of Tai Chi, which sequels he would and wouldn't do, and his future plans for directing. Plus, see an exclusive behind-the-scenes clip.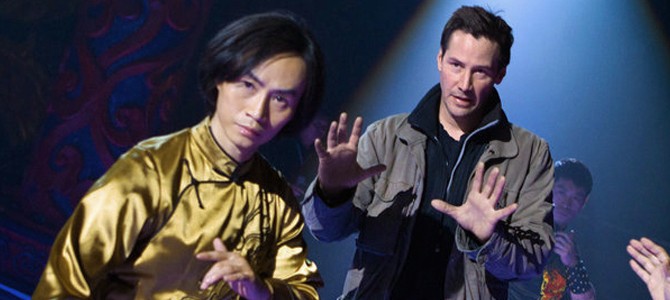 Reeves directs star Tiger Chen in Man of Tai Chi
Was there any particular film, or films, that you looked at to prepare for Man of Tai Chi? You obviously have a head full of kung fu movies.
Keanu Reeves: You know, we looked at the cinematography of the films Tiger [Chen] had acted in. We looked at a lot of films. I was looking at them mostly for camera angles and editing, just to see how they were shot and what people were doing. I kinda just went into the library. But mostly, for me aesthetic-wise, the film that I was probably looking at the most was Funny Games by Michael Haneke.
That's interesting. I guess you've got the whole "reality TV/ fight" angle going in Man of Tai Chi.
Yeah, 'cause I wanted to play with the subjective and the fourth wall a lot in Man of Tai Chi, and with Funny Games I liked the composition and those characters looking into the camera. I liked how that worked. So that film, I would say, had the most impact for me, cinematically, on this one.
Looking at your career, you basically went to the best film school in the world; I mean, the people you worked with — from Francis Coppola to Gus Van Sant to the Wachowskis to Richard Linklater, the list goes on — was there a specific moment where you caught the directing bug, or did it happen organically over time?
I mean, catching a bug is pretty organic. [Laughs] You know, when I was acting, I always loved the floor — where was the camera going, you know? I'm one of those actors who likes to see the finished film, as opposed to not, 'cause I wanna see what the directors did.
So many actors never watch their film, which is weird.
Yeah. I mean, I get it. But for me, I like to see, when you go to tell this story, how did they tell it?
You're a student of cinema, as you showed in Side by Side.
Yeah.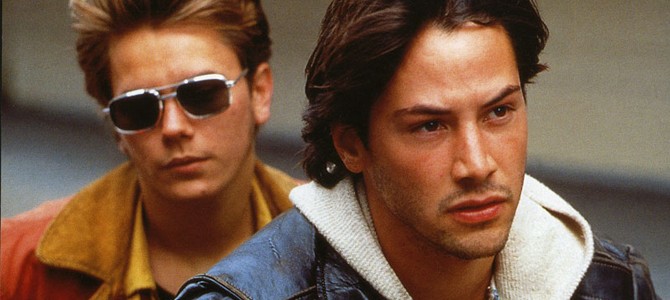 With River Phoenix in Gus van Sant's My Own Private Idaho
Was there any film of yours where you went, "Wow, I didn't know it was going to turn out like that"? I guess The Matrix might be the obvious answer there.
For sure. If only for the simple reason of having the visual effects in it. But I would say another experience of that, for sure, would be My Own Private Idaho. Gus [Van Sant] did such a lovely story. And River [Phoenix], of course. That film, definitely; I was very curious to see what that would be.
There were some stories recently to mark the 20th anniversary of River's death. Was he on your mind?
Yeah, of course. Absolutely. I miss him very much.
Okay, I'm not gonna ask you about Bill and Ted 'cause I'm sure you're sick of answering the third movie questions — and don't get me wrong, I love those movies.
[Laughs] Okay.
But let me ask you this: Are there any other of your movies that, in a fantasy world, you'd love to do a sequel to?
Ah, I wish I had a chance to play Constantine again. I liked that character. I wish the producers had followed up on that more than they did. I think that Francis Lawrence did a great job. It's definitely an adaptation of the source material, but I thought we did it in the spirit of it, certainly. I really did enjoy playing that role.
Have you ever talked to Kathryn Bigelow about making a sequel to Point Break?
[Laughs] Yeah… I don't know. I think there was talk of it many, many, many years ago, but I guess it never came to pass. I guess that journey was done, you know? Vaya con dios. [Laughs]
[Laughs] Don't mess with what's perfect.
Yeah.
I'd like to see you revisit the characters from River's Edge.
Oh my gosh, like, "Where are they now?"
Where do you think those guys would be now, if they're even alive?
I just hope [Reeves' character] Matt's not selling insurance. [Laughs]
[Laughs] That's the worst possible outcome.
Yeah, I know. That'd just be bad.
Now that you've made your first film, are you gonna be directing more? It feels like, between this and Side by Side, your interests might be gravitating to behind the camera.
Yeah, I would love to. I really enjoyed it, and I'm looking for a story to tell. Absolutely.
How about you just direct the third Bill and Ted?
Well, I'd go direct it with Alex Winter. [Laughs] No, absolutely not.
You know, I think it's time Alex got back behind the camera — Freaked is really something.
Ahhhh, yes! That's a good movie! "Leader of the freaks!"
Your performance as the dog boy is very moving.
Thank you so much. [Laughs] It's pretty surreal.
It's pretty weird.
It's very weird!
---
Below, go behind-the-scenes with Keanu Reeves with an exclusive look at the making of Man of Tai Chi.
---
Man of Tai Chi is released this week on Blu-ray and DVD, and is available through iTunes and VOD.
---