Narcos: Mexico's stars and executive producer Eric Newman tell Rotten Tomatoes host Naz Perez about beginning a new chapter in their dramatization of the rise of the Mexican drug trade. Diego Luna, who plays drug lord Miguel Ángel Félix Gallardo, and Scoot McNairy, who plays DEA agent Walt Breslin, lead a cast that includes Teresa Ruiz as socialite Isabella Bautista and Jesse Garcia as DEA agent Sal Orrozzo.
Plus, Luna, who played pilot Cassian Andor in Star Wars film Rogue One, reveals what he's looking forward to about the film's prequel series that he will star in for Disney+.
Narcos: Mexico is now streaming on Netflix.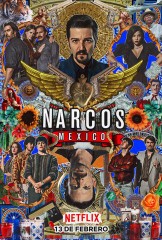 Critics Consensus:
As addictive -- and relevant -- as ever,
Narcos: México
's sophomore season is definitely more violent, but it never spoils the rich drama fans have come to love.