Irish actor Cillian Murphy first came to international attention when he starred in Danny Boyle's zombie thriller 28 Days Later in 2002, and since then, he's racked up a number of impressive credits. Most notably, Murphy reunited with Boyle for Sunshine, collaborated with Christopher Nolan on multiple projects (the Dark Knight trilogy), and worked with Ken Loach, Wes Craven, and Neil Jordan, in addition to starring in his own period BBC drama, Peaky Blinders.
This week, Murphy stars in World War II thriller Anthropoid, based on the true story of the assassination of a high-ranking Nazi officer by Czechoslovakian operatives, and he was kind enough to share his Five Favorite Films. Read on for the full list.
---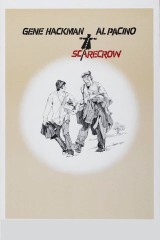 I rented this film by mistake when I was 15 with my brother. They told us it was a scary movie. It pretty much made me want to be an actor. Al Pacino will break your heart. And Gene Hackman will break your other heart.