Spoiler warning: The following contains giant spoilers for Avengers: Endgame. So if you don't wanna know what happens, stop right here. 
Sony Pictures released a new Spider-Man: Far From Home trailer on Monday, coinciding with the end of Avengers: Endgame directors Joe and Anthony Russo's online spoiler ban. And it is no surprise as the trailer is a huge spoiler for anyone who has not seen the recent Avengers movie. Although, considering that film continues to destroy box office records, we would be very surprised to discover someone who hasn't seen it.
As the trailer is a spoiler, it is filled with useful information for those tracking the progress of the Marvel Cinematic Universe, a few lingering plot points from Endgame, and info on the upcoming Phase 4 of the MCU. So let's dive in and examine some of the things we learned from the trailer.
---
It Is Set After Endgame
(Photo by @ Sony Pictures, @ Marvel Studios)
This one might sound obvious, but considering the span of time between Spider-Man: Homecoming and Avengers: Infinity War, there was a suspicion the movie might take place prior to the Snap. Many noted Nick Fury's (Samuel L. Jackson) "nice to meet you, Spider-Man" in the previous trailer, despite both being at Tony Stark's (Robert Downey Jr.) funeral. Also, Marvel Studios president Kevin Feige recently reframed the film as the last Phase 3 story instead of the first taste of Phase 4. Add Endgame's five-year time-jump and you get a recipe for a potential Far From Home set sometime in 2017 or 2018.
But thanks to its opening moments declaring the passing of Tony Stark and the heart-to-heart between Peter Parker (Tom Holland) and Happy Hogan (Jon Favreau), it is clear the film is indeed set after Endgame. That means the film, even if it is the last Phase 3 chapter, will offer audiences a glimpse into the post-Endgame world. In the previous trailer, we saw notable parts of New York being rebuilt, which suggests the Snap survivors left many of the parts of the world to ruin after half the world's population disappeared. Beyond those background details, though, the Snap and the five-year gap will have a very personal effect on Peter as he adjusts to the world.
---
Most Of Peter's Friends Disappeared With Him
(Photo by @ Sony Pictures, @ Marvel Studios)
MJ (Zendaya), Ned (Jacob Batalon), Betty (Angourie Rice), and even nominal high school bully Flash Thompson (Tony Revolori) are all the same age as Peter – which means they all disappeared in the Snap. That might seem minor, but every single one of them has lost five years. It remains to be seen how many of them returned to a stunned family – in fact, we're still not clear if Aunt May (Marisa Tomei) lived through the five year gap – or the effect that may have on them going forward. The summer trip to Europe may be as much a chance for them to re-acclimatize to the new world as it is a school activity.
But as Laura Harrier and Michael Keaton are currently on the cast list, we expect Liz and her father Adrian experienced the full five years of Endgame. You have to wonder how that changed them…
---
We're in the Multiverse Now, and Mysterio Is From A Tangent Reality … Well, Maybe
(Photo by @ Sony Pictures, @ Marvel Studios)
It seems the Ancient One's (Tilda Swinton) fears were founded after all as Fury tells Peter the Snap tore a hole in "our dimension." Peter is also introduced to Quentin Beck (Jake Gyllenhaal), a man who claims to be from an alternate Earth. We're assuming he is from one of the tangent realities the Ancient One warned Bruce Banner (Mark Ruffalo) about in Endgame. We're also assuming that "hole" is how Steve Rogers (Chris Evans) managed to get back from the tangent reality he created to have a life with Peggy Carter (Hayley Atwell).
Of course, it is always possible Beck is lying. He is Mysterio after all, a guy who faked an alien invasion back in the comics just to rob a bank. If he's anything like his comic-book counterpart, he could using the Snap to win Fury's trust. Alternatively, he could be a dimension-hopping bad guy with an interest in ending Spider-Man across the multiverse. Or should we say "Spider-Verse?" There is also the possibility that he is telling the truth and the MCU will give us a 100% noble Mysterio. But that seems quite unlikely. Peter almost always gets betrayed by the people he lets into his confidence, and we expect this to be no different.
---
Captain Marvel is Carol Danvers' Superhero Name
(Photo by @ Walt Disney Studios Motion Pictures, @ Marvel Studios)
OK, this is a small one, but considering no one in Captain Marvel or Endgame refers to Carol Danvers (Brie Larson) by her superhero codename, we're clocking this as the first time anyone officially refers to her as Captain Marvel. We also expect the scene in which Peter asks about Thor (Chris Hemsworth) and Captain Marvel will be a little longer and hint at what Bruce, Doctor Strange (Benedict Cumberbatch), and some of the other heroes are doing during this latest crisis.
---
Nick Fury Is In Charge
(Photo by @ Sony Pictures, @ Marvel Studios)
Also, isn't interesting to see Nick Fury in charge of an organization again? The manpower and equipment we see in the trailer suggest S.H.I.E.L.D., but S.H.I.E.L.D. patches appear to be absent on the people manning the various work stations surrounding Fury, Peter, and Mysterio in the trailer. Either they have been removed digitally to maintain the surprise or Fury has a new organization entirely. Is it time for S.W.O.R.D. to make its MCU debut? In the comics, their mandate is to keep Earth safe from alien incursions. Would their MCU jurisdiction include alternate Earths?
At the same time, the whole notion of tangent realities makes it really easy for Fury to resume his post at S.H.I.E.L.D. while the Agents of S.H.I.E.L.D. television series gets its own world to play with. It still makes them connected, just in a less immediate way.
---
Peter Has A Great Iron Man-level Responsibility, And Could Be Phase 4's Lead Hero
(Photo by @ Sony Pictures, @ Marvel Studios)
Considering Phases 1-3 were led by Tony Stark (Robert Downey Jr.), the Far From Home trailer seems to position Peter as the key hero going into Phase 4. Or, at least, that seems to be Peter's perception. That talk with Happy early on literally puts the weight of Iron Man on him. And the subsequent scene with the NYPD officers raises the question with Spider-Man's reality: is Peter the next Iron Man?
Since he still has the Iron Spider suit, signs should be pointing to "yes."
But it also seems likely that the film will confront this key question: Is Peter a kid, playing at being the Friendly Neighborhood Spider-Man, or is he a man ready to lead the superheroes? It is entirely possible he will walk away from the film knowing he is not the next Iron Man, putting someone else in the hot seat. Then again, the film could see this whole Spider-Man "Home" story cycle in a new light as he accepts the mantle, and the great responsibility which comes with it.
Should Phase 4 see Peter's friendly neighborhood grow to the size of a galactic quadrant – or a multidimensional band of realities – Far From Home may set him on this path. At the same time, it may also illustrate for him that he still has a lot to learn before he can lead the Avengers – or whatever they're calling themselves now – in the MCU's bold future.
---
Spider-Man: Far From Home is in theaters July 2, 2019
---
Like this? Subscribe to our newsletter and get more features, news, and guides in your inbox every week.
#1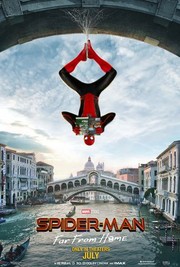 Critics Consensus:
A breezily unpredictable blend of teen romance and superhero action, Spider-Man: Far from Home stylishly sets the stage for the next era of the MCU.
Synopsis:
Peter Parker returns in Spider-Man: Far From Home, the next chapter of the Spider-Man: Homecoming series! Our friendly neighborhood Super...
[More]