(Photo by Manuel Fernandez-Valdes)
100 Hidden Gem Series on Netflix
So you're all caught up on Tiger King, still coming down from the shocks of Ozark, and you've rewatched Stranger Things – twice. And yes, we know, you saw the ending of The Stranger coming a mile away. When it comes to the best and buzziest new stuff on Netflix, you're right on top of it. But what to watch next? With more and more time at home, those watchlists are thinning out. Which is where we come in with this guide to 100 under-seen and under-appreciated series available on Netflix we think you should put on your radar, stat.
To compile this list of hidden gems, we trawled through the streaming giant's series and miniseries offerings to unearth recommendations you may not find in big Best Of Netflix lists or topping Netflix's weekly rankings. In this guide, you'll find shows with super-high Tomatometer scores that – perplexingly – haven't quite managed to become the "hits" they should be (Tuca & Bertie); some great not-Netflix-Originals you might not have known were offered (The IT Crowd, Extras, The Magic School Bus, Skins); foreign series that kick ass (Israel's Fauda, Australia's Kath & Kim, India's Ghoul); as well as some personal staff favorites.
We've arranged the guide by genre to help you find exactly what you're in the mood for. And while many of the selections have multiple seasons, we linked to the page for each show's first season because, well, that's generally the best place to start and get a sense of whether the show is right for you. For more info on each show, and to read reviews, click into the show title. And if you're looking for even more binge-worthy suggestions, check out our guides to the Best Netflix Series and Shows, the 250 Best Movies on Netflix, and Hidden Gem Movies on Netflix.
For now, happy bingeing, and we hope you find something surprising and special in the list below.
Found a hidden gem on Netflix that's not on our list? Let your fellow fans know in the comments. 
---
Mysteries and Thrillers
---
Comedies
---
Dramas
---
Action and Adventure
---
Horror and the Supernatural
---
Animated Series
---
Reality and Docu-series
---
Thumbnail image: Stephen Scott / ©CBC / courtesy Everett Collection, Manuel Fernandez-Valdes / Netflix, Sophie Mutevelian / BBC / Netflix
With so many of us social-distancing and staying in, our Watchlists are going to empty out very quickly as we burn through all those "I've-been-meaning-to-watch" shows and movies we've been saving for a rainy day. To help you find more great content (and some undiscovered gems) to keep you going, we're turning to the people that make it: the film and TV writers, directors, craftspeople, and performers who, just like you, are stuck home and bingeing like crazy right now.
For our first installment of "What I'm Watching," The Big Sick co-writer Emily V. Gordon shared what she's been streaming while stuck at home with her cat Bagel and husband Kumail Nanjiani. Gordon's most recent project, Little America, which she wrote, developed, and executive produced, is currently streaming on Apple TV+ – it's Certified Fresh and ripe for bingeing now – and she is at work on an upcoming comedy series for ABC with Modern Family's Sarah Hyland.
---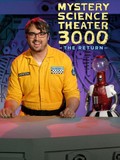 Emily says: "It's good for Rotten Tomatoes fans because these are bad movies that are made better by people making jokes about them. It's an amazing show, very comforting."

Season 1 Critics Consensus: Mystery Science Theater 3000: The Return picks up right where its predecessor left off, retaining all the cult classic's crucial ingredients and adding a handful of fresh twists.

Stream now on Netflix. 
---
---
---
---
Bonus Binge: Busby Berkeley YouTube Videos
Emily says: "I've been watching old Busby Berkeley musical numbers on YouTube. They are some of the most inventive and beautiful things I've ever seen, and it's kind of cool to see groups of people together because you don't really see that a lot now."
---
Looking for more great shows and movies to binge? Head to Rotten Tomatoes' Binge Central.
Thumbnail images: Priscilla Grant/Everett Collection, David Russell/HBO, Adrian S. Burrows/SHOWTIME; (c)Vestron Pictures/courtesy Everett Collection, @Netflix 
The 50 Best TV Seasons of the 2010s, According to the Tomatometer
We're celebrating the best TV of the decade with a look at the top-scoring seasons of 2010–2019, according to the Tomatometer. The second season of Phoebe Waller-Bridge's Fleabag takes the top spot, but don't feel bad for season 1; it appears at No. 1 our list. Fellow Amazon Prime series Catastrophe, from creators Sharon Horgan and Rob Delaney, tops the list for number of total seasons on the list with three of its four seasons Certified Fresh at 100% on the Tomatometer placing at Nos. 14, 15, and 25. Netflix title Master of None is the only show with two seasons in the top 10.
All of the seasons are Certified Fresh at 100%, by the way. We're showing 50 here, but there are a total of 94 TV seasons from the decade that have 100% Certified Fresh scores. We ranked them according to the number of reviews each had at the season level. Fleabag season 2, for instance, has 95 season-level reviews with Insecure season 1 hot on its heels with 94 reviews. Meanwhile, season 2 of anthology series Fargo, which starred Patrick Wilson and Kirsten Dunst, has a total of 230 reviews total across the season and 10 episodes, but only 58 at the season level, and so the title appears lower on the list. But getting episode-level reviews is an accomplishment in itself; most shows don't get enough reviews on each episode to get episodic scores.
Broad City and Jane the Virgin — girl power! — have the most seasons in the top 200 seasons of the decade with four each. Fan favorite Breaking Bad is represented twice, while Cobra Kai, which surprised audiences with its 100% Tomatometer score last year is at No. 11. The highest-ranked superhero series is Marvel's Agents of Shield season 3. Meanwhile, some incredible TV seasons – many of Game of Thrones', the current season of Watchmen – missed the list, because of just a few dissenting reviews.
Read on to find out which titles placed in the best TV of the decade.
Which is your favorite 100%  Certified Fresh season of TV? Let us know in the comments. 
---
Like this? Subscribe to our newsletter and get more features, news, and guides in your inbox every week.
(Photo by Amazon)
She's back! Emmy- and Golden Globe-winning comedy The Marvelous Mrs. Maisel is returning to Amazon for its second season on Wednesday, Dec. 5.
Season 2 will see Midge (Rachel Brosnahan) dealing with the fallout from her takedown of Sophie Lennon, making her climb up the comedy ladder even more challenging — especially since she's still keeping her new career as a standup comedian a secret from her family.
Recently added (updated 12/3): History Remembers George H.W. Bush (Dec. 5), Mysterious Islands (Dec. 26), Great Performances: The Bernstein Centennial Celebration (Dec. 28)
---
December | TBD

ARCHIVE: January | February | March | April | May | June | July | August | September | October | November
Also: Renewed & Canceled | 2019 Premiere Dates
---
December
---
Sunday, Dec. 2
Life-Size 2: A Christmas Eve (2018) 40% 9 p.m., Freeform
Berlin Station: Season 3 (2018)  9 p.m., Epix
Inside Syria's Deadly Dynasty, 9 p.m., Nat Geo
The Victoria's Secret Fashion Show Holiday Special, 10 p.m., ABC
Nightflyers: Season 1 (2018) 10 p.m., Syfy
Monday, Dec. 3
Finding Joy, Acorn TV
Vanderpump Rules: Season 7, 9 p.m., Bravo
Unanchored, 10 p.m., Bravo
Wednesday, Dec. 5
The Marvelous Mrs. Maisel: Season 2 (2018) 92% Amazon
Deal or No Deal, CNBC
History Remembers George H.W. Bush, 10 p.m., History Channel
Thursday, Dec. 6
Top Chef: Season 16, 9 p.m., Bravo
Friday, Dec. 7
RuPaul's Drag Race Holi-slay Spectacular, 8 p.m., VH1
Love After Lockup: Season 2, 9 p.m., WE tv
Icebox, HBO
Sunday, Dec. 9
Counterpart: Season 2 (2018) 100% 9 p.m., Starz
Deadly Legacy, 10 p.m., Investigation Discovery
Monday, Dec. 10
9th Annual CMA Country Christmas, 8 p.m., ABC
Pentatonix: A Not-So-Silent Night, 10 p.m., NBC
Tuesday, Dec. 11
Jeff Beck: Still on the Run, 7:30 p.m., Showtime
Wednesday, Dec. 12
Marvel Rising: Secret Warriors, Marvel HQ YouTube Channel
Champaign Ill, YouTube Premium
Agnostic Front: Godfathers of Hardcore, 7 p.m., Showtime
Paris to Pittsburgh, 9 p.m., National Geographic
Susan Powell: An ID Murder Mystery, 10 p.m., Investigation Discovery
Thursday, Dec. 13
Dr. Pimple Popper: The 12 Pops of Christmas, 9 p.m., TLC
The Carbonaro Effect: Season 4 (2018) 10 p.m., tru TV (midseason premiere)
GG Allin: All In the Family, 10 p.m., Showtime
Friday, Dec. 14
Roma (2018) 96% Netflix
Fuller House: Season 4 (2018) Netflix
Tidelands: Season 1 (2018) 77% Netflix
Travelers: Season 3 (2018) Netflix
Voltron: Legendary Defender: Season 8 (2018) 86% Netflix
Chilling Adventures of Sabrina: Part 1 (2018) 91% A Midwinter's Tale, Netflix
Cuckoo, Netflix
The Innocent Man, Netflix
The Protector, Netflix
Sunderland Til I Die, Netflix
LOL: Last One Laughing, Amazon
RuPaul's Drag Race: All Stars: Season 4 (2018) 86% 8 p.m., VH1
High & Mighty, 8 p.m., HBO Latino
k.d. lang: Landmarks Live in Concert – A Great Performances Special, 9 p.m., PBS
Korn's Brian "Head" Welch: Loud Krazy Love, 10 p.m., Showtime
Saturday, Dec. 15
Pete Holmes: Dirty Clean, HBO
Dannemora Prison Break, 7 p.m., Oxygen
Sunday, Dec. 16
Springsteen on Broadway, Netflix
The Simpsons 30th Anniversary Marathon, 9 a.m., FXX
2018 Miss Universe, 7 p.m., Fox
Monday, Dec. 17
Blood, Acorn TV
America's Got Talent: A Holiday of Champions, 10 p.m., NBC
Wednesday, Dec. 19
() % YouTube Premium
Schitt's Creek 93%: Holiday Episode, 10 p.m., Pop
Full Frontal With Samantha Bee Presents "Christmas on I.C.E." 10:30 p.m., TBS
Thursday, Dec. 20
Timeless 91%: Series Finale, 8 p.m., NBC
Friday, Dec. 21
Marvel's Runaways: Season 2 (2018) 87% Hulu
Vanity Fair: Miniseries (2018) 89% Amazon
Bird Box (2018) 64% Netflix
Perfume: Season 1, Netflix
38Below: Tales of Arcadia, Netflix
Derry Girls, Netflix
Tales By Light, Netflix
Bad Seeds, Netflix
Struggle: The Life and Lost Art of Szukalski, Netflix
Last Hope, Netflix
Sirius the Jaeger, Netflix
Back With the Ex, Netflix
Wolf, Netflix
7 Days Out, Netflix
The Casketeers, Netflix
American Dream/American Knightmare, 8:30 p.m., Showtime
Saturday, Dec. 22
Demon's Path, Netflix
Sunday, Dec. 23
Watership Down: Miniseries (2018) 74% Netflix
The Simpsons 85%: Simpsons Roasting on an Open Fire, 8 p.m., Fox
Marilyn Monroe For Sale, 9 p.m., Smithsonian Channel
Monday, Dec. 24
Agatha Raisin and the Fairies of Fryfam, Acorn TV
Hi Score Girl, Netflix
Wednesday, Dec. 26
41st Annual Kennedy Center Honors, 8 p.m., CBS
Mysterious Islands: Georgia's Island of the Geechee People, 11 p.m., Travel Channel
Mysterious Islands: Islands of Eternal Life, 11:30 p.m., Travel Channel
Friday, Dec. 28
Into the Dark: New Year, New You, Hulu
Instant Hotel, Netflix
Murder Mountain, Netflix
Selection Day, Netflix
A Twelve-Year Night, Netflix
When the Angels Sleep, Netflix
Yummy Mummies, Netflix
Great Performances: The Bernstein Centennial Celebration, 9 p.m., PBS
Sunday, Dec. 30
The Orville: Season 2 (2019) 100% 8 p.m., Fox
The Lake Erie Murders: Who Killed Amy Mihaljevic?, 9 p.m., Investigation Discovery
Monday, Dec. 31
Taylor Swift reuputation Stadium Tour, Netflix
Fox's New Year's Eve With Steve Harvey: Live from Times Square, 8 p.m., Fox
Dick Clark's New Year's Rockin' Eve With Ryan Seacrest, 8 p.m., ABC
NBC's New Year's Eve, 10 p.m., NBC
---
TBD
---
December | TBD

ARCHIVE: January | February | March | April | May | June | July | August | September | October | November
Also: Renewed & Canceled | 2019 Premiere Dates
153 Fresh Streaming Series and Movies by Tomatometer
Updated February 15, 2018
Can't decide what to binge-watch next? Get hooked up with these Fresh original streaming series and movies, including The Handmaid's Tale, Okja, The End of the F***ing World, 13 Reasons Why, Marvel's Runaways, Dark, and 147 more titles listed by Tomatometer.
To be included, titles must be Fresh (60% or higher), series must have at least 10 reviews on a single season, and films must have over 20 reviews. Films that opened in fewer than 100 theatrical screens were included, which is why you'll also find titles like Mudbound, which is nominated for Academy Awards in four categories.
Is your favorite streaming title missing? Tell us in the comments.
SERIES | MOVIES
SERIES
(Photo by Macall B. Polay/HBO)
Eager for warm weather already? Here's an early look at spring/summer TV that might argue for you to stay indoors.
---
March | April | May | June | July | August | NEW! Fall 2017
Friday, Jul. 7
Degrassi: Next Class: Season 4 (2017) Netflix
Before there were YouTube reaction videos, before there were podcasts about bad movies, before there was live tweeting, there was Mystery Science Theater 3000, a fictionalized world in which mad scientists capture a janitor and force him to watch B movies in a dubious world-domination plot. The unlikely astronaut builds three robot companions, and the foursome endure the torment of terrible movies with humor, cracking wise (and corny) over particularly foul film-making.
To be fair, audience-participation films like The Rocky Horror Picture Show predate MST3K, but the series tackled 197 different movies. Now, thanks to a Kickstarter campaign and Netflix, creator Joel Hodgson brings Mystery Science Theater 3000 back with 14 new movies, a new human test subject (Jonah Ray), new baddies (Felicia Day and Patton Oswalt), and new robot voices: Hampton Yount as Crow T. Robot, Baron Vaughn as Tom Servo, and Rebecca Hanson as Gypsy.
Hodgson, Ray, and Day spoke with Rotten Tomatoes before the premiere of MST3K on Netflix. Here are five things to know about the season that are new to the revival, and five classic elements that haven't changed.
---
1. NEW: THERE'S A NEW FORRESTER, HER NEW ASSISTANT, AND A NEW HOST
In the world of MST3K, forcing brave astronauts to watch bad movies was originally the brainchild of Dr. Clayton Forrester (Trace Beaulieu), with his henchman TV's Frank (Frank Conniff). Now Forrester's daughter Kinga (Day) has taken over the family legacy.
"She's definitely, I think, trying to prove herself in a sense to her dad and live up to the family name," Day said. "I think she has a lot of insecurities and those are expressed in her trying to be the most important, richest, and most powerful person in the universe, ruling over all media."
Oswalt plays TV's Son of TV's Frank. Jonah Ray plays Jonah Heston, the third astronaut captured by the Forresters after Hodgson himself and Mike Nelson. Ray knows it'll be hard for the fans because he gave Nelson a hard time too.
"When Mike took over, I was upset just because I was a nerd and I didn't like change," Ray said. "Now I can't complain about the new host. It puts me in kind of an awkward position as a fan."
---
2. SAME: THE MOVIES ARE STILL OBSCURE
The most famous movies tackled by MST3K may have been a few Godzillas and Diabolik, but Hodgson learned that the more obscure movies, like Mitchell or I Accuse My Parents, work best for riffing.
"My impression is MST works the opposite of Hollywood," Hodgson said. "Basically the less you know about a movie, the better. That's why we don't try to promote what the movies are. It's better if it's a surprise."
---
3. NEW: FRESH WRITERS BRING FRESH RIFFS
Hodgson said a lot of the new writers grew up as fans of the original series. That includes Ray, who is also a writer, and Day, who wrote on four episodes.
"I personally tried to shove as many gaming jokes as possible in the episodes," Day said. "We'll see if those made it in."
Ray learned that sometimes you have to throw out your preconceived notions of what to say and just go with your gut.
"Just the idea of listening to the people that you're with while watching them, listening to what they have," Ray said. "Trusting your instincts and your first impulses. That joke that just pops out of your brain or mouth when you're watching something, it might not be perfect, but there might be something to it."
---
4. SAME: THE PROCESS IS A WELL-OILED MACHINE
If it ain't broke, don't fix it. First, the writers take the movie home and write jokes to submit to Hodgson. Then they watch it over and over with the writers to figure out 90-minutes worth of jokes.
"You can't talk over the whole movie," Ray said. "That was a big learning curve of learning how to squeeze riffs in the gaps in the movie."
They also can't let too much of the movie go by without saying something.
"All of us think we can sit in front of our TVs and make smartass comments to the screen, but when you really have to do it for the whole movie, you can't skip any parts where you don't have something," Day said. "You really have to dig into your brain and be like, 'What clever reference can I come up with here?'"
They also start with an abundance of riffs and cut it down.
"That comes in the rehearsal process," Hodgson said. "It just gets too tight. We definitely overwrite it and then trim stuff back."
---
5. NEW: THE RIFFS ARE FASTER
The new MST3K has more jokes per minute than ever before. You may even hear three jokes in as little as 10 seconds. Day feels streaming services have trained people to process jokes faster.
"I think that really reflects digital," she said. "When you're watching by yourself or on a smaller screen, the more jokes per minute the better."
Ray feels there are so many jokes you can watch the episodes more than once. "For me, every time there's a lot of jokes, it just makes me want to watch it again," Ray said.
---
6. SAME: THEY STILL WARN THE MOVIES' STARS ABOUT SNAKES
The new MST3K continues all the running jokes that fans loved to quote.
"If someone's giving exposition and there's a shot of someone just listening, you can always just [say], 'Uh, uh-huh, oh yeah,'" Ray said. "Of course if anyone's walking in a field, you just have to yell out, 'Watch out for snakes.' Sometimes it's just so perfect to throw in a 'Hi-keeba!' when you can."
When Jonah and the robots take a break from the movies, inventions and music are back too. Hodgson used to present the "Invention Exchange" at the beginning of each show, and it's back by popular request.
"I didn't have too strong an opinion about them," Hodgson said. "People around me really liked them, so I decided to put them in."
The hosts and bots would always perform original songs, and Ray has musical experience. He's played in bands and in some of his stand-up.
"I've done bits that involve music a bit, but I was never really like a guitar comic or anything like that," Ray said. "I would just make fun funny songs and perform them live here and there in sketches and stuff like that."
---
7. NEW: MICROPHONE TECHNOLOGY MAKES IT SOUND BETTER
Basic recording technology has greatly improved since MST3K began. Late '80s MST3K still used clunky microphones with cables. Just the invention of wireless microphones makes Jonah and the robots sound closer to the viewer.
"That gives you a level of intimacy, but you don't want it to sound too intimate," Hodgson said. "Jonah and the bots are not sitting next to you. They're sitting about three or four feet in front of you. You have to dial that in with the microphones."
---
8. SAME: IT'S STILL A FAMILY SHOW
MST3K used to have to adhere to broadcast standards. Now that it's on Netflix, they could technically say whatever they want. However, Hodgson still wants families to be able to watch it together.
"I think what we look for is what we would call discreet adult humor," Hodgson said. "We don't use trigger words that would make a kid go, 'What does that mean?' and it would mean a parent would have to stop the video and explain an adult concept to a kid. Parents don't mind talking about adult things with kids, but they may not want to do that watching a comedy show."
---
9. NEW: NOW YOU CAN BINGE, BUT YOU SHOULDN'T
Thanks to Netflix, you'll have access to all 14 episodes right away. The cast does not recommend binging.
"It's a lot to take in at once," Ray said. "People would end up feeling the same fatigue that our characters would. The Forrester legacy might actually come true if everyone tries to watch these all in a row."
Day does encourage people to watch them out of order. "To have all of them go up at the same time, people can look at all the new movies and be like, 'Oh, which ones do I want to watch first?'" Day said. "I have a preference for the old historical ones just as a viewer."
Hodgson just hopes people take their time. "It took us so long to make them, I wouldn't insist that people watch them right away," Hodgson said. "Personally, I just want them to enjoy them at their own pace. It's a lot."
---
10. SAME: THERE ARE STILL "COMMERCIAL" BREAKS
There are no commercials on Netflix, but Hodgson still created interstitial "We'll be right back" screens as if they were pausing for commercials.
"It's a 90-minute show," Hodgson said. "So if people say, 'Man, I'm not going to watch 90 minutes. I'll just watch up until the first interstitial, or the second.' Also, in the context of the show, Kinga's trying to blow up the brand. She uses those breaks to hype the show, reiterate what you're watching, tell people about the things of interest in the show."
---
Mystery Science Theater 3000 premieres April 14 on Netflix