We asked, you answered. We recently polled 1,000 Rotten Tomatoes users to find out which shows they think are the most bingeable. And from Scranton to Hawkins and a Winnebago in the desert to a galaxy far far away, it just so happens that the top five results of that poll make for a pretty perfect binge guide.
Read more: 
• 2020 Fall TV Survey
• 30 Top Returning Fall Shows
• 30 Top New Fall Shows
• 10 Top TV and Streaming Movies
• 30 Favorite Netflix Shows
• 25 Most Bingeable Shows
• Top Network Show & More
Fall TV is still in full swing this month, which means more and more shows for your viewing pleasure. While you decide which new ones to tune into, catch up on the 13 series below — all of which are Certified Fresh returnees with zombies, superheroes, and brainiacs to spare. 
---
What it is: Elizabeth Olsen stars as Leigh Shaw, a widow in mourning who, unable to bear living in the apartment she shared with husband, quits her job as a magazine writer and moves in with her mother. What follows is a nuanced character study of those left behind in death's wake.
Why you should watch it: It's not easy to make a show on grief, much less sell it. But I'm Sorry for Your Loss is benefited by its thoughtful and thought-provoking scripts from playwright-turned-series creator Kit Steinkellner and nuanced, heartbreaking performances from Olsen, Janet McTeer as her mother, and Star Wars: The Last Jedi's Kelly Marie Tran as her sister. Plus, it's perfectly timed at just 30 minutes per episode. Season 2 premiered October 1 on Facebook Watch.
Where to watch: Facebook Watch
Commitment: Approx. 5 hours (for the first season)
---
What it is: Co-created by Nick Kroll and featuring the voice talents of comedy heavy-hitters like John Mulaney, Fred Armisen, Maya Rudolph, and Jenny Slate, Big Mouth is a coming-of-age series about awkward teens discovering their sexuality through the raging hormones of puberty.
Why you should watch it: We've seen plenty of naughty comedies in the past, but none of them excavate the triumphs and traumas of pubescent adolescence quite as fearlessly or uproariously as Big Mouth. Season 3 premieres in full on October 4.
Where to watch: Netflix
Commitment: Approx. 10.5 hours (for the first two seasons, plus a Valentine's Day special)
---
What it is: The going's rough and tough in this BBC and Netflix co-production from creator Stephen Knight. Charting the rise of the notorious Peaky Blinders gang in post-WWI England, the long-running drama is led by a never-better Cillian Murphy as the fearless, cold-blooded leader, Tommy Shelby. 
Why you should watch it: Between its production design, its larger-than-life performances, and airtight writing and direction, this period series takes some big swings and lands each one. Murphy delivers as the icy Tommy, and Helen McCrory is stellar as the series' hard-as-nails matriarch. Throw into the mix a strong, talent-heavy ensemble — including turns from the likes of Tom Hardy and Aidan Gillen — and Peaky Blinders earns its reputation as one of the best series that you just might be sleeping on. Season 5 premieres on October 4 on Netflix.
Where to watch: Amazon, FandangoNOW, Google Play, Microsoft, Netflix, Vudu
Commitment: Approx. 24 hours (for the first four seasons)
---
What it is: This decorated, mind-teaser of a series from creator Sam Esmail is at its core the story of Elliot, played by 2018 Oscar winner Rami Malek in a role that nabbed him an Emmy for best actor after season 1. Elliot is a mentally unstable (see: socially anxious, depressed, and drug-addicted) hacktivist recruited into "fsociety" by one Mr. Robot (Christian Slater). Confused? Intrigued? Just watch it.  
Why you should watch it: Over the course of three seasons, Mr. Robot has made it near-impossible to look away. Few other series today make for water-cooler fare at work, but Esmail — with the help of Malek, Slater, and an impressive supporting ensemble cast — taps into the cultural consciousness with a premise as timely as it is ambitious. Its fourth and final season premieres on October 6 on USA Network.
Where to watch: Amazon, FandangoNOW, Google Play, Microsoft, Vudu
Commitment: Approx. 24 hours (for the first three seasons)
---
What it is: Ever wonder what the other surviving Kryptonians (what few of them are left) are up to while Superman is out there saving the world? Well, turns out his cousin, Kara Zor-El (aka Supergirl) is up to just about the same thing. This is her story.
Why you should watch it: It took until the second season for this DC Comics series to really nail down its tone on the CW with star Melissa Benoist and co., but there's no doubt that it today ranks as one of the most formidable hour-long outings in the superhero comics-to-screen universe. Season 5 premieres on October 6 on The CW.
Where to watch: Amazon, FandangoNOW, Google Play, Microsoft, Netflix, Vudu
Commitment: Approx. 65 hours (for the first four seasons)
---
What it is: Don't know what The Walking Dead is? You may want to check your pulse…
Why you should watch it: Based on the comic book series by Robert Kirkman, Tony Moore, and Charlie Adlard's post-apocalyptic premise of zombies walking the Earth and ending mankind as we know it, the acclaimed series developed by creator Frank Darabont indulges in gore and "what if" fascinations. These are characters brought to life with bone-deep precision from a stable of some of TV's greatest talents. You just never know when your favorite will bite the dust, but that's admittedly part of the fun, too. Tune into this season to catch Black Panther star Danai Gurira's final outing. Season 10 premieres on October 6 on AMC.
Where to watch: Amazon, FandangoNOW, Google Play, Microsoft, Netflix, Vudu
Commitment: Approx. 98 hours (for the first nine seasons)
---
What it is: Inspired by the true story of former NFL-er Spencer Paysinger, this drama series from creator April Blair follows a talented high school football player from South L.A. who's drafted to play for Beverly Hills — and the social and professional tensions that build when two worlds collide.
Why you should watch it: Hailed by the Hollywood Reporter the best new broadcast network drama of 2018, All American bears ingredients from some of our favorite teen and sports dramas of yesteryear while managing to stand out from the pack thanks to its central performances: newcomer Daniel Ezra as the recruited football star Spencer James and Taye Diggs as the NFL star-turned-Beverly Hills coach who sees a future in him. Season 2 premieres on October 7 on The CW.
Where to watch: Amazon, FandangoNOW, Google Play, Microsoft, Netflix, Vudu
Commitment: Approx. 12 hours (for the first season)
---
What it is: Grant Gustin is crime scene investigator–turned–crime scene vigilante Barry Allen (aka the Flash), a lightning-enhanced fastest man alive. The story follows Barry's crime-fighting adventures alongside a group of friends with their own special abilities.
Why you should watch it: You don't gain an adoring following like that of The Flash without bringing edge-of-your-seat comic-book action and suspense, lovable characters and story arcs, and pitch-perfect performances week to week. Equal parts charming and high-octane in all the right ways, this DC Comics offering keeps us coming back for more. Season 6 premieres on October 6 on The CW.
Where to watch: Amazon, FandangoNOW, Google Play, Microsoft, Netflix, Vudu
Commitment: Approx. 82 hours (for the first five seasons)
---
What it is: Riverdale is the latest TV adaptation of the beloved Archie comics of yore — only this time, it gets the CW treatment as a murder mystery–thriller with hot, live-action high schoolers played by KJ Apa, Camila Mendes, Lili Reinhart, and Cole Sprouse. This is not your mom and dad's Archie.
Why you should watch it: We'll say it: Riverdale ranks among the best teen dramas to come out of primetime since Gossip Girl, and it deserves the viewership and brand ubiquity to match. It's the classic Archie we know with a heaping serving of sex appeal and a dash of True Detective. What's not to love? Season 4 premieres on October 9 on The CW. 
Where to watch it: Amazon, FandangoNOW, Google Play, Microsoft, Netflix, Vudu
Commitment: Approx. 42 hours (for the first three seasons)
---
What it is: Walter White is a high school chemistry professor who, after a terminal cancer diagnosis, begins cooking and selling methamphetamine to pay off his mounting medical bills and take care of his family. With that, what starts as a compelling enough premise in Vince Gilligan's genre-defining character study builds to become one of the greatest series ever to grace the small screen.
Why you should watch it: As played by Bryan Cranston (who won a whopping five Emmys for the role), Walter White is one of the most iconic television characters of the 21st century. Meeting him mark for mark is Emmy winner Aaron Paul as his delinquent co-conspirator and cook, Jesse Pinkman. To watch the two of them play off each other while diving deeper into the underbelly of drugs and crime in New Mexico is about as good as TV gets. Binge all five groundbreaking seasons before its much-anticipated feature film bookend, El Camino: A Breaking Bad Movie, premieres on October 11 on Netflix. 
Where to watch it: Amazon, FandangoNOW, Google Play, Microsoft, Netflix, Vudu
Commitment: Approx. 46.5 hours (for all five seasons)
---
What it is: Set in the fictional, titular Maine town and drawn from the expansive works of Stephen King, this anthology series from creators Sam Shaw and Dustin Thomason uses characters both classic and new to re-imagine the author's best works for the small screen. Season 1 was largely inspired by The Shawshank Redemption, while the second outing looks to pull from Misery.
Why you should watch it: With executive producers like King himself and blockbuster filmmaker J.J. Abrams at the helm, you know you're in for some tricks along with your treats. And with Halloween right around the corner, the return of this hit horror series is sure to get you in the appropriate holiday spirit. Season 1 features standout performances from the likes of Andre Holland, Sissy Spacek, and Bill Skarsgård (himself a King-universe vet thanks to his Pennywise role in the record-breaking It films). Lizzy Caplan promises to light up the screen in season 2, which serves as something of a prequel or origin story for Misery's demented nurse Annie Wilkes. Get a taste of the King-inspired mayhem before the new season's October 23 premiere on Hulu. 
Where to watch it: Amazon, FandangoNOW, Google Play, Hulu, Microsoft, Vudu
Commitment: Approx. 8.5 hours (for the first season)
---
What it is: Chuck Lorre knows TV, but we've never seen The Big Bang Theory and Two and a Half Men mastermind tackle something quite like The Kominsky Method, a half-hour, single-cam comedy that follows an aging acting coach and his agent in contemporary Hollywood. Both a stinging comedy on the industry's lasting truths and a revealing, humorous look at men of a certain age, the series racked up two Golden Globes earlier this year, including Best Musical or Comedy Television Series.
Why you should watch it: Few things have been more satisfying over the last few years than watching Hollywood heavy-hitters deliver career-best work on the small screen. Among them are Oscar winners Michael Douglas and Alan Arkin as the central Sandy Kominsky and his longtime agent and friend Norman Newlander, respectively. The pair's rat-a-tat everyman rapport goes down easy, even when they're not on their best behavior. Season 2 premieres on October 25 on Netflix. 
Where to watch it: Netflix
Commitment: Approx. 4 hours (for the first season)
---
What it is: This acclaimed HBO comedy from creators John Altschuler, Mike Judge, and Dave Krinsky is the story of wunderkind coder Richard Hendricks (Thomas Middleditch) as he and partner Erlich Bachman (T.J. Miller) struggle to get their startup off the ground during Northern California's tech boom.
Why you should watch it: Few shows pack as many laughs-per-episode as Silicon Valley. Through its hilarious portrayal of a company on the rise, it also taps into the real-world "brotopia" of the West Coast's tech industry in more than just name with an assortment of memorable (and in the case of Middleditch, Emmy-nominated) performances across the board. Its sixth and final season premieres on October 27 on HBO.
Where to watch: Amazon, FandangoNow, Google Play, HBO Now, Microsoft, Vudu
Commitment: Approx. 23 hours (for the first five seasons)
---
Like this? Subscribe to our newsletter and get more features, news, and guides in your inbox every week.
(Photo by Frank Ockenfels/AMC)
Breaking Bad ended on September 29, 2013, after five groundbreaking, Certified Fresh seasons, four of which have a 100% Tomatometer score. Five years have gone by since Walter White (Bryan Cranston) and Jesse Pinkman (Aaron Paul) hung up their hazmat suits for good, and after all this time and all those Emmys — over the course of the series, it was nominated for 58 and won 18 — the show's impact can still be felt across the TV landscape.
Over the course of its run, the Vince Gilligan–created series redefined great TV, catapulting character actors Cranston and Paul to superstar status while piecing together an intricately detailed story, presenting a sympathetic protagonist to audiences everywhere, and flipping the TV script formula on its proverbial head.
From epic performances by the show's ensemble cast to its thought-provoking writing, Breaking Bad changed the game. Here are the five biggest ways the series has transformed the way we watch television, forever.
---
1. Breaking Bad was a savage exercise in character transformation
When
Breaking Bad
came along, TV's episodic formula existed within specific parameters: As bad as things ended up getting in any show's story, more often than not, the program's lead characters would experience a soft reboot once the next episode aired. Basically, audiences wanted reliable characters to connect with, and no matter how challenging the events within their prospective worlds would become, it was understood that your Matlocks, Sherlocks, and Dr. Houses of the world would never change.
Then Breaking Bad's Walter White came along and evolved from "Mr. Chips into Scarface," per Gilligan's master plan.
This wasn't the first time a television show made an antihero its focal point, of course; exceptional series like The Wire, Deadwood, and The Sopranos all dug into the lives of characters that, quite regularly, made sinister life choices. But as those shows, each in its own way, did their best to explore shades of morality, none of them ever really led their character's lives down a path to ultimate change.
Tony Soprano, for example, was an especially flawed human who was constantly trying to become better — attempting to find some semblance of good within his life of crime. David Simon used The Wire as a method of exploring the struggle for change throughout the show's five-season run. And yet, the main characters on both of these shows never fundamentally changed.
Gilligan threw the old rules out the window for Breaking Bad, and Walter White's transformation from cancer-stricken science teacher to murderous drug lord took the audience on an epic journey usually reserved for icons of cinema and literature.
When all was said and done, pretty much every important character in the series — from Walt's metamorphosis to Jesse and Mike's (Jonathan Banks) individual redemptions to Skyler's (Anna Gunn) criminal enabling, and Saul's (Bob Odenkirk) downfall — experienced a beginning, middle, and satisfying end to their stories.
---
2. And a master-class in visual storytelling
The Wire
and
Breaking Bad
have undergone many comparisons since both shows came to an end. While the two series explore the impact drugs and crime have on their characters and respective locales, they've got another overarching element in common: each program gives the viewer a cinematic exploration of the city their story takes place in.
Breaking Bad
excels here by elevating the importance of cinematography in episodic drama.
Originally, Breaking Bad was supposed to take place in Riverside, California. If the story remained there, it's quite possible the series wouldn't have become the groundbreaking hit we know it to be. The story ended up being set in New Mexico, allowing Gilligan and crew to take full advantage of the city's desert color palette to bring Walt's desolate, dry existence to life.
The natural scenery of Albuquerque not only gave the show a unique aesthetic previously not seen by TV audiences, but Gilligan's attention to story detail regularly went beyond the written word, using color cues and tiny tidbits — from the ongoing use of yellow to signify Walt's evolving relationship with the danger around him until he notoriously becomes the danger, to recurring motifs like the pink teddy bear's eye that represents Walt's past catching up with him — to formulate the world and story as the series progressed. With just seven episodes in the first season and 13 in each subsequent one (except the final 16-episode season, which was split in two halves) that's quite the achievement.
---
3. Even the bottle episodes were must-watch television
Breaking Bad pushed the boundaries on so many fronts and won many accolades, but its acting and writing regularly took home awards. Nowhere did these two facets shine brighter than in the show's various bottle episodes.
Every TV series has bottle episodes — their main purpose is to push the story forward with as little money spent as possible. This type of programming usually focuses on a small number of cast members in a single setting. The problem with this part of the television production formula is that most bottle episodes can come off as pointless, or as cheap tricks. That's not the case on Breaking Bad.
Take, for instance, the Rian Johnson–directed episode, "Fly." As they neared production of the 10th episode of the show's third season, Gilligan and crew found themselves massively overbudget. To deal with this issue, they created an episode that focused solely on the evolving work relationship between blue-meth Jedi White and his young Padawan, Jesse. The occasional cinematic trick of filming from a roaming housefly's POV gave the series a little cinéma vérité perspective on the duo, changing up the expected tone and pacing the show's audience had become accustomed to. And while the claustrophobic episode ended up polarizing viewers for those same reasons, many critics and fans point to the episode as one of the show's best.
---
4. Fandom that rivaled the biggest in the world
Conflict came at Walt and Jesse around every corner on Breaking Bad. From Walt's own family drama to the constant, murderous politics our characters regularly faced with Gus Fring (Giancarlo Esposito) and the Salamanca Family, the series explored a multitude of challenges and struggles for each character on the show. As the program grew, so did its fan base, and once Walt's villainous alter ego Heisenberg was created, Breaking Bad took on a whole new life.
Usually, in a story such as this, the audience is expected to root for a clearly defined hero. But in Breaking Bad, even the best-intentioned person had demons to confront. A morality play of the highest order, AMC's landmark hit worked best when it explored the darkest corners of humanity through the trials and tribulations of its leads like Walt, Jesse, Hank (Dean Norris), Skyler, and Gus. While the show began as a dark comedy, it slowly headed down a spiral of blood, greed, and despair. And it was through that journey, and the introduction of a whole cartel of characters, that Breaking Bad's passionate audience was built.
The cast and crew of the series appeared three times at San Diego Comic-Con to masses of Heisenberg shirt–wearing fans. What made it all so attractive? The no-brainer answer would point to the stellar performances of the cast, the epic writing, and top-notch cinematography. But when you add in Albuquerque's unique locale, Vince Gilligan's quirky narrative talents, and the steady dose of Heisenberg and Gus Fring's bad guy-vs-bad guy boss battle, Breaking Bad stood out from the prime-time pack.
---
5. It spawned a prequel series that keeps the Breaking Bad dream alive
With Better Call Saul, a new backstory trend has begun to unfold on the small screen, including HBO's Game of Thrones projects.
Now four seasons in, Better Call Saul successfully crawled out of the shadow of its predecessor and did so by dialing back the clock to a time before Saul was Saul. Goodman's introduction to Breaking Bad helped add some necessary levity during a tonal shift for the series, allowing Walt and Jesse to fully embrace the darkness this new partnership brought into their lives. Recognizing there was more to the Breaking Bad world than met the eye, Gilligan and Peter Gould dipped back into their universe and brought to life earnest yet damaged struggling lawyer Jimmy McGill.
Better Call Saul continues Gilligan's Breaking Bad's Mr. Chips–Scarface mission, showing audiences the story before the story — all while giving Odenkirk's Jimmy even more rich layers to work with. Through Breaking Bad's run, it became evident that Walt's end would be a tragic one. Knowing where Saul ends up gives the audience haunting knowledge of the show's end-point: How does Jimmy become Saul? The answer to that question is just the beginning of another epic chapter called Breaking Bad.
Vince Gilligan wants you to stop throwing pizzas on the Breaking Bad house. No, seriously, stop. Also this week in TV news, we learn about Hannibal Buress' new Comedy Central series, a cab-driver who caught his big break on House of Cards, Matthew Weiner's Hitchcockian inspirations for Mad Men, and a Firefly reunion in the works (kinda)!
---
Vince Gilligan: Stop Throwing Pizzas on Walter White's House

In an interview on the "Better Call Saul Insider" podcast this week, Breaking Bad creator Vince Gilligan said that people need to stop throwing pizzas on the Walter White house in Albuquerque, NM. Fans of the show will remember a scene from an episode in season three, in which Walter (Bryan Cranston), in his frustration, throws a pizza which lands perfectly on the roof of his house. Since then, the real-life house has been plagued with flung pizzas. "They're throwing pizzas on roofs and stuff like that," Gilligan said. "Let me tell you: There is nothing funny or original or cool about throwing pizzas on this lady's roof. It is just not funny. It's been done before. You're not the first." Fran Padila, the owner of the home-turned-tourist-attraction told CBS News, "If you're going to be a jerk, stay the hell away." Seems reasonable enough?
---
Broad City Star Lands Comedy Central Series

Comic Hannibal Burress, who plays Lincoln on Comedy Central's cult hit Broad City, has landed his own eight-episode series order at Comedy Central called Why? With Hannibal Buress? According to a statement from the network, Buress will be "answering the burning questions on his mind through stand-up, filmed segments, man-on-the-street interviews, and special in-studio guests." The show will be taped in front of a live studio audience and is set to premiere this July. "Hannibal keeps asking us 'why' so we just told him to go find out and we'll air it," Kent Alterman of Comedy Central stated, to which Buress added: "I'm extremely excited to help Comedy Central sell advertising."
---
House of Cards Actor Gigs as a New York Cabbie

As reported by the New York Post, House of Cards actor Alexander Sokovikov took a hiatus from his regular gig, driving a New York yellow taxi, to play a five-episode arc as Russian ambassador Alexi Moryakov on House of Cards. In the buzzed-about bathroom scene in the fifth episode of season three, Claire Underwood (Robin Wright) beckons Moryakov to the ladies room where she makes quite the power play. This was the second role Russian-born Sokovikov auditioned for on House of Cards this year, having also tried out for Russian president Petrov. When he's not acting, Sokovikov drives a cab full-time around Gotham. "I am an actor," he told the Post. "I am not a cab driver who acts. I am an actor who drives a cab." An actor who takes his résumé, headshots, and reel with him whenever he goes because, hey, if you can make it there, you can make it anywhere.
---
Matthew Weiner Names Hitchcock Among His Top Influences for Mad Men
As part of a new Mad Men exhibition at the Museum of the Moving Image in Astoria, NY, creator Matthew Weiner curated 10 classic films that inspired AMC's breakout hit. Among the list are two films by Alfred Hitchcock: Vertigo and North By Northwest. "[North by Northwest] became an important influence on the pilot because it was shot in New York City, right around the time the first episode takes place," Weiner said. "While more overtly stylized than we wanted to imitate, we felt the low angles and contemporary feel were a useful reflection of our artistic mindset." With regard to Vertigo, Weiner told the Moving Image, "I remember watching the camera dolly-in on Kim Novak's hair and thinking, 'this is exactly what we are trying to do. Vertigo feels like you are watching someone else's dream." Click here to see the full list of films. The final season of Mad Men returns Sunday, Apr. 5, on AMC.
---
There's a Firefly Reunion on the Horizon (Sort Of)

Good news for Browncoats! After Tuesday's announcement about their new crowd-funded web series Con Man, Firefly stars Nathan Fillion and Alan Tudyk have already reached their fundraising goals — and then some. According to the campaign page on IndiGoGo, the duo of the short-lived 2002 sci-fi series has hit a mark of $1.4 million in just two days (they only asked for $425,000). Con Man, pitched as a series of 10- to 12-minute episodes, will be about fictitious actors of a cancelled outer-space show called Spectrum who spend a lot of time at comic book conventions. The series will also star fellow Firefly alums Gina Torres (Zoe) and Sean Maher (Dr. Simon Tam), as well as Amy Acker, Felicia Day, and Seth Green. Guardians of the Galaxy director James Gunn is also expected to make an appearance. For more info, watch the video here.
---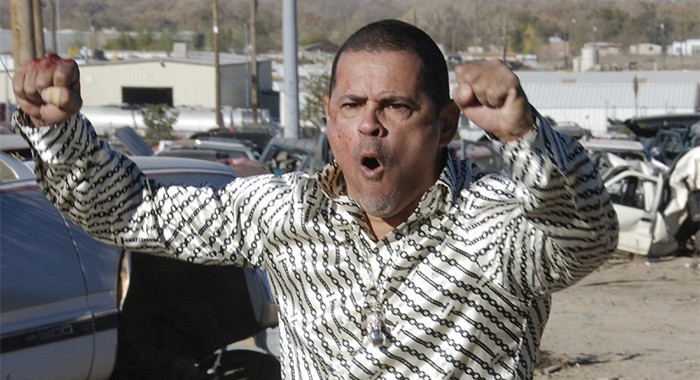 Better Call Saul is finally here and one of the biggest surprises this week has been the reemergence of Tuco's character. Rotten Tomatoes talked with Raymond Cruz about how he kept the role a secret, where he found the real-life inspiration for his character, and whether or not Tuco's that bad of a guy. [Warning: Spoilers for the first two episodes within!]
Sarah Ricard for Rotten Tomatoes: How long have known that you would be reprising the role of Tuco and how did you find out?
Raymond Cruz: I heard they were doing a prequel to Breaking Bad that was going to take place about five or six years prior, but I didn't know they were going to want me to do the show until they were already in production. When they were getting ready to shoot, when they were writing, they contacted me and asked me if I would do it, and I was like,
'Wow, I don't know if I really want to go back and revisit this character.' It's really difficult to do that character.
RT: I had read an interview with you a couple of years ago and you were saying that it was really difficult and that your wife wasn't really into it.
Cruz: My wife hated it. She hated Tuco. She hated the energy. When you're building these characters, you're not only changing and altering your thought process, but when you're looking for the emotional support to the character, it's all energy, so it's a whole different feel than what she's used to. I've been doing Major Crimes for the last 11 years and she likes that character a lot… Tuco is this wild beast. My wife is like, 'Get away from me.'
RT: How would you characterize Tuco? I've seen him described as a psychopath and I've read the interpretation that Tuco just does what he knows. Where does he fall into that range for you?
Cruz: I never thought of him as a bad guy.There are lots of people who say, 'He's terrible; he's evil.' I've never looked at the character that way. I don't think I've ever looked at any character [that way]. I don't make a judgement. I just look at what he's doing and how he's trying to do it. He's very passionate. He's not the most cerebral guy, but he is smart — I'm talking about street smarts. He's almost like a dog. They feel you out… We saw that with Breaking Bad. He'll feel you out. He'll take emotionally what he's getting from you and then he doesn't hold back. With a lot of characters, when you're reading them and trying to build, you're looking at what the parameters are. I never found parameters for Tuco — emotional or mental. When we were doing Breaking Bad, everything he did was altered by the blue meth that he was taking because it heightens everything. There was no end.
RT: Right. Breaking Bad's Tuco was high on this drug that doesn't even exist in Better Call Saul.
Cruz: It's interesting because when I was working on him and trying to find him, I remembered when I was a kid, I saw a guy who was high on PCP, he was naked, he got on top of a police car, and he kicked the windshield. He was laughing and it was almost like he was superhuman, so that always stuck with me.
RT: But the Tuco that we see in Better Call Saul isn't there yet.
Cruz: Right. But you can see that he doesn't hold back. He's very angry and dominant and fierce. Tuco's very loyal to the things he cares about, which is basically his family.
RT: The fact that he's so angry with those two kids is less so that they're trying to pull one over on him and more that they called his grandma a — what was it?
Cruz: Biznatch. It's funny because when we were shooting that I was like, 'What the hell does that even mean?' and you can see it in the character. He's trying to figure it out, but he knows it's not good.
RT: So that comes from a place of you not really knowing that means.
Cruz: Right. But then I have to equate it to something that's horrible.
RT: When you beat them with the cane, it's so violent. What was it like to shoot that?
Cruz: Well, I'm very physical. I grew up boxing. I've done almost all of my own stunts in movies and in television and I've been injured a lot. I've dislocated both arms, I've had a broken hand, I got stabbed on The Closer.
RT: Oh my gosh! There's method acting and then there's getting stabbed!
Cruz: It was an accident. It was an accident.
RT: I hope so!


Cruz: You know what it is? I watch a lot of television and I watch a lot of film and I hate when you watch the action sequences — and I always tell when they use a stunt man — and then they put the actor in and you can tell these actors haven't done anything… Again, Tuco's way out there so there has to be raw physicality. If you're willing to do it, you just have to accept that you're going to get injured. It's just part of the job.
RT: One thing that's quickly apparent about this show is that it's just so funny. Having played the same character in Breaking Bad, are you sensing a different vibe with this one?
Cruz: Yes, because of Bob Odenkirk and what he brings to the scenes. Tuco sets everything off but Bob has this great reactionary sense about him when he's in the scenes. He's terrified and he's trying so hard to lighten things to possibly tilt it in his favor so he can walk out of there and Tuco's amused by this. It was the same thing in Breaking Bad with the lead characters. I'd always been amused by the ways they tried to manipulate him. It's like a cat playing with a mouse… these guys are trying to use their intelligence and talk their way out of it, so it's almost shocking to me, like someone trying to throw water in your face. You're like, Whaaat?
RT: By episode two, "Mijo," we see a dynamic between Tuco and Nacho that seems like Nacho is learning all the different angles of Tuco to make a play.
Cruz: That's the thing. Tuco can't be handled. You have to stand back and hopefully not get in the way because if he focuses on you? You're f—ed. If you draw too much attention from him, you're screwed.
RT: How did you keep this part under wraps? It was such a great reveal when the door opens and we see your face in "Uno."
Cruz: It was out of respect for Vince [Gilligan]. They didn't want me to tell anyone. When we went to shoot, they would hide me under the umbrella. When we'd go to set, I'd have to lie down in the van. When I was at the hotel, I was under an assumed name. I felt like I was in the witness protection program. No one knew I was there but the crew — and they were all sworn to secrecy.
RT: So now that it's out there, what's been the best reaction? Because I know that after the reveal, Twitter exploded.
Cruz: That's the great reaction — that everyone's so excited… You get another chance to live through Tuco.
RT: By the way, the shot of you down on your hands and knees and cleaning the carpet is so funny.
Cruz: What about when I have my apron on?
RT: Tuco likes to cook!
Cruz: It was evident in Breaking Bad. He has a domestic side.
RT: That's the thing about him. He has these moments when he's so sweet to his grandma, and then he can bludgeon a guy or break his legs. It's at once horrifying and hilarious. The scene with the negotiation in the desert is so tense and you feel all these emotions simultaneously while you're watching. I don't know if you can feel that on set — how funny it is, but also how violent and scary it is.
Cruz: Well, I knew it was funny because when they would cut, the crew would start laughing. Not when we were doing the take, but then we'd cut and they'd be like, 'Oh my god, that was so funny.' I've always looked at Breaking Bad as a dark comedy, so when we were approaching Saul, again, it was a tense drama, but it's funny. Whether you feel uncomfortable and it's funny because of that, or funny because of the situations, or funny because of the players, it works.
RT: The character of Saul was such a wonderful comedic character in Breaking Bad, but it's going to be really cool to see him as a fully realized person in this show.
Cruz: It's great to see in the first episode how he gets pushed into a corner and he's fighting for survival and that he's trying to figure out where to draw the lines — what's ethical, what's not, where do you push that line to, what am I going to be okay with — because everyone has to decide for themselves what's ethical for them. Tuco's lines are in a whole different place than other people. And if I kill you, that's why. You got in the way.
Better Call Saul returns next Monday, Feb. 16 at 10 pm on AMC. Season one is currently Certified Fresh at 100 percent. See reviews here.
AMC has delivered a one-minute sneak peek from the series premiere of Better Call Saul, the eagerly awaited spin-off of Breaking Bad. The two-night premiere of Saul begins Sunday, Feb. 8 at 10 p.m. See the clip here:
Will you be watching
Better Call Saul
? What are your predictions and how do you think it will compare to
Breaking Bad
?
This week's Ketchup comes to you on a pre-Thanksgiving Wednesday, allowing for coverage of a few stories that didn't fit in last Friday. Included in the mix are ten movie development news stories covering such films as James Bond 24, Wonder Woman, X-Men: Apocalypse, Zoolander 2, and a Janis Joplin biopic.
---
For more Weekly Ketchup columns by Greg Dean Schmitz, check out the WK archive, and you can contact GDS via Facebook.
Bob Odenkirk ("Jimmy McGill"), Jonathan Banks ("Mike Ehrman"), Michael McKean ("Chuck McGill"), Rhea Seehorn ("Kim Wexler"), Michael Mando ("Nacho Varga"), and Patrick Fabian ("Howard Hamlin") send a special greeting from the Albuquerque set of their new Breaking Bad spinoff, Better Call Saul:
Vince Gilligan's Better Call Saul will air on AMC in February 2015. Will you be watching? (P.S. Yay for Vic from Orphan Black!)
See AMC's original song Better Call Saul, performed by Junior Brown, with lyrics by show creators Vince Gilligan and Peter Gould. AMC debuted the song Sunday night, following its Breaking Bad marathon which has been running since August.
Better Call Saul is AMC's highly anticipated spin-off of Breaking Bad, starring Bob Odenkirk as Saul Goodman. Season one is expected to air in early 2015. Till then, just keep singing, "Saul, Saul, you better call Saul / He'll fight for your rights when your back's to the wall."
The 66th Primetime Emmy Awards are here and we've been asking our esteemed Rotten Tomatoes critics to weigh in with their predictions. For the category of Outstanding Drama Series, there are six nominees: Breaking Bad, Downton Abbey, Game of Thrones, House of Cards, Mad Men, and True Detective. But you wouldn't know it based on the 18 predictions below.
---
More Emmy Predictions: