This week at the movies, we've got imperiled would-be thieves (Don't Breathe, starring Jane Levy and Dylan Minnette), an assassin on the run (Mechanic: Resurrection, starring Jason Statham and Jessica Alba), a legendary pugilist (Hands of Stone, starring Edgar Ramirez and Robert De Niro), and a fateful first date (Southside With You, starring Parker Sawyers and Tika Sumpter). What do the critics have to say?
---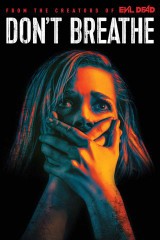 A trio of teens with ill intentions bust into a blind man's house. Sounds like the setup for a suitably sleazy home invasion thriller, right? Don't Breathe delivers, but with a twist: instead of a helpless victim, our would-be thieves stumble upon a guy with unsuspected skills — and a mean streak a mile wide. Maybe it isn't the stuff Oscars are made of, but critics say the end result is a satisfyingly nasty bit of suspense-filled horror, and one that further establishes director/co-writer Fede Alvarez (reuniting here with his Evil Dead star Jane Levy) as a talented filmmaker who just needs a few ingredients to pack a punch. August has a reputation as a bit of a dumping ground for subpar genre fare, but Don't Breathe looks like a spine-tingling exception to the rule.
---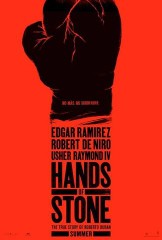 "No más." Say those words around any serious boxing fan, and they'll immediately understand you're making a reference to the landmark 1980 rematch between Sugar Ray Leonard and Roberto Durán in which Durán, defending his WBC championship belt, turned his back on Leonard in the waning moments of the eighth round and uttered those infamous words, yielding the fight. This weekend, Durán gets his biopic due with Hands of Stone, starring Édgar Ramírez as the boxer, Robert De Niro as his trainer Ray Arcel, and Usher as Leonard. Unfortunately, critics say the results don't quite do Durán's story justice; reviews describe a fairly standard boxing flick that hits the usual beats, but without sufficient strength of conviction. There's certainly no shortage of movies that put you in the ring, and ESPN's 30 for 30 gave this fight a documentary overview with No Más in 2013. Viewers hungry for a cinematic beatdown may wish to seek out one of those options instead.
---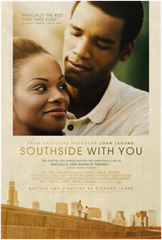 It's exceedingly rare for Hollywood to release a narrative film about a sitting president, and rarer still to see a POTUS-inspired movie that focuses on the personal rather than the political. This weekend's Southside With You offers a notable exception, starring Parker Sawyers as a young Barack Obama and Tika Sumpter as Michelle Robinson — the woman we now know as the nation's First Lady. Writer-director Richard Tanne uses his appealing leads to piece together an idea of what the couple's first date might have looked like, and critics say the results should be entertaining for anyone who appreciates a good walking-and-talking cinematic romance, regardless of where they sit along the political aisle. We all know where the Obamas went after the evening we witness in Southside With You, but the reviews argue it's still well worth it to witness the start of their journey.
---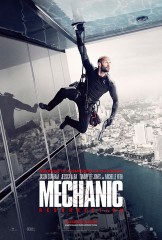 The Mechanic earned a middling critical response in 2011, but enough people turned out to watch Jason Statham star in a remake of the 1972 Charles Bronson action thriller that we've got ourselves a sequel this week. Unfortunately, The Mechanic: Resurrection didn't screen for critics, so you know what that means — it's time to play Guess the Tomatometer!
---
What's Hot on TV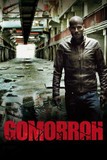 Gomorrah brings a refreshing twist to a familiar story, with its realistic, unglamorous and often riveting portrayal of a Neapolitan crime organization.
---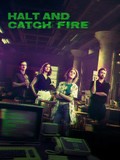 Halt and Catch Fire finds its footing in an optimistic third season that builds on the fascinating relationship between a pair of emerging protagonists.
---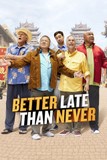 Better Late Than Never's wayward travelers offer up enough personality and surprisingly sincere moments to buoy the show's all too familiar shenanigans.
---
Also Opening This Week In Limited Release
While not as chock full of premieres as the fall TV season, summer can churn out some doozies of its own. Like we did around this time last year, we'll be treated to shows that draw immediate engagement (Mr. Robot, Penny Dreadful, Orange is the New Black, Wayward Pines), television movie premieres (Sharknado: The 4th Awakens, The Dresser, All The Way), and special events (Just Let Go – Lenny Kravitz Live, Every Brilliant Thing, SyFy Presents Live from Comic-Con). Add some anticipated series premieres (Roadies, Lady Dynamite, Outcast, Preacher) and miniseries (Roots, Houdini & Doyle, O.J.: Made in America) to the mix, and your DVR hard drives are sure to reach max capacity. So the questions is, which shows will you be deleting first, and which will rise to the pinnacle of your summer viewing list of faves? Check out the full (ever growing) list here:
---
May | June | July | August | TBA 
---
 May
Sunday, May 1
Penny Dreadful season three premiere, 10 p.m., Showtime
Monday, May 2
Claude Lanzmann: Spectres of the Shoah television movie premiere, HBO
Houdini & Doyle miniseries premiere, 9 p.m., FOX
Tuesday, May 3
Person of Interest season five premiere, 10 p.m., CBS
Wednesday, May 4
Maron season four premiere, 9 p.m., IFC
Thursday, May 5
Flowers series premiere (US), Seeso
Marseille series premiere, Netflix
Friday, May 6
Grace and Frankie season two premiere, Netflix
Sunday, May 8
Wallander season four premiere, 9 p.m., PBS
Monday, May 9
Every Brilliant Thing special event premiere, HBO
Tuesday, May 10
First Impressions series premiere, 10:30 p.m., USA
Wednesday, May 11
Chelsea series premiere, Netflix
Thursday, May 12
Submission series premiere, 11 p.m., Showtime
Friday, May 13
Just Let Go –  Lenny Kravitz Live special event premiere, 8 p.m., Showtime
Wednesday, May 18
Royal Pains season eight premiere, 10 p.m., USA
Friday, May 20
Doctor Thorne series premiere (US), Amazon
Lady Dynamite series premiere, Netflix
Masters of Illusion season three premiere, 8 p.m., CW
Saturday, May 21
All the Way television movie premiere, 8 p.m., HBO
Sunday, May 22
Preacher series premiere, 10 p.m., AMC
Monday, May 23
Whose Line is it Anyway? season 12 premiere, 9 p.m., CW
Wednesday, May 25
Wayward Pines season two premiere, 9 p.m., FOX
Friday, May 27
Bloodline season two premiere, Netflix
The Do-Over television movie premiere, Netflix
Monday, May 30
So You Think You Can Dance season 13 premiere, 8 p.m., FOX
The Dresser television movie premiere (US), 9 p.m., Starz
Roots miniseries premiere, 9 p.m., History, Lifetime, and A&E
Mistresses season four premiere, 10 p.m., ABC
Tuesday, May 31
Peaky Blinders season three premiere, Netflix
Powers season two premiere, Playstation Network
Maya and Marty series premiere, 10 p.m., NBC
Scream season two premiere, 10 p.m., MTV
---
 June
---
Wednesday, June 1
Rock this Boat: New Kids on the Block season two premiere, 8 p.m., POP
Young & Hungry season four premiere, 8 p.m., Freeform
Baby Daddy season five return, 8:30 p.m., Freeform
Kingdom season two return, 9 p.m., DirecTV
Cleverman series premiere, 10 p.m., Sundance
The Night Shift season three premiere, 10 p.m., NBC
Thursday, June 2
Hibana: Spark series premiere, Netflix
Beauty and the Beast season four premiere, 9 p.m., CW
Quincy Jones: Burning the Light television movie premiere, 10 p.m., HBO
Friday, June 3
Comedy Bang! Bang! season five premiere, 11 p.m., IFC
Outcast series premiere, Cinemax
Sunday, June 5
Feed the Beast series premiere, 10 p.m., AMC
Monday, June 6
Angie Tribeca season two premiere, TBS
Barbarians Rising miniseries premiere, 9 p.m., History
Devious Maids season four premiere, 9 p.m., Lifetime
Rizzoli & Isles season seven premiere, 9 p.m., TNT
UnREAL season two premiere, 10 p.m., Lifetime
Tuesday, June 7
Casual season two premiere, Hulu
Friday, June 10
Voltron: Legendary Defender series premiere, Netflix
Saturday, June 11
Hell on Wheels season five return 9 p.m., AMC
O.J.: Made in America miniseries premiere, 9 p.m., ABC
The American West miniseries premiere 10 p.m., AMC
Sunday, June 12
Difficult People season two premiere, Hulu
Ride with Norman Reedus series premiere, 10 p.m., AMC
Monday, June 13
Guilt series premiere, 9 p.m., Freeform
BrainDead series premiere, 10 p.m., CBS
Major Crimes season five premiere, 10 p.m., TNT
Tuesday, June 14
Animal Kingdom series premiere, 9 p.m., TNT
Uncle Buck series premiere, 9 p.m., ABC
Wrecked series premiere, 10 p.m., TBS
Thursday, June 16
Aquarius season two premiere, 9 p.m., NBC
Friday, June 17
Orange is the New Black season four premiere, Netflix
Saturday, June 18
Mother, May I Sleep with Danger television movie premiere, 8 p.m., Lifetime
Sunday, June 19
Endeavour season three premiere (US), 9 p.m., PBS
The Last Ship season three premiere, 9 p.m., TNT
The Jim Gaffigan Show season two premiere, 10 p.m., TV Land
The Tunnel series premiere (US), 10:30 p.m., PBS
Monday, June 20
The Fosters season four premiere, 8 p.m., Freeform
Odd Mom Out season two premiere, 10 p.m., Bravo
Tuesday, June 21
Pretty Little Liars season seven premiere, 8 p.m., Freeform
Wednesday, June 22
Big Brother season 17 premiere, 8 p.m., CBS
American Gothic series premiere, 10 p.m., CBS
Thursday, June 23
Queen of the South series premiere, 10 p.m., USA
Thirteen series premiere, 10 p.m., BBC America
Friday, June 24
The Fundamentals of Caring television movie premiere, Netflix
Saturday, June 25
Center Stage: On Pointe television movie premiere, 8 p.m., Lifetime
Sunday, June 26
Dancing on the Edge series premiere (US), 8 p.m., PBS
Ray Donovan season four premiere, 9 p.m., Showtime
Murder in the First season three premiere, 10 p.m., TNT
Roadies series premiere, 10 p.m., Showtime
Tuesday, June 28
Dead of Summer series premiere, 9 p.m., Freeform
Zoo season two premiere, 9 p.m., CBS
Thursday, June 30
Sex&Drugs&Rock&Roll season two premiere, 10 p.m., FX
---
 July
---
Friday, July 1
Between season two premiere, Netflix
Marcella series premiere (US), Netflix
Marco Polo season two premiere, Netflix
Killjoys season two premiere, 9 p.m., SyFy
Dark Matter season two premiere, 10 p.m., SyFy
Sunday, July 3
The Hunt series premiere (US), 9 p.m., BBC America
Wednesday, July 6
Duck Dynasty season nine premiere, 9 p.m., A&E
Tyrant season three premiere, 10 p.m., FX
Wahlburgers season five premiere, 10 p.m., A&E
Sunday, July 10
The Circus: Inside the Greatest Political Show on Earth season one return, 8 p.m., Showtime
DB Cooper miniseries premiere, 9 p.m., History
The Night Of series premiere, 9 p.m., HBO
Monday, July 11
Making of the Mob season two premiere, 10 p.m., AMC
Wednesday, July 13
Penn & Teller: Fool Us season three premiere, 8 p.m., CW
Suits season six premiere, 9 p.m., USA
The A Word series premiere, 10 p.m., Sundance
Mr. Robot season two premiere, 10 p.m., USA
Friday, July 15
East Los High season four premiere, Hulu
Stranger Things series premiere, Netflix
Tony Robbins: I Am Not Your Guru television movie premiere, Netflix
Sunday, July 17
Power season three premiere, 9 p.m., Starz
Ballers season two premiere, 10 p.m., HBO
Vice Principals series premiere, 10:30 p.m., HBO
Thursday, July 21
SyFy Presents Live from Comic-Con special event premiere, 8 p.m., SyFy
Friday, July 22
Bring It! season three return, 9 p.m., Lifetime
Saturday, July 23
Looking: The Movie television movie premiere, 10 p.m., HBO
Sunday, July 24
Ozzy and Jack's World Detour series premiere, 10 p.m., History
Survivor's Remorse season three premiere, 10 p.m., Starz
Tuesday, July 26
MadTV series premiere, 9 p.m., CW
Born This Way, season two premiere, 10 p.m., A&E
Thursday, July 28
Ripper Street season four premiere (US), 10 p.m., BBC America
Friday, July 29
Home: The Adventures of Tip and Oh series premiere, Netflix
Sunday, July 31
Sharknado: The 4th Awakens television movie premiere, 8 p.m., SyFy
---
 August
---
Friday, Aug. 12
The Get Down series premiere, Netflix
Thursday, Aug. 18
60 Days In season two premiere, 9 p.m., A&E
Sunday, Aug. 21
Fear the Walking Dead season two return, 9 p.m.,  AMC
Tuesday, Aug. 23
Halt and Catch Fire season three premiere, 9 p.m., AMC
Better Late than Never series premiere, 10 p.m., NBC
Wednesday, Aug. 24
Gomorrah series premiere (US), 10 p.m., Sundance
Sunday, Aug. 28
The Strain season three premiere, 10 p.m., FX
Wednesday, Aug. 31
You're the Worst season three premiere, 10 p.m., FX
---
TBA
---
Frontier series premiere, Netflix
Halt and Catch Fire season three premiere, AMC
Happy Valley season two premiere, Netflix
Masters of Sex season four premiere, Showtime (July)
Suits season six premiere, USA