Best-Reviewed Movie 2015: Mexico
Brought to you by
#1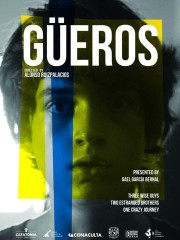 Critics Consensus:
A striking effort that synthesizes disparate influences with inventive flair, Güeros marks a bold step forward for modern Mexican cinema.
Synopsis:
Ever since the National University strike broke out, Sombra and Santos have been living in angst-ridden limbo. Education-less, motionless, purposeless,...
[More]
---
Visit Tomatazos.com for Tomatometer scores, reviews, news, trailers and more in Spanish.