The community has spoken! The winner of the Pixar Showdown is none other than the film that started it all, 1995's Toy Story! Perhaps this was always going to be the case, but there was no guarantee it would turn out this way. For many fans, choosing between Toy Story and Toy Story 2 is akin to picking a favorite between the first and second Godfather films… and then Toy Story 3 came along to jerk even more tears from all of us. But even 2 was ousted by Up, while 3 made the earliest exit of any of the Toy Story films, losing to Ratatouille in the second round.
All in all, we can't say we were disappointed that the Final Four turned out to be Toy Story, Up, Ratatouille, and Finding Nemo — classics, all of them — but we did think Nemo would offer Woody and Buzz more of a challenge for the title in the championship round. In the end, it's perhaps only appropriate that Toy Story won, considering Lightyear is officially out today, but let's give Pixar another few years, and we'll see if anything changes after they've released another dozen or so films. As always, big thanks to everyone who participated in the showdown, and congratulations to the original Toy Story for being voted the Best Pixar Movie Ever.
---
Final Round Result
Round 1 Results | Round 2 Results | Round 3 Results | Round 4 Results
---
On an Apple device? Follow Rotten Tomatoes on Apple News.
This week at the movies, we've got elf bros looking for half a dad (Onward, featuring the voices of Tom Holland and Chris Pratt) and an alcoholic looking for redemption (The Way Back, starring Ben Affleck and Michaela Watkins). What are the critics saying?
---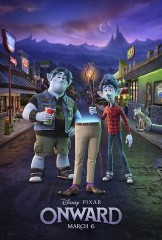 It's no secret that Pixar has a pretty stellar track record, both critically and commercially, and if there's any drawback to that kind of success, it's that it sets high expectations for its future productions to meet. Thankfully, critics say the animation studio's latest, Onward, is another winner, even if it doesn't reach the upper echelons of Pixar's library. MCU stars Tom Holland (Spider-Man) and Chris Pratt (Star-Lord) voice Ian and Barley Lightfoot, a pair of elf brothers living in a suburbanized fantasy world where magic has been rendered obsolete by technology. When Ian is gifted the means to resurrect his dead father for 24 hours on his 16th birthday, he inadvertently only summons the bottom half, so he and Barley set out on a road trip to rediscover the magic they'll need to bring back the rest of their dad before time runs out. Critics say Onward probably won't be considered a Pixar classic, but it's still a cut above most of the studio's competitors, and Holland and Pratt deliver commendably heartfelt performances as the film's true themes begin to emerge. The film is partly inspired by director/co-writer Dan Scanlon's own relationship with his brother when their father passed away, and the personal angle goes a long way towards communicating the story's core messages. In other words, bring some tissues.
---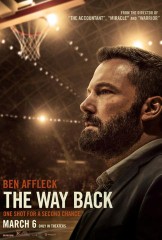 Underdog sports stories have been a reliable staple of the movie industry for a long time, so much so that they've been molded and refined to fit into a fairly predictable formula. With that in mind, it usually takes something extra to make one stand out, and critics say this week's The Way Back has that in an outstanding performance from Ben Affleck. Affleck stars as Jack Cunningham, a construction worker who was once an elite high school basketball player but now spends his days — and nights — binge-drinking. When he gets an unexpected call from his alma mater to coach their hoops team, he reluctantly takes them up on the offer and begins a slow healing process as he attempts to shepherd his kids to a few meaningful wins. Critics say what makes The Way Back effective is that it's not merely an inspirational sports story, nor is it merely one about addiction, but a carefully crafted hybrid that doesn't provide easy answers or overly sentimental triumphant moments. It's also notable that, prior to filming the movie, Affleck himself endured some very public battles with addiction, and as a result, he brings a personal gravity to his role that leaps off the screen. Audiences will no doubt come to The Way Back with certain expectations, simply based on the fact that it's a story about a troubled new coach learning to bond with his team, but if this doesn't hit all of those familiar beats in a predictable way, it still offers a worthwhile character study that might surprise a few moviegoers with its depth.
---
Also Opening This Week In Limited Release
---
Thumbnail image by Disney/Pixar
After a decade of mostly producing sequels, Pixar begins a new era of original animated features with the release of Onward. Featuring the voices of Chris Pratt and Tom Holland, the fantasy adventure is co-written and directed by studio vet Dan Scanlon, who previously helmed Monsters University. While still technically garnering Fresh marks from critics, Onward is being labeled a somewhat lesser Pixar effort in the first crop of reviews. Whether it's too sub-par for recommendation depends on the writer and may depend on your appreciation for its sentiments as well.
Here's what critics are saying about Pixar's Onward:
---
How does it measure against other Pixar movies?
Onward may have taken my number one Pixar spot, and I'm not ashamed to say it.
– Rachel Leishman, The Mary Sue
Onward isn't Pixar's best film, but it's one of its most personal.
– Kristen Acuna, Insider
Pixar's latest film, Onward, lives up to its predecessors… albeit slightly underwhelming.
– Germain Lussier, io9
The majority of Pixar's films are special for one reason or another. Which makes the generic bro humor and familiar Dungeons & Dragons role-play vibe of Onward a let-down.
– David Rooney, Hollywood Reporter
This is what a disappointing Pixar film is: a perfectly fine one.
– Josh Spiegel, Slashfilm
This may not be Pixar's worst movie… but it sure feels like the weakest.
– Roger Moore, Movie Nation
---
Lesser Pixar is still pretty goood, though, right?
Pixar, in its very bravura, has more than earned the right to put out a movie like this one — an unabashed piece of product, a kind of Pixar place-holder made with a tiny dash of soul.
– Owen Gleiberman, Variety
While Onward may not be the strongest Pixar movie, it still delivers on everything fans have come to expect from an animated film produced by the studio.
– Molly Freeman, ScreenRant
Ian, Barley, and their dad's legs' story is a worthy addition to the studio's impeccable catalogue. I went in with doubt. Now, I can't wait to see it again.
– Alison Foreman, Mashable
While its emotion and structure are certainly uneven, there's not anything truly bad to say about it.
– Germain Lussier, io9
---
(Photo by Disney/Pixar)
Is it original enough?
Some may find that Pixar is retracing its steps a bit… [but] Onward rarely feels formulaic because its characters and setting are so specific.
– Matt Goldberg, Collider
This particular once-upon-a-time scene setter feels curiously, even knowingly derivative.
– Justin Chang, Los Angeles Times
The emotion in Onward is earned, and the situational setup seems unique. It's all… fine, but also overly familiar.
– Josh Spiegel, Slashfilm
---
How is the story?
Scanlon, Jason Headley and Keith Bunin's screenplay functions at its best when it's leaning into sincerity over silliness.
– Courtney Howard, Fresh Fiction
Save for a few by-the-book action sequences and corny gags, Onward maintains its clever balance of formula all the way through an emotional climax.
– Eric Kohn, IndieWire
While Onward is a distinctly colorful animated film, its story feels like a variant on a low-key dramedy you might find at Sundance.
– Josh Spiegel, Slashfilm
This is a movie about two kids resurrecting their dead dad's crotch and it's just the WEIRDEST thing.
– Mike Ryan, Uproxx
---
(Photo by Disney/Pixar)
Are there memorable characters?
In addition to the filmmakers' forward-thinking approach to dealing with grief, they approach traditional character archetypes with just as much innovation.
– Courtney Howard, Fresh Fiction
There's a lesbian character in Onward… but the most revolutionary thing that Pixar has done in advance of the movie's release is not tell anyone about it.
– Sam Adams, Slate
This is a pretty uninspired bunch… characters that often feel like plot padding.
– David Rooney, Hollywood Reporter
---
How are the performances?
Holland and Pratt, both MCU stalwarts, show great vocal chemistry as two brothers bonded together through family and tragedy.
– Robert Daniels, 812filmreviews
Holland and Pratt have a winning rapport, in part because they could be starring in a parallel-universe Avengers spinoff with Spider-Man and Star-Lord.
– Justin Chang, Los Angeles Times
[Pratt's] vocal performance is the film's highlight, as he returns to his Andy Dwyer days.
– Josh Spiegel, Slashfilm
Pratt and Holland make for a loving vocal duo, oozing with audible affection, but voice acting veteran Mel Rodriguez steals the show as Laurel's cop boyfriend Colt Bronco.
– Alison Foreman, Mashable
---
Is Onward funny?
Combining stellar visual comedy with memorable dialogue, Onward makes the most of every joke and bit on its path.
– Alison Foreman, Mashable
Onward is 100 percent Weekend at Bernie's for kids… that the filmmakers did this is funnier than most of the actual jokes in the movie.
– Joshua Rivera, The Verge
Onward wisely leans more on humor than drama to get its message across.
– David Sims, The Atlantic
Onward may be hilarious, but it is so much more than that.
– Tessa Smith, Mama's Geeky
The situational humor in Onward is fleeting.
– Josh Spiegel, Slashfilm
There isn't a laugh in it.
– Roger Moore, Movie Nation
Pixar being Pixar, will have you laughing constantly until the climax reduces you to a puddle of tears.
– Matt Goldberg, Collider
---
(Photo by Disney/Pixar)
So it's another Pixar tearjerker?
Onward isn't Pixar's biggest tearjerker, but expect to find yourself tearing up a bit throughout.
– Kristen Acuna, Insider
Get ready to ugly cry – especially those who've lost someone near and dear.
– Courtney Howard, Fresh Fiction
What makes this one pretty good, and sometimes inspired, is that… all those emotions seem to spring naturally from the story's intricate roots.
– Justin Chang, Los Angeles Times
As I'm getting ready to write about the heart of this movie, I'm crying again.
– Rachel Leishman, The Mary Sue
---
How does it look?
Onward is a visual treat throughout. It almost goes without saying now with Pixar that everything looks gorgeous, but the fantastical world they've built is vibrant and packed with detail.
– Ian Sandwell, Digital Spy
The animation's good, lovely but not dazzling.
– Roger Moore, Movie Nation
From a visual standpoint, the movie offers few surprises… but script and character generally overwhelm the need for technological innovation.
– Eric Kohn, IndieWire
The backgrounds around Barley and Ian are so meticulously designed, with even photorealistic dust particles floating around the house, that it jars with the more traditionally cartoonish design of its fanciful characters.
– David Crow, Den of Geek
Mostly, the look is disappointingly pedestrian.
– David Rooney, Hollywood Reporter
---
(Photo by Disney/Pixar)
Who is Onward best suited for?
Far more a film for adults than Pixar's ever done.
– Robert Daniels, 812filmreviews
If you like classic, high fantasy settings inspired by stuff like Dungeons & Dragons and Magic: The Gathering, you'll love what Scanlon and his team have done here with Onward.
– Matt Goldberg, Collider
The best thing that Scanlon's film does is that it gives audiences of all ages (but especially young kids) the tools to work through sorrow in a safe space.
– Courtney Howard, Fresh Fiction
---
Onward is in theaters on March 6.
#1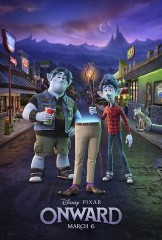 Critics Consensus:
It may suffer in comparison to Pixar's classics, but
Onward
makes effective use of the studio's formula -- and stands on its own merits as a funny, heartwarming, dazzlingly animated adventure.
Synopsis:
Teenage elf brothers Ian and Barley embark on a magical quest to spend one more day with their late father....
[More]
(Photo by Matt Winkelmeyer/Getty Images)
Are we in the middle of a John Goodman television renaissance? A Goodman-aissance? According to the actor, it's a silly question.
"Oh for f—'s sake," Goodman says, laughing. "I don't even want to think about that."
But given his recent return to The Conners set for season 2 of the Roseanne spin-off series, and his stint as the patriarch in HBO's new comedy The Righteous Gemstones, it does feel like he's currently having a noteworthy moment in the spotlight.
It wasn't something Goodman had planned. When Roseanne Barr was fired from the 2018 Roseanne reboot — which had reunited Goodman with his old friend and on-screen wife — the actor found himself overwhelmed and unemployed.
"At the time, I was in deeper shock about it than I even thought, and it was bad," Goodman tells Rotten Tomatoes. "It had more to do with the Twitter world and social media. It just got really scary all of a sudden. And I thought I was handling it well, and then — just a lot of weird little things were going on with me. I got over it."
Goodman visited Jimmy Kimmel Live in fall 2018 and shed light on some of those things: "My wife got sick after that. And then I fell down the stairs."
---
That's around the time Danny McBride came calling.
"This is actually weird: I lost that job and, like, the day after, I got the call for Gemstones," he explains. "I said, 'Well, I'm not doing anything!' And so I took that, and then [The Conners] came back. A lot of weird things happened."
It feels like Dan Conner and Eli Gemstone couldn't be more different, yet grief seems to be a commonality between both characters; Dan lost Roseanne to an opiate overdose, though the death of Eli's wife, Aimee-Leigh (Jennifer Nettles), has yet to be explained.
Jumping from the working-class contractor that made Goodman a household name to the privileged wealthy leader of the Gemstone family's megachurch wasn't that much of a stretch for the actor. But for McBride, adding the beloved actor to the cast of his HBO series felt more like a pipe dream than an achievable reality.
---
(Photo by Ryan Green/HBO)
"I just never imagined that he would be interested in something I would be doing," The Righteous Gemstones creator and star tells Rotten Tomatoes. "And so when we sent him the script, and he called back, I think, the next day and said he was interested, we were just blown away."
Was Goodman always on McBride's mind to play Eli? Well, no. According to the Gemstones creator, picturing actors in the different roles he creates is never a part of his storytelling process. That comes much later. When those conversations happened and Goodman was suggested by casting directors Sharon Bialy and Sherry Thomas, McBride was energized by the notion.
And when Goodman said yes, the whole thing really came together.
"I couldn't imagine anyone better for this," McBride says. "He's just an actor that I've always admired. And he's my favorite kind of actor. He has the same ability as, you know, what I love about Walton Goggins, which is: I love it when someone can make me laugh, but I love it more when they can make me feel something and they can pull my heartstrings."
---
(Photo by ABC/Robert Trachtenberg)
Delivering the comedy and plucking the heartstrings is something Goodman does so well, in fact, that it feels a bit effortless when you watch the man work — whether it's on premium cable or in a primetime sitcom. For his work on The Conners, Goodman admits most of the acting work he's been doing recently is reacting.
"I think to my guy, it's just kind of one damn thing after another, you know?" he says.
After a thoughtful pause, he continues, "I think the challenge for [Dan] is just keeping up with everything and trying to stay on top as best he can. Right now, it just feels like he's treading water. But that's the way he's felt his whole life. Things just happen."
Things just happen, life just happens. It sounds simple enough, but Goodman is downplaying his talent here. As humble as the actor is, there's no denying his ability to take on the complexities of the human condition and do so with effortless flair.
"Mainly, I just study him," Sara Gilbert reveals. "He's like a humanizing machine. The words come out more real and different than you would ever expect. There is some part of me that believes Dan Conner is absolutely a real person."
---
(Photo by ABC/Eric McCandless)
Gilbert has played Darlene, the middle Conner child, for 12 years, collectively. First, during the show's original run, from 1988 to 1997. And then, like the rest of the core cast, she reprised her role for 2018's Roseanne revival. Barr may be gone from the show, but the Conners family legacy lives on.
"It's quite magical that after all these years, the relationship is the relationship," Gilbert says. "If anything, maybe Darlene challenges her dad a bit more as an equal. Their ideas clash and we get to fight it out more than I remember doing as a child."
In the upcoming season of the ABC sitcom, a new addition to the Conner family switches things up a bit. Will the loss of Roseanne still be in the tapestry of the show? From the sound of it, her absence will always be felt. But with pregnant Becky about to give Dan a new grandchild, the character can't dwell on the past.
"There's not much time to reflect because of the changing relationships," Goodman says, "and the changing family dynamics with the kids living at home, now. It's just one damn thing after another, so you have to keep up. And just keep earning a living."
---
(Photo by ABC)
With just a three-week gap between the wrapping of Gemstones season 1 and the start of production on The Conners, Goodman's schedule has become quite busy. Just last month, Disney+ announced a new animated sequel series to Monsters Inc., titled Monsters At Work, which will find Goodman reprising his role as beloved monster Sully.
"Oh, yeah! I forgot about that," he laughs. "I don't know if I'm done with it or not. I haven't heard from them lately."
Friends, fans, colleagues, and industry observers have no problem remembering the Golden Globe– and Emmy–award winning actor's accomplishments, including his roles in blockbuster fare like the Monsters and Transformers franchises, Kong: Skull Island, 10 Cloverfield Lane; in Joel and Ethan Coen's Barton Fink, The Big Lebowski, Inside Llewyn Davis, and O Brother, Where Art Thou?; on Roseanne, of course, but also in TV series The West Wing, Treme, and Damages; and, with 13 appearances, as the third-most frequent host of Saturday Night Live (behind Alec Baldwin at No. 1 and Steve Martin at No. 2).
---
"[John Goodman] was doing television before being on TV was cool," McBride says. "Back then, it was like if somebody was on a famous sitcom, they weren't in movies. And, you know, John was able to be in big movies, a big popular television show, and be able to be in arthouse films with the Coen brothers … He's been able to do anything he wants. And he's been around for a long time doing that, and it's just really, really impressive."
With all the projects Goodman is juggling, it shouldn't be all that surprising that he'd space on one of Disney's highly-anticipated new programs. It feels like the actor's real-life strategy is not so different from his iconic small-screen persona: Just keep earning a living.
"You know, I'm just a guy with two jobs. I'm really lucky. And the two jobs I have are really great," Goodman says before correcting himself. "Three jobs! I keep forgetting about Monsters At Work!"
The Righteous Gemstones airs on Sundays 10/9C at on HBO; The Conners season 2 debuts on Tuesday, September 24 at 8/7C on ABC; Monsters At Work is expected to be available the second year after Disney+ launches on November 12. 
---
Few movie franchises maintain the level of perfection that Toy Story has. The first two installments of Pixar's flagship film series have perfect scores on the Tomatometer. Toy Story 3, which was nominated for Best Picture, is close with 98%. Now Toy Story 4 is on its way to theaters, and initial reviews are pointing to another very high Tomatometer score (it's currently at 100%).
Thanks to familiar friends, popular new additions, and another deep story involving the meaning of life, we'll put to rest any complaints that Pixar is making too many sequels. If it's the last of them, it ends on a great note, but if not, Toy Story can reach for the sky and go to infinity and beyond, as far as critics are concerned.
Here's what critics are saying about Toy Story 4:
---
Did we really need another sequel after Toy Story 3?
Part 3 ended so perfectly and succinctly that Part 4 could only disappoint. Except, the film doesn't. Surprisingly, Toy Story 4 triumphs.
– Robert Daniels, 812filmreviews
Toy Story 4 does an even better job than Toy Story 3 of managing mature themes while remaining kid-friendly.
– Karen Han, Polygon
Toy Story 4 proves to be a much more compelling conclusion, while still leaving the door open for future adventures.
– Molly Freeman, ScreenRant
Where the ending of Toy Story 3 simply deferred to the cycle of life, this finale ties a much stronger bow around the franchise by cutting to its core.
– David Ehrlich, IndieWire
Director Josh Cooley has delivered the movie Toy Story 3 should have been.
– Peter Debruge, Variety
Toy Story 4 is an unnecessary franchise extension savvy enough for self-criticism.
– Darren Franich, Entertainment Weekly
---
(Photo by Walt Disney Studios)
Could this actually be the best Toy Story yet?
The movie feels like more of an action-adventure tale than the previous movies, but with the same emotional tug that will make you go through a box of tissues while watching it.
–Jason Guerrasio, Business Insider
In my mind, there's no question Toy Story 4 is the weakest movie in the series. But it's also the riskiest and the most pleasantly unpredictable.
– Matt Singer, ScreenCrush
Not as good as the first three, but it also has a very different tone.
– Bob Chipman, Escapist Magazine
---
How does it differ from the others?
Toy Story 4 breaks from the franchise's tradition, focusing more on newer toys.
– Molly Freeman, ScreenRant
Something feels a little different this time…. this movie starts — it starts! — with a suicidal toy and only gets stranger from there.
– Matt Singer, ScreenCrush
---
How does it fit into the Pixar canon overall?
Toy Story 4 is the best Pixar sequel since Toy Story 2.
– Matt Goldberg, Collider
This [is] the most fluid and enjoyably kinetic Pixar film since Ratatouille.
– David Ehrlich, IndieWire
It pushes Pixar into some of its most daring territory in years. Which, ironically, makes it feel like something of a throwback to the days when Pixar regularly surprised us with its originality and its sophistication.
– Angie Han, Mashable
Subpar Pixar… Pixar, like its former funder Apple, has conditioned audiences to expect more than a nice little movie. We want to be amazed.
– Johnny Oleksinski, New York Post
---
(Photo by Walt Disney Studios)
Will it make us laugh?
Toy Story 4 is easily one of the funniest movies Pixar has ever made.
– Matt Goldberg, Collider
Is it funny? The funniest of the quartet, in fact, thanks to a weird new character.
– Johnny Oleksinski, New York Post
Delivers plenty of gonzo-funny moments.
– Richard Lawson, Vanity Fair
---
And Cry?
Pixar's sentient toys can still make us cry.
– Tomris Laffly, Time Out
[Bring a] hankie…if you've seen just one of these movies, you know it's basically survival gear.
– Rafer Guzman, Newsday
The final 10 minutes, in particular, devastates tear ducts.
– Robert Daniels, 812filmreviews
Toy Story 4 doesn't hit the emotional highs of the previous films… the ending is moving, though now you distrust any finality with this saga.
– Darren Franich, Entertainment Weekly
---
Is it a good movie for all ages?
[The movie's theme] offers a good lesson for the kids in the audience, and will no doubt strike a chord with the adults.
– Molly Freeman, ScreenRant
Toy Story 4 feels less like a family film than a film for adults their that children might also like.
– Angie Han, Mashable
---
(Photo by Walt Disney Studios)
Will it empower girls in the audience?
Yes, Bo wears pants now, but… her femininity has nothing to do with how well she holds her own in a fight or survives in the wild and risks breaking along the way.
– Karen Han, Polygon
Her strength is never commented upon — she just is strong, arguably stronger both mentally and physically than her old boy toy.
– Josh Spiegel, Slashfilm
Bo Peep has been fleshed out and made so ingratiating and self-confident that she now emerges as something close to the heart of the film.
– Todd McCarthy, Hollywood Reporter
---
How are the new toys?
Forky alone is enough to elevate this potential cash-grab…the hero we need in 2019…He's everything these films have been working towards.
– David Ehrlich, IndieWire
Everyone's gonna like Forky.
– Richard Lawson, Vanity Fair
The best voice performance might be Tony Hale as Forky.
– Matt Singer, ScreenCrush
Duke Caboom almost doesn't merit mentioning. He's great, but the sequel doesn't need him to juice up the proceedings.
– Karen Han, Polygon
[Christina] Henricks offers equal parts menace and vulnerability to Gabby Gabby, bringing to life the series' most compelling 'villain.'
– Molly Freeman, ScreenRant
---
(Photo by Walt Disney Studios)
What about the animation?
The textures, colors, and control of lighting exhibit an incredible command of composition not seen since the glory days of Disney… Toy Story 4 is a landmark achievement in the pure creation of computer animation.
– Robert Daniels, 812filmreviews
The first of these movies to be composed in widescreen, Cooley's feature debut is by far the most cinematic of the series, doing incredible things with lighting.
– Peter Debruge, Variety
Locales and toys are rendered in astounding animation that I fear is in danger of being overlooked because most of the characters are 20 years old.
– Matt Singer, ScreenCrush
Makes 1995's Toy Story look like the brick-maze screensaver from Windows 95.
– Johnny Oleksinski, New York Post
---
Are there any issues?
Occasionally too busy and loose with its logical rigor, Toy Story 4 doesn't quite connect all the dots.
– Tomris Laffly, Time Out
If there are slight downsides to Toy Story 4, it's that the rest of the toys from Bonnie's room have become so comfortable with their new place that they don't factor in quite as heavily to the story.
– Josh Spiegel, Slashfilm
Toy Story 4 at times feels more like a high-budget episode of television than a sweeping film.
– Johnny Oleksinski, New York Post
---
(Photo by Walt Disney Studios)
Should they keep going with the franchise?
If they can maintain this level of wonderful, keep 'em coming.
– Alonso Duralde, The Wrap
I just do not see how they can outdo themselves should they go forward with another film.
– Danielle Solzman, Solzy at the Movies
---
Or is it time to say, "So long, partner?"
[Toy Story] comes to a sweet, emotionally apt conclusion now with a fine capper on a generally perfect series.
– Josh Spiegel, Slashfilm
Quite the swan song for the cowboy…If Toy Story 4 is the final film in the series, it would be an otherwise perfect conclusion.
– Danielle Solzman, Solzy at the Movies
The Toy Story franchise really should come to a close with Toy Story 4… It's hard to imagine the series going out on a better note than this.
– Matt Goldberg, Collider
---
Toy Story 4 opens in theaters June 21, 2019. 
#1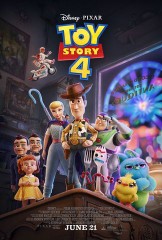 Critics Consensus:
Heartwarming, funny, and beautifully animated,
Toy Story 4
manages the unlikely feat of extending -- and perhaps concluding -- a practically perfect animated saga.
Synopsis:
Woody, Buzz Lightyear and the rest of the gang embark on a road trip with Bonnie and a new toy...
[More]
---
Like this? Subscribe to our newsletter and get more features, news, and guides in your inbox every week.
(Photo by Disney/Pixar 2013)
Halloween might not fall until the end of October, but the most fervent fans of the horror holiday start celebrating the minute the calendar turns to Oct. 1 — or even before. Hey, if you can buy a pumpkin-spiced latte, then spooky season has begun.
New horror releases hit the big screen throughout the month, but you can find even more scream-worthy programming on the small screen. What better way to gear up for trick-or-treating than with a marathon of scary creatures, horror specials, and other Halloween-centric TV programming available to stream online (or hunt down on YouTube)?
Rotten Tomatoes has rounded up 31 Halloween specials so you can watch one daily, or stockpile them for a Halloween night marathon.
---
31. RAGGEDY ANN AND ANDY IN THE PUMPKIN WHO COULDN'T SMILE (1979)
What Made It Special: Back in the '70s every popular children's character got their own special, so you'll see a lot on this list. In this one, a staple of Disney Channel's annual Halloween rotation, Raggedy Ann and Andy's neighbor Ralph had a mean aunt who wouldn't let him go trick-or-treating — so they found the perfect pumpkin to make him happy.
---
What Made It Special: Shrek had already been in four movies by 2010, along with a Christmas special, Shrek the Halls. In the ogre's Halloween outing, Shrek, Donkey, Puss in Boots, and their fairy tale friends tell three scary stories (with commercial breaks in between).
---
29. PAC-MAN HALLOWEEN SPECIAL (1982)
What Made It Special: Even before Donkey Kong and Mario, Pac-Man was the first video-game celebrity, complete with his own Saturday morning cartoon show. In 1982 the character got an ABC prime-time Halloween special that still airs on Cartoon Network and Boomerang today. Two animated stories include "Pacula," about a pac-vampire, and "Trick-or-Chomp," which has the ghosts interrupting the Pac family's trick-or-treating.
---
28. FAT ALBERT HALLOWEEN SPECIAL (1977)
What Made It Special: The gang from the '70s cartoon got its own prime-time special where they skip the treat and go right for the "trick" by scaring their neighbors. It's available on DVD.
---
What Made It Special: The Flintstones never met a Stone Age pun they didn't like, and in this hour-long NBC special, Dracula and Frankenstein get the punny treatment. Rockula awakens to complete his Frankenstone monster — and only the Flintstones and Rubbles can stop them. This special has been sold on VHS, LaserDisc, and DVD.
---
26.
()
What Made It Special: Animator Will Vinton had previously done the California Raisins commercials and music videos, plus animation for Michael Jackson's Captain EO attraction and Disney's Return to Oz. This claymation Halloween special's animation won him an Emmy.
---
What Made It Special: When your whole thing is being a friendly ghost, you've got to do something special for Halloween. It's the one night of the year when Casper can dress up as a real boy, and he makes friends with some orphans who accept him for what he is. Later available on VHS as Casper Saves Halloween, you can still get it on DVD.
---
What Made It Special: This was the very first Disney Channel movie for Halloween, so it's the one that started it all. Three 12-year-olds accidentally bring a mummy back and try to keep it… under wraps. Get it?
---
What Made It Special: This animated TV movie was Ray Bradbury for kids. Bradbury narrated the tale of children traveling the world to learn about different celebrations that influenced Halloween, also featuring the voice of Leonard Nimoy. It won an Emmy, was released on VHS and DVD, and continues to air on Cartoon Network.
---
22. MICHAEL JACKSON'S HALLOWEEN (2017)
What Made It Special: Years after his death, this CBS special gave the King of Pop a chance to sing again. The star-studded musical special featured an animated Jackson (with his actual voice) and 28 classic Jackson songs, and was made in collaboration from Jackson's estate. More than 5.6 million people watched on CBS when it aired.
---
21. HALLOWEEN ON ICE (1995)
What Made It Special: One year after her Olympic silver medal win (and her recovery from her attack by Tonya Harding's goons), Nancy Kerrigan led a Halloween-themed figure skating show at the Boston Garden featuring skating routines inspired by Dracula, Frankenstein, and other creatures. It aired on NBC and Kerrigan continued to perform the live show through 2015.
---
20. GARY LARSON'S TALES FROM THE FAR SIDE (1994)
What Made It Special: Readers of the funny pages in the '80s would always look for The Far Side, a single image that would crack you up every day. Creator Larson animated a Halloween special of Far Side shorts that was released on DVD and sold out on the official Far Side website.
---
19. HALLOWEEN WITH THE NEW ADDAMS FAMILY (1977)
What Made It Special: The Addams Family had been off the air since 1966, so this 1977 Halloween special was a welcome reunion with the original cast. Airing 14 years before the movie reboot, it's been immortalized online via fans' YouTube uploads.
---
What Made It Special: Sister Sister twins Tia and Tamera Mowry got their own Disney Channel movie as twin witches, or twitches for short. They also got a sequel, Twitches Too.
---
What Made It Special: Everyone loves to marathon Hallmark Channel Christmas movies, but here's a Halloween movie to try out. Don't worry, it's still about a workaholic (Sam Jaeger) who finds love with a carefree nanny (Ashley Williams) and it's available to watch on Netflix.
---
What Made It Special: While most of the Disney Channel Halloween movies are fun, Don't Look Under the Bed actually scared kids — and their parents — so much so that some parents asked Disney to stop airing it and the network obliged. In the film, a teenage girl (Erin Chambers) has to stop the Boogeyman (Steve Valentine) who lives under her bed. The Boogeyman makeup was a bit too intense for some, especially when the character possesses the girl's imaginary friend (Ty Hodges).
---
What Made it Special: The most successful of the Disney Channel Halloween movies, Halloweentown spawned a franchise that kept going until 2006's Return to Halloweentown. The original that started it all introduced Marnie Piper (Kimberly J. Brown) to a world of witches, monsters, ghosts, and teenagers. Brown would star in three Halloweentowns, through 2004's Halloweentown High.
---
What Made It Special: The Olsen twins, Mary Kate and Ashley, were the queens of '90s children's movies. Many went straight to video, but the sisters' Halloween movie, in which they tried use their mean aunt Agatha's (Cloris Leachman) witch magic to save their family, aired on TV.
---
What Made It Special: How the Grinch Stole Christmas was such a Christmas classic that the Grinch tried to get in on ruining other holidays too. There's been much speculation whether this is a prequel or sequel to Stole Christmas. It would have to be a prequel since it's before Grinch's heart grew three sizes, right? This Emmy-winning special re-ran through the early '80s and was eventually released on video.
---
What Made it Special: "The Tale of the Twisted Claw," a take on the familiar story of "The Monkey's Paw," served as both the pilot for this long-running Nickelodeon series (airing as a Halloween special in its native Canada on Oct. 31 of 1990) and also aired as the fourth episode of the show when it began broadcasting on Nickelodeon.
---
11.
()
(Photo by ABC/Courtesy Everett Collection)
What Made It Special: Judd Hirsch played Dracula, rallying all the monsters to stop Halloween from being cancelled. Back in the '70s, TV movies were events, so Dracula doing Saturday Night Fever had a lot of eyeballs on it, especially with Hirsch fresh off the first season of Taxi.
---
10. MARC SUMMERS' MYSTERY MAGICAL SPECIAL (1986)
What Made It Special: As the host of Nickelodeon's Double Dare, Summers was the king of slime and goop. His Halloween special, filmed at The Magic Castle, costarred then-child actors Jonathan Brandis and Shiri Appleby plus John Astin (the original Gomez Addams). Kids would see this special every October in the early days of cable.
---
9. ELVIRA'S HALLOWEEN SPECIAL (1986)
What Made it Special: Elvira herself is the draw for this one. The sexy, macabre comedienne became a horror personality as a host of B-movies and brought her sense of humor to MTV's scary programming with this special. Though never officially re-released, the special can be found in dark corners of the internet if you look hard enough.
---
What Made It Special: The variety show was another staple of '70s television (see: The Star Wars Holiday Special), so comedian Paul Lynde led skits featuring Wicked Witch Margaret Hamilton, Witchiepoo Billie Hayes, KISS, Florence Henderson, and the Osmonds. It's now on DVD so you can watch it year round.
---
What Made it Special: In the '80s, Disney made Sunday night family-TV-night with the Disney Sunday Night Movie, and this Halloween movie introduced the ghosts of an entirely original haunted house. It was so popular the network made a sequel, The Bride of Boogedy, the next year!
---
What Made It Special: Fans of the book were excited to see The Worst Witch come to life with Fairuza Balk, Tim Curry, Charlotte Rae, and Diana Rigg. In the film, Balk plays Mildred, a girl who has trouble casting a spell. It was especially fitting casting since Balk went on to star as a teen witch in The Craft.
---
What Made It Special: Garfield hates Mondays, but loves Halloween because he can dress up and eat candy. Airing along with Charlie Brown's family Halloween special made Garfield a memorable addition to the double bill, and it won an Emmy in 1986.
---
What Made It Special: Rankin-Bass were most famous for their animated Christmas specials Rudolph the Red-Nosed Reindeer and Frosty the Snowman. Their Halloween show included Boris von Frankenstein (Boris Karloff), the Werewolf, Dr. Jekyll, and Invisible Man and is available on Blu-ray.
---
What Made It Special: Pixar favorites Woody and Buzz and their menagerie of animated toy friends turn up in a road-trip thriller when Mr. Potato Head goes missing at a roadside motel. Apparently even toys can make ill-fated accommodation decisions. Considered "charming" and "engaging," critics agreed that family members of all ages would enjoy the TV special, starring the voices of Tom Hanks and Tim Allen.
---
What Made It Special: The Simpsons has made its annual Halloween specials a viewing event. Critics agree "Treehouse of Horrors V" is the best one, featuring "The Shinning," "Time and Punishment," and "Nightmare Cafeteria."
---
What made it special: Cartoonist Charles Shulz turned the ordinary lives of elementary school children into magical adventures, featuring daring anthropomorphized beagle Snoopy. In this perennial Halloween classic, Charlie Brown, Lucy, and the kids enjoy the gifts of the season — making costumes, trick-or-treating, and having a party — while Linus and Sally pass the night in a pumpkin patch awaiting the mythical Great Pumpkin.
What is your favorite Halloween classic? Tell us in the comments.
(Photo by Walt Disney Studios)
Almost 23 years ago, Pixar released their game-changing computer animated masterpiece, Toy Story, which sits at 100% on the Tomatometer. Since then, they've released 18 Certified Fresh films, from a total of 20 movies – with just one Rotten flick (sorry Cars 2) along the way, and an average Tomatometer score for their films of 88% (not including the score for Incredibles 2, which released last week). Oh, and they've won 15 Academy Awards and collected billions of dollars at the box office. With Incredibles 2 already breaking box office records in its first week of release, and Pixar celebrating another critical hit (94% right now), we're looking back to 1995 (and beyond) to bring you nine incredible number-based facts about the animation giant.
*Note: Incredibles 2 isn't featured in the data below because the reviews and audience reviews are still rolling in.
---
1. Pixar films released before the Disney merger in 2006 have a Higher Tomatometer Average (94%) Than the Post-Merger Releases (84.8%).
The 9% gap is totally understandable when considering Pixar's first six films each scored at least 92% on the Tomatometer. Also, any concerns from fans following the 2006 buyout were erased when Ratatouille, Wall-E, Up, and, Toy Story 3 were released between 2007 and 2010. Solo Pixar and Disney Pixar were one and the same. Cars 2 and a few other lower-scoring movies would go on to bring the post-merger average down. Sans Cars 2, post-merger Disney-Pixar would have an average of 89%.
---
2. The Average Tomatometer for Original Pixar Movies is 92%.
Whew: 92% is an insanely high average Tomatometer for Pixar's 12 original films (that is, non-sequels or prequels), which are bookended nicely by 1995's Toy Story and last year's Academy Award winning Coco (97%). And speaking of originality, here's a fun complementary stat: Pixar has picked up seven Academy Award nominations for Best Original Screenplay.
---
3. The Average Tomatometer for Sequels and Prequels is 79.8%.
(Photo by Walt Disney Studios Motion Pictures)
Some context first: an ~80% Tomatometer average is still better than most filmmakers and studios could hope for. But it feels surprisingly low for Pixar, which boasts such critically acclaimed sequels as Toy Story 2 (100%) and Finding Dory (94%). It's the sequel missteps that hurt the average, though, especially the closest the studio has come to crashing and burning: Cars 2 (39%). Without Cars 2, the sequel/prequel average jumps to 88%. The good news is every sequel since the 2011 film has a Fresh Tomatometer score and the Cars franchise redeemed itself with Cars 3, which scored a solid, if not soaring, 68%.
---
4. Pixar's hottest streak was between 1995 and 2004
Pixar kicked off with one of the greatest streaks of film history, releasing Toy Story (100%), A Bug's Life (92%), Toy Story 2 (100%), Monsters Inc. (96%), Finding Nemo (99%), and The Incredibles (97%) between 1995 and 2004. Each film is Certified Fresh and has a Tomatometer score above 90%, which beats Walt Disney's five-film run of films scoring 90% or more from 1937 to 1952.
---
5. Lee Unkrich Has the Highest Tomatometer Average (98.2%) Of All Pixar Directors Who Have Directed/Co-Directed at Least Three Movies
(Photo by © Walt Disney Studios Motion Pictures)
Lee Unkrich has pulled off an amazing feat with a near perfect 98.2% average for the five Pixar movies he has directed/co-directed. Toy Story 2, Monsters Inc, Finding Nemo, Toy Story 3, and Coco are masterpieces with Tomatometer scores of at least 96% – and they've won three Academy Awards for Best Animated Feature. Pete Docter (average Tomatometer of 97.3%) and Andrew Stanton (95%) come in second and third.
---
6. Human-Centered Movies Have a Higher Tomatometer Average (92.5%) Than Non-Human Centered Movies (87%).
Pixar has managed to find drama and humor in toys, fish, monsters, and robots, but they've really excelled when telling human stories. The Incredibles, Up, Brave, and Coco all won Academy Awards for Best Animated Feature (four of Pixar's nine wins in the category), and – all emotional, non-data-based factors aside – few things get us quite like the opening moments of Up. It's worth noting that without the Cars movies, the non-human average would climb to 90.5%.
---
7. Female-led Pixar Movies Have a Higher Tomatometer Average (90%) Than Male-led Movies (87.8%)
It took 17 years for Pixar to release their first female-led film with 2013's Brave, and the end result was an Academy Award for Best Animated Feature and a $600 million international box office, adjusted for inflation. Inside Out and Finding Dory followed quickly and, in total, the three female-led films have collected critical accolades (including a 90% Tomatometer average), $2.5 billion in box office receipts, and two Academy Awards.
---
8. Coco Has the Highest Audience Score (94%)
The most recent Academy Award winner for Best Animated Feature also boasts the highest Audience score for a Pixar movie, at 94% – unsurprising, given that it was a crowd-pleasing, heartbreaking musical feast. It's worth noting, however, that Audience Scores tend to dip over time as more and more users file their score. Toy Story, released some 22 years prior to Coco, has more than a million user ratings, whereas Coco currently has about 25,000. Will its score stay in the mid-90s in a few decades' time? We wouldn't bet against it.
---
9. The Toy Story Trilogy Has the Highest Tomatometer Average (99.6%) AND Audience Score Average (89%) of Any Pixar Franchise
(Photo by © Walt Disney Studios Motion Pictures)
The Toy Story franchise is not only Pixar's freshest trilogy, it is one of the highest-rated trilogies ever made (until Toy Story 4 comes out in 2019, when it could be the highest-rated tetralogy – that's a series of four movies!). The lowest Tomatometer-rated film in the series is Toy Story 3 with a paltry 99%, ringing up the only four Rotten reviews of the total 537 reviews the franchise currently has on Rotten Tomatoes. It's impressive that directors John Lasseter, Ash Brannon, and Lee Unkrich found a way to keep a story about a group of toys timely, creative, and heartbreaking. It's worth noting too that the first Toy Story has the highest Tomatometer and Audience score average (96%) of Pixar's catalog.
---
Seen Incredibles 2 and want to dive into all the secret breadcrumbs and Easter Eggs you might have missed? Check out the video below. 
(Photo by Warner Bros. Interactive Entertainment)
The 2018 Electronic Entertainment Expo offered some promising new titles inspired by our favorite films and television shows when it hit the Los Angeles Convention Center June 12-14. Games based on movies and serialized TV are nothing new, but the genre has a history of pushing out products more focused on promoting an IP than offering a quality interactive experience.
That's changing. Game developers, passionate about the same titles as the rest of us, are shelving the marketing-spun schlock in favor of crafting ambitious projects that put us in our favorite fictional worlds.
Here are 10 we can't wait to play!
---
JURASSIC WORLD EVOLUTION
Developer:
Frontier Developments
Publisher:
Frontier Developments
Systems:
PlayStation 4, Xbox One, PC
Release Date:
Available now
As fans of the
Jurassic Park
franchise films are well aware, the movies are primarily action-ratcheting affairs focused on dinos unleashing all kinds of hell on unsuspecting park-goers.
Jurassic World Evolution
, however, trades epic destruction for careful construction, as it tasks players with planning, building, managing, and monitoring their very own prehistoric theme park. While the game's more of a cerebral stimulation, it'll still spike your adrenaline when, say, your burgeoning management skills accidentally let a velociraptor loose in the food court.
---
LEGO THE INCREDIBLES
Developer:
TT Games
Publisher:
Warner Bros.
Systems:
PlayStation 4, Xbox One, Nintendo Switch
Release Date:
Available now
If seeing 
Incredibles 2
hasn't completely satisfied your craving for the superhero family's unique brand of crime-fighting fun, you may want to suit-up for
LEGO The Incredibles
. Brimming with block-y bad guys, brick-based puzzles, and the LEGO series' signature personality and humor, this latest plastic toy-packed adventure lets fans relive the best moments from both entries in the popular Pixar franchise. Tons of playable characters – including fan-favorite Edna Mode – and special moves, requiring the entire Parr crew to participate, round out this family-friendly romp.
---
MARVEL'S SPIDER-MAN
Developer:
Insomniac Games
Publisher:
Sony
Systems:
PlayStation 4
Release Date:
September 7, 2018
Set in a sprawling, open-world New York City, this original Spider-Man tale – from veteran developer Insomniac Games – forgoes the origin story slog in favor of putting players behind the shooting webs, acrobatic combat, and wisecracking sense of humor of a more seasoned Spidey. An eye-popping visual presentation, adrenaline-spiking set pieces, fluid action, and more iconic villains than you can cram into Raft prison complement the cinematic wall-crawling, web-spinning action.
---
WORLD WAR Z
Developer:
Saber Interactive
Publisher:
Paramount Pictures
Systems:
PlayStation 4, Xbox One, PC
Release Date:
2018
Plenty of games task players with shooting zombies, scavenging for supplies, and generally doing whatever it takes to survive the undead apocalypse.
World War Z
– which borrows more from the Brad Pitt film than Max Brooks' book – breaths some fresh life into the rotting corpse genre, however, by putting up to 500 flesh-eating freaks on screen simultaneously. Of course, these hungry hordes can also form horrifying zombie pyramids, making it more difficult for you and your co-op partners to fend them off and live another day.
---
SHADOW OF THE TOMB RAIDER
Developer:
Crystal Dynamics
Publisher:
Square Enix
Systems:
PlayStation 4, Xbox One, PC
Release Date:
September 14, 2018
Fans of the
Tomb Raider
films and games can expect to meet a very different Lara Croft in this trilogy-capping entry. More
Predator
than
Indiana Jones
,
Shadow of the Tomb Raider
sees a confident, capable, vengeance-craving Croft camouflaged in mud and employing brutal combat tactics to turn exotic jungle locales into goon graveyards. Though 
Shadow
isn't your typical relic-hunting romp, players can still expect seat-of-the-pants storytelling, cinematic set pieces, and, yes, plenty of tombs to raid.
---
LEGO DC SUPER-VILLAINS
Developer:
TT Games
Publisher:
Warner Bros.
Systems:
PlayStation 4, Xbox One, Nintendo Switch, PC
Release Date:
October 16, 2018
TT Games has no less than three Batman-starring installments in their stable of brick-busting LEGO adventures, but their latest DC entry is taking a decidedly different approach to the iconic comic book universe. As its title suggests,
LEGO DC Super-Villains
is all about the bad guys, from Harley Quinn and Lex Luthor to Poison Ivy and the Crown Prince of Crime himself, the Joker. Rather than playing as these iconic foes though, players will join them as their very own, fully customizable and upgradeable evildoer.
---
OVERKILL'S THE WALKING DEAD
Developer:
Overkill Software
Publisher:
Starbreeze Studios/505 Games
Systems:
PlayStation 4, Xbox One, PC
Release Date:
November 6, 2018
Hundreds of games have pitted players against hordes of foot-shuffling foes, and a handful of those have even unfolded in Robert Kirkman's walker-infested world.
Overkill's The Walking Dead
separates itself from the brain-craving bunch, however, by translating the unforgiving world of the comic books into thumb-blistering gameplay. For fans, this means strategically cooperating with three other players to not only survive brutally difficult encounters with the undead, but also joining forces to fight the game's most challenging enemies, a human faction dubbed "The Family."
---
HITMAN 2
Developer:
IO Interactive
Publisher:
WBIE
Systems:
PlayStation 4, Xbox One, PC
Release Date:
November 13, 2018
We haven't seen the bald, bar-coded assassin on the big screen since Rupert Friend wore his signature sharp suit and red tie in 2015's
Hitman: Agent 47
. Fans needn't wait for a film sequel to be reunited with their favorite hired killer, however, as
Hitman 2
is headed to game consoles this fall. Assuming the role of the titular professional, stealthy players will travel to stunningly-realized exotic locales, don disguises, and incorporate improvised weapons – such as rat poison, frying pans, and frozen fish – to permanently silence high-level targets.
---
RESIDENT EVIL 2
Developer:
Capcom
Publisher:
Capcom
Systems:
PlayStation 4, Xbox One, PC
Release Date:
January 25, 2019
Long before zombie shooters and apocalypse survival sims spread through the video game world like a population-wiping plague, players were fighting virally-infected canines and gobbling up green herbs in
Resident Evil
. Now, Capcom is inviting fans back to Raccoon City to relive what's widely considered the seminal survival horror series' best entry. More than a mere remaster though,
Resident Evil 2
is a completely rebuilt re-imagining, featuring brand new visuals, audio, controls, and a nerve-fraying narrative to rival any contemporary take on the walking corpse genre.
---
KINGDOM HEARTS III
Developer:
Square Enix
Publisher:
Square Enix
Systems:
PlayStation 4, Xbox One
Release Date:
January 29, 2019
The
Kingdom Hearts
series has always been defined by its appealing, if unlikely, mash-up of Disney and
Final Fantasy
characters. Its long-awaited sequel though, is doubling down on the Disney – and Pixar – content, inviting fans to explore worlds and interact with heroes and villains from a variety of favorite films from Walt's vault. From
Frozen
,
Tangled
, and
Toy Story
to
Hercules
,
Wreck-It Ralph
, and
Pirates of the Caribbean
, this fan-servicing sequel has something for Disney and Pixar enthusiasts of all stripes.
Once upon a time, animation could be neatly divided into two eras: BD and AD, or before and after Disney. That all changed, however, with the release of 1995's Toy Story, a movie that — although it bore the Disney logo — marked the feature-length debut of an upstart studio named Pixar. There have been 19 Pixar movies since then — 17 of which are Certified Fresh — and we thought it would be interesting to take a fond look back at the studio's extraordinary full-length filmography. From Toy Story to Finding Dory, to infinity and beyond, here's this week's Total Recall! [Updated on 6/18/18]
---
Considering how successful the first installment was — not to mention Disney's original plan to make the sequel a direct-to-video affair — not many people would have been surprised if Toy Story 2 had fallen flat when it landed in theaters in 1999. But with Tom Hanks back as Woody, Tim Allen back as Buzz, and an adventure that took Andy's toys on a journey every bit as exciting as their first, the second Story proved that some movie characters really do have more than one story worth telling — and that even when it came to movies with numbers after the title, Pixar meant business. Speaking of business, Toy Story 2's was extraordinarily healthy, to the tune of a $485 million worldwide gross — and the public's obvious enthusiasm for the movie was backed up by the critics, who duplicated the original's 100 percent Tomatometer on the strength of reviews like the one from Jay Carr of the Boston Globe, who wrote that it was "everything you could want in a sequel," or Jeff Millar of the Houston Chronicle, who observed, "the Pixar people just get better and better."
---
(Photo by Buena Vista Pictures courtesy Everett Collection)
In 1937, Walt Disney Pictures turned conventional wisdom on its head by proving that animation — heretofore the realm of short films starring talking critters — could be successfully utilized to tell a full-length story starring realistic human characters. That film, Snow White and the Seven Dwarfs, charted the path the studio — and animation pretty much in general — followed for almost six decades, until Pixar came long and changed everything with Toy Story. Like Snow White before it, Toy Story was an eye-popping technical marvel with a heart to match its stunning visuals — and like Snow White, it kick-started the growth of a studio whose unprecedented success would redefine an art form. Of course, no one could have known all that in 1995; we only knew that it was, in the words of Roger Ebert, "a visionary roller-coaster ride of a movie." Subsequent Pixar releases have deepened and refined the technology and storytelling approach seen here, but unlike pretty much anything else considered cutting-edge in 1995, it still seems almost as fresh as it did on the day it was released. As Michael Booth of the Denver Post wrote, "It's a landmark movie, and doesn't get old with frequent repetition."
---
(Photo by Buena Vista Pictures courtesy Everett Collection)
By the time they reach their third installments, most franchises have either been corrupted by time (The Godfather Part III), stretched beyond sensible narrative limits (Die Hard with a Vengeance), or simply stopped trying (Superman III). Leave it to Pixar to create an exception to the rule with Toy Story 3, which used the decade-plus between sequels as a framing device for a poignant story about the exciting (and emotionally wrenching) transition between childhood and adulthood. Of course, it wasn't all dramatic overtones; Toy Story 3 also made room for action-adventure, in the form of a daring, Great Escape-inspired plot to bust the toys out of their new home at the local daycare. It all added up to over $1 billion at the box office, five Academy Award nominations (including wins for Best Song and Best Animated Feature), and almost universal praise from critics like Salon's Andrew O'Hehir, who called it "A bona fide summer delight loaded with action, humor, nostalgia, a veritable blizzard of pop-culture references and general good vibes."
---
(Photo by Walt Disney courtesy Everett Collection)
After going somewhat high-concept with Monsters, Inc., the studio took things back to basics for 2003's Finding Nemo, following the adventures of a single father (Albert Brooks) and his brain-damaged acquaintance (Ellen DeGeneres) as they desperately search for his kidnapped son. It reads like a tense, Missing-style thriller, but this is Pixar: the characters are all animated talking fish, and in lieu of pulse-pounding drama, it serves up the adorable antics of ocean critters like a porcupinefish named Bloat (Brad Garrett) and a laid back sea turtle named Crush (voiced by writer/director Andrew Stanton). Which is not to say that Nemo lacks action or adventure — there are numerous edge-of-your-seat set pieces — nor does it come without a valuable message, underscoring the difficulty (and the importance) of letting children develop their own identities. Audiences expected nothing less from Pixar at this point, and rewarded the studio with a worldwide gross just shy of $865 million; meanwhile, critics set aside their usual cynicism for a couple of hours to pronounce Nemo, in the words of Rolling Stone's Peter Travers, "a thing of beauty, hugely entertaining and way cool."
---
(Photo by Walt Disney Studios Motion Pictures)
Pixar made itself the gold standard for animation by combining visual thrills with honest emotions — and that's more or less the mission statement for Inside Out, which uses a young girl's cross-country move as the catalyst for an epic adventure that takes place largely in her own mind. Although most of us have never been 11-year-old girls forced to leave our happy Minnesota home for San Francisco, we can all identify the emotions in Riley (Kaitlyn Dias): Joy (Amy Poehler), Sadness (Phyllis Smith), Anger (Lewis Black), Fear (Bill Hader), and Disgust (Mindy Kaling). They're all thrown out of whack by Riley's big change, and the turmoil sends Joy and Sadness on a quest to make things right again — leaving Anger, Fear and Disgust running the show, a situation sure to trigger a rueful chuckle out of anyone in the audience old enough to remember adolescence. Director/co-writer Pete Docter's brilliant concept and poignant underlying message (not to mention that ever-resplendent Pixar animation) made Inside Out one of the studio's best-reviewed efforts — and one of the most critically beloved movies of the year. "It's hard to believe that anyone will make a film more ambitious and more fully realized this year than Inside Out," decreed Tom Long of the Detroit News. "Let the talk of a best picture Oscar win begin now."
---
6. Up

(2009)

98%
(Photo by Walt Disney courtesy Everett Collection)
After heading into space for WALL-E, Pixar returned to Earth for their next feature, 2009's Up — but they continued to push the boundaries of mainstream American animation, using a story with a certain amount of surface silliness (grumpy old man uses balloons to send his house airborne and turn his back on society, only to discover a young stowaway) to explore such decidedly serious themes as death, regret, aging, and friendship. Like WALL-E, Up takes its time getting to the speaking parts, opening with an extended musical sequence depicting the decades-long love story between Carl Fredericksen (played by Ed Asner) and his wife Ellie (Elizabeth Docter). Without a single word of dialogue, Up reduced many filmgoers to tears — and it was just getting started. By the time it was all over, Up had taken audiences on a journey from crowded city streets to the tepui mountains of Venezuela, helped mend Carl's broken heart, shared a message or two, and scored only the second Best Picture Academy Award nomination for an animated feature in history. At 98 percent on the Tomatometer, Up was one of the best-reviewed movies of the year, and a favorite of critics such as the Los Angeles Times' Kenneth Turan, who wrote, "Rarely has any film, let alone an animated one powered by the logic of dream and fantasy, been able to move so successfully — and so effortlessly — through so many different kinds of cinematic territory."
---
7. Coco

(2017)

97%
(Photo by Walt Disney Studios)
The concept of death isn't exactly taboo in animation — as any film lover can tell you, countless classic cartoon characters are orphans, and the loss of a loved one has offered the motivation for many an ultimately heartwarming tale. But it's rare to see a family-friendly movie whose plot is centered around mortality, let alone one that takes pains to honor the traditions of a culture many viewers consider foreign. Leave it to Pixar to take both leaps with Coco, in which a young Mexican boy named Miguel (Anthony Gonzalez) is caught between his dreams of being a musician and his obligations to his family. With a story (and overall aesthetic) influenced by the Mexican holiday of Día de Muertos, Coco marked a thematic and visual departure for the studio — which is a big part of why critics responded so warmly, applauding a movie that took the tight storytelling craft and attention to detail that's become synonymous with the Pixar name and took it someplace fresh enough to avoid feeling like formula. "Not only is it a wholly original story, but it also honors a culture that's so often overlooked by the movie industry," wrote Stephanie Merry for the Washington Post. "That alone might have made it a hit, but Coco has so much more to offer."
---
(Photo by Walt Disney courtesy Everett Collection)
Pixar has been known to build a winsome feature around what looks like a questionable storyline, but they've also developed some wonderfully original stuff — like 2004's The Incredibles, which looks at what can happen when a superhero trades in costumed adventure for domestic tranquility too soon. Exiled to a suburban family life after a series of mishaps leads to the government putting the kibosh on super-powered crimefighters, the former Mr. Incredible (voiced by Craig T. Nelson) deals with the monotony of his new job at an insurance company by sneaking out after hours and upholding truth and justice on the QT with his best friend, Frozone (Samuel L. Jackson). His secret doesn't stay secret for long, of course — not from his superhuman wife (Holly Hunter) and kids, and not from the supervillain whose nefarious plot draws them all together. As with roughly 70 percent of all kids' movies, The Incredibles teaches a lesson about the value of being yourself, but even if the moral of the story isn't exactly unique, the characters and situations offered a nifty twist on the superhero craze — and writer/director Brad Bird (The Iron Giant) proved an excellent addition to the Pixar stable. It is, in the words of ReelViews' James Berardinelli, an "exemplary mixture of top-notch storytelling, visual razzle-dazzle, accessible humor, and involving action."
---
9. WALL-E

(2008)

95%
(Photo by Walt Disney Motion Pictures courtesy Everett Collection)
How do you deal with the incredible expectations created by eight films, and almost 15 years, of solid excellence? Conventional wisdom would say to play it safe and fall back on everything that's worked for you before — but Pixar has never been conventional, and they proved it again with 2008's WALL-E, a movie that took the studio's knack for adorable characters and hyper-realistic CG animation and flung it into the uncharted (and even a little avant garde) regions of outer kidvid space. It's hard to imagine any other studio having success with a family film this idiosyncratic — a movie about a lonely trash-compacting robot with a mostly dialogue-free first act doesn't exactly scream summer blockbuster — but audiences trusted the Pixar brand enough to show up in droves, and they were rewarded with not only one of the best-reviewed animated releases of 2008, but what was, in the words of the Boston Globe's Jay Carr, "the best American film of the year to date." WALL-E came with a surprising bit of controversy, drawing fire from conservative pundits who were annoyed with what they interpreted as a left-wing, anti-business message, but its 96 percent Tomatometer and massive $534 million gross drowned out the chatter. As with just about everything Pixar has done, it works whether you're looking to be edified or simply entertained; as the New York Times' A.O. Scott noted, "it is, undoubtedly, an earnest (though far from simplistic) ecological parable, but it is also a disarmingly sweet and simple love story, Chaplinesque in its emotional purity."
---
(Photo by Walt Disney courtesy Everett Collection)
For anyone who'd been counting down the days until Pixar's inevitable downfall, the period between the lukewarm critical reception afforded Cars and the debut of 2007's Ratatouille seemed like it might be the beginning of the end: not only was the studio working on a movie with a rather unappetizing protagonist — a rat who wanted to be a gourmet chef — but the movie itself had something of a troubled journey to the screen, including a Pixar-mandated director swap that ousted the film's creator, Jan Pinkava, and replaced him with Brad Bird. All's well that ends well, though, and by the time Ratatouille reached theaters in June of '07, it was abundantly clear that all the creative turmoil had paid off — not only did it provide Pixar with another box office bonanza, gathering up more than $621 million in worldwide receipts, but it quickly established itself as yet another critical winner for the studio, ending up with a 96 percent Tomatometer rating and a bunch of glowing reviews from critics like Newsweek's David Ansen, who called it "a film as rich as a sauce béarnaise, as refreshing as a raspberry sorbet, and a lot less predictable than the damn food metaphors and adjectives all us critics will churn out to describe it. OK, one more and then I'll be done: it's yummy."
---
(Photo by Disney•Pixar)
It starred Billy Crystal as a fast-talking schemer who was physically dwarfed by his sidekick, but despite that surface similarity to the misbegotten My Giant, Pixar hit another home run with its fourth feature, 2001's Monsters, Inc. The tale of Mike (Crystal) and Sulley (John Goodman), two employees of the titular kiddie-scaring company, Monsters imagines a world in which children's screams are the energy source that powers the secret city of Monstropolis — and one in which the monsters themselves are just 9-to-5 clock punchers with problems of their own, such as mistakenly letting a child follow them back to the office. Mike and Sulley are worried about more than just getting written up — the monsters believe the children are toxic — but they soon discover that not only is inter-species harmony possible, but it may hold the key to their civilization's looming energy crisis. It's admittedly rather heady stuff for a family-friendly CGI comedy, but Pixar has always been good at slipping subtext into a candy-colored shell, and Monsters, Inc. is no different. "The analogy to our dependence on, say, oil is soon abandoned, the better to blur the distinction between abstract and concrete," wrote Lisa Alspector of the Chicago Reader, pointing out "something older viewers of this 2001 animated adventure may appreciate more than younger ones."
---
(Photo by Disney•Pixar)
It's rare to find a sequel that actually feels like an organic addition to its predecessor's story — and even rarer to see one that manages to deepen that story in an unexpected way. Leave it to Pixar to pull off both feats with Finding Dory. In Finding Nemo, the titular blue tang (voiced by Ellen DeGeneres) offered kind companionship to a panicked clownfish (Albert Brooks) searching for his son — and her near-total short-term memory loss gave audiences lots of laughs along the way. This time out, Dory's condition isn't really a laughing matter; as we learn early on, it's been a lifelong burden, and after experiencing an unexpected flashback, she embarks on a quest to heal a deep emotional rift suffered when she was just a little (and impossibly adorable) fish. Every Pixar outing faces a steeper uphill battle than most, and that goes at least double for the studio's franchise follow-ups, but the vast majority of critics were powerless to deny Finding Dory's charms; as Owen Gleiberman wrote for Variety, the result is "a beautiful, rambunctious, and fully felt sequel — a movie totally worth its salt water."
---
(Photo by Walt Disney Studios)
Nearly 15 years after expertly sending up superhero adventures with The Incredibles, Pixar finally delivered a long-discussed sequel — smack dab in the middle of a cinematic landscape that had come to be largely dominated by costumed crimefighters during the decade leading up to Incredibles 2. But if the number of superheroes at the cineplex had multiplied in their absence, Pixar's Parr family still managed to stand with the best of them, picking up right where they left off in the original and taking audiences on another death-defying adventure that also managed to leave room for funny and occasionally poignant observations on marriage, parenthood, and personal responsibility. If it wasn't quite as powerful as its predecessor, it still managed to defy the odds and come pretty close; as Tomris Laffly wrote for Time Out, "At a time when movie screens are clogged with indistinguishable superheroes, Incredibles 2 rises above the noise with its defiantly humane soul."
---
(Photo by Buena Vista Pictures courtesy Everett Collection)
Inspired by Aesop's fable of the ant and the grasshopper — memorably animated in the Silly Symphonies short titled, suitably, The Grasshopper and the Ants — Pixar's John Lasseter and Andrew Stanton spearheaded the development of Pixar's second feature, A Bug's Life, the story of a nonconformist ant named Flik (voiced by Dave Foley) who ventures beyond his colony's island shores to recruit an army of bugs that can defend them from a gang of mean-spirited grasshoppers (led by Kevin Spacey). When the naïve Flik mistakes a group of circus performers (including Denis Leary as a sass-mouthed ladybug) for fighters, the stage is set for another round of CGI-fueled family fun. Though A Bug's Life was overshadowed somewhat by DreamWorks Animation's superficially similar Antz, and critics weren't quite as unanimous in their praise as they'd been for Toy Story, neither a $363 million worldwide gross nor a 91 percent Tomatometer are anything to sneer at — and in the end, as CNN's Paul Tatara observed, "if this movie doesn't make you smile you may not know how."
---
(Photo by Disney•Pixar)
Nine times out of 10, a prequel that films a dozen years after its predecessor will have to replace pretty much its entire cast. But that rule doesn't apply in animation, as Monsters University reminded us in 2013, when it reunited Monsters, Inc. stars Billy Crystal and John Goodman for a look at how Mike Wazowski and James P. Sullivan met back in their college days. Without the nifty storytelling twist that inspired Inc., University was little more than a chance for Crystal and Goodman to riff off each other in a fairly standard campus coming-of-age story, but given the prodigious talents of the chemistry-rich duo – ably aided and abetted by a stellar supporting cast that included Helen Mirren, Steve Buscemi, Alfred Molina, and Charlie Day – that proved to be more than enough for most critics. "Execution matters," noted Vulture's Bilge Ebiri. "Verve, and energy, and inventiveness matter. And Monsters University is funny, fast, and likable, with occasional moments of real visual surprise and laugh-out-loud offhand gags."
---
16. Brave

(2012)

79%
(Photo by Walt Disney Pictures courtesy Everett Collection)
Princesses have made Disney some pretty big bucks over the years, but by 2012, Pixar's creative team could feel the cultural tide turning against damsels in distress. Enter Brave, in which a classic medieval story about an impetuous king's daughter gets a postmodern twist – and forsakes the tired old princely rescue narrative in favor of a story about the timeless, occasionally troubled bonds between girls and their mothers. And while critics weren't shy about arguing that Brave's depiction of the fraught dynamic between feisty princess Merida (Kelly Macdonald) and her steadfastly traditional mother, Queen Elinor (Emma Thompson), could have gone even further in upending decades of conservative Disney storytelling, most agreed that the movie's positives outweighed its drawbacks – including the raucously funny work turned in by Billy Connolly as the beleaguered King Fergus. As TIME's Richard Corliss sniffled, "By the climax, at which all right-thinking viewers will have dissolved in a puddle of warm appreciation, the new Pixar film has earned two cheers and a big bear hug."
---
Pixar's legacy is certainly impressive, but there are definite downsides to setting the bar so high — not the least of which is the way people tend to see your efforts as subpar if they aren't quite up to your loftiest standards. Such is the case with 2015's The Good Dinosaur: by most accounts a heartwarming and beautifully animated effort, it nevertheless found itself on the losing end of (arguably unfair) comparisons to Pixar's earlier work — not to mention Inside Out, which bowed on DVD/Blu-ray mere weeks before Dinosaur arrived in theaters. Still, casting a tall critical shadow is a nice problem to have, and although its Tomatometer isn't quite as robust as other entries in the Pixar filmography, it's still impressive in any other context. As Alison Willmore observed for BuzzFeed, "If The Good Dinosaur falls low in the rankings of the company's now 16 titles, it is still leagues finer than the flurry of frenetic colors and screwball pacing of the standard children's animated movie."
---
18. Cars

(2006)

75%
(Photo by Walt Disney courtesy Everett Collection)
Even the most successful family can have a black sheep, and at a relatively paltry 74 percent on the Tomatometer, 2006's Cars was Pixar's for a long time — at least, until its sequel came along. While not poor enough to break the studio's chain of Fresh certifications, the reviews that greeted this John Lasseter-directed tale of a young racecar (Owen Wilson) and his quest to wrest the Piston Cup from a pair of challengers (Michael Keaton and Richard Petty) weren't up to the usual Pixar standard; whether dismissing it as unoriginal (Christy Lemire of the Associated Press accused it of "[ripping] off Doc Hollywood, almost note for note) or overlong (the Chicago Reader's J.R. Jones called it "not a test of speed but endurance"), the critics concluded that Cars ran a little too rough to stand alongside earlier classics. Audiences didn't mind, though — it grossed over $460 million — and even if it didn't measure up to Pixar's previous efforts, it was still good enough to earn praise from scribes like Chris Vognar of the Dallas Morning News, who wrote, "no other outfit can match Pixar's knack for plucking heartstrings without tearing them off the frets."
---
19. Cars 3

(2017)

69%
(Photo by Walt Disney Studios)
We've been trained to expect a lot from Pixar over the years, and when one of their movies isn't poignant, thought-provoking, hilarious, and visually dazzling, it can feel like a pretty big letdown. Enter the studio's Cars franchise: while plenty of fun in the context of just about any other company's output, it's the black sheep of the Pixar catalog, and critical reaction for the first two films in the series (and their cousins in the Planes franchise) ranged from mild disappointment to outright disdain. It's rare for the third film in a trilogy to improve upon its predecessors, so there was little reason to expect Cars 3 would enjoy a critical rebound, but it proved to be something of a happy surprise; although not on par with Pixar's finest — and a notch below the original Cars — it impressed critics with a storyline that manages to inject some intelligence and honest emotion into the anthropomorphic automotive saga. "If you can roll with it," wrote Glenn Kenny for the New York Times, "the movie is both breezy fun and a pain-free life lesson delivery vehicle."
---
20. Cars 2

(2011)

40%
(Photo by Buena Vista Pictures courtesy Everett Collection)
Cars did well at the box office – and well enough with critics – but it was far from the first Pixar film most fans thought of when entertaining thoughts of possible sequels to the studio's hits. The movie had one important fan, however, in director John Lasseter, who also happened to be the chief creative officer at Pixar, Walt Disney Animation Studios, and DisneyToon Studios; once he became convinced there needed to be a Cars 2, a follow-up was pretty much a foregone conclusion. Unfortunately, when the movie arrived in theaters in 2011, it found few critics who agreed with Lasseter; in fact, Cars 2 went down as Pixar's biggest critical dud to date, scoring an uninspired 39 percent on the Tomatometer while being roundly derided as a merchandising-driven misstep from a studio that had trained audiences to expect the best. Still, as a pleasantly undemanding diversion for younger viewers, Cars 2 had its defenders, with a handful of critics pointing out that the movie – which reunites most of the original voice cast for a story that sends Lightning McQueen (Owen Wilson) out to compete in the World Grand Prix while Mater (Larry the Cable Guy) bungles through a bit of international espionage – wouldn't be held up to such scrutiny if any other company had produced it. "Minor Pixar, but it would be a major film were it made by just about anyone else," wrote Deadspin's Will Leitch. "I, for one, will not get greedy."
(Photo by © Walt Disney Studios Motion Pictures)
After a spell away from animated features, Brad Bird returns to the form to write and direct the follow-up to his original Pixar classic, The Incredibles. The pressure is now on to deliver with Incredibles 2, which opens this week: not just because every Pixar film arrives on a wave of wild audience expectations, but because when it's a Brad Bird Pixar movie, that wave crests at an even higher point. This is the man whose first feature, The Iron Giant, is a Certified Fresh classic, and whose Incredibles and Ratatouille are considered by many Pixar purists to be the studio's finest work. (Not convinced of his animation credentials? Consider that he worked on the first eight seasons of The Simpsons, a job he says has served him well when it comes to the work ethic and discipline it takes to pull off a movie on the scale of Incredibles 2.) Ahead of the movie's release, Rotten Tomatoes spoke with Bird about the new directions he takes with the Parrs — this time Helen is called upon to fight crime and make a compelling case for legalizing Supers while Bob plays stay-at-home dad, ineptly – and some of the influences on the film's inventive action sequences. And he addresses the pressure that comes with working for Pixar, and being Brad Bird.
---
On Helen and Bob's Role Reversal: "I thought it would be fun to make both of the characters uncomfortable."
Much has been made of the gender-switch at the center of Incredibles 2 – this time it's Elastigirl who leaves Mr. Incredible at home to take care of the family while she goes off to fight crime. But Bird is quick to point out that just because Helen gets to kick more butt than Bob in Incredibles 2, we shouldn't forget that she was a fierce female superhero in the original film, too. "Helen was a strong woman in the first movie, a very powerful female superhero," he told Rotten Tomatoes. The notion of switching up the family and superhero duties came to Bird "when I was pushing the first film. I wasn't trying to say anything political. It was more like, this will really screw Bob up. I thought it would be fun to make both of the characters uncomfortable. Helen had adapted to being a parent really, really well, and I thought it would be interesting if she were sort of forced out into being a superhero again and then found that she really missed it. So it was more about what to do for comedy and character development than anything else."
(Photo by © Walt Disney Studios Motion Pictures)
---
On Jack-Jack's Powers and Being a Dad: "You're Living In a State of Anxious Alert."
The decision to leave Bob at home with the kids – and one multi-powered baby in particular – was comedy gold, says Bird. And mostly because it was a predicament most dads, including Bird, can relate to. "There is a moment as a man when you have kids where you go, How hard can it be?" says Bird. "But then they start becoming mobile. And then it becomes this series of events where you're afraid they're going to fall down stairs or put their finger in a socket or they're not stable. You're constantly living in a state of anxious alert. This situation is that, times 11."
---
On the Jack-Jack Powers We'll Never Get to See: "I ended up killing entire communities of darlings."
Rotten Tomatoes asked if the youngest Parr had more abilities in earlier drafts of the script, Bird answers with a hearty, "Absolutely!" But weeding down Jack-Jack's powers — and a ton of other ideas that could have made the world of Incredibles 2 even richer, even zanier, but arguably detracted from the central story — was key. "There were all kinds of things that I wrote that I threw out. I wrote so much that wasn't used for the movie. And it wasn't that the words weren't good, but it was that they didn't serve the family part of the story. I got really good at killing darlings. I ended up killing entire communities of darlings, cities of darlings, dropping nuclear weapons on darlings. It was really challenging, the pressure to get the movie made. But all the TV training that I'd done on The Simpsons came into play. It was very useful that I had that experience."
(Photo by © Walt Disney Studios Motion Pictures)
---
On Choreographing Helen's Epic Screenslaver Fight Scene: "I saw From Russia With Love at the theater as a kid…and it made a real impression on me."
In a movie built on standout action sequences at sea and in the sky, one sequence stands out for being a tight and terrifying squeeze. After tracking the villainous Screenslaver to his lair – in a sequence that has some serious Silence of the Lambs vibes – Elastigirl engages him in a tough, close-combat fight inside a wildly lit kind of cage. It's inspiration? James Bond. "There's an amazing fight on the train between Sean Connery's James Bond and Robert Shaw in From Russia With Love," says Bird. "I saw it at the theater as a kid, and I saw it on the re-release, you know, and it made a real impression on me: this confined space, and it was kinda brutal. You've got a fight choreographer that I used, he was part of the stunts team on Mission Impossible: Ghost Protocol and I used him as well on Tomorrowland, his name is Rob Alonzo. I had him come up and spend a little bit of time talking to our storyboard artists and animators about what someone would do if they were limited in the way that Helen is limited in that fight. How would somebody who is great at fighting deal with it? And he was like, 'She would get into a corner to limit the directions she could be attacked from.' It was good stuff, and the animators and the storyboard artists just loved hearing this. Everyone at Pixar are film lovers first and foremost and when you get an assignment with unique challenges you want to do your homework. So, they were really into talking with Rob about fighting and fighting styles."
---
On Stepping Back Into Edna's Stylish Shoes: "I think everyone wants to be so sure of themselves."
(Photo by © Walt Disney Studios Motion Pictures)
In 2004, Bird stole the show in his own film voicing the character of superhero costume designer, Edna Mode. The character returns in Incredibles 2, and she's not happy that Elastigirl's been dressed by a rival. "She's really fun to write," says Bird. "She's so certain about her point of view; I think everyone wants to be so sure of themselves." Getting into character takes some adjusting, he says. "I just have to remind myself of the accent, it's this weird sort of accent. And when I write her, I try to write everybody differently and have them use different words, and maybe the rhythm of their sentences are different, that's something I try to do. So I had to remind myself of her cadences a little bit. But you adjust to that pretty quickly, she's kind of always there, you know?"
---
On the 'Pixar Pressure': "You really didn't want to be the first film to screw up."
Bird says he felt pressure while making the film to deliver on time, and to deliver that Brad Bird Pixar magic – few studios or filmmakers out there inspire such high expectations. It was a feeling he remembers clearly from working at Pixar on the first Incredibles movie. "It became a joke and a kind of ritual that a film would go out into the world and on that weekend we'd have a little celebration to celebrate the fact that the film was doing well out in the world, and have a little toast. When Nemo came out, right after the toast, Andrew Stanton kinda looked towards us and said, 'No pressure guys.' And it became a joke because you really didn't want to be the first film to screw up at Pixar. So yeah, there's pressure. But there's pressure on any film. A lot of creative people throw their heart and soul into it."
---
Incredibles 2 is in theaters June 15
The much-anticipated Incredibles 2 opens in theaters this weekend, 14 years after the original The Incredibles, which remains one of Pixar Animation's most enduring – and well-reviewed – films. Early reviews have been universally strong for the second movie, with some critics saying it's the best Pixar sequel to come along since Toy Story 3 back in 2010.
But what other sequels and spinoffs might exist in the Pixar universe? We let our imaginations run wild, conjured up six projects we'd love to see, and figured that if we believed in those wishes hard enough, our dreams might come true – a certain studio told us that. (Of course, this is pure speculation – and plain old fun; if you want to know what's officially on Pixar's slate, check here.)
---
INCREDIBLES 3: JACK-JACK HORMONE ATTACK
(Photo by © Walt Disney Studios Motion Pictures)
OK, it's not even out yet. But this sequel is going to be such a massive hit that a third installment in the franchise will surely be in the works (maybe in a decade, but still). And when you see it, you will see for yourself that Jack-Jack is the runaway star. Sometimes, that's true literally: Mr. Incredible and Elastigirl's baby son is just beginning to discover his powers in Incredibles 2, which allow him to do more than just toddle down hallways. He can transport himself from room to room – and shoot lasers from his eyes, and multiply, and transform into a raging baby beast if he doesn't get a cookie. It's all super adorable – for now, at least. But imagine how difficult it'll be once puberty hits. In addition to the awkwardness of having his voice and body change and the anxiety of all those hormones coursing through his body, Jack-Jack also will have to contend with the unpredictability of his various superpowers. Should make for some eventful middle school dances.
Tagline: Everyone suffers from growing pains. But these are incredible.
---
RATA-2-ILLE: GOURMET TO GO
(Photo by © Walt Disney Studios Motion Pictures)
Remy the rat has enjoyed success for a while as a gourmet chef in Paris. He's been living the dream, creating delicious food for his favorite people in the city he loves. But times and tastes change. A declining economy and a trend toward meals that are quicker and simpler force Remy to shut down his bistro. While sitting on the sidewalk feeling sorry for himself, he notices a line forming across the street for a bright and colorful vehicle and has an epiphany: He'll open a food truck. They're all the rage these days, they're cheaper and easier to maintain, and the mobility they provide will allow him to bring his cuisine to people all over France who might never have tasted it otherwise. Remy designs hand-held, on-the-go versions of all his signature dishes. And Anton Ego, the once-stodgy critic who'd funded his restaurant, agrees to take on new responsibilities as his driver. Madcap buddy road-trip comedy ensues.
Tagline:  On the road(ent) again.
---
INSIDE OUT VS. MONSTERS UNIVERSITY
(Photo by © Walt Disney Studios Motion Pictures)
In Inside Out, we saw Riley struggle through one of the toughest times in her young life – navigating middle school while living in a new place – with the help of her emotions and her core memories. Joy, Sadness, Anger, Fear, and Disgust were all there to help her figure out who she truly was when situations got confusing. Now it's a few years later, and Riley is off to college. But what she didn't realize when she said yes to a full-ride hockey scholarship was that Monsters University really is a university full of monsters. From dorm life and coursework to football games and fraternity parties, every situation is fraught – sort of like it is for every incoming freshman, regardless of the school –and we're right there inside Riley's head for the roller coaster of it all. Joy is thrilled to learn new things and make new friends. Disgust is grossed out by the grungy state of the Oozma Kappa house. And Fear is working overtime, even while interacting with sunny monsters like Squishy and Art.
Tagline: Majoring in fun, with a minor in frights.
---
BRAVE 2: HUNGER GAMES EDITION
(Photo by © Walt Disney Studios Motion Pictures)
The magical woods where Princess Merida and her clan have dwelled for centuries have deteriorated into a dystopian wasteland, ravaged by violence, poverty, and disease. Hey, it happens even to the best of Young Adult heroines. But there's a way Merida can help save herself, her family, and ultimately her people: by taking part in a survival competition where her archery skills will just happen to come in handy. Sound vaguely familiar? It does to Katniss Everdeen, too. Now that she's helped restore peace to Panem by winning the Hunger Games, Katniss is bored. But when she hears about Merida and all the hype that's building for the competition, Katniss (voiced by Jennifer Lawrence, of course) knows she must turn this already headstrong young lady into the fiercest warrior she can be. She grabs her bow and arrow and sets out across time and scape to medieval Scotland. Also tagging along for the adventures is Merida's mom, Queen Elinor, who finds that turning into a bear every once in a while is actually quite helpful during these troubled times. Think of it as a girl-power version of Creed – and expect plenty of training montages.
Tagline: The Hunger Games: They can be a real bear.
---
UP, AGAIN: THIS TIME, WITH DUG
(Photo by © Walt Disney Studios Motion Pictures)
Up remains one of Pixar's loveliest films, with a montage set to Michael Giacchino's beautiful score that will leave you sobbing in a pile of big, fat tears. But it also features a hilarious scene-stealer in Dug, the Golden retriever who wears a special collar that allows him to voice all of his random doggie thoughts. Dug got his own short film in 2009 when Up came out, but five minutes is not nearly enough for this buoyantly joyous character. He needs his own full-length feature. It doesn't even have to have a plot. It can just be Dug, wandering around Paradise Falls, commenting on everything he sees – and, of course, getting distracted every time he sees a squirrel. Give this movie all the Oscars now.
Tagline: Every dog has his day. This day is Dug's.
---
COMEDIANS IN CARS GETTING COFFEE
(Photo by © Walt Disney Studios Motion Pictures)
The Cars movies went downhill fast after the 2006 original. Granted, they always seemed intended more for very little kids than the rest of the films in the Pixar pantheon, which consistently manage to function on a variety of levels at once for every possible viewer. But by Cars 3 last summer, which sits at the low end of the Pixar canon at 68% on the Tomatometer, the franchise really seemed to have run its course – creatively, that is. The merchandising possibilities are still endless. But there's a way to breathe life back into the series again: By crossing it with Jerry Seinfeld's Comedians in Cars Getting Coffee. This would be an animated version of Seinfeld's online show. Each week, he climbs in behind the wheel of a different Cars character: Lightning McQueen, Mater, Luigi, Sally, etc. He drives around in them a bit, enjoys a little banter, grabs a cup of coffee, and then heads back to Radiator Springs. Seinfeld could even do two different versions of each episode: one for kids, where he's interacting with the characters, and one for adults where he's ad-libbing with Owen Wilson, Larry the Cable Guy, and the rest of the cast. It would be a show about nothing that everyone would want to watch.
Tagline: Yada yada Mater.
The female crooks of Ocean's 8 made off with an estimated $41.5 million and the top spot in their debut at the North American box office over the weekend and did it in high style.
---
Queen of the Crop: Ocean's 8 Steals the Weekend
(Photo by Warner Bros.)
In the franchise's return to the big screen after 11 years, Ocean's 8 easily left the previous two weeks' No. 1 movie, Solo: A Star Wars Story, holding the box office bag, according to Box Office Mojo. The opening of the glitzy heist film with the ensemble cast led by Sandra Bullock, Cate Blanchett, and Anne Hathaway is the best, before adjusting for inflation*, of the four films that have followed the 1960 original starring Frank Sinatra, Sammy Davis Jr., and Dean Martin. That includes the 2001 remake starring Brad Pitt, Matt Damon, and George Clooney, who produced Ocean's 8, written and directed by Gary Ross (The Hunger Games).
Women made up a whopping 70 percent of the audience for the first female-fronted tentpole release of the summer, which was rated PG 13–rated came in with a lukewarm 67% Tomatometer score. It followed the familiar formula of the previous Ocean's films, with Bullock as Danny Ocean's just-out-of-jail sister, who assembles a posse of crime specialists — played by Mindy Kaling, Sarah Paulson, Awkwafina, Rihanna, and Helena Bonham Carter — to plunder the New York Met Gala.
Ocean's 8 should ultimately bring a healthy haul for Warner Bros. and Village Roadshow, since its production budget was a relatively modest $70 million. Its debut was the sixth-best of the year, just ahead of Ready Player One, and should only intensify Hollywood's recent fascination with remakes featuring females in key roles. Ocean's 8 added $12.2 million from a 12-market foreign debut.
---
Fresh surprise: Hereditary Scares Up a Surprising Box Office
(Photo by A24)
The well-reviewed horror movie Hereditary translated its glossy 93% Tomatometer score into an impressive $13 million debut, the best ever for distributor A24, which acquired the film out of Sundance in January. It finished fourth, behind holdovers Solo ($15.2 million) and Deadpool 2 ($13.6 million). Toni Collette tops the cast of the chiller, which marked the directing debut of writer Ari Aster. Horror fans, notorious for tough grading, gave it a 63% audience rating.
The weekend's other wide opener, the action-thriller Hotel Artemis starring Jodie Foster, disappointed with $3.2 million and eighth place for Global Releasing. Jeff Goldblum, Zachary Quinto, Sofia Boutella, and Dave Bautista co-star in the feature directing debut of writer Drew Pearce (Iron Man 3). A 44% Audience Score amplified its soft 58% Tomatometer rating.
---
Dino Might: Jurassic World: Fallen Kingdom Roars to Life Overseas
(Photo by Universal Pictures)
That rumbling you heard may have been the leaping lizards of Jurassic World: Fallen Kingdom, who stomped their way to $151 million from 48 territories for Universal Pictures and Amblin Entertainment in their foreign debut. It rolls out next week in China and June 22 in the U.S. and Canada, and hopes to follow in the giant footsteps of 2015's Jurassic World and 1993's Jurassic Park, which together generated $2.6 billion worldwide.
Avengers: Infinity War will cross the $2 billion worldwide mark for Disney and Marvel, after adding $10.9 million from overseas this weekend.
---
Beyond the Top 10: Fred Rogers Documentary Charms
(Photo by Focus Features)
At 99%, the highest Tomatometer rating of any release this weekend belonged to Won't You Be My Neighbor?, and indie film fans got the word. The documentary about Fred Rogers, host of the long-running kids TV show Mister Rogers Neighborhood, brought in $470,000 from just 29 theaters for Focus Features, and generated a 96% Audience Score (as of this writing). It's powerful $16,207 per-screen average was second only to well-reviewed specialty release Hearts Beat Loud, which has a 92% Tomatometer score. The Nick Offerman–Kiersey Clemons father-daughter drama managed $74,053 from four theaters for an $18,513 per-screen average for Gunpowder and Sky.
---
This Time Last Year: Wonder Woman Wows in Second Weekend
(Photo by Warner Bros. Pictures)
Females fueled the box office on the second weekend in June last year as well, driving Wonder Woman to a repeat $58 million win for Warner Bros. The top 12 films brought in $139 million.
---
On the Vine: Pixar's Incredibles 2 Expected to Kick Ocean's Butt
(Photo by Disney/Pixar)
Look for the animated kids film from Incredibles 2, written and directed by Brad Bird, to knock the larcenous ladies of Ocean's 8 from the top perch next week. It will be the first release from Pixar after word of the exit of studio chief John Lasseter. Disney announced Friday that he will leave at the end of the year, following sexual harassment allegations.
Also making wide debuts will be the R-rated ensemble comedy Tag from Warner Bros., starring Hannibal Buress, Jon Hamm, Ed Helms, Jake Johnson, and Jeremy Renner, and the action film from India Race 3, starring Anil Kapoor and Salman Khan. The wave of indie films continues — there will be roughly 30 released this month — continues. Rolling out Friday will be the IFC documentary Eating Animals; the R-rated John Travolta crime drama Gotti, based on the life of New York mobster John Gotti; and the Brazilian action drama Gabriel and the Mountain.
---
The Full Top 10: June 8-10
Ocean's 8 – $42.5 million ($42.5 million domestic total)
Solo: A Star Wars Story – $15.2 million ($171 million total)
Deadpool 2 – $13.7 million ($278 million total)
Hereditary – $13 million ($13 million total)
Avengers: Infinity War – $6.8 million ($654.7 million total)
Adrift – $5 million ($21.7 million total)
Book Club – $4.2 million ($56.8 million total)
Hotel Artemis – $3.2 million  ($3.2 million total)
Upgrade – $2.2 ($9.2)
Life of the Party – $2.1 million ($50.2 million total)
[box office figures via Box Office Mojo]
It's been 14 long years since the release of The Incredibles, which still stands as one of the all-time greats from Pixar Animation. For fans of Mr. Incredible, Elastigirl, Jack-Jack, and Edna Mode, the opening of Incredibles 2 on June 15 can't come soon enough. Not to be outdone, Walt Disney Animation also has a much-longed-for sequel in the works with Ralph Breaks the Internet: Wreck-It Ralph 2 coming to theaters in the fall. But beyond that, there are several other titles to look forward to, both from Pixar and from Walt Disney Animation. Some are sequels to existing favorites, while others are original adventures. Either way, you're probably going to want to have tissues ready. These films have a knack for drawing a healthy amount of tears along with the laughs. Let's take a look at what's on the slate, and stay tuned as we will be updating this page as more projects are confirmed.
---
Pixar Animation's Slate
---
(Photo by ©Buena Vista Pictures/courtesy Everett Collection)
It seemed that Toy Story 3 wrapped up the franchise in definitive and satisfying fashion back in 2010 when the grown-up Andy left home for college. But Woody, Buzz Lightyear, and the gang remain among the most adored of all the Pixar characters – and the trilogy has grossed more than $2 billion worldwide – so sure, why not make another one? There's been trouble in the toy box, though. The fourth installment originally was scheduled to come out in June 2017, but was delayed. Massive script rewrites have been reported, and Pixar and Disney Animation's chief creative officer John Lasseter, who directed the first and second films, stepped away from co-directing duties after multiple sexual misconduct allegations surfaced last year. Josh Cooley, who originally was set to direct alongside Lasseter, has taken over the responsibility solo. Cooley joined Pixar in 2003 as an intern in the story department on Cars; he has since written and directed a couple of shorts, including the Inside Out spin-off "Riley's First Date?" As for the plot, Toy Story 4, reportedly is a love story in which Woody goes on a quest to find his beloved Bo Peep. (Lasseter has said the tale was inspired partly by the life of his wife, Nancy.) Much of the original voice cast – including key players Tom Hanks, Tim Allen, Joan Cusack, and Bonnie Hunt – appears to be returning.
Release date: June 21, 2019
---
Untitled Suburban Fantasy Movie
Monsters University director and co-writer Dan Scanlon is in production with a new original feature for Pixar Animation. Few details are available about the movie, announced last summer at the D23 Expo, but the story is a personal one for writer-director Scanlon: It's inspired by the loss of his father when he was very young. The movie, which remains untitled, takes place in a suburban fantasy world with no humans, only elves, trolls, and sprites: "Anything that would be on the side of a van in the '70s," Scanlon joked. He continued: "In the film, we're going to tell the story of two teenage elf brothers whose father died when they were too young to remember him. But thanks to the little magic still left in the world, the boys embark on a quest that will allow them a chance to spend one last magical day with their father." A release date hasn't been set yet. But one thing is certain: This will be a tearjerker.
Release date: TBD
---
WALT DISNEY ANIMATION'S SLATE
---
Wreck-It Ralph, Vanellope von Schweetz, Fix-It Felix, and the gang are busting out of the arcade and taking a ride on the World Wide Web in this sequel to the 2012 smash hit. John C. Reilly, Sarah Silverman, and Jack McBrayer are back to voice their popular roles, as is director Rich Moore, who's joined on helming duties by original Ralph co-writer Phil Johnston (Zootopia). When Ralph, Vanellope, and their video game friends discover a newly installed Wi-Fi router in the arcade, it leads them to a world of information and possibilities they never knew existed. That includes a cavalcade of Disney princesses, from Merida and Moana to Ariel and Belle. And just to heighten the film's dazzling star factor, Taraji P. Henson joins the cast as a character named Yesss, who always knows what's trending. You can say yes to Ralph Breaks the Internet: Wreck-It Ralph 2 just before Thanksgiving.
Release date: November 21, 2018
---
(Photo by ©Walt Disney Pictures/courtesy Everett C)
The original Frozen – as you may be aware – became a massive pop-culture sensation when it was released in 2013, eventually earning nearly $1.3 billion worldwide. It won Oscars for best animated feature and best original song (for the insanely catchy "Let It Go"), spawned a Broadway musical, and inspired countless Halloween costumes and figure skating routines. The decision to make a sequel was a no-brainer; actually making the film itself – and making sure it lives up to the standards of the beloved original — takes time. So don't expect to revisit Elsa, Anna, Olaf, and their frosty friends until November next year. The sequel doesn't even have an official title yet, but directors Chris Buck and Jennifer Lee are returning, as are voice stars Idina Menzel, Kristen Bell, and Josh Gad. We know from last summer's D23 Expo that the filmmakers traveled to Norway, Finland, and Iceland on a research mission. So if anyone in Arendelle wants to build a snowman, it'll certainly look authentic.
Release date: November 27, 2019
After, oh, 14 years of waiting, the sequel to Pixar's superhero film The Incredibles is finally hitting theaters. It's real! Proof: The just-released first trailer for Incredibles 2, dropping just four months ahead of the movie's June 15 release.
It has everything you loved about the first movie — namely, the loving, spandex-clad Parr family trying to get a handle on their superpowers while staying undercover and living a normal family life — and some new developments, too (figuring out what the heck is going on with little Jack-Jack, whose superpowers began to manifest at the end of the first film).
Check out the trailer above, which features most of the original voice cast (Craig T. Nelson as Bob/Mr. Incredible; Holly Hunter as Helen/Elastigirl; Sarah Vowell as invisible, angsty teen Violet; Huck Milner as super-fast Dash (replacing Spencer Fox in the role of the Parrs' eldest son); and Samuel L. Jackson as Bob's BFF, Lucius Best/Frozone). Then join us in dissecting some of its biggest revelations in detail. Below, our five biggest questions about the minute-and-a-half-long clip.
---
1. So, who's the bad guy? (There is going to be a bad guy, right?)
(Photo by Disney•Pixar)
The end of The Incredibles saw the suited-up Parr family ready to face a new villain: The Underminer (voiced by John Ratzenberger), who shows up at the beginning of the trailer (albeit briefly). That can't be it, though — could we have met the big bad already? Just how big and bad can he be? The trailer gives much more prominence to the mega-rich tycoon voiced by Better Call Saul's Bob Odenkirk, and while he seems to be on the side of the supers, perhaps his motives aren't as altruistic as they appear.
---
2. WTF is happening with Jack-Jack's powers?
(Photo by Disney•Pixar)
We already know that Jack-Jack can turn into a fireball, a cannonball, and a small monster. First of all, what would you even call those powers? And second of all, is that even the extent of the infant's super abilities? Third of all, let's not forget that in the first teaser for The Incredibles 2, Jack-Jack shot lasers out of his eyes. With Bob staying at home to care for his small, occasional literal monster child, we'll probably find out the depths of the baby's powers in the new film.
---
---
3. Where are the rest of the newbies?
(Photo by Disney•Pixar)
Odenkirk's character is named Winston Deavor, and, per the official description, he "leads a world-class telecommunications company alongside his genius sister, Evelyn. Ultra-wealthy, savvy and suave, Winston goes big in everything he does—including his infatuation with Supers. He has been a supporter of Supers returning—all he needs is a hero (or three) to help him change public perception and bring them back into the sunlight."
Catherine Keener voices Evelyn, described as "the brilliant brainchild behind her brother Winston's telecommunications company, [who] knows her way around tech. She loves tinkering with tech, and has never met a problem she can't solve." (Speaking of potential villains, doesn't it sound like she's actually the one pulling all the strings?)
There's also Voyd, a young, overeager mega-fan of Elastigril with "the ability to divert and manipulate objects around her by creating voids that allow the objects to appear and disappear, and shift in space," voiced by Sophia Bush, and the Ambassador, voiced by Isabella Rossellini, a foreign dignitary committed to supporting and legalizing Superheroes.
---
4. Who else in the family will suit up and fight?
(Photo by Disney•Pixar)
Elastigirl is taking up the superhero mantle in this film, as Deavor tries to push the retired Super back into the limelight. Mr. Incredible is trying his best to be super-dad by staying home with Jack-Jack and letting his wife have her time to shine. But as we saw in the first film, the Incredibles were only able to defeat Syndrome when they banded together as a family. Maybe Violet will overcome her shyness and suit up regularly, too.
---
5. Is Elastigirl our new Wonder Woman?
(Photo by Disney•Pixar)
They're both strong, powerful superhero women fighting bad guys. But they're also both proving that strong, powerful superhero women can draw audiences to the box office just as well as strong, powerful superhero men. Who doesn't want to watch a bad guy (or girl) get what's coming to them? As far as we're concerned, the more the merrier.
---
The Incredibles 2 opens on June 15.
RT Senior Editor Grae Drake sits down with Anthony Gonzalez, Benjamin Bratt, and Gael García Bernal from Pixar's Coco to talk about talent shows, spirit animals, and embarrassing entrances they've made.