This week, Christy looks at Disney's new state of the art animation tale. Then, on home video, she revisits one of 2015's best reviewed films, a picture that brought new life to the Rocky Franchise. Read on for details.
---
NEW IN THEATERS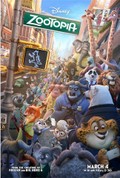 Rating: PG, for some thematic elements, rude humor and action.
The latest animated feature from Disney is a smart, clever and extremely timely allegory about prejudice and race relations. But before you cringe at the prospect of a heavy-handed, preachy tale, just know that Zootopia handles some tricky, emotional issues with great deftness, humor and honesty. Basically, it suggests that we're all a little racist, whether or not we think we are, and acknowledging as much is the first step to true understanding and harmony. Heavy stuff potentially, but it's packaged in the context of a lively and thriving urban center called Zootopia, full of adorable creatures – predators and prey alike – who've found a peaceful way to co-exist. Ginnifer Goodwin provides the voice of a plucky bunny named Judy Hopps, the first of her species to join the city's police force. She teams up with an unlikely ally – sly fox Nick Wilde (Jason Bateman) – a con artist who helps her investigate a series of attacks in which predators are suddenly turning savage, which breeds rampant mistrust. Kids will delight in the furry animals, colorful settings and charming details, but might feel a little frightened during the brief moments when some of the animals lose control. I brought my 6-year-old son with me to a screening and he found those images slightly disturbing but still really enjoyed the movie as a whole. Fine for kids around 6 and older.

---
NEW ON DVD
Rating: PG-13, for violence, language and some sensuality.
Sylvester Stallone earned an Oscar nomination for best supporting actor (and many awards trackers, including yours truly, thought he'd win) for returning once again to the iconic role of Rocky Balboa. In the seventh film in the Rocky franchise, Balboa reluctantly agrees to train Apollo Creed's son, Adonis (a hugely charismatic Michael B. Jordan, who deserved an Academy Award nomination himself), when no one else will. Director Ryan Coogler's thrilling, beautifully made film revives many of the themes, images and Philadelphia settings of the original Rocky, as well as the pummeling violence and bloodshed. It is a boxing movie, after all. But it also features all the uplift and overcoming-of-odds you'd expect. And it's got training montages – lots and lots of training montages. Along his journey, Adonis falls for the cool, beautiful musician (Tessa Thompson) who lives in the apartment downstairs from him, and it's implied that they have sex. There's also plenty of language and trash talk as Adonis prepares to take on various opponents, as well as serious discussions and imagery involving a health scare. Fine for mature tweens and older.