(Photo by Paola Kudacki/BBC America)
When Killing Eve first premiered, the urgent feeling that the show's protagonist, British Intelligence investigator Eve Polastri (Sandra Oh), would be killed by the Season 1 finale, was ever-present. But what started as an engaging cat-and-mouse procedural between Eve and unhinged assassin Villanelle (Jodie Comer) soon evolved into the most unexpected love story to hit the small screen in years. And with Fleabag's Phoebe Waller-Bridge at the helm, it's no surprise that the show became a bonafide hit.
If Season 1 was the awkward dating phase of their relationship, then the show's second installment could easily be viewed as the honeymoon. The BBC America show found Eve and Villanelle teaming up in an opposite-sides-of-the-law, Silence of the Lambs-style partnership. Their teamwork succeeded at bringing down Aaron Peel (Henry Lloyd-Hughes), a tech-savvy enemy who was working to pawn off a mysterious (and obviously dangerous) weapon, while inching Eve even closer to the dark side.
Eve and her team worked at capturing Peel with Villanelle going deep undercover to woo the man. And while it all came to a head with Polastri's psycho partner slitting his throat, the Season 2 finale didn't end well for either of them. In a cliffhanger that sort of mirrored the closing of the first season where Eve stabbed Villanelle in the gut, the tables were shockingly turned, as Villanelle took out a gun and shot Polastri. As she lay bleeding out on the ground, many were left to wonder if the BBC America series was following through on the title's promise and actually killed Eve.
As Killing Eve is set to return with new episodes on Sunday, April 12 at 9pm ET/PT to BBC America, that cliffhanger weighs heavily. It's not a spoiler to confirm Eve Polastri is still very much alive in Season 3, but the big question for fans is: How is the show's health as it moves into its third set of episodes? Does the story still deliver the witty edge and violent drama that connected with audiences in the first place? Are Oh and Comer, who've both earned much-deserved accolades for their work, still turning in masterful performances? And does season 3 – overseen by new showrunner Suzanne Heathcote, following on from Phoebe Waller-Bridge (season 1) and Emerald Fennell (season 2) – leave us wanting a fourth helping of Eve and Villanelle?
Here's what critics are saying about Season 3 of Killing Eve.
---
THE SHOW STILL HAS ITS SIGNATURE STYLE AND BRUTAL PANACHE
"It can't be stressed enough that Killing Eve Season 3 does not pull its punches, emotionally or when it comes to violence. In the five episodes sent to critics, there are truly grisly kills, horrific acts of cruelty, and some really shocking deaths. Killing Eve Season 3 manages to heighten the stakes once more. No one is safe, and you get the sense that the show is trying to expand itself beyond Eve and Villanelle's relationship." — Meghan O'Keefe, Decider
"One of the most refreshing shifts from last season is the music… this season goes back to the beginning with a variety of dreamy foreign language tunes, with an emphasis on chic French electro-pop. On the rare occasion when the musical palette shifts greatly, it represents something greater and is well worth it. Often the lyrics line up astonishingly well with what's happening on screen, alternately broadcasting Eve or Villanelle's inner creep for all of us to hear. The music toys with us now that we have the audacity to think we know Killing Eve's beats. More than ever before, it feels like Killing Eve is in direct conversation with its audience, daring us to declare our hunches, hope for our fanfics, and try to outsmart all three women, if not the show itself." — Delia Harrington, Den Of Geek
---
VILLANELLE GETS AN ORIGIN STORY, AND JODIE COMER SHINES AGAIN… 
(Photo by Des Willie/BBCA)
"Heathcote shifts the focus more to Villanelle in Season 3, digging into her past and rounding out the character's origin story. Comer once again delivers a virtuoso performance that combines unhinged mania with wounded vulnerability and desire. The character has such a sense of whimsy and romanticism that you can occasionally forget that she's a stone cold serial killer. — Brandon Katz, Observer
"As Villanelle desires to move into management the audience meets the o.g. Villanelle played by Harriet Walter and to say they have a hate-love relationship is an understatement. If you win an Emmy for Eve it affords you a bottle episode (five) which after the events at the end of four kills the series' momentum. Obviously, Villanelle had a horrible mother and this was not a storyline I believe needed a full episode to explore." — Amanda Spears, Awards Watch
---
…BUT WE COULD DO WITH A LITTLE MORE EVE
(Photo by Laura Radford/BBCA)
"Comer is great, so it doesn't hurt to have more of her. But Oh is great as well, and it feels wrong to have her sidelined so much. Surely there must be a way to give the two leads equal time to share the spotlight. Comer's role is the flashier one – she gets to have all the fun, killing her way across the landscape. Oh's work is more subtle, more reserved, and that perhaps contributes to her reduced role. Oh is doing a lot of internal work here – Eve is broken now. Perhaps broken beyond repair." — Chris Evangelista, SlashFilm
"It may not be as balanced as it was in that first magical outing, and some of the plot points may feel a little recycled, but Killing Eve ultimately remains a devilish delight." — Allison Keene, Paste Magazine
---
SEASON 3's SHOWRUNNER IS TAKING RISKS, FOR BETTER AND WORSE…
"Killing Eve works best when the original gang are together and the story heads in one direction. The last series had too many plot strands and took an age to get going. At first, new showrunner Suzanne Heathcote (Fear the Walking Dead) looks as though she has fallen into the same trap, only to confound such assumptions in truly shocking fashion." — Alison Rowat, Herald Scotland
"It's smart for Heathcote not to attempt to return to the status quo, but there isn't the same sense of urgency to the story as there was in the first season when Eve was tracking Villanelle, or even in the second season when the two of them were tracking a new assassin." — Josh Bell, CBR
---
…BUT OVERALL THE SHOW HAS LOST SOME OF ITS EDGE
(Photo by Des Willie/BBCA)
"Most notably absent from the season's first half are 'Killing Eve''s odd injections of fun. That leaves the two leads to invent the series' trademark weirdness with their endless array of expressions and gif-ready reactions, which they can do, but the lack of creative dialogue and minor flourishes emphasizes Season 3's familiarity and repetitiveness." — Ben Travers, IndieWire
"To quote the great Michael Keaton in Multiplicity, you know sometimes you make a copy of a copy, it's not quite as sharp as, well, the original? That's what Killing Eve now feels like: a copy of its former self. The edges are now duller, the lines less distinct. If there was ever a show that would have benefited from being a limited series, it is Killing Eve." — Kaitlin Thomas, TV Guide
"Once fresh and thrilling, Killing Eve has grown stale and predictable. It's 2020, and phones still click and whoop when texts are sent. The humour is weary. I groaned when Carolyn told Kenny he was working for a website and he corrected her by saying he was working for an 'online publication'. Comer remains watchable, but she could film herself opening her post and it would be better than a lot of what's on TV." — Ed Cumming, Independent (UK)
---
AND THE FINAL WORD?
"It's juicy and entertaining and shocking and stylish as always. But the Honeymoon phase is over. We know these two can't make it together in the long run and so does the show itself." — Brandon Katz, The Observer
---
Killing Eve season 3 premieres Sunday, April 12, at 9pm ET/PT on BBC America.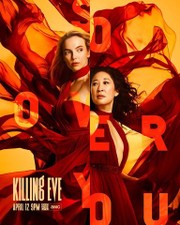 Critics Consensus:
If
Killing Eve
's third season doesn't cut quite as deep, it's still a fiendishly delightful showcase for Jodi Comer and Sandra Oh's killer chemistry.