The fall movie season isn't traditionally known for the high quality of its releases, but this year, after an especially abysmal summer — and a couple of pretty mediocre weeks — the new adaptation of Stephen King's It is looking to shake things up and dominate the box office this weekend. And judging by last night's earnings, it's well on its way.
It's Thursday night opening scared up a whopping $13.5 million in ticket sales, pushing weekend estimates to upwards of $100 million when all is said and done, and in doing so, it broke a number of records. Here's a breakdown of what It has accomplished:
Highest presale tickets for any horror film on Fandango
Highest presale tickets for any September film on Fandango
Highest preview night gross for any R-rated film (beating Deadpool)
Highest preview night gross for any horror film
Highest preview night gross for any September release
Highest preview night gross for any Stephen King adaptation
3rd highest preview night gross of 2017 (behind Guardians of the Galaxy Vol.2 and Beauty and the Beast)
Currently, It is Certified Fresh at 89% on the Tomatometer, with a 91% Audience Score, and assuming it stays on track this weekend, it'll be both a critical and commercial success. With a number of high profile releases coming in the near future (Kingsman: The Golden Circle, American Made, Blade Runner 2049), it may not hold the box office crown for long. But for now, it's clear moviegoers are hungry for a hit, and It looks like it's going to deliver the goods.
#1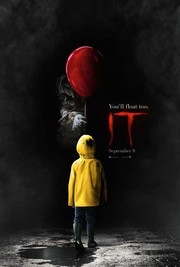 Critics Consensus:
Well-acted and fiendishly frightening with an emotionally affecting story at its core, It amplifies the horror in Stephen King's classic story without losing touch with its heart.
Synopsis:
New Line Cinema's horror thriller "IT," directed by Andy Muschietti ("Mama"), is based on the hugely popular Stephen King novel...
[More]