The big movie this week is Zhang Yimou's epic period action film starring Matt Damon, and it's exactly the kind of "good guys vs. monsters" PG-13 spectacle intended to draw wide-eyed younger audiences. That said, how young is too young to see the movie? Read on for details on The Great Wall, plus a Best Picture-nominated sci-fi mystery on DVD.
---
NOW IN THEATERS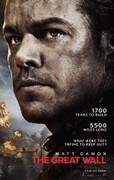 Rating: PG-13, for sequences of fantasy action violence.
So apparently, the Great Wall of China was built all those centuries ago… to keep out ravenous hordes of marauding monsters? Such is the alternative history this 3-D action epic offers. The Great Wall is the most expensive movie ever made entirely in China (with a reported budget around $150 million), and it shows. Chinese master Zhang Yimou's first English-language film is massive, with elaborate production design, an enormous cast and high-tech special effects. At the center of it all is Matt Damon as an Irish mercenary who learns to be a part of something larger than himself when he joins an elite force of Chinese warriors to fend off these hideous creatures. And here's where The Great Wall will be way too intense for younger kids. The monsters look like a speedier, angrier version of the "Jurassic Park" dinosaurs, with gnashing teeth reminiscent of the "Alien" franchise. Zhang shows them to us at a distance, moving as an organized pack, but also up close and personal as they rip individual soldiers to shreds. He creates sweeping battle scenes, full of swords, arrows and explosives. Even though it's all computer-generated imagery, it's scary and gory. I'd say kids around 11 or 12 and older will be OK here.

---
NEW ON DVD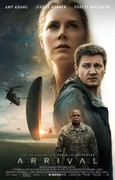 Rating: PG-13, for brief strong language.
Older kids – especially those with a taste for science fiction – will find this slow-burn drama compelling. But they might be a little confused by the movie's time-hopping narrative structure; then again, you might be, too. Nominated for eight Academy Awards including Best Picture and Best Director for Denis Villeneuve, Arrival is an inventive take on the alien-invasion thriller. Amy Adams plays a linguist trying to understand the aliens' intricate language; Jeremy Renner plays the biologist hoping to study their complex makeup. The images are beautiful and haunting at the same time, with a mix of mystery and wonder. There's a bit of language and a few intense situations. And part of the film's drama comes from the death of a little girl who'd been suffering from a disease. But for the most part, Arrival defies your expectations of this ordinarily panicky, heart-pounding genre. It's beautifully shot and ultimately, surprisingly, hopeful.