Cursed, premiering on Netflix today, brings to life the alternative Arthurian legend presented by Frank Miller and Tom Wheeler in their illustrated young adult novel of the same name. The story is told through the eyes of Nimue, a young Fey woman who is destined to become the Lady of the Lake of myth. Arthur, Merlin, Uther Pendragon, Gawain, and other famous names of legend are on hand to spin this tale of a magical warrior-protector of a mighty and ancient sword.
The series stars Katherine Langford (13 Reasons Why) as Nimue, Devon Terrell (Barry) as mercenary Arthur, Gustaf Skarsgård (Vikings) as a debauched Merlin, Daniel Sharman (Fear the Walking Dead) as the mysterious Weeping Monk, Peter Mullan (Westworld) as cruel Father Carden, and Lily Newmark (Pin Cushion) as Nimue's best friend Pym.
Here's what critics are saying about season 1 of Cursed:
---
Does Cursed Honor the Ancient Arthurian Mythology?
(Photo by Des Willie/Netflix)
What gives Cursed its edge is the source material, which subverts centuries of lore and oppressive systems. The Netflix adaptation isn't nearly as captivating, but it still manages to be a quaint escape from reality. — Kayla Sutton, AV Club
The Arthurian myth kitty is not so much raided as spilled all over the floor in this adaptation of the Frank Miller graphic novel focusing on the fairy-woman Nimue. — Suzi Feay, Financial Times
Cursed never quite feels big enough to tell this epic story… but overall the storytelling does a good job of showcasing varied, interesting characters in a growing cycle of violence. — Huw Fullerton, Radio Times
Cursed delivers on its use of Arthurian legend while also creating a unique story that pushes past your expectations… — Kate Sánchez, But Why Tho? A Geek Community
Cursed successfully reimagines the Arthurian legends we know and creates magic. This in spite of some pacing issues and its abrupt end of season conclusion. — Sarah Musnicky, Nightmarish Conjurings
We're all a little too used to seeing the fate of the world hinge on Teen Girl Chosen Ones who never seem to laugh – but Cursed gives us one genuinely worth caring about. — Lena Wilson, The Playlist
---
---
Are the Performances in Cursed Magical? 
Langford is an excellent choice for Nimue. She is strong and resilient yet somewhat trusting and naïve. — Allison Rose, FlickDirect
Terell is brilliant as Arthur. A Black Arthur does feel radical, but he is a co-lead and sidekick to Langford's Nimue. Cursed is still a lot of fun, but don't expect anything too revolutionary from this safely subversive new Netflix show. — Rosie Knight, Nerdist
Almost no one can act and those who can are … taking it easy. — Lucy Mangan, Guardian
---
Is Cursed's Fantasy Believable?
(Photo by Courtesy of Netflix © 2020)
Cursed's Fey, made up of snake-skinned, tusked and other hybrid humanoids, all with their own cultures, efficiently establishes them as a living, breathing species independent of their human relatives. — Hannah Collins, CBR
---
Is Cursed Cheaply Made or Flashy and Stylish? 
(Photo by Netflix © 2020)
Cursed does a fine job of stylizing its visuals, as well as building a complex story base (even if the latter feels too bulky at times). — Kimberly Ricci, Uproxx
Cursed may not be the most serious or profound program that TV has to offer, but you won't find many shows more solidly built or satisfying. — Judy Berman, TIME Magazine
With twists and turns you might not see coming, no matter how well you know Arthurian Legend, Cursed delivers a fun and wild ride. It also has serious Game Of Thrones vibes. — Tessa Smith, Mama's Geeky
---
Final Thoughts?
(Photo by Courtesy of Netflix © 2020)
Featuring a lot of promise but failing in the execution tonally, Cursed is unfortunately a bit of a missed opportunity to breathe new life into the Arthurian legend. — Nicola Austin, We Have a Hulk
Cursed makes complete its clumsy tightrope walk, but will need to build stronger support for any feminist goals it has for future seasons. — B.L. Panther, The Spool
Cursed will do — it's nowhere near perfect but its attempt to take on an alternative tale with a female, strong lead, makes the whole viewing worthwhile. — Daniel Hart, Ready Steady Cut
Bloated yet entertaining, Cursed carves out a uniquely weird kitsch-fantasy niche for itself, even if it doesn't always quite know what it wants to be. — Shaun Munro, Flickering Myth
I never was able to fully give myself over to Cursed, but I never really got bored and I think there's a better show laying in wait for a second season. More Pym, please! — Dan Fienberg, Hollywood Reporter
The highs of the series far outweigh the lows, and Cursed manages to tell an exciting and surprisingly timely tale with Nimue and the rest of the Arthurian roster. It is sure to fill the void in the hearts of fantasy fans everywhere. — Charlie Ridgely, ComicBook.com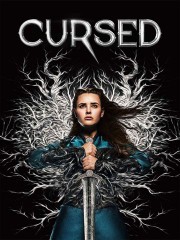 Critics Consensus:
Cursed
's first season isn't as subversive as its source material, but strong plotting and a heroic performance from Katherine Langford make for an enjoyable escape.
Cursed is now streaming on Netflix